Richard Issue 13 - Amazon Social Media Marketing Site Promotion Topics: How to Build Your Social Media Account and Increase Your Brand Awareness?
Included in the topic
#Richard侃跨境-Amazon feature
30
Richard Issue 13 - Amazon Social Media Marketing Site Promotion Topics: How to Build Your Social Media Account and Increase Your Brand Awareness?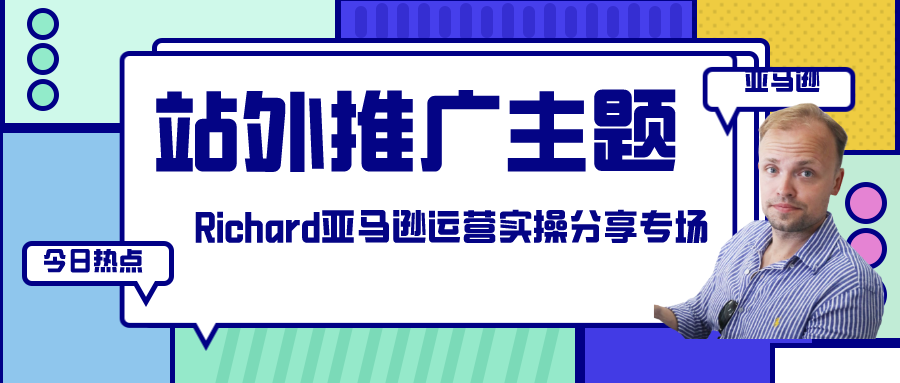 Every Tuesday, Sandstar cross-border Amazon Live Sharing will be shared live by Richard, amazon's UK station seller with 10 years of experience operating on Amazon.
The topics shared in this issue are:
Amazon's social media marketing campaign: How do you build your social media accounts and increase your brand awareness?
For sellers who want to get the full PPT for this live broadcast, you can add customer service WeChat: shazhixing115 (Note: off-site promotion) to get the full PPT.
The details are as follows: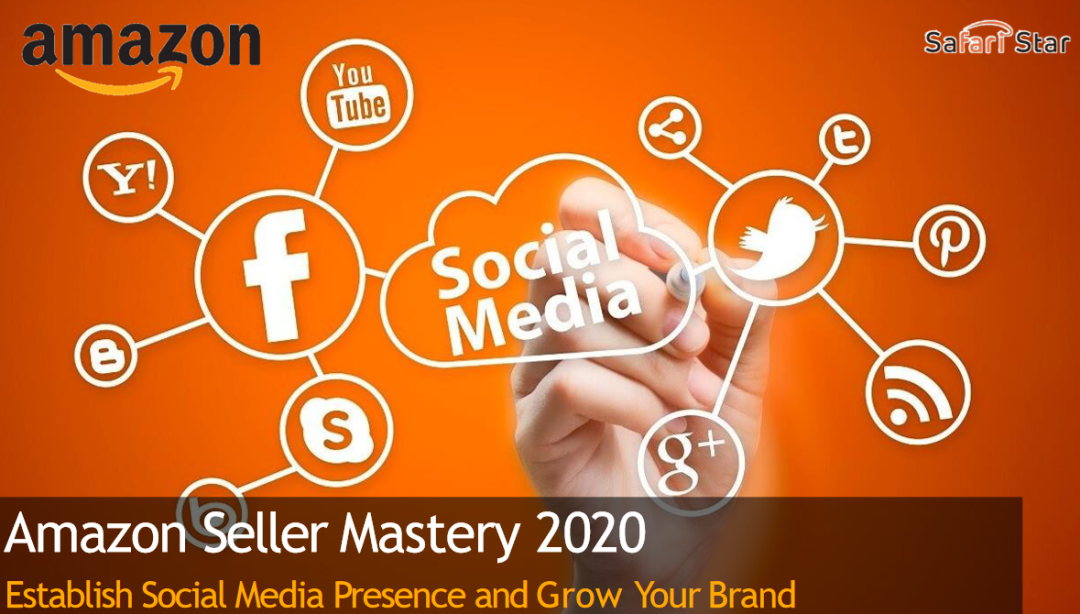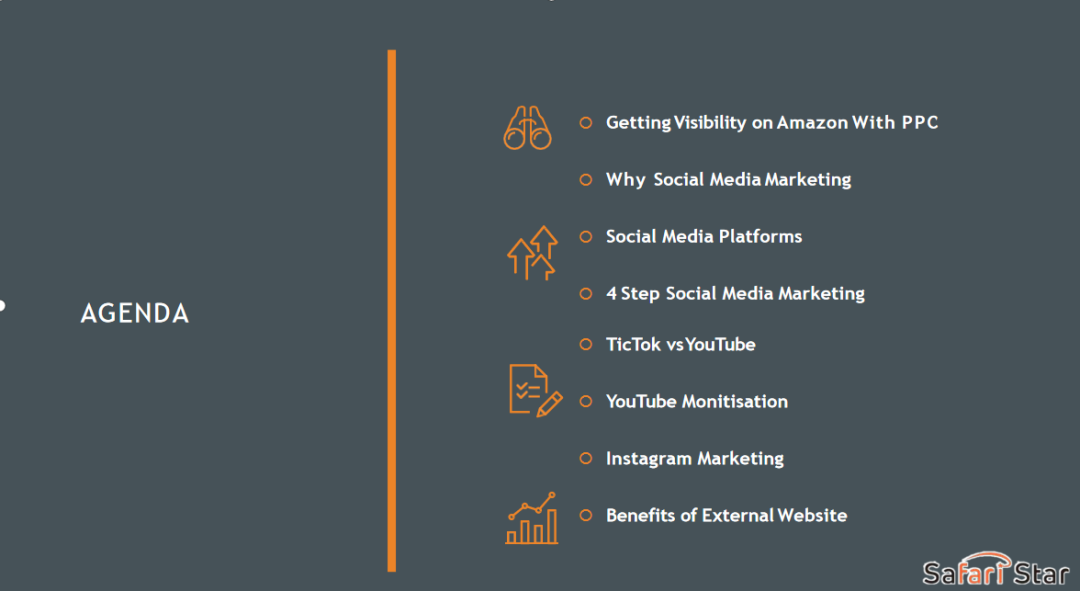 Promote your product on Amazon
Before you begin, make sure that your product and product list are
Good, otherwise the other recommendations in this webinar may not work!
Where do we usually start?
Most sellers rely solely on sponsored advertising (PPC)
Amazon coupons and coupons
Best prices, prime time, etc...
Crowdfunding
Giveaways, etc
That's fine, but why not provide more service to your customers?

Benefits of using Amazon ads (why PPC?) )
Advantages:
Most Amazon shoppers start with
Search on Amazon
PPC campaigns have a better chance of improving BSR
You don't have to use giveaways or
Coupons/coupons
Disadvantages:
It can be expensive to run
Inventory/inventory cannot be controlled
Amazon owns customers, not you...

Why use social media?
Get your brand there!
We live in a society that has proved very important
More than 3.5 billion users worldwide!
Facebook is the leader with 68% of the shares
The average person spends three hours a day on social media
54% of consumers use social media to conduct product research before they buy
71% of consumers with active brand buying experience on social media will recommend it to friends/family
Forty-nine percent of consumers rely on the advice of influencers!!!
Social media is a long-term strategy and you will need to grow and develop it just as you would with Amazon. But once you've made an impact, you can use it repeatedly to promote all your products!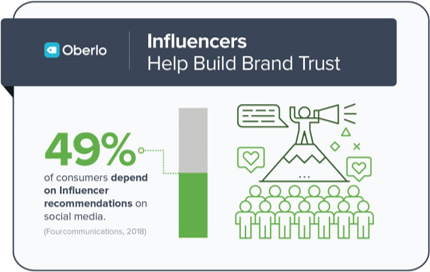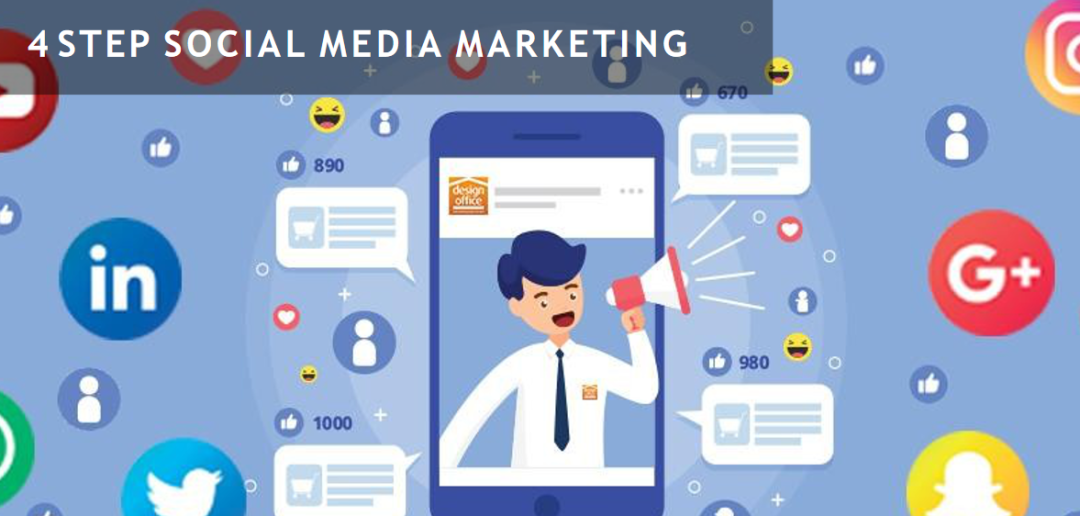 Build the 4 steps to social media marketing
Whichever platform you choose, you should always:
Choose an easy-to-find name that is relevant to your brand
Make your page look professional and tidy - your page is your 1 s representative!
Use high-quality images
Use the correct spelling and punctuation
Always link to your Amazon Store!
When the page is ready, start generating content!
There are three main types of content:
Personal - This may be any personal information about you or your brand/company. Demonstrate product usage and tell others what your brand is
coming soon. But don't sell !!!
Product technology - showcase your factory, workplace, product design, manufacturing methods, etc. Share technical articles about your product category. Research articles, etc. ... But don't sell!!!
Product Sales - Your Quote! Here you can post any ongoing quotes and attract people to your store.
Publish at least one of them daily and, if you can, more. But be consistent!
Remember! Don't sell products, sell brands! People don't want to buy what you want to sell, they want to buy what they want to sell! That's the key!

Now that you're ready for the page and actively publishing content, it
It's time to attract some followers!
2 follower types:
Organic followers
Be interested in your brand
These will be faithful to you
They need to be interested
Prospects
Those make up the numbers!
#1原因 - Proof of Society!!! If you have a tracker, you are
Real!
Some of them will become true followers!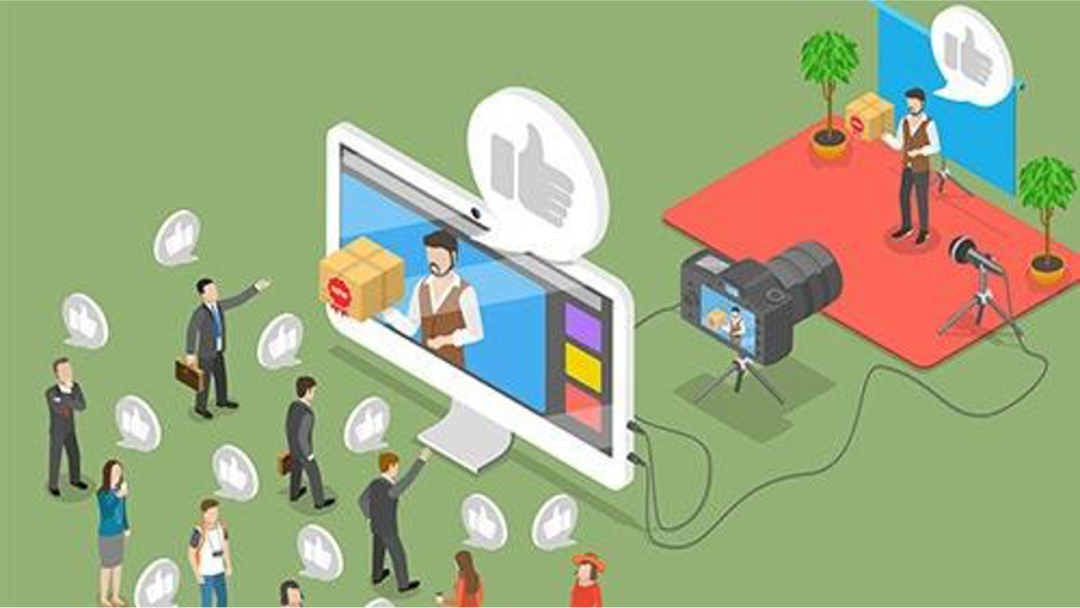 What is a social media influencer?
Users who build credibility on social media, especially in a particular area
Can attract a large audience (over 50K)
You can convince others with your authenticityTo achieve the purpose of brand marketing.
Step 4: Use social impact
Find social influencers on Facebook, Instagram and YouTube. These people have a large following and actively post topics related to your product on their pages.
Give them a helping hand
"Hey! Is a brand new company, we like your page very much. We think our products will be perfect for you. We are happy to send you your product for review, etc..."
Make sure you're a professional and have a good product!
The long-term benefits of social media marketing
Getting influential people on social media to comment on your product will bring your product and brand awareness to 100,000
This may convert some of these users to your followers. It's important for your page to have some attention and good content.
Natural followers on your page will be transformed into future customers
You'll be able to sell your product to your followers for free!
The difference between Tiktok VS Youtube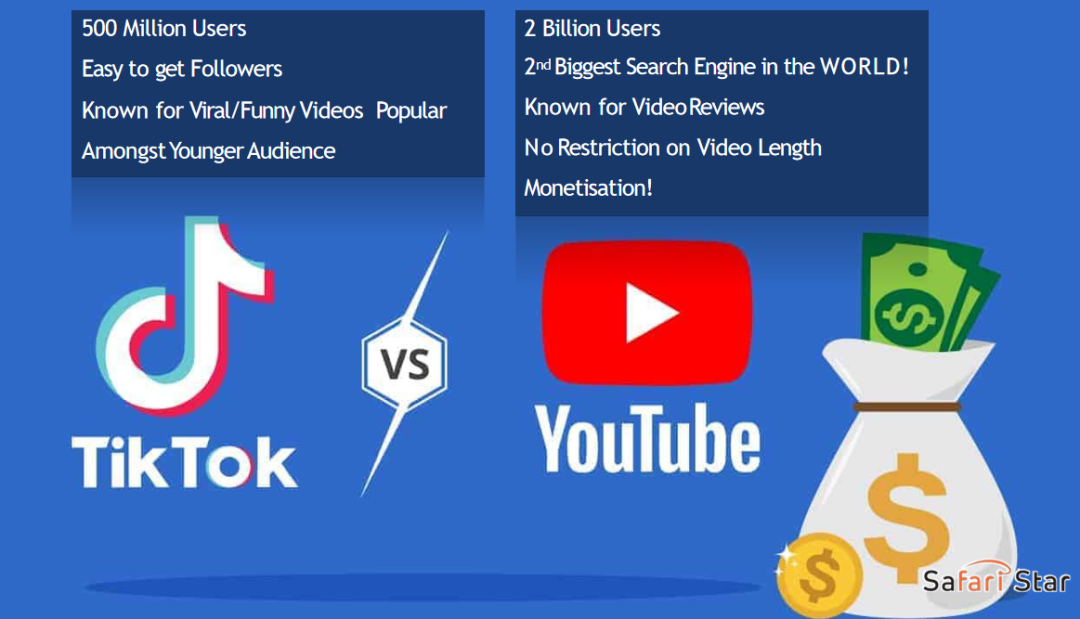 INSTAGRAM marketing
Get followers before you can do anything!
The easy way is to search for the hashtags associated with your product and follow as many people as possible. If you have something relevant, most people will follow.
Make a list of the lists you want to give us, but make sure you don't use the same list every time, or Instagram may treat them as spam and shadow accounts. This means your post will not be visible...
Stay active and post at least 3 posts a day
Like/comment related posts to increase visibility and followers
Once you have about 1000 followers, you can attract others!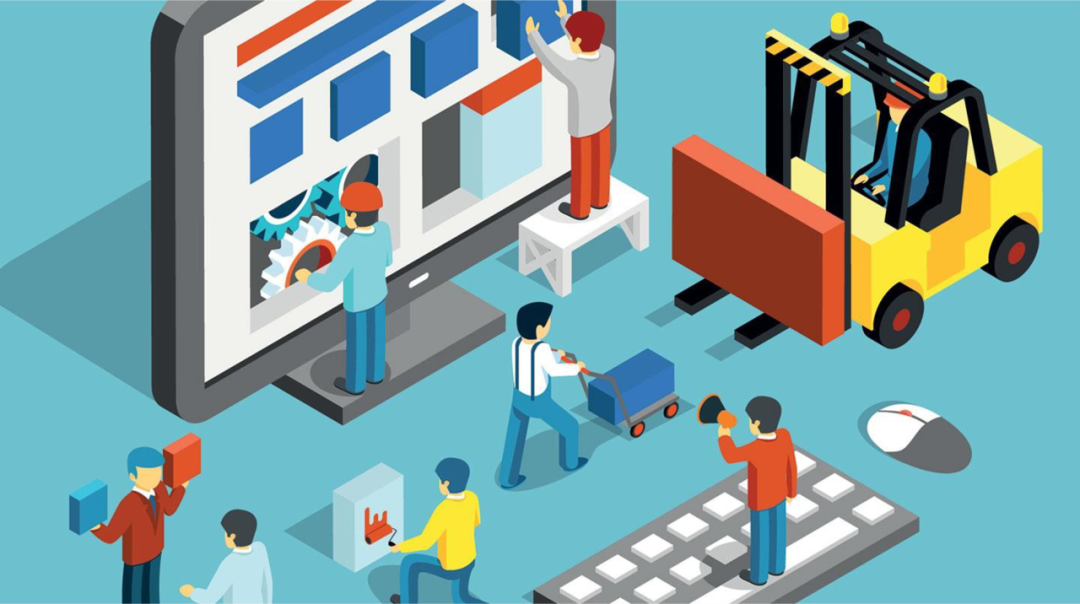 Build your own website
Increase brand awareness
Serve your Amazon customers
Link to YouTube / TicToc video
Use it with social media to market your products. That's Instagram
Establish a customer database/list
Link to your Amazon account
Get more 5-star reviews
Increase your followers and get more money!
The above is the main content of this live broadcast, if you want to view the full playback video of this live broadcast, you can sweep the code below the poster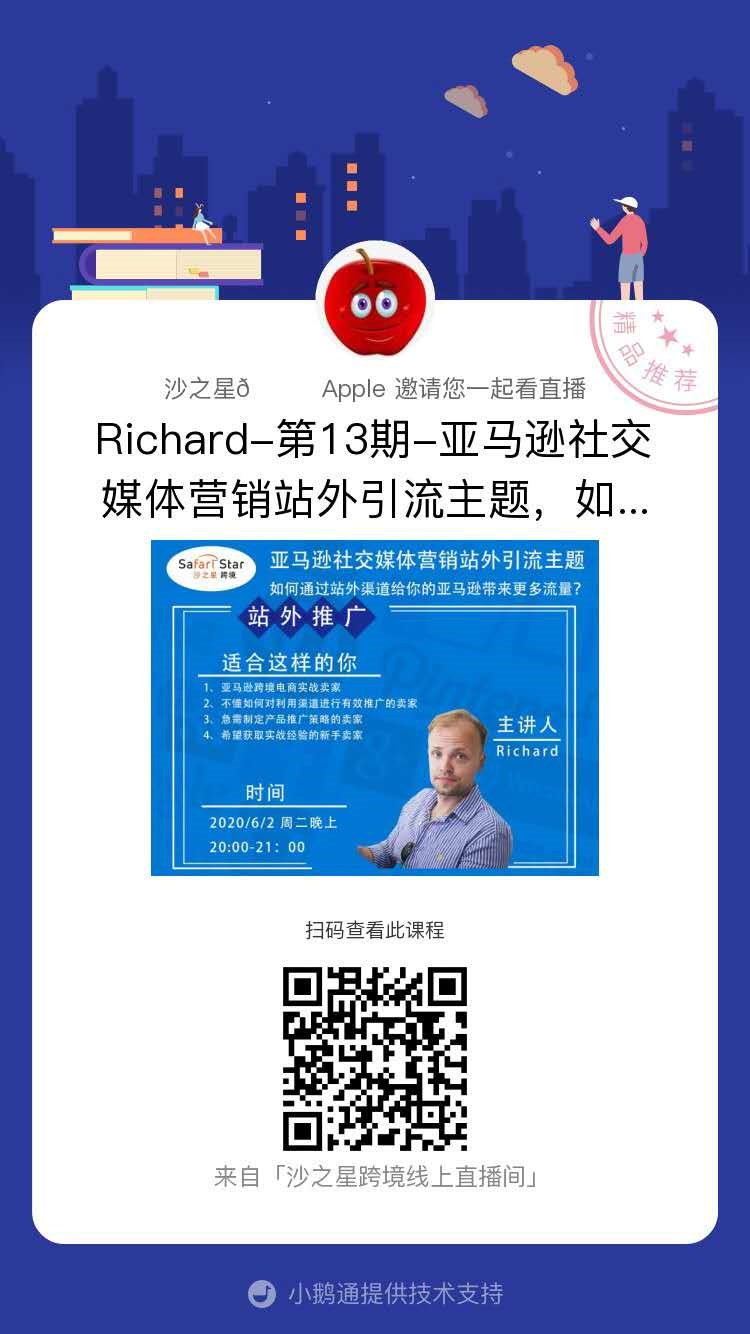 Add customer service WeChat: shazhixing115 to get the full PPT of this live broadcast.
In order to make it easier for cross-border e-commerce sellers to find the relevant resources they need in the course of their operations,
Our Sand Star cross-border also set up a variety of resource docking groups (the following is QQ group number, we search to join it)
1. Cross-border e-commerce Amazon Exchange Group: 856744717
2. Cross-border e-commerce Amazon Art Photography Design Group: 1082781536
3. Cross-border e-commerce Amazon FBA logistics cargo docking: 1082785351
4. Cross-border e-commerce factory docking group: 1047825335
5. Cross-border e-commerce station outside the Canal docking group: 637044975
6. Cross-border e-commerce company registration exchange group: 1082918745
7. Cross-border e-commerce recruitment group: 683997147
8. Cross-border e-commerce Europe and the Middle East VAT registration declaration exchange group: 1061460089
(Scan follow Amy chat cross-border video number, the first time to get more information on overseas markets)

CEO of Acumen IBC & Safari Star

Founder and CEO of Azemin International and Shastar Cross-Border  
Resident in The United Kingdom, familiar with the cultural differences between East and West

He received a master's degree from Oxford Brookes University in the United Kingdom
Assistant international trademark attorney, member of the British Trademark Office
Since 2009, he has been engaged in cross-border e-commerce industry and has extensive practical experience in e-commerce operations and tax compliance

Focus on providing local accounting services in the UK for Chinese enterprises, VAT registration and declaration services in Europe and the Middle East for cross-border e-commerce, and international tax compliance consulting and planning for Chinese brands


Amy chats about cross-border public numbers and will share information about Amy's first-hand cross-border tax and overseas investments overseas from time to time.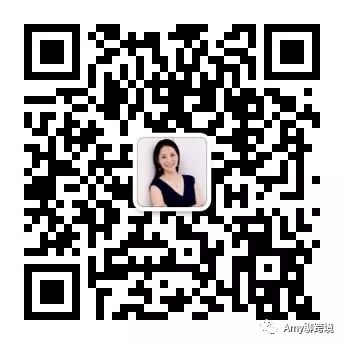 (Scan above QR code, follow Amy chat cross-border)
Stay tuned for more up-to-date, cutting-edge cross-border information
---