Read a text! Brand advertising strategy to sell new products!

The following is the first-line brand sell small new teacher commissioned cross-brother original content
What's the advertising strategy when brands sell new products on the market?

Three stages of macro strategy

Phase 1:
Brand sales will attract high-quality traffic in the first 30 to 60 days, directly open manual product promotion ads, make full use of product delivery, while launching automatic advertising of product promotion, for the next stage to accumulate effective keywords.
First look at traffic, ranking, compare prices. Sales volume is a traffic X-converted product. Look at the traffic first, the simplest and most intuitive. Conversion rate is influenced by a combination of factors, while price factors are more critical. Generally this kind of sudden decline in sales, we have to consider whether it is a bad review. Or, your upper flat seasonality is stronger. If the weekend falls suddenly, you can count the data to see if it's a weekend effect. Some customers habits lead to changes, can only adapt.
Phase 2:
Drive sales rate, use brand and competitor keywords to promote sales, use keywords to open manual promotion ads, brand owners should also use brand promotion and brand stores, arouse direct buying behavior, try a variety of advertising combinations, to test different to undertake pages, such as brand flagship stores, customized feature pages or search results pages, to improve the advertising output ratio.
Phase 3:
ASIN is mature enough to leverage all advertising products to maximize effectiveness and impact, to learn from previous lessons learned and to apply them to real-world strategies, and now that you've accumulated product awareness, you can now focus on brand keywords to promote sales.
Practical application, in the delivery of advertising should also be clear about the development stage of their own products 
1. New product period:
    If it's a new product phase, Amazon has about 2 weeks of traffic support for the new product. At this time, the main purpose of advertising is to attract streaming, this stage is to quickly judge the market demand for products, and the second is to detect the need to optimize the place, automatic ads and manual advertising together, bidding is a little higher than amazon system suggested bidding. The new product burst to create a prime-time, advertising strategy is to use sufficient budget to open up the market, a wide range of drains, to find accurate single keywords.
 2. Growth:
    If product sales initially stabilize and continue to rise, the purpose of advertising is to shift from diversion to order, to focus more on manual advertising. In the new period, through the analysis of advertising reports can find out the single keywords, and then these words step by step from a wide range, phrase transition to precision, gradually increase the bidding of keywords, if the keywords into the precision after the performance is not good, the keywords will be returned to the phrase or broad. Product set bidding is higher than the recommended bid, but to control ACOS in less than 30%, if the precise keyword ACOS is very high, you can search through the buyer's account to find this keyword ads to buy. 
3. Maturity: 
    If it is a product that tends to stabilize sales, no longer have significant growth, based on the operation of pre-advertising, the keyword performance is very good, the peak season can be appropriate to reduce the bidding of keywords, and improve the budget, the advertising ranking has little impact, perhaps ACOS can be controlled at about 10%, or even lower.
1. Analysis of keyword reports
Track keyword rankings and order performance, adjust keyword bids and keyword structures.
Keywords report mainly focus on exposure, clicks, orders, according to click-through rate and Acos high and low to determine whether the key words need to adjust prices, negative or
Advanced to phrase or exact match pattern.
High impressions and low clicks: Consider optimizing the page and verifying that keywords exactly match the product.
High clicks and low volume: Consider improving page quality, adjusting product prices, or adjusting bids.
Bid high, do not show: keyword relevance is low, or page matching and keyword layout is not done well.
2. Constantly optimize the advertising structure
Structural optimization: Pick good performing keywords from an early automatic or manual broad range of keywords to upgrade to phrases or exact match patterns, or downgrade underperforming keywords.
3. Constantly optimize the structure of keywords
Learn to subtract: Reduce invalid traffic by analyzing reports, unrelevant, or ACOS-exceeding keywords in ad groups. (Note the difference between precise negation and phrase negation)
Continuous addition: from the keyword report constantly find excellent words added to the ad group, increase ad coverage and words, expand the effective traffic pool, accumulate more traffic, create value.
One is lateral expansion: for example, if you are making an accessory for a product, some products or models associated with that product can be scaled out, often with very low bids for high output.
The other is vertical expansion: that is, digging deep into a category. Power Bank, for example, found that Mini Size Power Bank has a very high click-through rate and is highly relevant, so you can add to your keyword library. Report analysis reveals a lot of words you can't think of.
Want to learn more about how Amazon's front-line brand sellers operate? You can listen to the following online courses, small new teacher Amazon operations team summary experience, team members from Zebao, Aoki, anker and other first-line amazon advertising practice courses. Amazon's Ad Experience Summary, a three-hour voice-only version of the 151-page photo tutorial, has been listened to by more than 1,410 people.The $100 coupon is available for a limited time。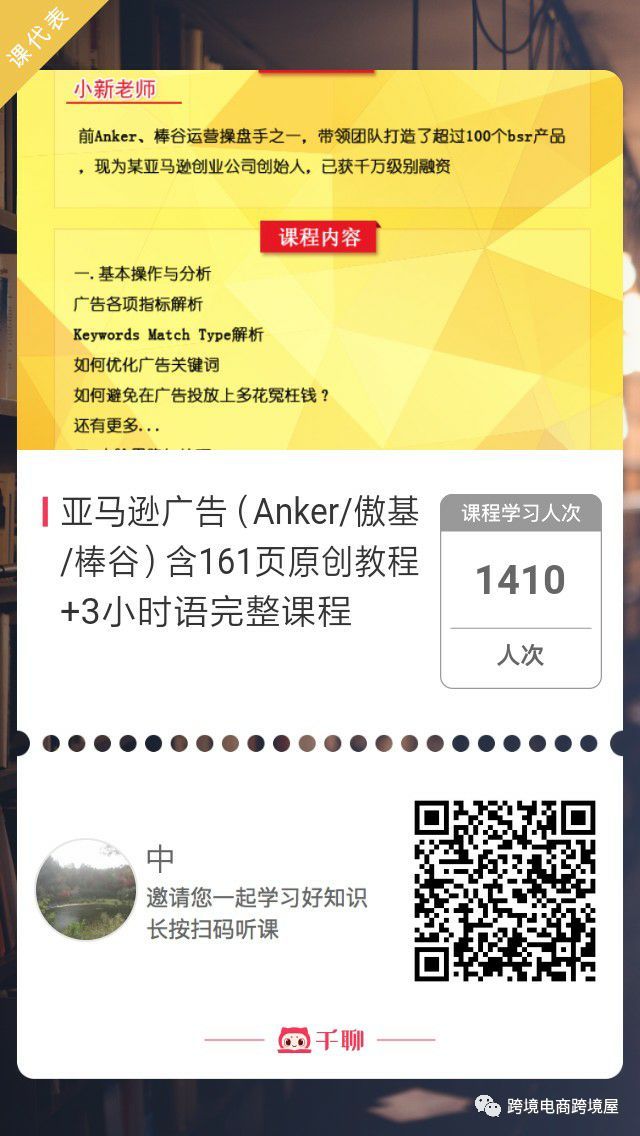 ---