Pinyou interactive hand in hand with groups of China, and then the digital advertising transparency revolution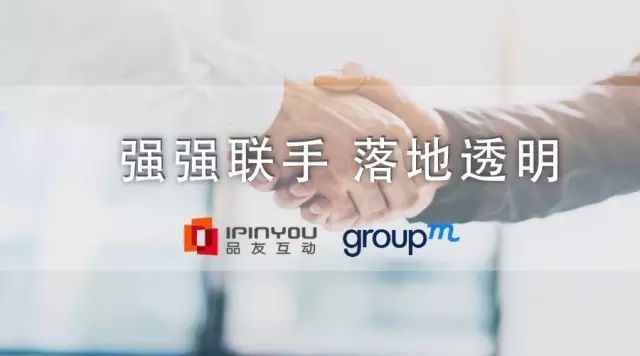 Recently, China's largest advertising technology company, Pinyou Interactive, announced a strategic partnership with groups of the world's largest media investment management companies to jointly promote transparent digital advertising services. The "DynaSky Column" system of product friend interaction will become the strategic partner of programmatic buying Unit program service department in China, aiming to provide transparent all-round digital advertising service management for the customers of group service, among which, product friend provides technical system, group friend conducts strategic service to meet the brand owner's demand for digital advertising transparency and programmatic advertising standardization.

Based on the common grasp of customers' "transparent" needs, the two sides forward-looking development of technology and data-driven digital advertising, as well as their respective strong technical strength and service capabilities, finally reached a comprehensive and in-depth cooperation, and vigorously promote the deepening and landing of "transparent" digital advertising in the Chinese market, representing a new height of the development of digital advertising in China.

Based on more than 6 years of accumulation in the programd advertising market, Pinyou Interactive launched China's first digital advertising management cloud platform in 2016, with a truly transparent SaaS model to help customers achieve the overall optimization of digital advertising, provide 200-plus ad targeting options, open up the market mainstream data sources, introduce the world's top third-party functions, to provide advertisers with real traffic and the highest level of controllability, breakthrough restoration technology essence, Aiming to innovate the program ecosystem through open and transparent service model, advertisers can make use of the efficiency of RTB mode by using the system of customer interaction, and can also manage and optimize the regular purchase of advertising space intelligently, and a system can be fully optimized to bring real benefits to advertisers.

Huang Xiaonan, founder and CEO of Pinyou Interactive, said, "The collaboration between dynamite column system and leading advertising agencies and other industrial chain parties can better bring the transparent security strategy advocated by Pinyou to the ground." In 2016, Qunyu began to promote transparent PBU services, showing its outstanding market insight and strategic vision, and the recognition of transparency between the two sides has become an important prerequisite for this cooperation. We want to work with the industry's leading partners to create a transparent and open procedural environment where the entire program ecology is bathed in the sun. "

PBU full transparent program service model was launched by Qunyu at the beginning of 2016, with the market can operate independently of the advanced advertising technology platform, DMP platform, third-party verification technology companies and other close cooperation, by the internal professional planning and operation team, based on customer needs, to provide brand customers with customized from strategic planning, integration planning analysis to operational execution, delivery effect optimization and other one-stop program services. Ms. Zhang Xiaoxuan, CEO of Qunyu China Program Purchase, said: "Qunyu adheres to the best quality advertising technology partners to meet the different needs of brand advertisers, I believe that this group of PBU and Pinyou Dyna Tianzhu system transparent and open cooperation model, will help advertisers get more effective." "

This year, large advertisers, on the one hand, see technology-driven delivery models become an inevitable trend, on the other hand, for transparent service models and systems put forward higher requirements. At present, Group and Pinyou have been in a number of advertising projects to enable the system service fee model, to bring advertisers reliable services, I believe that such cooperation will bring advertisers a more upgraded digital advertising experience.
---