Out to sea in India, digital advertising jobs can still be copied?
Follow and make "Everyone Is a Product Manager" a star
Arrive on time every day at 07:45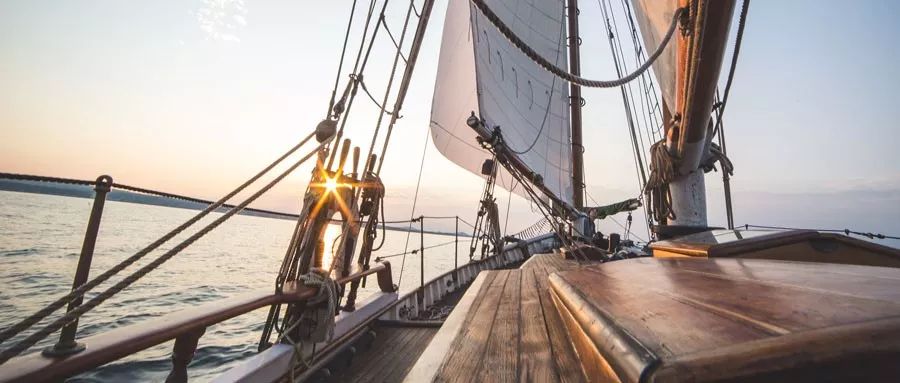 India is seen as the next battleground for the global mobile internet economy as the dividend for domestic mobile Internet users fades. Chinese companies are flocking to the Indian market in the hope of creating the next "golden decade of the Internet", but what about india's real market? This paper combines the data to analyze the Advertising Market in India.

Author:Wang Xiaoye
The puzzle is from Unsplash and is based on the CC0 protocol
The full text is 2272 words and takes 5 minutes to read
—————— BEGIN ——————
With the development of mobile Internet, the domestic market is becoming increasingly saturated, the sea seems to be the best choice for mobile Internet companies, as the second billion-strong country, India's birth demographic advantage is destined to become a battleground.
01
Domestic last 5 years
Will it be India's next five years?
When I first came into contact with the Indian market, a colleague told me to think about India and look at the country five years ago. India with a long history, is not a day or two, a few articles can see a so, do not experience the pain of peeling onions, I am afraid it is difficult to see the real India.
To quote here from an Indian colleague who d'd like to go out to sea:
"When I first came to India, I felt that the gap between China and India is also 5-8 years, six months later, at least 10-15 years, more than a year, do not talk about the gap, Buddhist treatment."
If the hope is that India's mobile internet market will replicate the growth momentum of the country over the past five years, the poor Indian nationals will be disappointed.
Is India's next five years similar to the last five years at home?
The following is a comparison of China-India GDP growth trends, the time period to choose the domestic mobile Internet germination to mature 20 years.
Domestic GDP doubled about 12 times from $828 to $9770 in 1998-2018, about four times as much as india's $413 to $2009.
In terms of growth curves, domestic growth is almost exponential, while India is closer to linear growth. On this trend, it will be difficult for India to experience explosive growth in the next five years, and it will take another 15-20 years for india to reach its 2018 GDP per capita level, provided there is no Great Recession or natural disaster.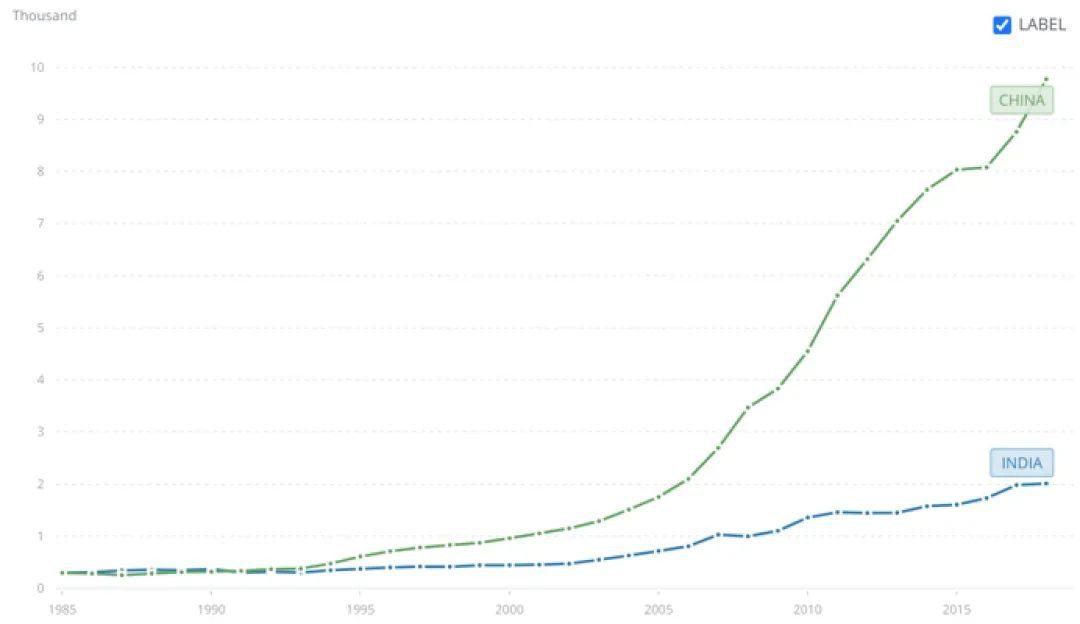 The level of urbanization reflects the purchasing power of the population to some extent, with about 470 million urban people, or 34.43 per cent of the total population, in 2019.
Compared with the urbanization process in China and India, the rate of domestic growth is four times that of India. With this linear growth trend, it will take 30 years for India to reach 50 per cent of its urban population, while it will take only eight years for the country to reach that level.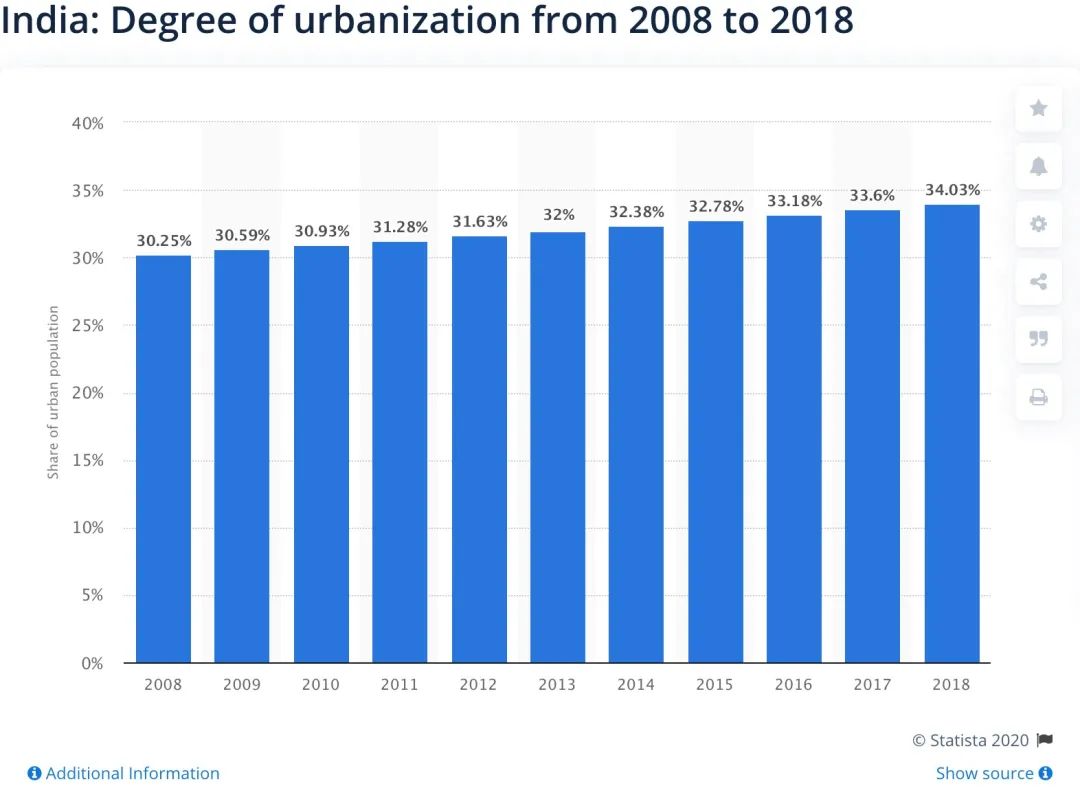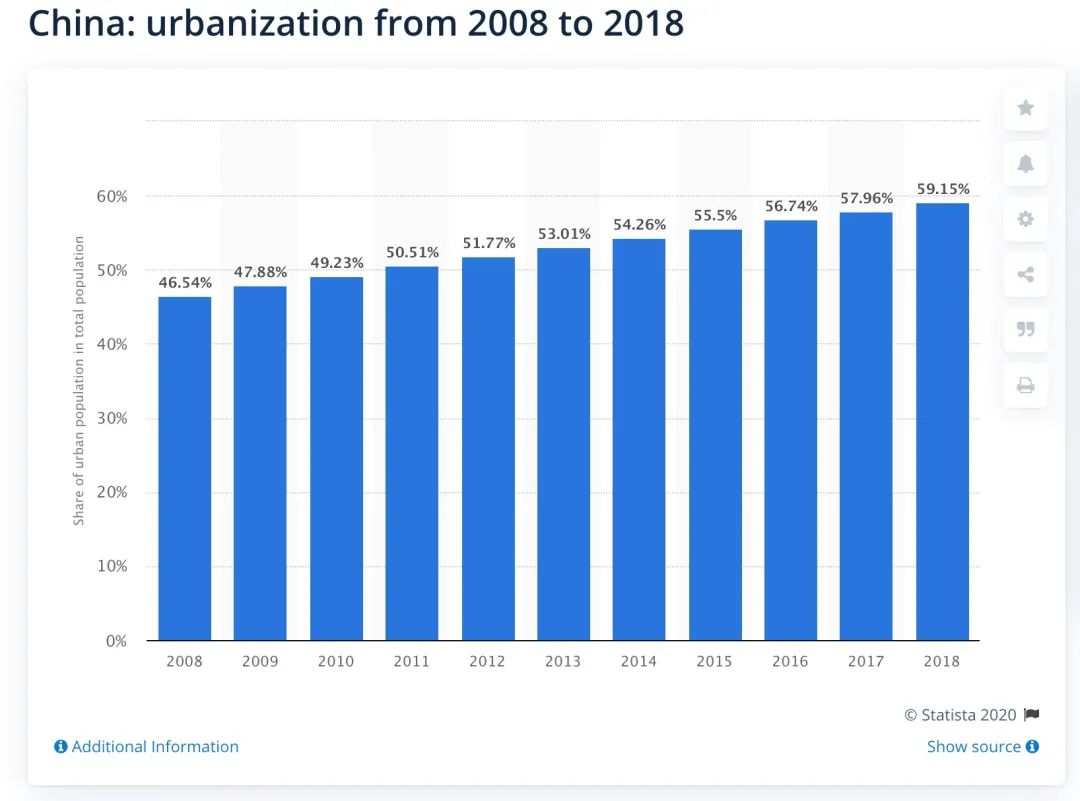 China-India urbanization progress 2008-2018
02
Digital advertising
Chicken ribs or chicken legs?
Digital advertising accounts for less than 20 per cent of the advertising market.
India's advertising market will be about $10 billion in 2019, with TV TVs accounting for nearly 48 percent and printing 22 percent, with traditional media advertising still dominating.
In the past 5 years, TV TV has always maintained a steady trend, and the growth of digital advertising mainly comes from the transfer of printing.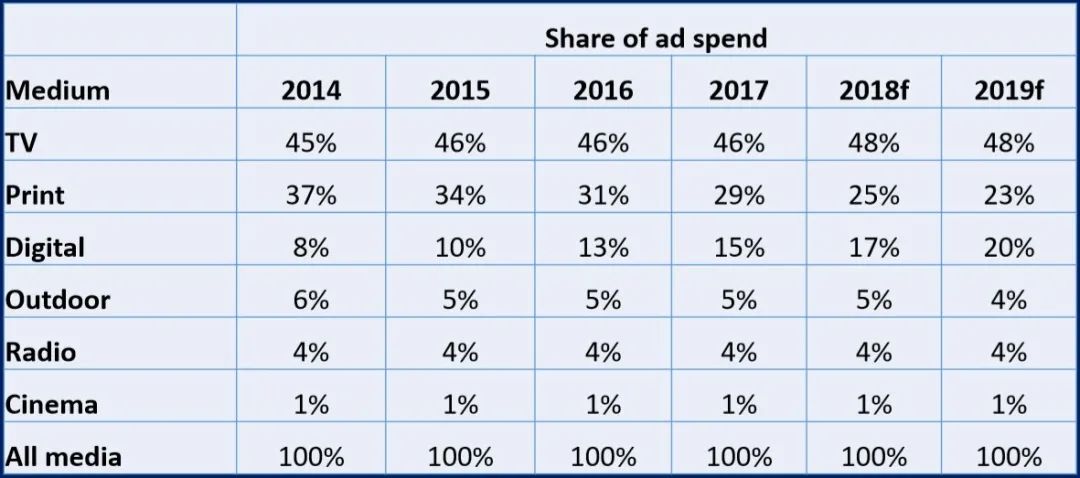 India's advertising market share
Television is the main media platform for India now, or for some time to come.
By 2020, Indian adults are expected to spend an average of three hours and 45 minutes a day using traditional media, or 69.5 per cent of their daily media time , with digital platforms accounting for only 30.5 per cent of the remaining 30.5 per cent, or 1 hour and 39 minutes.
It is well known that the increase in user stay time, even if only 1 minute, from the point of view of advertising revenue, is not to be ignored.
As can be seen from the table below, the TV's length is growing by almost 10 minutes per year, while the mobile side is only 8 minutes long and will continue to be so for a long time to come.
Indian adults watch an average of 3:10 tv a day, while digital video is only 31 minutes.
It's not hard to see why India's share of TV advertising has not wavered, despite the rapid rise in global smartphones in 2014-2018.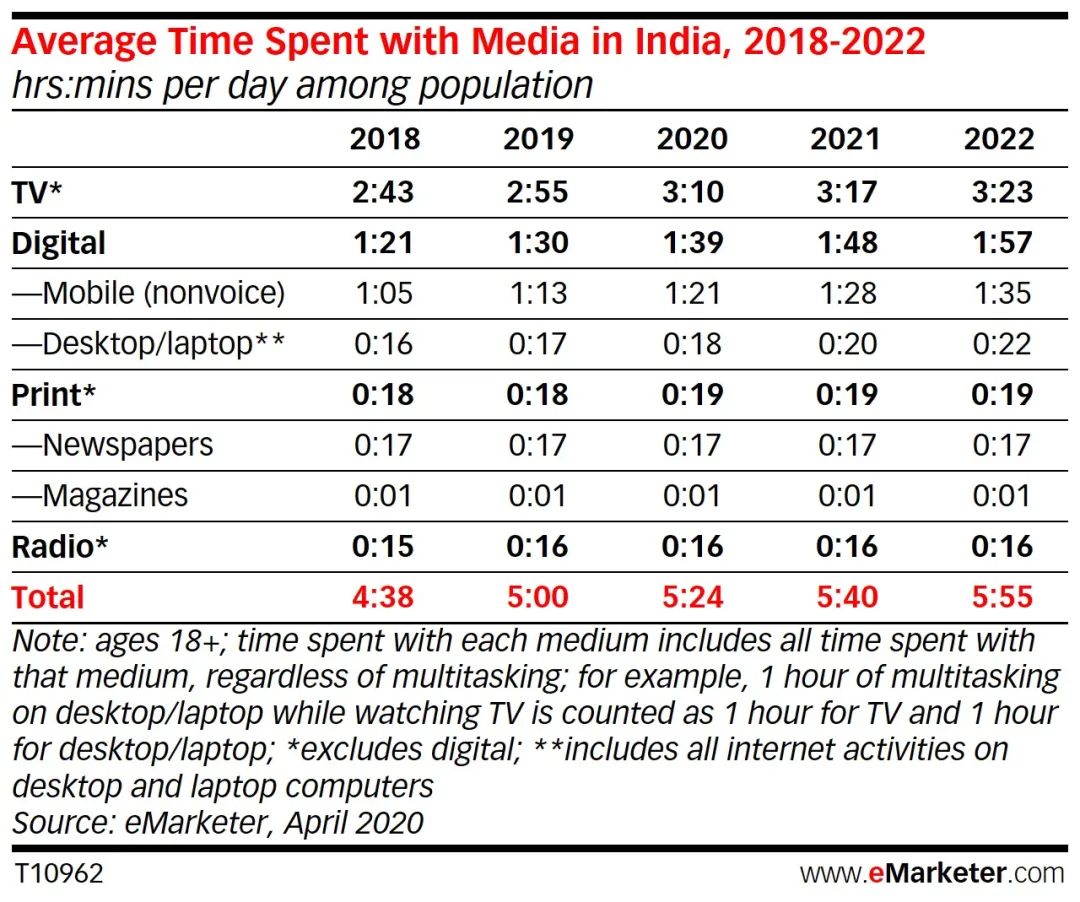 Media platforms spend an average of more time per day
Can the growth of smart phone users break the pattern of the advertising market? India's smartphone growth peaked at 13 per cent in 2017 and has since slowed to 10 per cent in 2018 and 7 per cent in 2019.
2017 is a key node for Smart Machines in India, but advertising budgets in most sectors of the country have been leaning towards traditional media over the same period, and there has been no explosive growth in the mobile advertising market.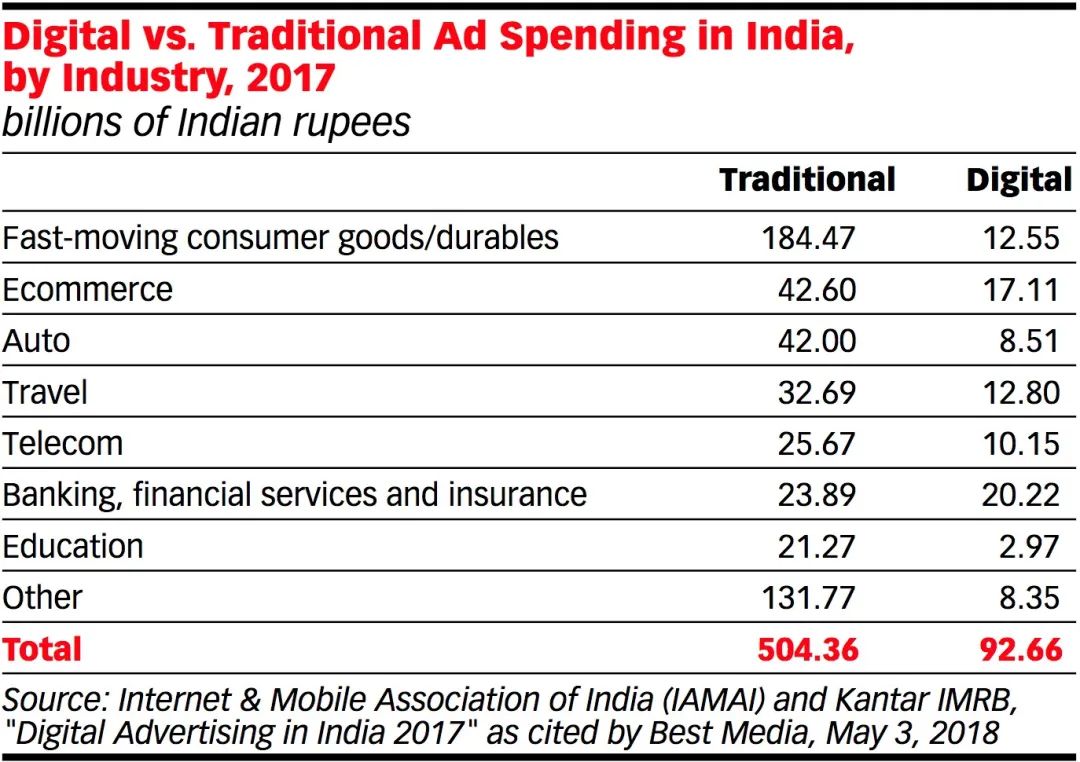 Advertisers' budget spending as a percentage
Search ads account for the largest percentage of digital ads. The market size is expected to be $966 million in 2020. India's mainstream video advertising revenue, by contrast, is now only $250 million.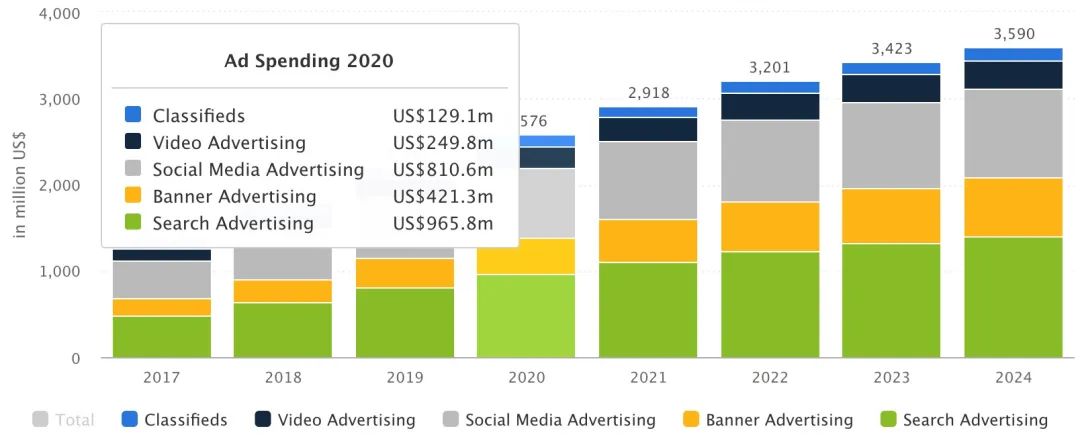 India's online advertising market
Take Tiktok, for example: in 2019, Tiktok India had 323 million downloads, accounting for 18% of global downloads, with revenues of Rs. 430 million and profits of Rs. 33.8 million.
In terms of revenue structure: service charge: Rs. 415 million, Advertising: Rs. 21.6 million.
Tiktok advertises mainly by effect, with an average ecpm of $0.2, according to the current state of the online advertising market in India, and Tiktok's fast-growing user volume in India has not delivered matching revenue.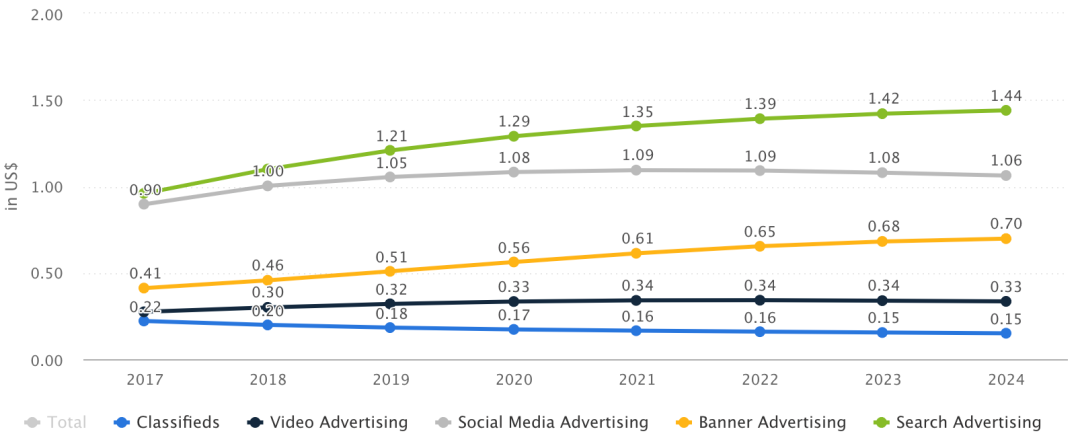 Average contribution per user for online classified ads in India
India also has Agency ecpm can reach close to $2, but the filling rate is very low, calculated in fact, the difference is not very big, advertisers are almost all traditional advertising budget spent to move online, such a gold owner is not many.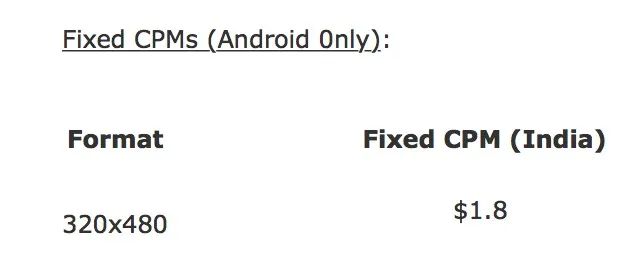 An Indian Agency CPM price
To sum up, India's online advertising market volume is not large, the root cause is still in the people's purchasing power, people's income increased, the popularity of smart machines further expanded, users through online entertainment interaction brought about by the sense of body, attention more to the online, advertisers are willing to invest more.
Based on the current advertising market situation in India and the growth rate of the Buddhist system, the author believes that the growth requiring returns should conform to one of the following two rules:
A single user can earn enough money over the life cycle (perhaps to play with him all the time);

You can find an extremely low-cost access.
If you can't find a set of low-cost access channels, but also no unit economic reasonable way to cash out, then stop loss in time, think of a good model to start again.
Although India has a large population base, but in digital advertising, copying domestic operations, I am afraid it will not work, the lack of purchasing power will ultimately harvest only the wool party.
Compared to spending money, the following methods can be explored together:
The combination of TV advertising and mobile application scenarios, online and offline two-way promotion cover, cover more people;

Make full use of functional machine resources, after all, the current Indian functional machine market is still growing, and this part of the user is also the future of smart machine users.
Perhaps, as with India's urbanisation, products that go out to sea in India need to be slowed by fire rather than explosive user growth.
It's ten years before you do something, and no one competes with you. Keep patience, as long as the products provided to the user value, with time to adjust the accumulation, the Indian market is still available!
The charts above are from the web.
—————— / END / ——————
Every "look" is an encouragement
---