New opponent! Challenge Amazon and Ali, YouTube's transformation from advertising giant to e-commerce giant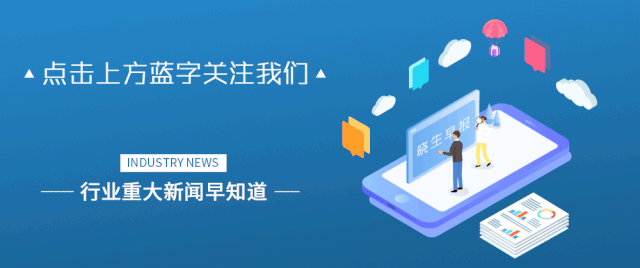 Google has announced that it is turning YouTube into a shopping platform

USPS announces 2020 holiday mail shipping deadline

Amazon China Prime has more than 150 million members
Google has announced that it is turning YouTube into a shopping platform
On October 12th it was reported thatGoogle is turning its video site, YouTube, into a major shopping destination, making it a rival to Amazon and Alibaba.
People familiar with the matter said Google's move was aimed at turning a large number of videos on YouTube into a vast catalog where viewers could browse, click and buy directly. In addition, YouTube is testing further integration with e-commerce company Shopify, which sells goods through YouTube.
Source: Sina Technology
USPS announces 2020 holiday mail shipping deadline
October 12, the day before,The U.S. Postal Service (USPS) has officially announced a 2020 holiday mailing deadline.
The USPS said that while holiday shopping would be different this year due to the new crown outbreak, it was still the busiest time for the postal service before Christmas, as usual. Traffic is expected to increase from two weeks before Christmas, the week of 7 December.
December 14 will be the busiest day for the postal service online, with more than 13 million consumers expected to visit USPS. Nearly 120,000 consumers will also use Click-N-Ship and other online services on December 14th, such as ordering free priority mail boxes, printing mail labels, purchasing postage, and even applying for free next-day parcel collection. USPS said the week from December 14 to 21 will be the busiest mailing, shipping and delivery week for USPS.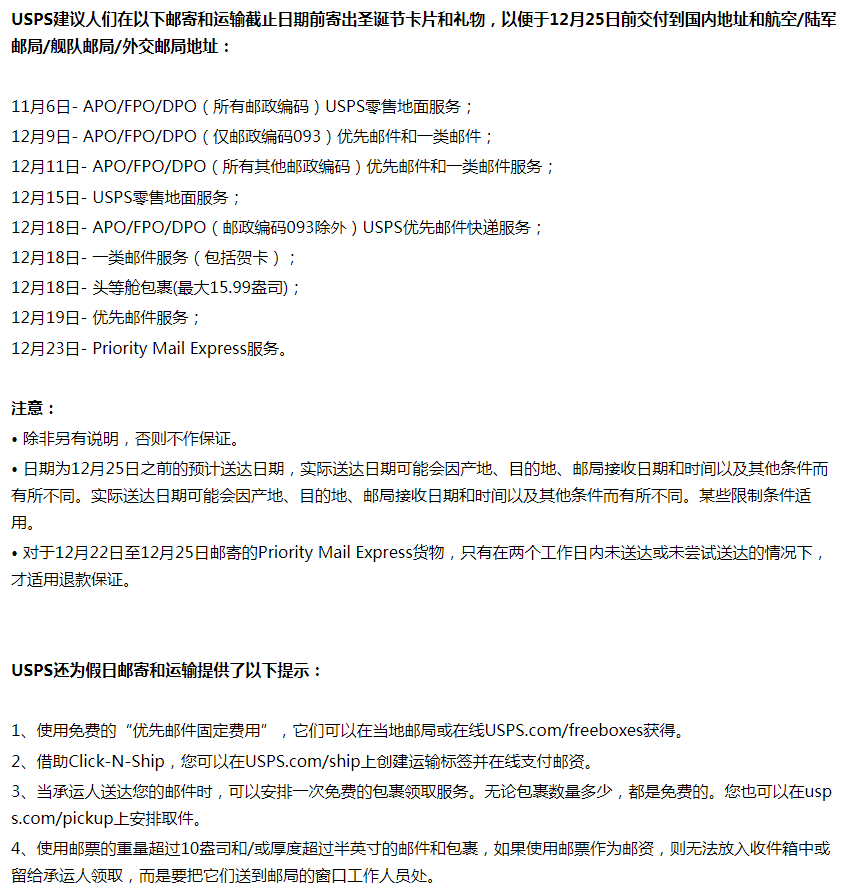 (Click on the image to zoom in)
Source: AMZ123
Zhongtong International Development China-Australia Line, greatly accelerate the logistics timeliness!
October 12 news, it is understood thatZhongtong International independently developed the Sino-Australian line, specifically for Australian sellers to launch the appropriate investment line products.
It is understood that the service first-trip use of Hong Kong aviation resources, commercial customs clearance mode, the back end to Australia's well-known local delivery company responsible for transport. The whole process can provide sellers with first-trip transportation, export delivery, import reception, physical delivery and other real-time tracking and query services.
Source: Zhongtong International
Amazon China Prime has more than 150 million members
October 12 news, recently,Li Yanchuan, Amazon's vice president for China, officially released data on Amazon's China Prime membership.
According to the data, Amazon China Prime has more than 150 million members, and the top five cities for its spending power include Beijing, Shanghai, Guangzhou, Shenzhen and Hangzhou. Consumers in coastal cities account for 60 per cent, compared with 40 per cent in inland cities. Meanwhile, Amazon China will officially launch a three-month"s "Overseas Shopping Festival" covering 2020 Amazon Prime Membership Day, Double 11, Black Friday, Online Monday and many other nodes.
Source: Beijing Business Daily
Yuantong International launched WeChat small program version of the international transshipment collection service
October 12 news, recently,Yuantong International announced the launch of WeChat small program version of the international transshipment services, only 5 steps, you can enjoy high-quality, convenient, efficient, peace of mind cross-border logistics services.
Yuantong International said that Yuantong International U.S.-China transshipment business has been serving domestic Sea Taobao players for many years, the current Yuantong transshipment system fully mobile upgrade, into Yuantong International WeChat small program. Now open the mobile phone to log into the Roundcom international small program can achieve the United States and China Sea Taobao transshipment orders. In order to meet the global sea Taobao small partner's international transshipment logistics needs, Yuantong International will soon launch more heavy-weight products.
Source: E-Commerce News
Amazon announces 2020 Christmas Top12 toy list!
On October 12th, Amazon curated and released a list of Top12 toys for Christmas 2020.The list of toys comes from TV, movie and video game characters, as well as the popular characters of the day, with out-of-the-box and technology-centric toys popular with children of all ages.
It is understood that this year, as people spend more time at home, retro classics such as Barbie, Back to The Future and Super Mario are back on Amazon's Topo12 toy list for Christmas 2020, along with Star Wars and LEGO.
Source: Seller's Home
Amazon's new policy in the UNITED Arab Emirates: Customers in neighboring countries can order directly
On October 12th it was announced that customers in Bahrain, Kuwait and Oman could now shop on Amazon.ae, and that the customer group would be able to order items from the UAE.Amazon offers an "international shopping experience" that covers shipping costs, including import costs, while customs clearance is managed by Amazon's courier company.
The service is available in Arabic or English on the Amazon Shopping app and amazon.ae website. Customers can pay with local and international debit and credit cards, as well as customer support in Arabic and English.
Source: Edbon Power
Internationalization of la La Canada code: officially entered the U.S. market
On October 12th it was reported thatLalamove is active in on-demand logistics services in China, Southeast Asia and Latin America and has officially entered the United States after seven years of operation.
As the new crown outbreak forces millions of Americans to close their doors, Hong Kong-based Lalamove believes it has the ability to seize the opportunity to meet growing distribution demand in the U.S. market. Lalamove pioneered the launch of the service in the Fortworth area of Dallas. The area is also a major distribution logistics center in the United States. After that, Lalamove will launch logistics services in Chicago and Houston.
Lalamove is one of the few unicorn start-ups in Hong Kong valued at $1 billion. The company's business type is rich and highly local, but essentially it's similar to Uber in the courier world, transporting goods within cities for individuals and businesses. In ChinaLalamove is also called Cargo Lara.
Source: Sina Technology
Passenger traffic or a 25% reduction in U.S. brick-and-mortar sales are not optimistic
October 12 news, Black Friday has been the retail industry, especially in Europe and the United States retail industry is one of the most important promotional holidays, but as the consumer online gradually become the trend, offline shopping malls have been less than before the black five business situation. Coupled with this year's sudden outbreak, the Black Five period shopping mall crowding phenomenon is estimated to be difficult to reproduce. To boost the market downturn at the start of the year, online platforms are also increasingly promoting the holiday season.
Next week, retailers such as Target, Kohl's and Home Depot will compete with Amazon's Prime Day to kick-start the holiday promotion season early.Companies are also looking to launch more early activities to shake off overstocking caused by new crown pneumonia, a move that will also ease the logistical challenges that come with the surge in orders.
Source: Hugo.com
Amazon's two U.S. warehouses have been fined for violations related to the outbreak and plan to appeal the subpoena
October 12 news, recently,Two Amazon warehouses in California have been summoned and fined $1,870 by the California Occupational Safety and Health Administration for safety and health violations related to the new coronavirus.
Amazon said in a statement that it plans to appeal the subpoena. It is understood that Amazon has said that the company this year nearly 20,000 employees infected with new coronary pneumonia, is currently providing front-line employees with coronavirus testing.
Source: Sina Technology
HKTVmall, a Hong Kong e-commerce platform, wants to help sellers compete with Amazon
Hong Kong e-commerce platform giant HKTVmall will provide services to third-party platform sellers to help them compete with Amazon platform sellers, it said on Oct. 12.HKTVmall will open its first out-of-area research and development center in Taiwan by the end of this year, with Europe the second layout point after Taiwan, and construction is expected to be completed next year.
"We're going to use the whole system of the company around the world," Ricky Wong Wai-kay, the company's co-founder and chief executive, said in an interview with foreign media. As long as we're interested in this, whether it's operators or investors, as long as they want to compete with Amazon, we can provide them with a comprehensive solution. "
Source: Hugo.com
Tmall International's overseas direct purchases during the National Day sales increased by 429% Year-on-Year
October 12 news, data show that this year, October 1-7,Tmall International's overseas direct purchase transactions increased by 429 percent year-on-year, with European warehouse direct mail goods up 621 percent year-on-year, Korean warehouse up 607 percent year-on-year and Japanese warehouse up 242 percent year-on-year.
It is understood that on September 1 this year, Tmall International announced the upgrading of overseas warehouse business, officially launched the official cross-border direct mail business overseas direct purchase, the business was launched in June this year.
Source: CCTV.com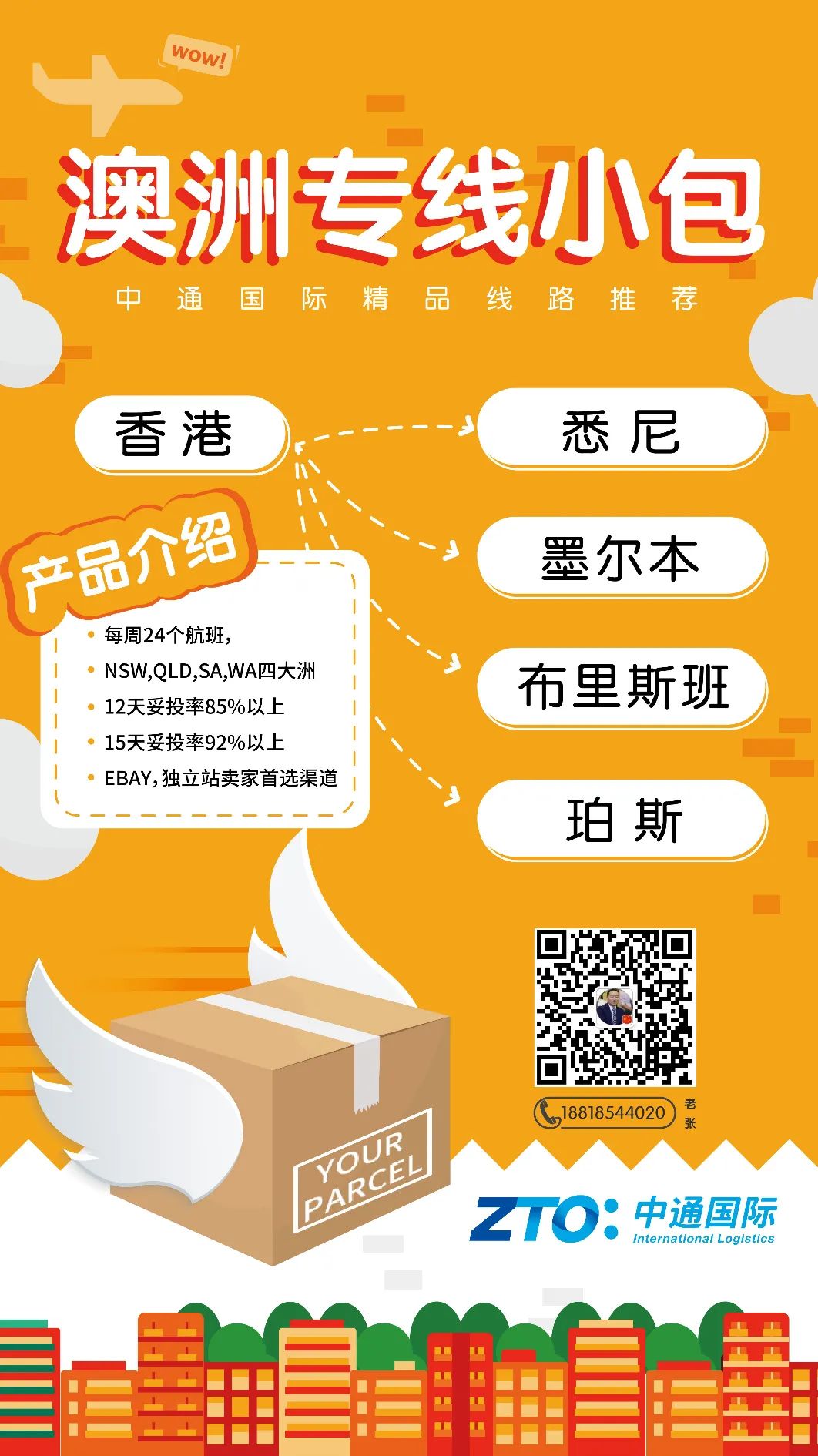 The above content comes from the network, if there is infringement, please contact us.
Xiaosheng Morning Post is a daily real-time summary broadcast of major news events in the industry, we are deeply focused on cross-border e-commerce and logistics industry, adhere to the output of valuable information and content to practitioners, media contributions and explosive materials can contact small editor WeChat:kjwlbxs04 or long press to identify the QR code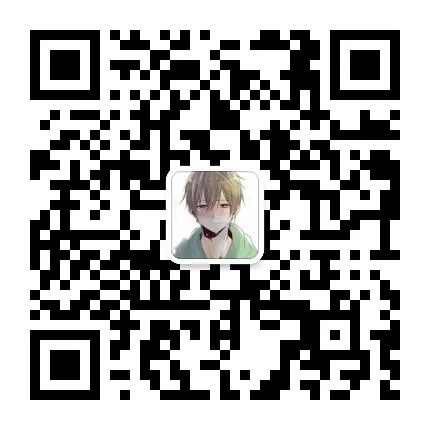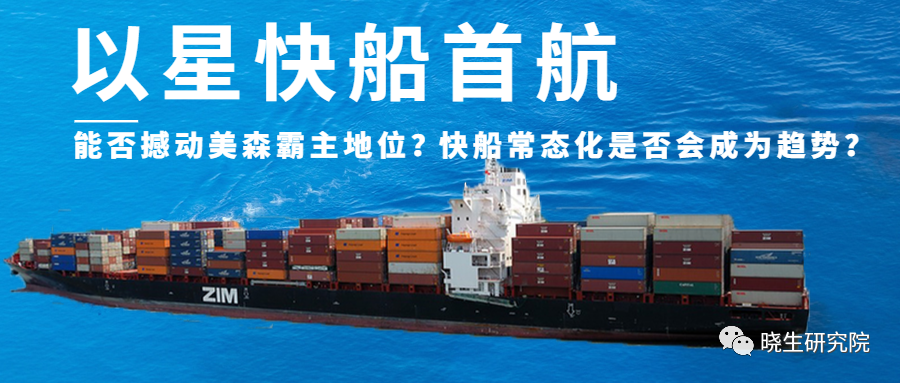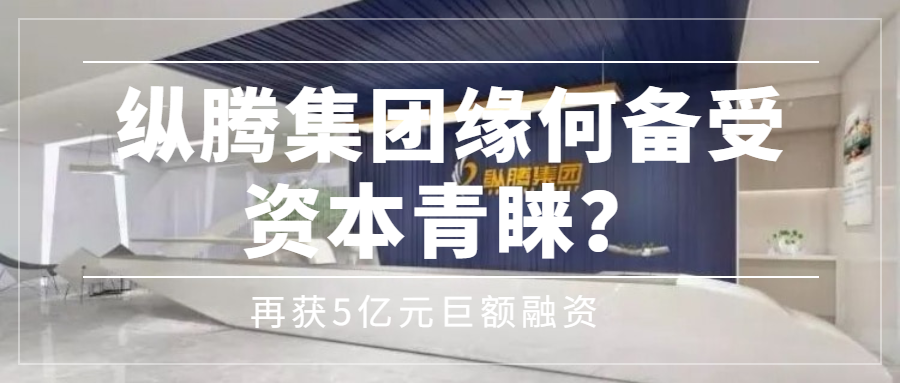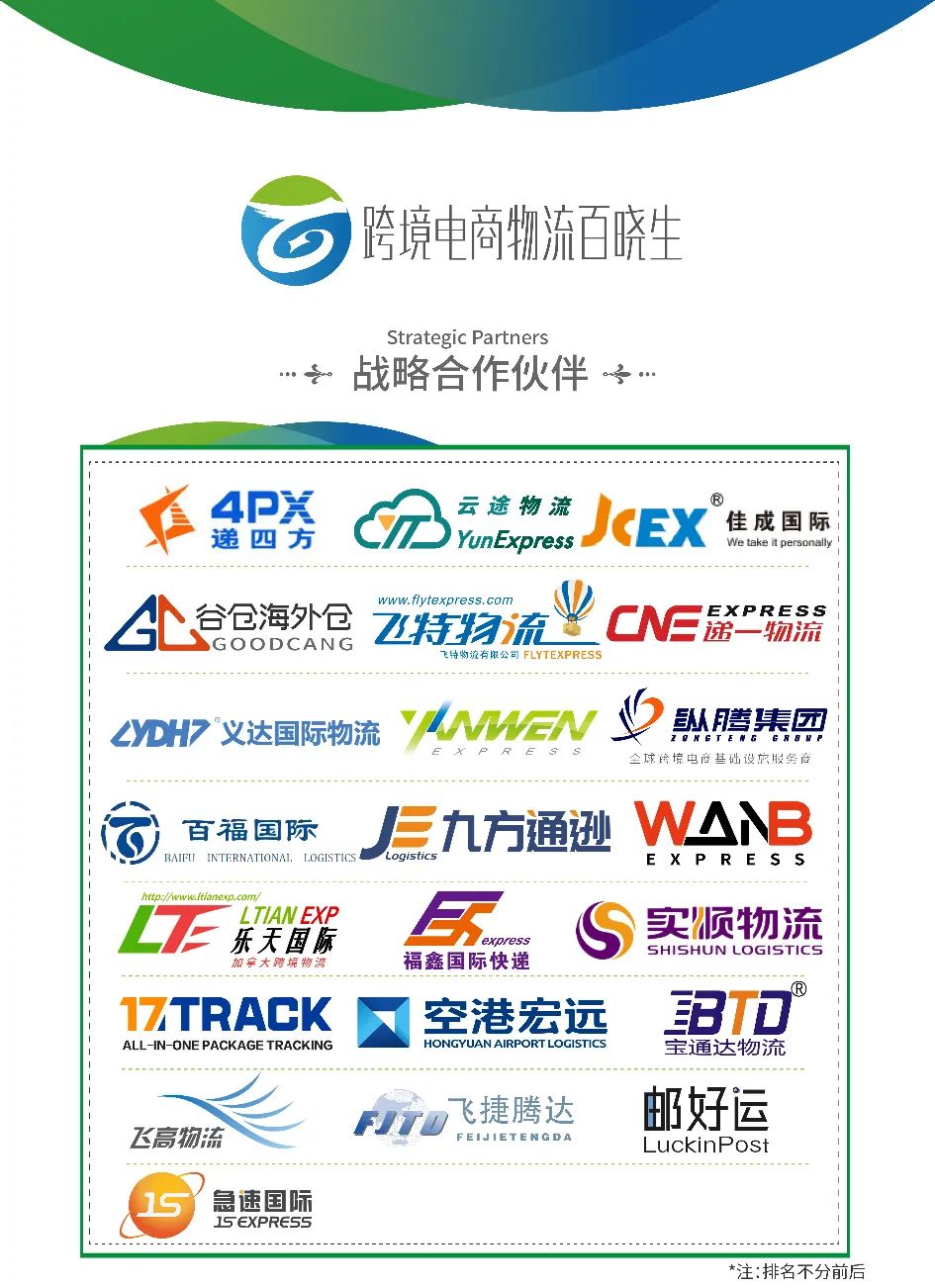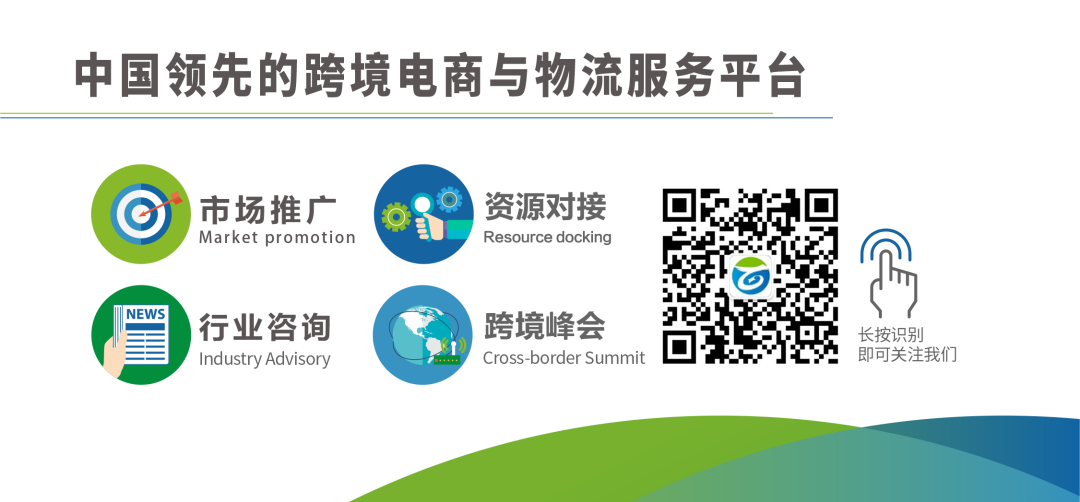 I knew you were "watching."
Click."Read the original text"Enter.Baixiao's official website
The article has been publishedModify.
---