Hej! Swedish life - The ice cream truck is coming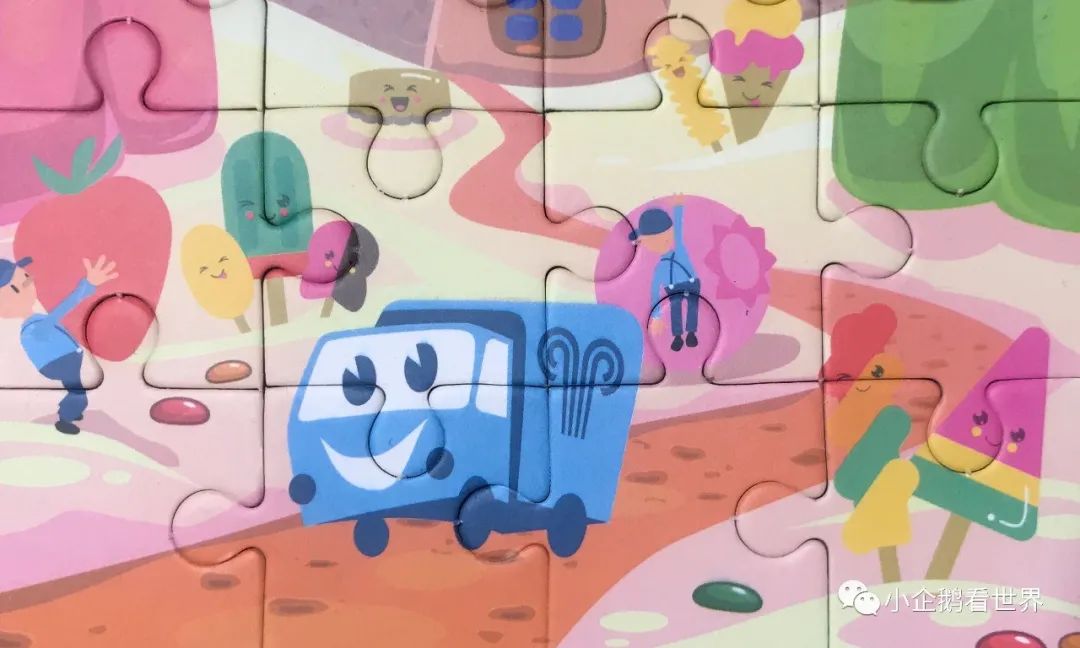 When we moved to our new home last year, we always heard a brief burst of cheerful music from different directions nearby once or twice a week. (below)
We are curious: this position, this melody, is next to the school ringtone? Or the time of the nearby church? Or the horn of a sprinkler outside the neighborhood?

Until one day, the neighbors two children (Dabao and Two Treasures) to the home and play more, heard that familiar melody sounded again, the sisters happily dance: "Ice cream truck!" "
Truth!
So we thought it was school, it was church, or the sound of sprinklers,It's a signal from the ice cream truck!
Great news!
"Where is it?" Where is it? Dodo asked excitedly at the moment.
Dabao said, right next to the parking lot, let's go and see!
Dodo and Dabao quickly put on their shoes, flipped over the low railings of the terrace, jumped on the grass outside, and sped toward the parking lot.
Three-year-old two treasure has not put on good shoes, looking at their distant back, anxiously said, "Wait for me!" "

In front of the window to write the code of many dads, see I am still helping two treasure wearing shoes, then hastened to step on slippers, carrying a wallet chased out ... ...
Five minutes later, the children came back with two boxes of ice cream in their hands, each carrying a small gift.
On closer inspection, it turned out to be a small box of puzzles and a round piece of paper gold. The children said that the next time they saw the ice cream truck, they could exchange the gold coin for an ice cream.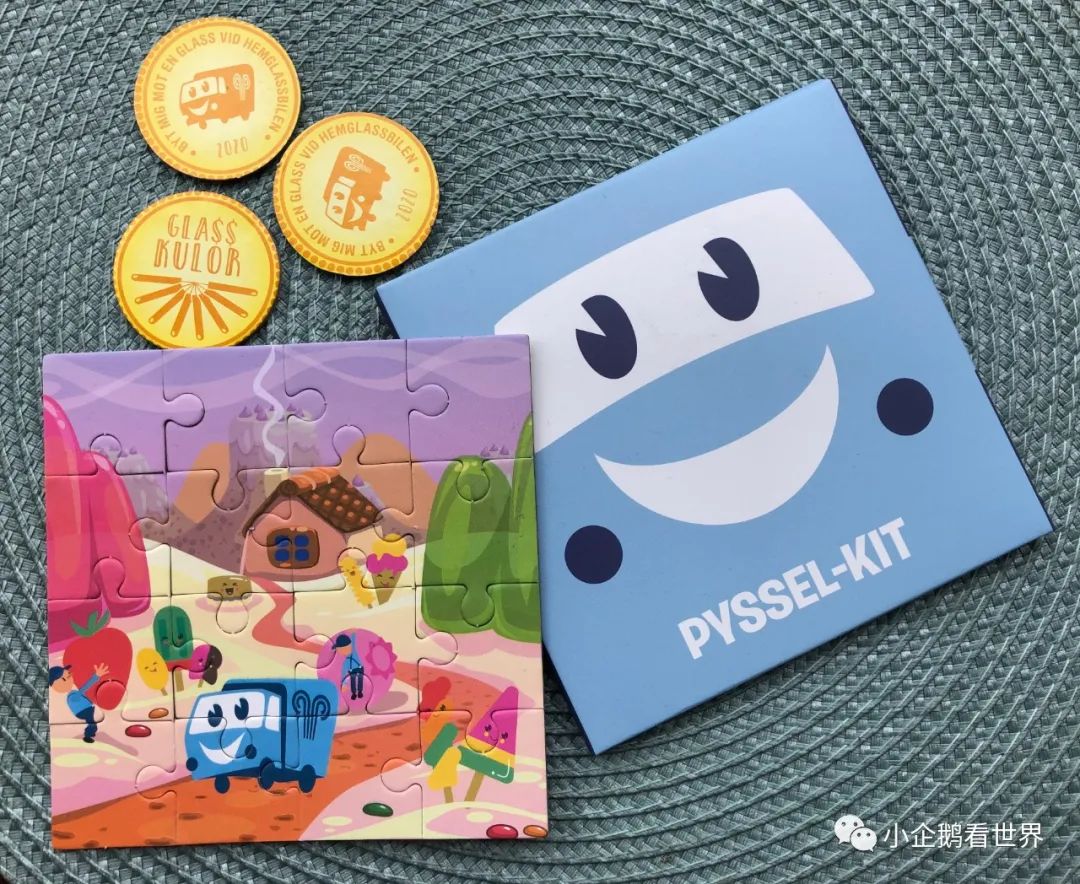 Dodo's father is not slow to follow the child back. He told me that there were still a lot of neighbors coming, and there were long queues behind the ice cream truck. Don't look at our community usually quiet, stay outside the house for half a day also can't see a figure, this ice cream truck, "hidden" at home young people, old people and children were summoned out in an instant. Our impression of the "high cold" "Nordic queue" (per capita distance of 1.5 to 2 meters), ice cream truck, is the following style: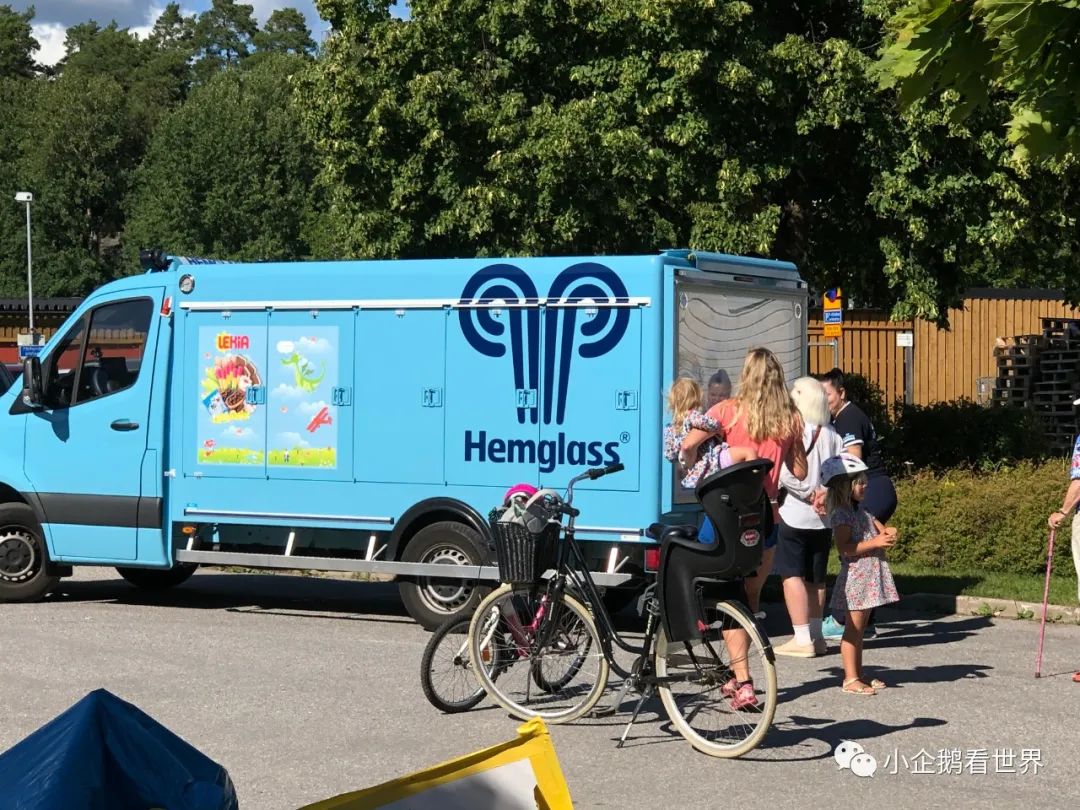 (This ice cream truck is printed with "Hemglass", in Swedish, hem is home, glass is ice cream.) Hemglass is a 52-year-old ice cream company with a website: https://www.hemglass.se/) 

Dodo dad said that he had a similar experience when he was a child, in the summer when he heard the sound of selling ice lollies, the whole village men, women and children are rushing to the village mouth, selling ice sticks around the small bike group, the scene is very lively. I didn't expect to relive this scene in Sweden a few years later.
This scene reminds me of 90A classic ad of the age:
"Childhood
As long as I heard the call of sesame paste,
I can't sit still anymore...
A strong fragrance,
A wisp of warmth,
Southern black sesame paste."
(I haven't heard of this ad, it means you're young.)

)
There is sesame paste in the south and ice cream in the north. For Swedes who live in cold areas all year old and have a maximum summer temperature of no more than 30 degrees, eating ice cream doesn't need to take into account the season. Ice cream is a must-have ingredient for Swedes to eat at home all year round, or one of the essential desserts after a meal.
The Swedish neighbour, who lives across from us, also showed us a way to eat ice cream: with freshly baked desserts.
We have a big leaf plant in the corner of the house that resembles a red celery pole, and when we first came we didn't know what it was, we didn't know what to do with it, so we had to let it go mad. One day, a neighbor who lives across the slope came over and asked if we could get them to pick a few for dessert, and we readily agreed.
Neighbors told us that the plant was called Rabarber (I checked Chinese name, commonly known as "Big Yellow").They then used it to make two plates of Rabarber Paj ("Big Yellow Pie") to give us a taste of "Swedish flavor" and specifically told us that "Big Yellow Pie" should be eaten with vanilla-flavored ice cream to make it more delicious.(The plant in the upper left corner of the picture below is the "big yellow", and the upper right corner is the "big yellow pie" given to us by our neighbors)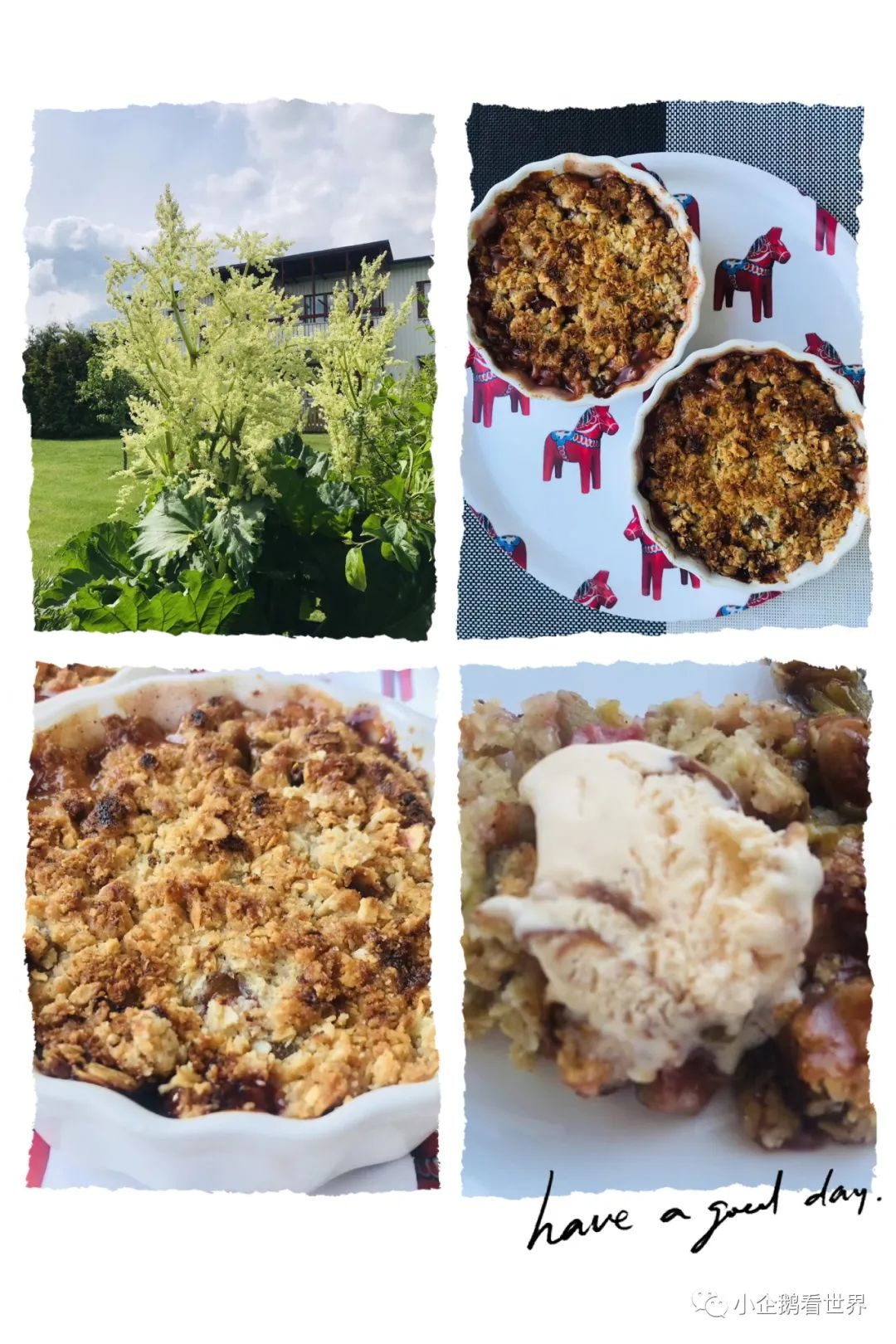 Since ice cream is a Swedish dessert, the street ice cream truck has become a part of Swedish life.

Dodo recently saw a picture book, the story is in the ice cream truck as the background. Two children living in the countryside, after hearing the sound of the ice cream truck, excitedly chased out the door (the beginning of the story described the scene, with Dodo, Dabao two treasure to chase the ice cream truck that scene is really God).
But they have not waited for the car for a long time, follow the sound to find, the original is the vehicle passed through a remote place when the accident occurred, the driver was also injured and unable to move, so they help call an ambulance, timely rescue the driver.
(The story ends with the children being praised by the police as heroes.) One of the children got into deep thought: I thought the hero should have some kind of magical power, such as can fly, but I can't fly, I am not a "hero"? )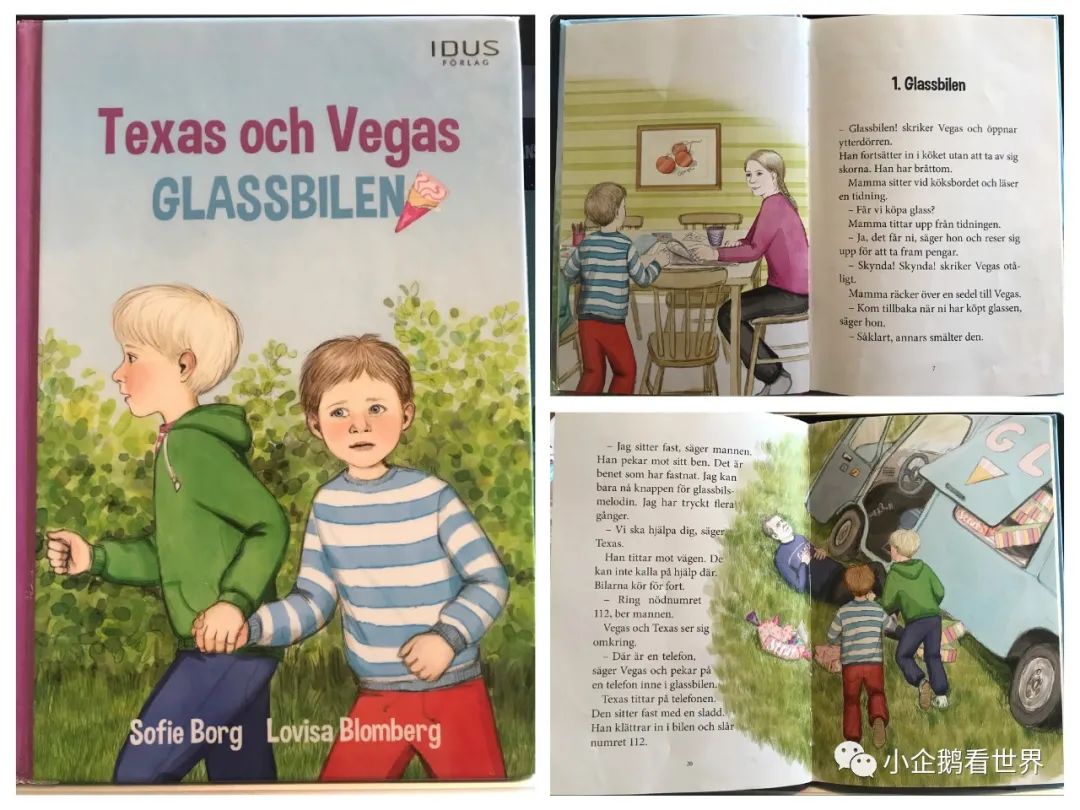 Almost all the children, even the big ones, were looking forward to the cheerful melody of the ice cream truck, but there was one who thought the sound wasn't wonderful. There was a news: "Sweden's 70-year-old man can't get his tires punctured by the sound of ice cream truck music."
In October 2013, Nelson, a 71-year-old man from southern Sweden, was upset by the loud music of an ice cream truck and broke its tires with an electric drill.Mr Nilsson admitted that the practice was meant to be a public discussion and that ice cream carts should not be changed as they passed through residential areas.
On January 24, 2014, Nilsson was fined 100,000 kronor (then about 94,091 yuan) by the Malmo District Court for the plagiarism and compensation for the economic loss of the ice cream owner.
(News link https://look.huanqiu.com/article/9CaKrnJE7LA)
Ice cream truck finally won, it can be seen that it is still popular with the masses.Search for "Glassbilen melodi" on YouTube and you'll find a lot of videos. One of the videos, without any animation, simply loops the sound of the ice cream truck coming (that's the melody inserted earlier in this article), with more than 748,000 hits.To know that Sweden's population is only 10 million ah, this broadcast can be called "brainwashing song."(Video link https://www.youtube.com/watch?v=eyH-7ozCruI) 
There are 140 comments below the video,
Someone.Said:
"Download it as MP3 as a ringtone."
Some people say:
"My dog yelled as soon as he heard the music, and I guess it wanted ice cream."
Others said:

"I used to drive to a neighborhood and play the song for a minute, and then a lot of people came in, and when they came together to find out where the ice cream truck was, I started playing the song again, and they realized they were being fooled."
(Without such a prank, the fans of the ice cream truck are so sad.)


)
In fact, in Sweden's major supermarkets, convenience stores can buy a wide range of ice cream, to the store to choose or online shopping is very convenient, and it seems cheaper. So why is the ice cream truck still so attractive?
(The following image is.)Hemglass common ice cream types and prices, from its official website)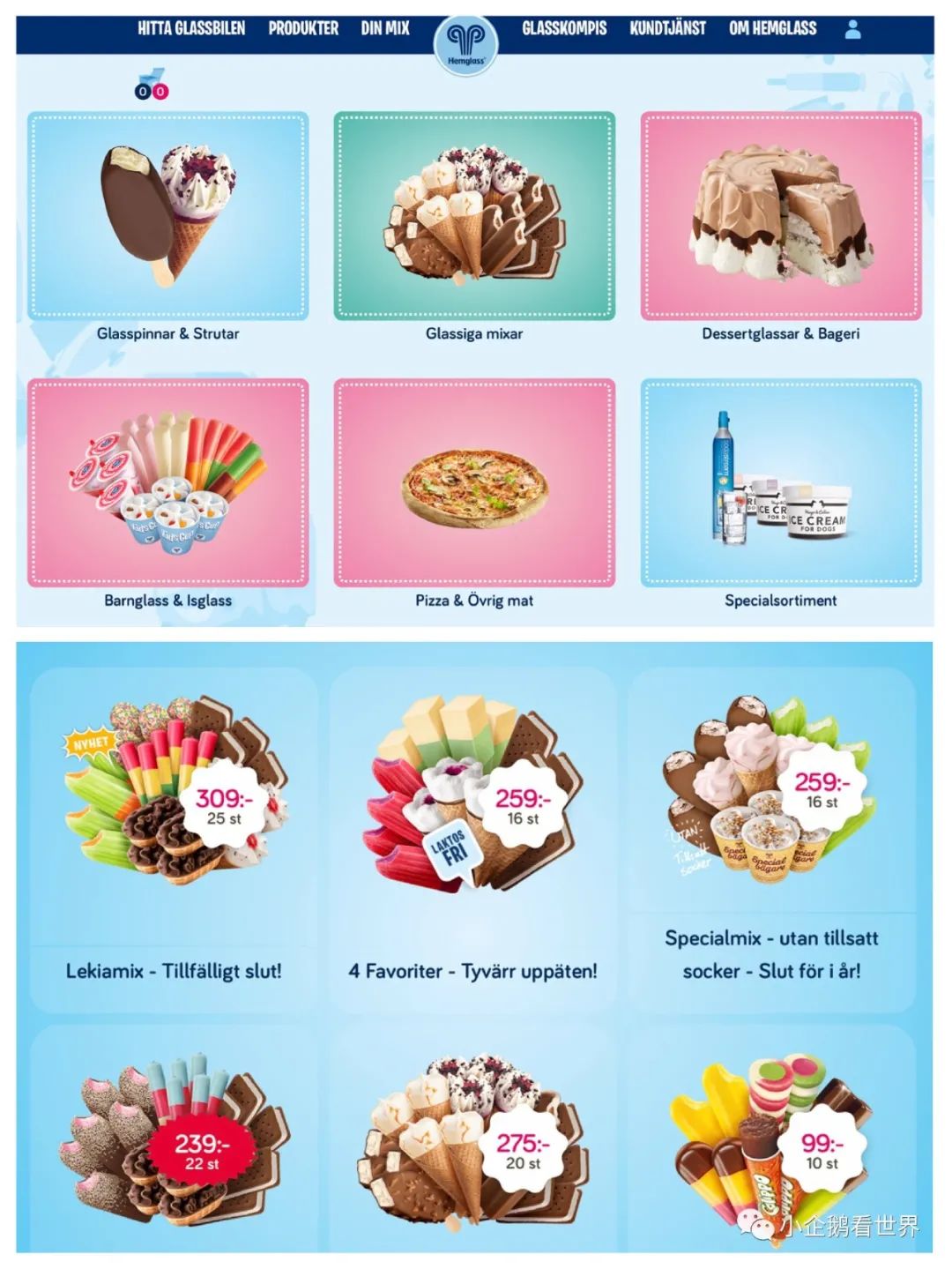 Later, I found out that ice cream carts have a fixed route and delivery times to each neighborhood, such as every Tuesday afternoon and evening to our neighborhood. Every time I pass the neighborhood, it announces to everyone in a bright song: "Hey, friends!" I'm coming! I'm coming! Get out of here! " 
So, usually quiet neighborhood, suddenly active, parking next to the open space instantly turned into an open-air party scene.At this point I understand,We look forward to ice cream carts, but also look forward to a kind of social tacit understanding, look forward to a common friend, help us eliminate the strangeness between people, create a "acquaintance community", so that people in this community more sense of security and belonging。
Living in the network era, used to self-help through the network to solve all kinds of life problems, used to contact with neighbors and friends through the network, is not a long time did not hear this simple but full of the smell of fireworks:
"Selling tofu- "
"Ice sugar gourd hey - "
Grinding scissors - pickle knives - it's time to grind them.
"Receiving waste-
When such a slur rang out again, we all put down our cell phones and computers, took steps out of the house, went straight to the scene, and said hello to our neighbors by the way!
---------------------------------------------------

Guess what you want to see
Swedish Life:

Hej! Swedish life - a neighbor's cat

Hej! Swedish life - garbage sorting those things

Hej! Life in Sweden - Admissions (1)

Hej! Life in Sweden - Admissions (2)

Hej! Life in Sweden - Language

Hej! Life in Sweden - Language (2)

Hej! Life in Sweden - Language (3) is not a joke

Read Tang poetry:
Reading Tang Poetry with Your Child, Fifteen Nights looking at the Moon

Accompanying the children to read Tang poetry's "The Old Man's Village"


Welcome to the public number"Little penguins look at the world"Like please point"Praise."Or click"I'm watching"Thank you!
The article has been publishedModify.
---