Mercedes-Benz, BMW and Audi are competitors, and the ads go dark

Click on the top BroadcomMore wonderful waiting for you!
Recently, Mercedes-Benz released a promotional poster for the E-Class sedan, which used the story of Guan Yu's five-pass cut in the "Three Nations" to mock competitorsBMW 5 SeriesAnd.Audi A6。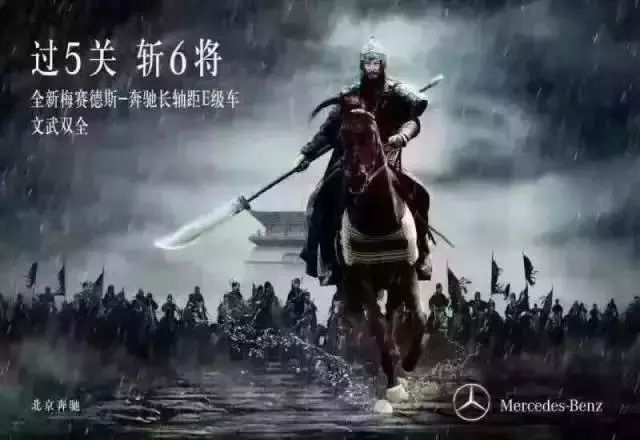 To this BMW means you use allusions, I also use! And or by force with the "Three Nations" Guan Gong's future to fight back against Guan Gong's present, is really high!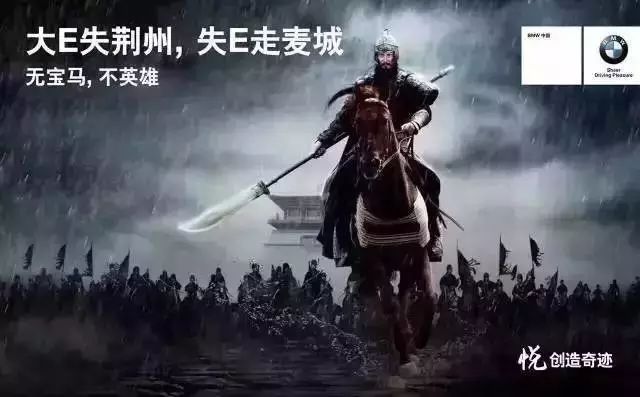 It's not easy for Mercedes to take the initiative to play with the Audi also actively respond, minutes to launch two posters. But compared with BMW's response, Audi's paper is a little less slee. But Audi also has the iconic lights, and without the word, you know it's an Audi.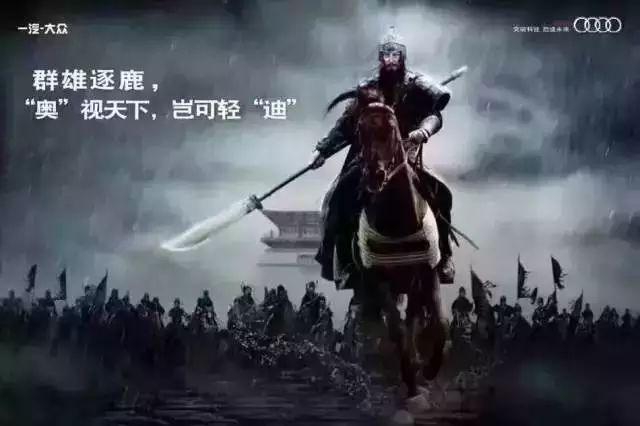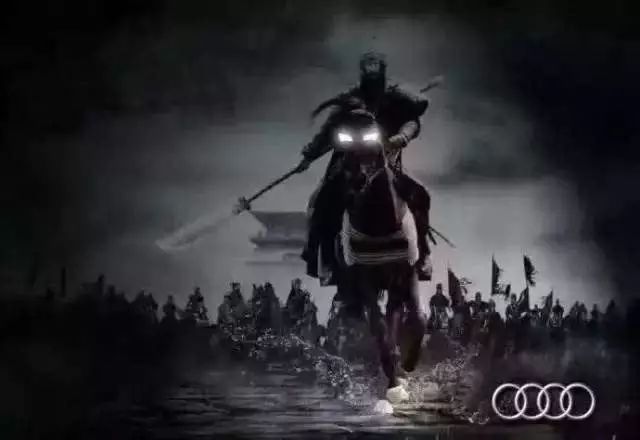 Other car brands followed suit, joining the melee, with the fight between the major car brands manifested in advertising. Such things are so common in the car ring!
Remember that it was March 7, 2016, not just the eve of Women's Day, it was BMW's 100th birthday.
Old rival Mercedes sent a congratulatory message wishing old friend BMW a happy birthday.
Mercedes-Benz said in the poster,Thanks to BMW's competition, those 30 years without BMW are actually boring (Mercedes-Benz is 130 years old). And actively invite BMW friends to visit the Mercedes-Benz Museum, so that BMW employees understand the history of BMW's car 30 years before birth, the top 50 BMW friends, and the opportunity to get a special snack from Mercedes-Benz!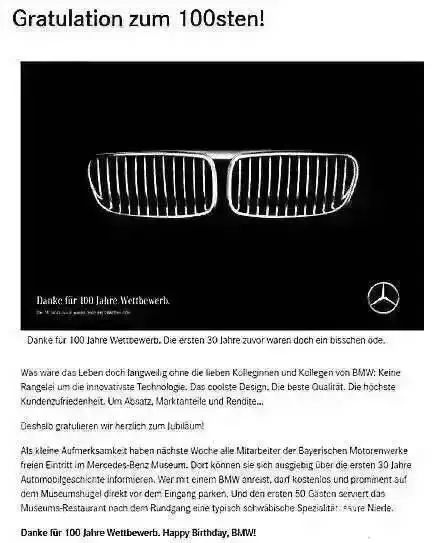 That's a good message. Is it a hero between the world's best-selling car brands? Or is Mercedes quietly wooing BMW customers to create a dark arrow to spread the topic?
Through the poster can see several key points: first, Mercedes-Benz is 30 years longer than BMW's history, Mercedes-Benz is the big brother of the car industry;
Mercedes took a good step forward with BMW.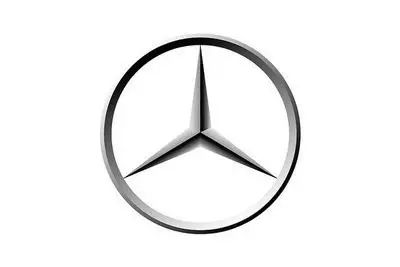 I remember it was 2015, and there was a car company called Jeep that sent out a few posters. Black out several competitors all over again!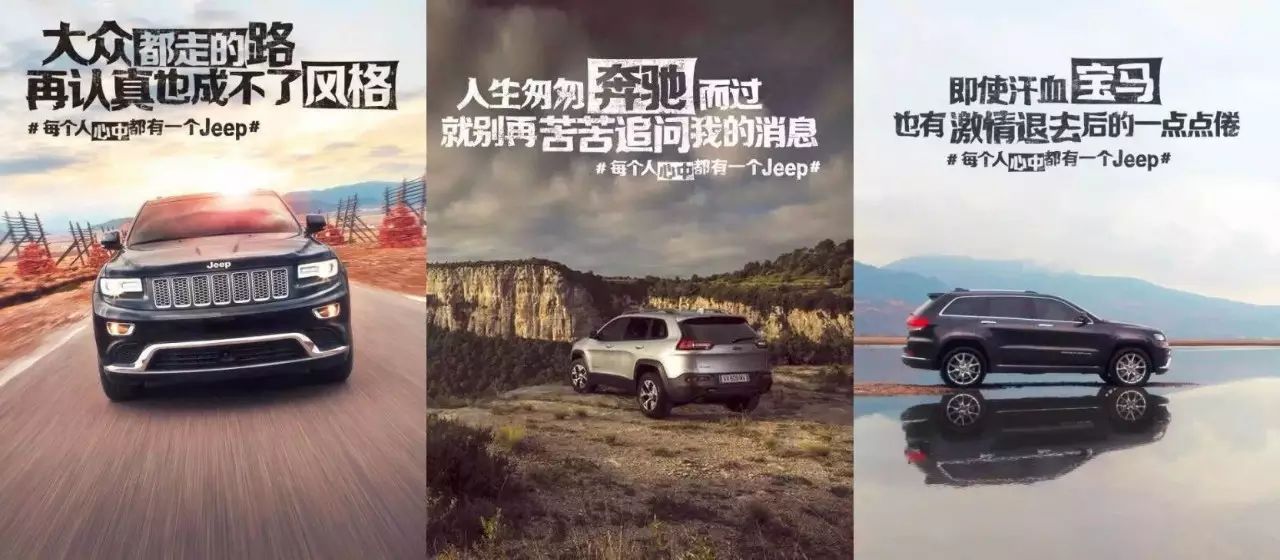 I do not know the opponents are years of bloody struggle, the more frustrated the braver the car!
The next day, the black three immediately hit back, the first to play BMW. BMW is targeting a song called "The Hill" by Jeep's spokesman, Li Zongsheng. (There's a lyric in the song, "Cross the hill and find no one waiting")
BMW 2 said, run fast, is so confident!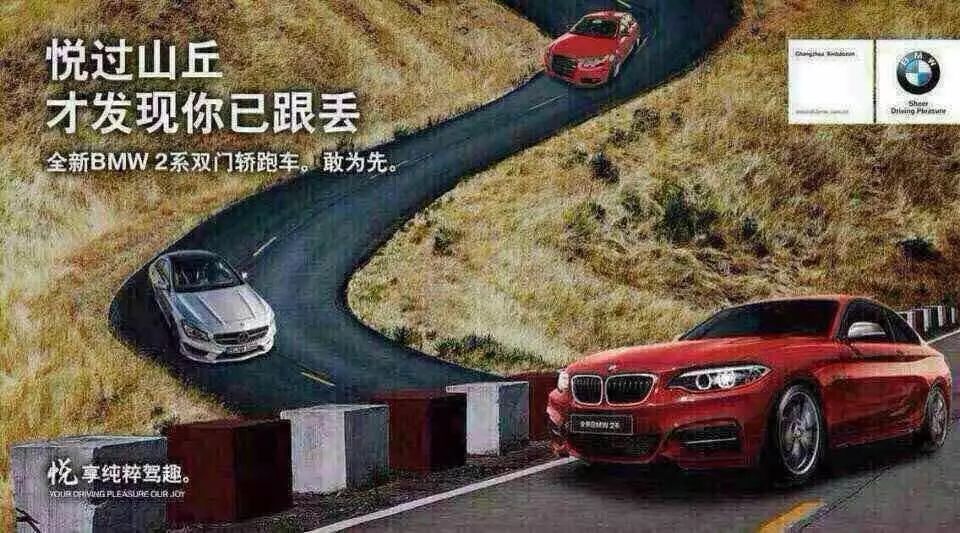 The next player to come out is Mercedes. Mercedes-Benz with its G-class off-road vehicle expressed the invincible is how lonely, to the end of only me!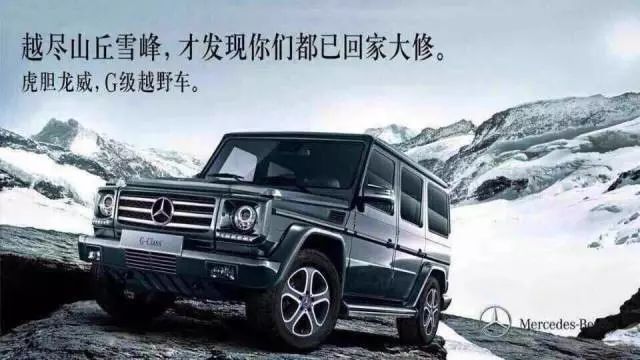 Audi says there's no quattro, so it's nice to cross the hill? (Quattrro, a registered trademark of Volkswagen's Audi four-wheel drive technology, has long been a focus of Audi's publicity.) )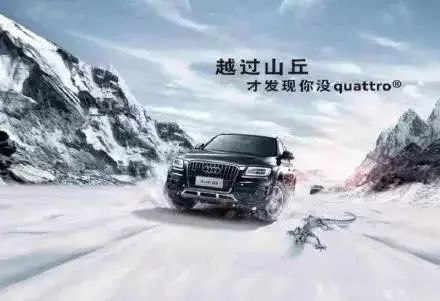 Jeep through the first provocation, brought a common event between the advertising industry and the automotive industry, onlookers said, see very happy, I want to buy five cents of tickets!
The fight certainly can't just be a poster, BMW and Audi have tore up outdoor billboards.
At first, in California, Audi put up such a billboard for the A4.
(Advertising language: playing chess? Come on, I'd rather drive.)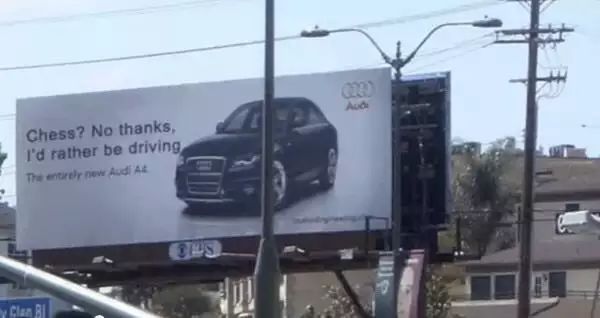 Two days later, the billboard was replaced. Attention! Audi began to provoke.
(Advertising language: It's time for you to go, BMW)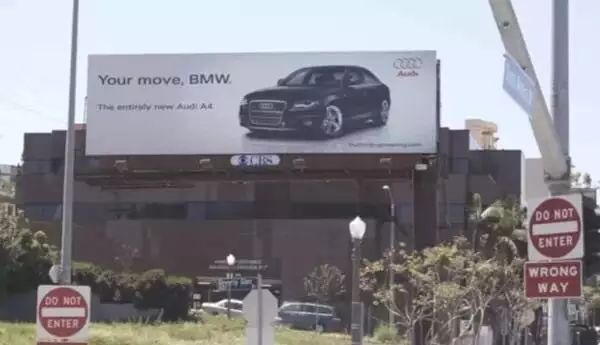 BMW is certainly not willing to show weakness, their declared war billboards to be higher, bigger and more overbearing!
(Advertising language: General)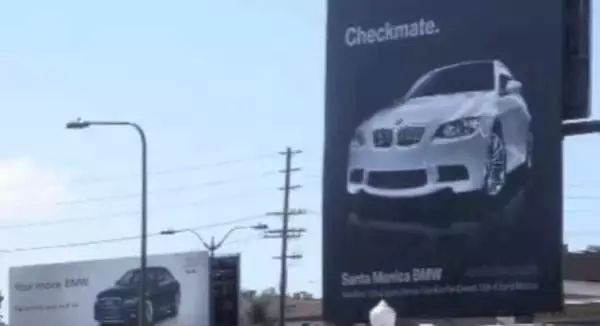 After a few days, Audi fought back strongly. This time it was Audi's supercar, the R8, which hung on the street like this, and Audi managed to humiliate BMW by borrowing its power.
(BMW Ad: General)
(Audi ad language: think again)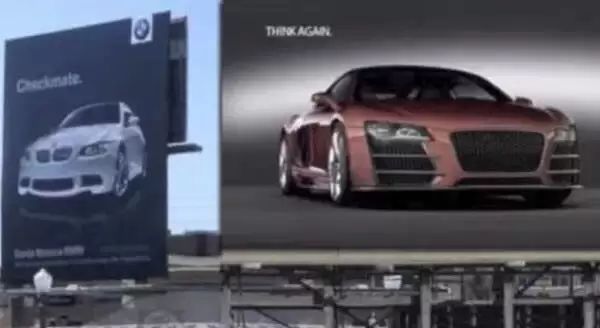 Maybe Audi felt it wasn't enough to win, and there was another ad. This time it's ferocious, ferocious and arrogant!
(Advertising language: put your own army!) )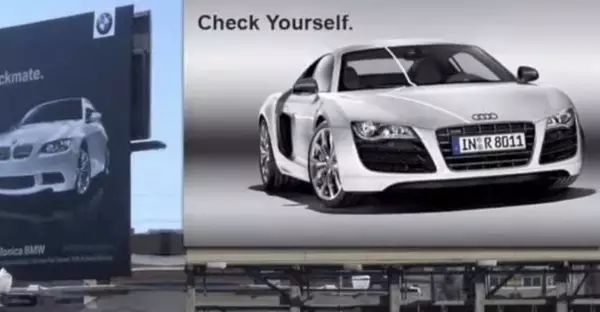 The editor-in-chief announced that the billboard battle Audi victory!
For the car companies between the ads tear each other, small editor found that we not only do not hate, but also like to hear. It's not like an attitude towards quarrels at all!

Moreover, as competitors, they do not show a state of competition between you dead and alive, even if it is mutual black advertising, but also like innoless jokes, old friends between the spitting groove.They see each other as worthy of respect for the opponent, in a common market, to find out different differences and value claims, and common development together.

The competition in the automotive industry has never been smaller than in the advertising industry, in addition to the opening of Mercedes-Benz, BMW, Audi and other international factories, but also Geely, Chery, BYD and other private enterprises, all the way to love each other to kill each other until now, in their respective areas of focus continue to become industry leaders or dark horse princes.This stems from the clear positioning of individual enterprises and the recognition of market rules. This actually gives the advertising logo industry to get rid of excessive reliance on price war in order to develop the status quo, pointing to a way.

A bad price war has never been the core strategy to solve the competition, hurting the enemy a thousand at the same time self-loss eight hundred. Learn from your competitors' strengths, find out your own characteristics, and develop with respected competitors for a longer-term future.
Broadcom, the advertising logo expert around you. Specializing in advertising creativity is difficult, processing business is poor, equipment is not good to sell!
Hotline: 0731-85813899
Share with friends and add points to your taste!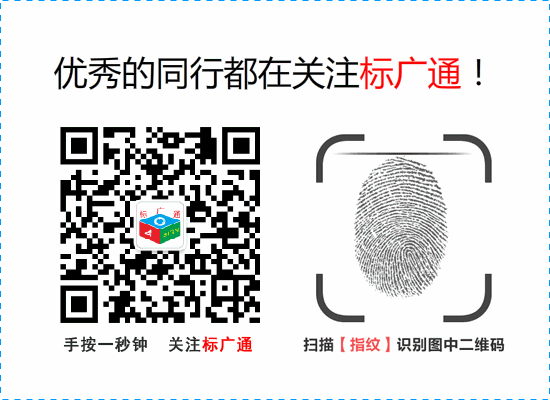 ---