Media Industry Intelligence . . The traditional advertising market declined for the first time in 2014
This column to the media industry to pass dynamic information, welcome to provide clues to information, welcome consultation and cooperation to jointly promote. Email us at: contact@xudanei.com.
First, today's focus
(1) Is Tencent's financial results "beautiful" after "removing makeup"?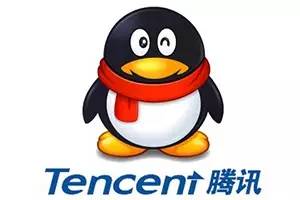 Last night, Tencent released its full-year 2014 results. In addition to mentioning that WeChat's monthly active users have reached 500 million, the annual report also discloses for the first time the number of mobile payment accounts for its products.
It is reported that as of the end of December last year, tied bank accounts of WeChat payments and QQ wallet accounts more than 100 million. Tencent's total revenue last year was RMB78,932 million, up 31% YoY, while net profit was RMB23.810 billion, up 54% YoY. As of the end of the fourth quarter of 2014, Tencent QQ had 815 million monthly active accounts, up 1% YoY, and WeChat and WeChat had 500 million monthly active accounts, up 41% YoY.
On the face of it, Tencent's 2014 annual report is still pretty good. But there are also people in the industry to its annual report mentioned in the data made a detailed comparison and analysis, to this beautiful annual report "smeared a lot of makeup removal oil."
Which "whitewashes" did this makeup remover remove from the annual report? The industry refers directly to Tencent's e-commerce business and value-added business.
Although Tencent handed over a seemingly good-looking annual report in the spring of 2015, it has restructured its e-commerce business since the first quarter of last year, and on May 30th it formally restructured the internal organizational structure of its e-commerce business, replacing the original e-commerce department with a more complex and comprehensive e-commerce line. Not only did it spin off some of its original business, but the trading volume model of the business after the divestiture also shifted to a platform model that charged advertising and commissions. Therefore, in order to get the real figures, we must exclude the impact of Tencent TV business restructuring.
Tencent's revenue from e-commerce was $1.58 billion, or 16.2 percent, in 2013, down from $766 million in 2014, or 6 percent. Of this total, e-commerce revenue in the fourth quarter of 2013 was $540 million, or 19.6% of total revenue. In 2014, Q1-Q4 revenue from e-commerce was $308 million, $214 million, $74 million and $0.72 billion, respectively.
After divestitures and transformations in the first two quarters, e-commerce has shifted to a non-tradable model in the last two quarters and is sustainable for some time to come. The average e-commerce revenue for the next two quarters, as the average for the first two quarters, is $290 million for sustainable e-commerce revenue in 2014.
Tencent's gross margin rose 7 percentage points from 54 percent in 2013 to 61 percent in 2014, according to the results, and tencent's gross margin is expected to rise slightly (to about 64 percent) from its current level in 2015. But whether it's 61% in 2014 or the 64% expected in 2015, it's not an improvement in Tencent's sustainable gross margin, but a one-time adjustment, and Tencent's gross margin actually fell by more than 1 percentage point when the impact of the e-commerce business restructuring is deducted.
In addition, excluding the unsustainable e-commerce component of revenue in 2013 and 2014, Tencent's revenue in 2013 was $8.53 billion, compared with $12.25 billion in 2014, up 43.6% year-on-year. That's about the same level of growth as Alibaba, down from 53.6 percent for Baidu and 58.3 percent for Facebook.
Another big change from 2013 is the switchover of Tencent's growth engine. E-commerce was the fastest growing business in 2013, accounting for nearly 20%, while revenue growth in 2014 was mainly due to the rapid growth of value-added services, including games (up 40.7% YoY), and value-added services revenue increased to 84% from 74.4% in 2013, including 81.7% in the fourth quarter and 70.3% a year earlier.
However, some media have pointed out that Tencent's growth in value-added services revenue last year was largely due to the growth in user size. Tencent is under huge pressure to grow as the era of high growth in China's smartphone users ends and growth is likely to slow due to increased user size. To continue to grow at the same pace, Tencent has only two paths ahead, either by increasing its contribution to individual user revenue or by looking for new revenue models and sources.
In the past, the industry widely expected to use WeChat to change Alibaba's unique situation in the e-commerce market, but now it seems that the future of this expectation is uncertain. Sources say Tencent's future growth engine will switch to advertising to fill the gap left by the spin-off of its e-commerce business. The recently hotly hyped "friends circle advertising" also seems to confirm Tencent's intention to increase investment in advertising business.
In addition, in January this year, according to Tencent insiders, following the public platform support comments, WeChat will recently usher in a large version, one of the highlights is that you can search for nearby merchants, it is understood that WeChat has been working with The Crowd Media strategy, and rely on the full deployment of the iBeacon network, support WeChat shake function, in addition to text search in the future, but also through a shake to search the surrounding merchants. This is seen as an important deployment for Tencent in WeChat's advertising and marketing business.
But some professionals believe that because Tencent has previously abandoned search advertising, the advertising business may be able to increase the space for this discount. (Integrated Baidu everyone, tiger sniffing network, Sohu)
Second, media information, industry dynamics
(1) In 2014, the traditional advertising market fell for the first time CCTV fell the most
According to a new study by CTR Media Intelligence, China's advertising market grew by 2.2% in 2014, with the traditional advertising market falling slightly by 1.7% for the first time. For the first time, television advertising spending has stagnated, and the traditional advertising market ended in a tough year in 2014 as newspaper advertising spending has expanded. The majority of new media ads maintained a high growth trend, accounting for 17% of total spending in the market, up 3 percentage points from 2013.
Television advertising resources remained under adjustment in 2014, with an overall decline of 11%. CST's market declined the most, with 1, 3, 8 and 13 sets falling by 6%, 34%, 33% and 7%, respectively, while Hunan Satellite TV and Zhejiang Satellite TV, which have popular outdoor reality TV and singing variety shows, grew by 7% and 4%, respectively, in the overall decline in provincial TV length.
There has also been a marked change in the television advertising industry. Cosmetics/bathroom products, the biggest pillar, saw a 8% decline in spending in 2014, while the growth rate of beverages and food slowed significantly.
The drop in newspaper advertising spending has widened from 8 per cent in 2013 to 18 per cent. All five key sectors experienced a decline in spending, with the real estate/construction sector reporting a 24 per cent decline from growth in 2013 and a 36 per cent decline in transport, the biggest decline among the five sectors for the second year in a row.
Magazine advertising fell by nearly as much as in 2013, but spending fell by 10%, up from -7% in 2013. Advertising spending has increased to varying degrees for all types of magazines, with both women's and men's fashion magazines seeing a 15% decline. The overall cost of cosmetics/bathroom items decreased by 6%, mainly due to a significant reduction in skin care products and makeup delivery.
While traditional outdoor advertising space has still fallen by 2.5%, spending has rebounded significantly, increasing by 9% in 2014. The real estate/construction industry, which ranks first in spending, grew by 34%, the website-based postal and telecommunications industry grew by 28%, and the two industries contributed significantly to the growth of the traditional outdoor industry.
Advertising is undoubtedly an important survival weapon for the media, especially traditional media, and it is clear that the battle for the advertising market in 2015 will continue, especially in the traditional advertising market. (Integrated Sina Media)
(2) Budget expenditure on the central culture and media reached 24.921 billion yuan this year, an increase of 6.4%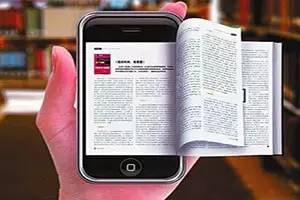 On 17 March, the full text of the Report on the Implementation of the Central and Local Budgets for 2014 and the Draft Central and Local Budgets for 2015 (hereinafter referred to as the Report) was officially issued.
In 2014, the national expenditure on culture, sports and media amounted to 50,815 million yuan, or 99.2% of the budget, an increase of 8.3%. Of these, the central government spent 22.269 billion yuan and paid 28.546 billion yuan for local transfers. The main expenditure items are: to continue to promote public libraries, museums, memorials and other public welfare cultural facilities open to the community free of charge. Speed up the wireless digital coverage of central radio and television programs. Support for the protection of cultural heritage and carry out pilot projects on the protection of 327 traditional villages. Launched the National Arts Fund to fund the work, the evaluation and determination of 393 projects. We will promote the opening of large sports venues to the community free of charge or at low fees, and further improve public sports and fitness facilities at the grass-roots level. Support campus football activities. We will support the development of cultural industries and promote the integration and development of cultural creativity and design services with related industries.
The report also points to the main fiscal expenditure policies for 2015. Its Chinese include: supporting the accelerated construction of a modern public cultural service system, and steadily promoting the standardization and equalization of basic public cultural services in the country. We will support the implementation of The Chinese Cultural Heritage Project, strengthen the protection of cultural heritage and traditional Chinese villages, and promote the development of ethnic and folk culture. Support the prosperity of literary and artistic creation and cultural talent training, and promote the creation of more strong, moral, temperature of outstanding works. Support the strengthening of capacity-building for international communication of key media and the integration and development of traditional and emerging media. We will establish and improve the cultural industry promotion system and promote the rapid development of key industries.
Among them, in 2015, the central level of cultural sports and media expenditure reached 24.921 billion yuan, an increase of 6.4%. (Integrated China Economic Network)
(3) Shanghai's digital publishing industry grew by 37.5% annually, accounting for 1/3 of the country's online gaming industry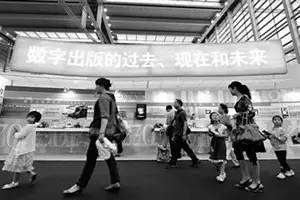 Shanghai's digital publishing industry reported annual revenue of 65.8 billion yuan in 2014, up 37.5 percent from 2013, accounting for 37.3 percent of Shanghai's press and publishing.
In terms of online games, Shanghai's total revenue from the online gaming industry in 2014 is expected to be 37.7 billion yuan, accounting for one-third of the country's total. In the field of network literature, the overall scale of Shanghai network literature has accounted for nearly 80% of the national market.
At present, China's digital publishing products, including e-books, digital newspapers, digital periodicals, online original literature, network education publications, network maps, digital music, online animation, online games, database publications, mobile phone publications. The digital publishing industry is also expanding everywhere.
On Sunday, Hefei Daily said, "Hefei digital publishing industry cluster area formed, into a new growth pole of the cultural industry." Since 2013, covering an area of 330 acres of Anhui digital publishing base Hefei Park after the completion of the first phase of the project, the current resident in various types of enterprises more than 250, into digital publishing and related enterprises more than 70, employment of 11,000 people, digital publishing and related enterprise output value has been close to 6 billion yuan.
Covering an area of 300 acres of the base of the second phase of the project will also be put into use, the second phase of the construction of the extension area and integrated supporting area management services, and plans to introduce financial services, risk guarantee, commercial investment, personnel training, property management and other institutions, in order to achieve "by 2015, and strive to make the base at home and abroad well-known digital publishing enterprises to reach about 10, more than 100 digital publishing and related enterprises; (Comprehensive People's Daily, Hefei Daily)
(4) The Central Commission for Discipline Inspection exposes corruption in the film and television industry: the top executives of radio and television get huge profits from advertising
The website of the Central Commission for Discipline Inspection yesterday launched the second issue of the "Confessions" column: "Deep understanding of the film and television industry "subliminal rules" of the television director - Liaoning Radio and Television station's former director Shi Liwen disciplinary violations of the law perspective."
Born in May 1952, Shi Liwen, a reporter in the Department of Public Information of Liaoning Television, served as Director of the Department of Public Information, Deputy Director, in 2009 as a member of the Party Group of the Liaoning Provincial Radio, Film and Television Bureau, Director of Liaoning Radio and Television Station, and retired in April 2012. Between 1999 and 2012, he accepted bribes amounting to more than 11.4 million yuan, including gold bars, watches, chicken bloodstones and other valuables. On July 21, 2014, Shi was sentenced to life imprisonment for bribery and embezzlement, deprivation of political rights for life, and confiscation of all personal property.
Power in the grip of Shilianwen deep understanding of the film and television industry's "subliminal rules", in 2008, in Shilianwen's "care", a company will be home-made film sales to Liaoning TV broadcast, in order to express gratitude, the company manager Bai gave Shi Liwen a bank card, after that, one after another to transfer money to the card 4.3 million yuan. The program purchase and sale center recommended a TV series, although the majority of comrades in the audit team after review and put forward different views, but under the "instructed" of ShiLianwen, the center is still at 600,000 yuan per episode to buy, a total of 2041.01 million yuan. On one occasion, the Programme Purchase and Marketing Centre spent $41.28 million on five television series without listening to the review panel. One of the costume dramas also because of the non-standard television and other reasons, in the television broadcast only 3 episodes on the stop broadcast. In addition, Liaoning Radio and Television also bought a TV series for 350,000 yuan per episode in the first round of prime-time productions, while the show was sold to other television stations for only 20,000 yuan per episode.
This column includes "Shilianwen case perspective: deep understanding of the film and television industry "subliminal rules" of the television director, Shilianwen "confessions": palms open, the organization of this gun aimed at me, "when the first hand must not get out of control" three articles, yesterday evening also in the Central Commission for Discipline Inspection of the Ministry of Supervision website client issued simultaneously, and said that "this group of reports by the Liaoning Provincial Commission for Discipline Inspection support."
The article of the Central Commission for Discipline Inspection has clearly mentioned that "the purchase and sale of film and television dramas is an area prone to corruption". Lenovo last year so far, Anhui Radio and Television has six middle and senior cadres involved in corruption, yesterday, Huaze film and television director Wu Tao was also reported to be under investigation, film and television industry is in a sensitive period of anti-corruption.
In addition, the State Council recently issued a number of administrative examination and approval projects decided to cancel and adjust, industrial and commercial registration of pre-approval matters changed to post-approval, all belong to the broadcasting and film industry. Post-approval refers to the pre-approval of commercial registration, in order to improve the efficiency of commercial registration, promote the rapid development of commercial activities, take the first commercial registration and then carry out the supposed pre-approval review.
The three pre-approval items for industrial and commercial registration that have been changed to post-approval are: the establishment and approval of radio and television production business units, the establishment of approval for domestic-funded film production units, and the independent examination and approval of film production business by units other than film production units.
Another seven have retained pre-approval matters for industrial and commercial registration, namely: approval of installation permits for satellite television broadcasting ground receiving facilities, approval of the establishment of a publication import business unit, approval of the establishment of a publishing unit, approval of the establishment of offices in China by overseas publishing institutions, approval of the establishment of offices of overseas radio, film and television institutions in China, approval of the establishment of Sino-foreign joint ventures, cooperative printing enterprises and foreign-owned packaging and decoration printing enterprises, and establishment of enterprises engaged in the business activities of publication printing.
In addition, yesterday, the propaganda system has officials fall - the former Yunnan Provincial Committee Vice Minister of Propaganda Yu Xin under investigation.
He is currently the Deputy Director of the Education, Science, Science, And Health Committee of the Standing Committee of the National People's Congress of Yunnan Province, a position he has held since September 2013. Yang Wenhu, the former director of the Yunnan Provincial Press and Publication Bureau and secretary of the Party Group, took over as executive vice-minister of the Propaganda Department of the Yunnan Provincial Committee. In early February 2015, the Yunnan Commission for Discipline Inspection announced that Yang Wenhu was under investigation for serious disciplinary violations.
As of this afternoon, Yunnan's official agencies have not released information about Yu Xin. (Integrated Central Commission for Discipline Inspection Website, Caixin.com, China Press and Publication)
(5) The central key news website disposes of more than 7000 illegal accounts in accordance with "Account Ten"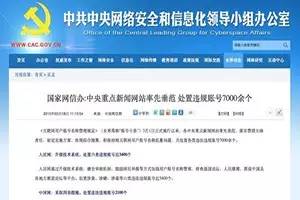 Since the official implementation of the Regulations on the Administration of Internet User Account Names (the industry's "Ten Accounts") on March 1, the central key news websites have disposed of more than 7,000 illegal and illegal accounts of all kinds.
Among them, the People's Network through the upgrading of the technical system, to check the powerful forum, people's micro-blog, map said China and various local channel forums and other platforms, the disposal of yellow, gambling, drug-related six types of illegal accounts nearly 3400;
In addition to the recent clean-up focus on news sites, marriage and love sites are also this year, the State Trust Office of one of the focus of the rectification.
On the morning of the 18th, the State Internet Information Office held a symposium on the governance and integrity of marriage websites in accordance with the law, and the heads of websites such as Century Jiayuan, Lily Network and Treasure Network were present. The symposium carried out a phased summary of the special rectification work of "serious breach of trust in the marriage website" which began in February this year, and studied further deepening the special action to promote the legal governance and integrity of the marriage website.
Since February, the State Internet Trust Office, in cooperation with the relevant departments, has verified and disposed of 65 serious illegal marriage and love sites that disseminate obscene pornography and vulgar information. The theme of this special action shows honesty and trustworthy, the National Network Trust Office requires marriage and love sites must implement the "network real name system." The Office will also establish the relevant network integrity information database and breach of trust "blacklist", the website illegal breach of trust facts, nature, processing results and other relevant information into the database, real-time updates, the implementation of dynamic management. (Integrated China Net Letter Network, Legal Daily)
(6) A reporter from a Chinese enterprise newspaper was beaten by local officials when he went to Guangxi for an interview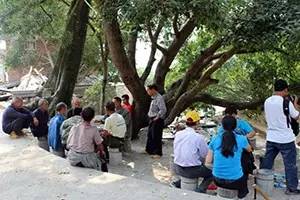 On the afternoon of the 17th, "China Enterprise Daily" and other media reporters in Guangxi Guilin Yangshuo County grape town interview, by the grape town party secretary Bing Gui and others beat.
"I asked the mayor, 'The villagers were beaten in your office, did you call or did someone call?'" At this time red-eared grape town party secretary Bing Gui pushed open the office door, grabbed me hit two punches, and commanded others to 'fight to death', my glasses were pulled off by Binggui and trampled, and then my mobile phone was also snatched. Huang said.
Yesterday, Yangshuo County Committee of Guilin City, Guangxi, reported that the afternoon of the 17th in Yangshuo County Grape Town, the reporter was beaten incident, the grape town party secretary with leadership responsibility Bing Gui, suspected of hitting people's grape town party committee member Li a suspension of investigation according to law, the suspected hit the town's people's congress representative Xie a legal investigation and treatment.
As of this morning, Xinhua News Agency news agency said that the beating of journalists of the town cadres have been administrative detention. (Xinhua News Agency)
(7) Yahoo's demobilization of the Beijing Research and Development Center was still announcing recruitment earlier this month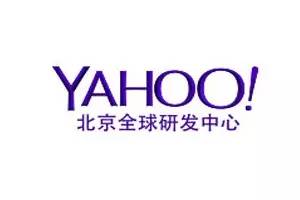 Following job cuts at Nokia's China plant and the dissolution of Adobe China, another foreign company joined the disbandment.
Yesterday, Yahoo's senior vice-president announced the imminent closure of its global research and development centre in Beijing and the merger of its business with other teams. Yahoo may offer employees "N-plus-4" compensation, according to insiders. One-on-one talks on compensation and instalments have begun, with the earliest batch due to leave at the end of this month.
Founded in June 2009, the Beijing Global Research and Development Center is dedicated to providing yahoo's global business with innovative technologies, best-in-class products and superior development platforms for the future. The four major research and development directions are science-driven personalization, advertising, mobile and cloud computing.
As for the reasons for the demobilization, insiders said, "The simple reason is that Yahoo already has no business in China." The human cost of research and development in China's first-tier cities is rising so fast that in Beijing it is about four to six times that of India. At one point, the company felt that Yahoo's Beijing research center would not close because of Alibaba's stake. "
Yahoo's CEO changes have been frequent in recent years, and since 2012 it has been laying off workers in 66 countries and territories across the country. In the four years from 2008 to 2012, Yahoo cut 6,000 jobs. As early as 2013, Yahoo China said it would no longer provide information and community services, and the original team would focus on the dissemination of Alibaba Group's public goods. In the same year, Yahoo Mail in China also officially ceased service.
Starting late last night, news of massive job cuts and even a direct dissolution at Yahoo's Beijing research and development center spread online. The news has not yet been determined, the major Internet companies and headhunters have been scouting around the news, hoping to get their employees in the first place.
At noon yesterday, Xiaomi Technology CEO Lei Jun also threw an olive branch on his personal microblog: "Yahoo colleagues can consider xiaomi and Shun for the investment of these 30 companies job opportunities." "
According to the official website of Yahoo North Research Center, the center brings together more than 350 outstanding technical talents from home and abroad. Of these, more than 85% have postgraduate education and above, 42% are from China's top 10 institutions of higher learning, and 20% have overseas backgrounds.
Yahoo North's microblog can be seen, not long ago the company is also announcing the recruitment news, and said that the employee will provide iPhone 6/6 Plus one. On March 9, the microblog also replied to netizens, "It's not our official recruitment season yet, but our resume channel is always open."
Since Adobe closed its China research and development arm last year, Micro Strategy, Red Dot, Zynga, Nokia, Cisco, Compuware and others have made adjustments to their Chinese divisions, or laid off or disbanded them. After Adobe China disbanded its research and development team last year, the new team quickly formed in India, which has lower labor costs. (Integrated Titanium Media, Sina Technology, Tiger Sniffing Network, Sina Weibo)
(8) CNN, Reuters and other media formed an advertising alliance to challenge Google and Microsoft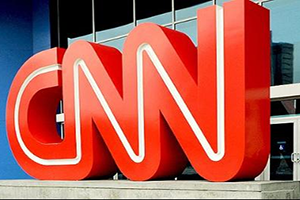 CNN, the Financial Times, the Guardian and Reuters announced an advertising alliance on Wednesday that would allow advertisers to buy advertising resources directly from media companies to break Google, Facebook and Microsoft's grip on digital advertising.
The alliance's name is "Pangaea Alliance" and advertisers can use programd advertising technology to purchase advertising resources on several media sites. The alliance will begin trial operations in April and will work with Rubicon Project, an advertising technology company. Los Angeles-based Rubicon Project has the largest real-time digital advertising buy-and-sell trading platform in the advertising industry. The company was founded in 2007 with clients including EBay, Virgin Media and Time Inc.
The online display advertising market is about $70 billion, dominated by tech giants that provide advertising resources through online platforms, according to Zenith Optimedia, a market research firm. Martin Sorrell, WPP's chief executive, told a conference yesterday that the company's advertising through Google would reach $5.9bn in 2015.(Integrated NetEase Technology)
Third, the media stock daily: March 19
Top 10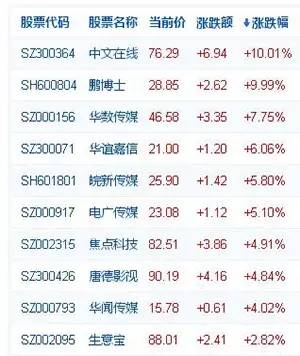 "Rise List Reviews"
Demon Dragon Chinese online because of and education reading products linked, once again up and down occupied the first rise, but can not break through 80 yuan or let investors be wary, Dr. Peng because of the set 5 billion to build a "home intelligent wireless perception network", but also the funds hot to the rise and stop, which again shows that as long as the concept of "Internet plus", pigs can fly, in addition to Ma Yun shares in the Number of Chinese media and institutions to sing more Huayi Jiaxin also ranked at the top of the list. It is worth noting that Fan's Tangde Film and Television today said that each year to shoot 300-500 episodes of TV drama, the stock price also smoothly opened Zhongyang, or have the desire to challenge the previous high.
Top 10 declining list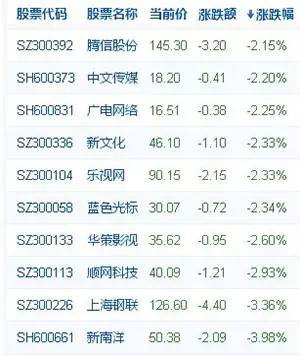 "Rise List Reviews"
Investment of 500 million into online education in the new Nanyang, even after the board today finally fell back to adjust, the A-share bubble is the most typical representative of Shanghai Steel Union although today there was a strong decline in resistance, but the close also fell ahead, Huaze Film and Television today fell and director Wu Tao involved in the radio and television nest case It doesn't matter much, and claims to have 300 Sina big V accounts of the blue cursor, are the normal adjustment of the rising channel only, Chinese media with the list, but the bigger reason is to clean up short-term customers, valuation repair road continues.
(Ding Yi, Wang Jingyu, Wu Meilin)
---