Master the 7 facebook marketing essentials to control the return rate of items from the "entry"
For any cross-border merchants, the issue of returns is inevitable, perhaps the quality of your products is very good, but due to size and other issues, there are still buyers may return.Data show that, in general, 30% of online shopping products will be returned.
For sellers, the return problem is usually cumbersome and repeated, wasted costs, but also bear the risk of customers are not satisfied with the after-sales treatment and leave bad comments;For buyersThe physical object received is not what you expect from your heart, and to some extent lowers your expectations for your store.
While returns are unavoidable, sellers can adjust certain strategies to reduce returns when running stores and running Facebook ads.Here are our seven-point strategy for mobile organizing to help cross-border merchants reduce return rates:
Leverage similar users with high value
Segment home data, analyze buyers with low return rates, and create a Logolike audience in the Facebook background to target people who are similar to this customer base, essentially, what you're doing is attracting a large number of similar audiences from specific traffic sub-concentrations that visit your site to increase sales conversions and control return rates.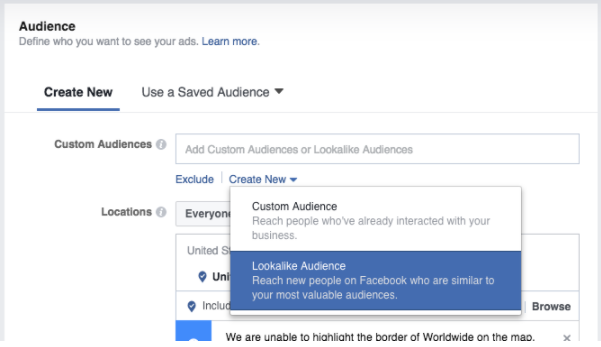 Use interest fields to pinpoint target buyers
People usually use Facebook to socialize rather than shop. This means how important it is to show your products accurately to your target audience.If you're targeting the wrong audience,Not only will it make conversion more difficult, but orders for returns will also be greatly increased.
So it's important to use the Interests field in Facebook ads to target buyers precisely.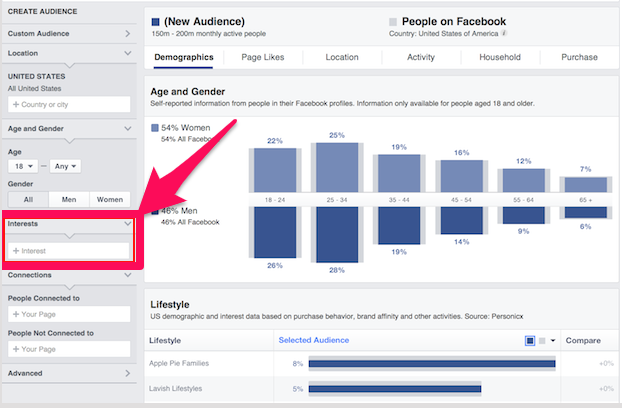 After you enter your interests, you'll see categories and pages that are relevant to this audience. Try selecting a segmented interest category to make the results closely related to the interest. Then create a loyal fan base by combining the interests of multiple narrow to increase the chances of accurate conversion.
Indicate the return policy in the advertisement
When shopping online, there are countless consumersBarriers to purchasefrom pricing to trust issues.
However, one of the most common barriers to online shopping isReturn.。 If merchants can offer free shipping, simple returns, or satisfaction guarantees, be sure to mention them in your ads and use them to engage in appropriate advertising campaigns to convince potential customers in the funnel.
Case:Allbirds' value proposition is to be "the most comfortable shoe in the world". Whether it's announcing new products or promoting product line, Allbirds ensures that you're reminded of free shipping and return options in every Facebook ad, eliminating significant barriers to online shopping and increasing the likelihood of purchases.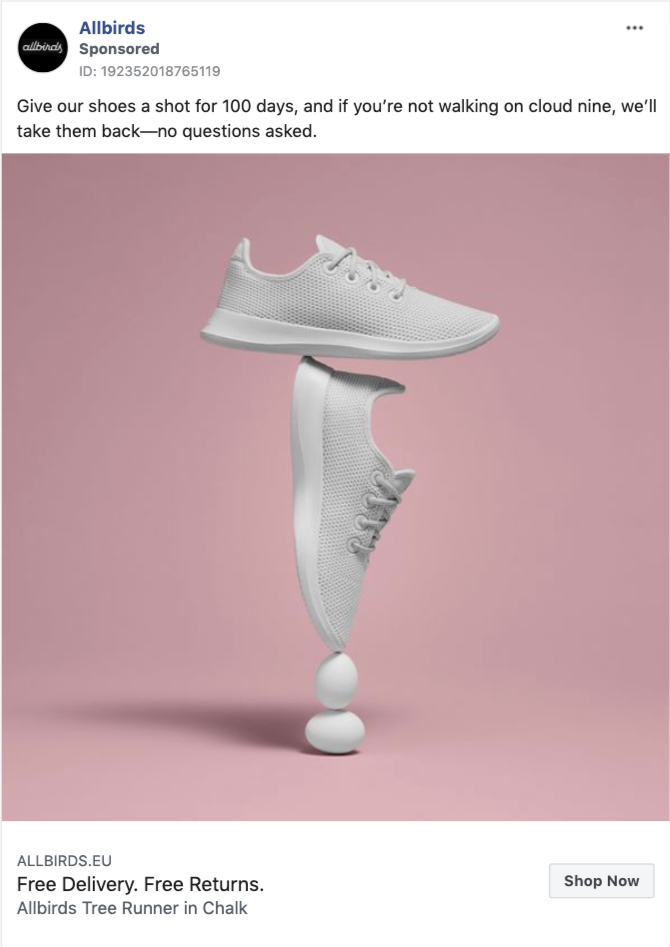 Upload high-definition and eye-noting creatives
According to statistics, 23% of returns are due to physical mismatches with product descriptions. High-resolution photos allow customers to zoom in and comb through the product. People are selective creatures who return a dress because the stitches and colors don't match it. Although extreme, rich detail is an effective way to reduce returns.

Upload product image guidelines:
The picture should be bright, colorful and eye-catching

Avoid images of the same color as Facebook (blue and white) because they are likely to be out of the public eye

Try to combine the image of a happy person

Make sure that the image size you select matches the type of ad you choose
Use video to demonstrate the product
For any product, video can provide more detail to help customers find the right product. Can be used to demonstrate features, product details, and so on, and to communicate products in ways that still images cannot be displayed.

You can create a video and upload it to Facebook. Then use Facebook Ads to increase video coverage. The ideal time to record a video on Facebook is between four and a half minutes.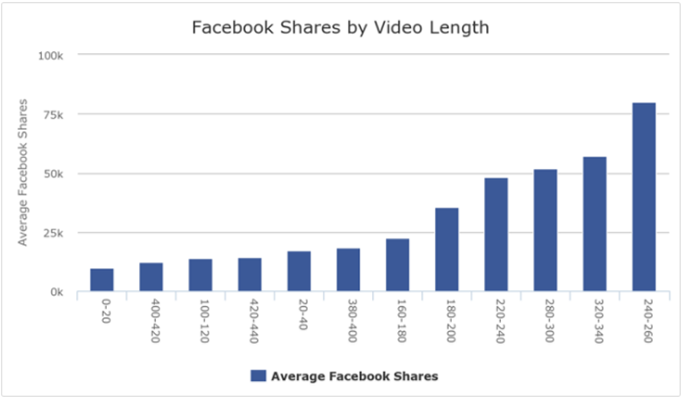 Provide detailed and accurate product descriptions
No matter how accurate the customers you get through advertising campaigns like Facebook, the return rate ultimately depends in large part on the product itself, a clear product description should allow customers to quickly get the information they need without too much doubt.Therefore, the seller should provide a detailed and accurate product description in the store.
The correct description of the product will not only affect the speed at which the buyer places the order, but will also determine the probability of receiving the return of the goods.
Sellers should not directly upload the manufacturer's description in order to save trouble, as far as possible to organize their own language expression, to ensure that the product description is clear and accurate. Please fill in the product material, size, model, applicable model and other content, and confirm that the content and title, product description, picture display and so on consistent.
Online buyers are highly sensitive to time, and failure to ship on time will have a bad impact on buyers. Especially on certain dates, such as birthdays or holidays, if the goods are not received on time, then the buyer will be very likely to return, and because the purchase experience is not good, may no longer be in the store orders, therefore, the seller must be shipped on time.

In short, only by optimizing the accuracy of advertising, with in-store operations, to provide a good shopping experience, so that consumers thoroughly understand the products they want to buy, in order to achieve the goal of improving conversion rate and profit, reduce return rate.
The above is the small compilation of the cross-border goods return rate reduction method of the whole content.
---