Facebook marketes things you can't help but know

Little Welfare: Follow WeChat Public Number and reply on WeChat Public NumberDry."Two words, you can get CCMO carefully prepared for you a number of sets of Internet marketing dry goods and industry reports.
CCMO Information Team   workWho: Shuxian
Outline.

1 How to maximize the security of your account

2 Ways to quickly fill up your friends with your profile

3 Professional page operations skills

4 Group marketing analysis

5 Facebook stores around the world

6 Introduction to automated marketing tools

7 Personal ad accounts, corporate ad accounts, and ad accounts are detailed

8 Facebook ad review mechanism and image errors

9 Discussion on the number of Facebook accounts
1 How to maximize the security of your account
1, fixed IP
2, really registration information including ID card and name must be the same
3, no more than 200 passive friends per day, no more than 20 active friends.
4, normal operating frequency
5, back up friend information to facilitate the verification operation after being sealed.
6, can not often change VPNs, or lines. Be sure to fix the line.
2 Ways to quickly fill up your friends with your profile
1, in the search bar to enter the "ADDME" search results to select their interest in the group, join the group after posting, self-introduction or send personal photos, products and welcome to add as friends and so on. This method is highly recommended.
2, mailbox import.
3 Professional page operations skills
1. Search for popular and active pages related to your product and leave a message on that page. Appears as "Guest Posts"
2, regularly in the home page like or message posting so that you can get more opportunities to expose their home page.
3, forward popular videos. Most users like popular video content.
4, using Facebook's referral system. Facebook automatically pushes more relevant Pages based on people's likes. Usually the pages that Facebook pushes are pages with a high number of followers and high levels of engagement. In this way we can find a large number of red people.
According to Facebook's auto-push feature, we need to be careful when we add our first friends. So when we sign up for a Facebook account, the relevant information includes the country, hometown, former place of work, junior high school, college address can be set to our marketing market. For example, our market is mainly the United States then we fill in the information for the United States. Facebook can't determine the authenticity of this information, but it can automatically recommend people in our region to make us friends based on our basic information.
4 Group marketing analysis
1, select groups related to our products to join. For example, companies that make manicures can choose to join groups of girls who love beauty, shopping, beauty, and manicures. It is important to note that we should not blindly select groups with a large number of members but are not active, and highly active groups are more worthy of our time and effort.
Add administrators, or groups of popular people as friends, give them posts for various interactions such as likes, retweets, and shares. Having time to communicate with them and make friends with them helps us post through.
For friends to our future posts have a certain help.
3, post comments marketing
When a post has a large number of users commenting we go back to the comment, all previous users who have posted the comment will receive a new comment. For example, a post already has 150 comments and we post another comment so the first 150 users will receive our new comment.
5 Facebook stores around the world
Cross-border e-commerce in addition to Amazon, Ebay, Express and other e-commerce platforms can sell products from the Internet, sellers can also create their own e-commerce website to sell goods.
Shopify, for example, has developed to provide not only professional e-commerce site building services, but also social network-based e-commerce. Sellers can open stores around the world through facebook, pinterest, twitter and other mainstream social media. Baidu search for more detailed procedures.
6 Introduction to automated marketing tools
There are plenty of Google Chrome plug-ins in Chrome's online store. The following links go directly to Chrome's online store.
https://chrome.google.com/webstore/category/extensions?utm_source=chrome-ntp-icon
Powerful enough to help us with our marketing efforts. Invite all your friends to the group with one click, add all your friends' invitations with one click, cancel your friend requests in bulk, automatically like them, and more. If the plug-ins are installed, these features will increase our productivity for my use.
7 Personal ad accounts, corporate ad accounts, and ad accounts are detailed
The difference between a personal advertising account and a corporate advertising account.
Personal Advertising Account: No agent is required to open an account, but there is instability and a limited amount of advertising. Instability, refers to easy to be sealed, once the closed account all the amount of money will not be found back.
Enterprise advertising account: need to meet through the agent, account stability, the amount can be deposited in advance. Even if the account is blocked, we can get the money back from the agent.
The reason why the ad account was blocked
1, IP login is irregular
2, in violation of Facebook's advertising policy
3, advertising payment information and registration information is not consistent. Facebook ads must be tied to a credit card or Paypal payment. The name of the cardholder of the credit card must match the name of the Facebook registration, and the credit card must not have a bad record of arrears or defaults.
4. Newly registered Facebook accounts are not signed up for immediate advertising
5, other unexplained reasons
8 Facebook ad review mechanism and image errors
Picture mistakes:
1, the text part exceeds 20% of the entire picture
2. You can't use politics, sex, or other sensitive topics
3. Do not post excessive and expose a lot of skin
4, you cannot depict features that do not exist
5, can not contain QR code
6. You cannot use Facebook-branded images without permission
Ad review mechanism
1, when user ads never violate the law continue to pass ads Facebook will more quickly pass the review of new ads. Failure to do so slows down ad reviews.
2, the first time Facebook refused to advertise, Facebook will use manual review, when the intensity of ad review increased, the speed will be reduced. When an ad is rejected for a certain number of times, it can directly cause the account to be suspended or permanently blocked. To do this, we should cultivate some credit rating accounts.
9 Discussion on the number of Facebook accounts.
A large number of new and old Facebook accounts have recently been blocked. A large number of accounts have received prompts to recertify photos. We need to provide a photo with our avatar. This large-scale verification is not limited to the new account a large number of old accounts also received the same verification tips. Personally, I think this large-scale verification is not the result of the violation in the traditional sense, but has a certain randomness. There are many reasons why we need to verify again, such as our album, or we post some posts in our account and the person inside is not me but circled this is the mechanism that I will trigger Facebook at this time to trigger a re-examination.
It is recommended that the new account early account as their own account to send personal photos, chat about their mood and so on these for the later review has been a great help.
The question comes up how good is not passing the audit?
All we can do is email Facebook customers.
The author tried to send a large number of emails to Facebook customer service and received a notification from Facebook that my account had been unsealed, which unfortunately was sealed again the next day. Friends, if there is a good way to solve the problem of accounts being blocked kneeling thank you for solving.
---
Introduction to the Author
Shuxian, a business English major who specializes in social media marketing such as Facebook, is happy to delve into and learn Facebook marketing techniques and has accumulated extensive FB marketing experience.I'd love to share My Facebook marketing experience with you without reservation.
About Internet Marketing Officer CMO
Internet Marketing Officer CMO is a non-profit organization, committed to building the leading Internet marketing field talent exchange and discussion platform, located in the field of Internet marketing to help each other, and jointly grow into the Chief Internet Marketing Officer (Chief Marketing Officer).For the future Internet marketing officer CMO to provide the Internet marketing industry's latest cutting-edge marketing dry goods and industry information, covering the field of Internet marketing SEO, SEM, PPC, Net-a-League marketing, EDM marketing, Red Man marketing, big data marketing, scene marketing, O2O marketing, event marketing, viral marketing, word-of-mouth marketing and many other Internet marketing methods and means.
Internet marketing officer CMO is currently growing, welcome to the Internet interested in small partners to join this warm and loving family, to understand the registration stamp:Internet Marketing Officer CMO recruits volunteers
---
iOS users exclusively appreciate QR codes: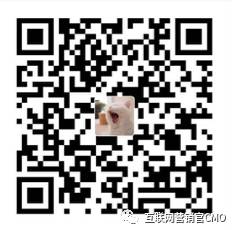 ---