MMA . . Procter and Gamble is acting to promote transparency in digital advertising
Today, digital marketing is turning the industry upside down.
In digital technology and platforms
while bringing us more possibilities and opportunities,
It also poses challenges for the industry as a whole.
On August 25, 2017, Xu Min, President of Media and Brand Operations and President of E-Commerce for Procter and Gamble Greater China, attended the 2017 MMA China Wireless Marketing Forum and delivered a speech on the theme of "Advertising Transparency Drives Digital Innovation".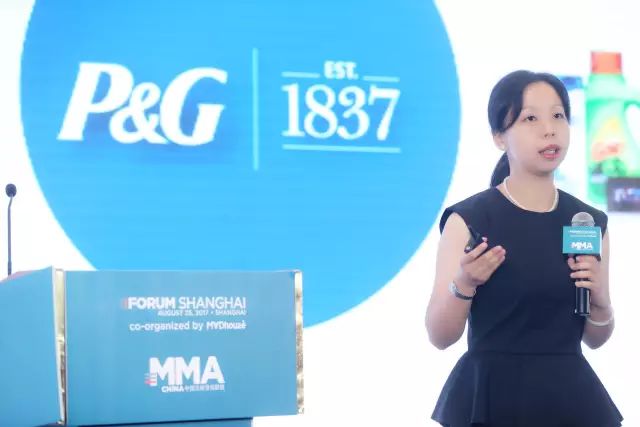 Xu Min, President of Media and Brand Operations and President of E-Commerce for Procter and Gamble Greater China, delivered a keynote speech at the 2017 MMA China Wireless Marketing Forum
Advertising is important to Procter and Gamble, "because advertising connects consumers and brands, and the effectiveness of advertising largely determines the health of the brand and its market share." So, for the past 20 years, I've been exploring how to make brand advertising more effective. Xu Min said at the meeting.
Reiterating four initiatives by Marc Pritchard, Procter and Gamble's chief brand officer, earlier this year on standards for transparency and visibility in digital advertising, Mr Xu said:
"We want to see digital innovation,
But that shouldn't conflict with the transparency of advertising.
should complement each other,
can take us to a higher level. "
At the same time, it clarified Procter and Gamble's china action plan to promote transparency in digital advertising. Hope to start from Procter and Gamble itself, together with industry counterparts to promote the entire media supply chain transparency process, for brand building to create a fair and healthy environment.
Let every penny spent be worth spending money!
As one of the world's largest advertisers, Procter and Gamble has been at the heart of advertising - allowing target consumers to see advertisers' elaborate branding and product introductions, delivering brand messages to their ears and eyes, and ultimately contributing to business growth.
However, while actively embracing the digital media era and investing more in digital media advertising, Procter and Gamble is increasingly finding that this core is being hampered and challenged by false traffic, threats to brand image security, and advertising visibility.
Xu Min cites several startling figures at the scene: According to ANA's "BOT BASELINE 2016-2017" released in May 2017, fake traffic lost about $6.5 billion globally in 2017, with PC-side display ads accounting for 9 percent of fake traffic and video up to 22 percent.

According to AdMaster's anti-fraud monitoring data, China's digital advertising market accounted for 30.2% of invalid traffic in 2016.
"Are our ads seen by real people?" Are our ads on secure pages? Are our ads really seen by consumers? "Procter and Gamble has raised three big questions for the industry, and that's what helps the industry think about how to get back to the nature of advertising. Procter and Gamble hopes that everyone can do a good job in a fair and transparent environment, so that "every penny spent is worth spending money."
Procter and Gamble China's four major actionsPromote transparency in digital advertising in China
In China, the development of digital advertising is also quite rapid, Procter and Gamble China as early as a few years ago, the proportion of digital advertising investment has greatly exceeded the traditional media.
Compared with traditional media, digital marketing innovation can achieve more accurate marketing reach, can also present more advertising forms, but also can achieve frequency control across media. At the same time, innovation will also bring challenges, its opacity and difficult to control, is undoubtedly a "double-edged sword", advertising mainly how to make good use of the advantages of digital media and can solve the challenges?
Xu Min proposed four major actions of the Procter and Gamble China Initiative.

Action one, adopt a unified ad visibility measurement standards.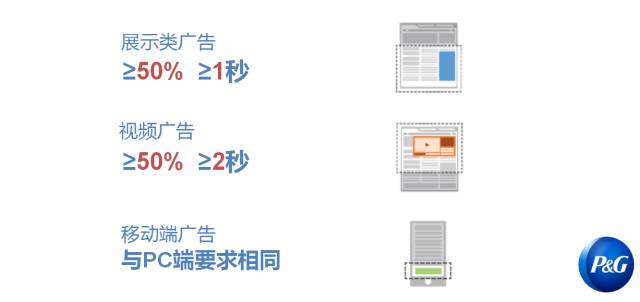 Visibility measures the quality of traffic. What is low-quality traffic? One example is that a consumer's extreme page, Screen 67, will only present an ad, which will be counted as an exposure. But is this strictly visible exposure? It's hard to determine. Uniform visibility standards are particularly important here.

At present, the relevant standards have been issued in China, these standards not only refer to the internationally recognized MRC (Media Rating Council) standards, but also for China's national conditions, from the perspective of practice and implementation of the revision. The standard for visible exposure requires that the visible area of the ad exceed 50% and last longer than a certain length of time, with 1 second for the image and 2 seconds for the video.
Action II, subject to certified independent third-party monitoring, will be a prerequisite for cooperation with Procter and Gamble.
Procter and Gamble can no longer accept "letting athletes be referees". Procter and Gamble believes that third-party monitoring is a knock on the door, it will win more advertisers including Procter and Gamble's trust, on the other hand, also stimulate the improvement of advertising to improve efficiency, the formation of media and brand win-win situation.
Action three, reject false traffic.

As mentioned above, false traffic makes digital advertising less efficient and has become an industry chain. The chain of interests of fraud is very complex, the originator may not be the media and platform, there may be content producers or copyright parties. Procter and Gamble has today identified fake traffic by using "combined punch" technology and will only pay for effective traffic.
Action four, to protect brand safety.

This can be said to be a very basic need of advertisers, which means that ads will not be placed on extreme sites such as violent pornography. Due to our country's strict supervision of the network, domestic enterprise advertising is very unlikely to be placed on the relevant pages, but the negative news pages placed in the industry are repeated, to the brand has brought a lot of negative effects. Xu Min stressed that Procter and Gamble hopes to avoid similar situations in digital marketing and maintain brand safety.

Xu Min's speech in the forum site caused widespread concern and heated discussion, and by many industry peers recognized and highly appraised, have expressed the industry-wide joint efforts to promote digital advertising transparency attitude and determination.
Before digital technology, advertising was stuck in limited form and changing at a relatively slow pace. Now, digital advertising allows the entire industry to fly freely into the creative world like never before, creating magnificent masterpieces.
However, the development of new business patterns is always accompanied by some new problems. And the best way to solve the problem is to return to the core of advertising. Advertising is about communicating effectively with our target consumers about the content and stories the brand wants to deliver. As long as we stick to our hearts, we will surely find the right path.
Increased advertising transparency is a powerful driver and promoter of digital advertising innovation. I believe that Procter and Gamble China's determination to "only invest in transparent media" will lead the industry to work together to make the sky of digital advertising clearer and more transparent.
Let advertisers have more confidence to present more creative ideas, promote the development of China's advertising industry!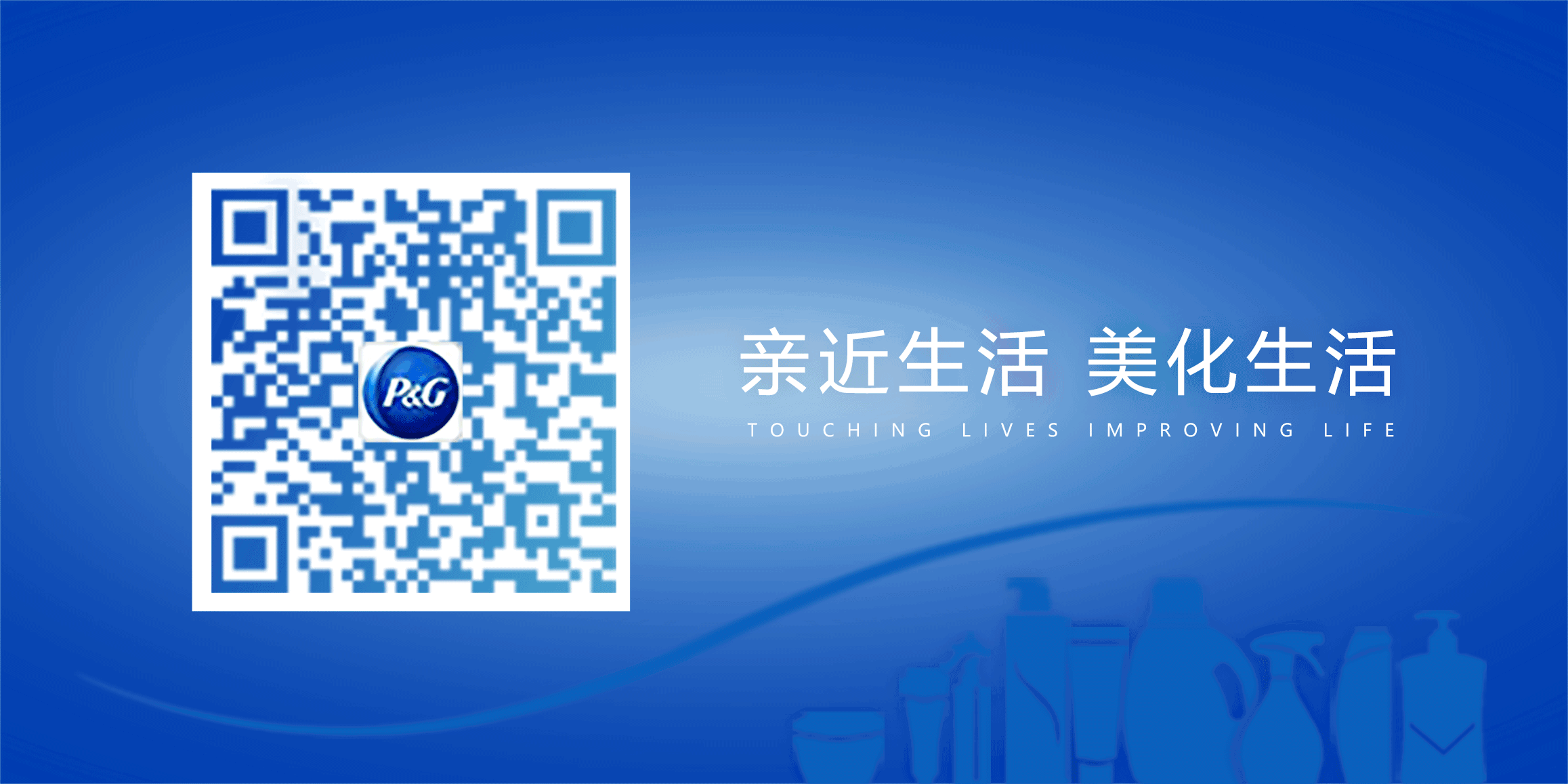 ---