Instagram video ad engagement up 53% in May 2017

According to new data from social media analytics firm NewsWhip, photos are more engaged on Instagram than videos.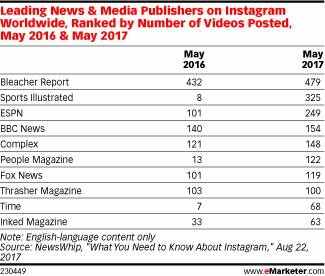 However, video engagement on the accounts of the world's top media publishers grew by 53% in May, outpacing the growth in photo engagement over the same period (46%).
Some news outlets also seem to be noticing the appeal of video to Instagram users, and video content is growing rapidly. Sports Illustrated, for example, posted only eight videos on its Instagram account last May; ESPN has also doubled the number of videos posted on its Instagram account.
In May 2017, the sports-focused site Bleacher Report posted 479 videos on Instagram, more than any other publisher.
NewsWhip found that in May, Bleacher Report had more than 74.5 million content interactions, 10 times as many as second-place Fox News. BuzzFeed News content interactions have also improved dramaticly, with engagement up 687 percent between May 2016 and May 2017.
One obvious reason for the large number of videos posted by these media on their Instagram accounts is that publishers are increasingly turning to video ads. According to Dentsu Aegis Network, global online video advertising spending will grow by 25.4% next year.
Instagram has also contributed to the growth in video advertising spending. In February 2016, Facebook increased the maximum length of video ads from 30 seconds to 60 seconds, creating more leeway for advertisers. In January, Instagram opened its story-sharing feature to full-screen, auto-play video ads for the first time.
Welcome to the Data Knowledge Planet, 199IT thank you for your support!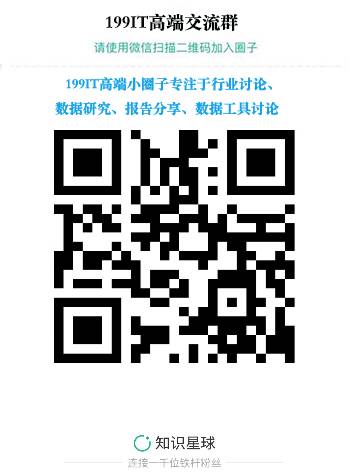 Highlights of 199IT Top Reports can be found directly at:

| NOTICE |
WeChat's public platform is currently available for subscriptionsNumber top function
Click on our home page
Check the top public number
Capture great content in a timely manner
 Media business cooperation
For business cooperation, please contact Microsyscope: dingli Admin@199it.com.
For more data, click "Read the original text"
---