How to write a high conversion rate Facebook, Instagram ad essay.
Do you want to know how to increase sales through Facebook ad essays?

In this article, you'll find out how to create Facebook and Instagram ads that generate sales.
#

1

:

How to write a discount ad document to prompt for a purchase.
Discounts are strong and effective. You may have seen an ad in your Facebook news synth that says, "You can get a 10% discount with the discount code FB10."
For new customers, discounts lower the barriers to entry for target audience purchases. This also minimizes the risk associated with purchasing from a new company that has never been used before.
There are several different types of discounts you can use:
Unconditional discount.: Everyone can.Enjoy.Unconditional discount, and no conditions that the customer must meet to receive the discount. This includes sales across the site and discounts for specific products.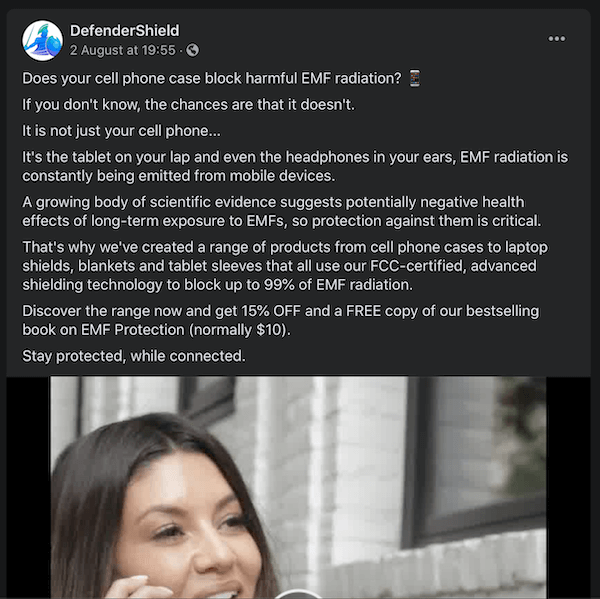 Conditional discounts.: Conditional discounts are places where consumers must meet requirements (usually in the form of minimum expenses) to receive a discount. For example, a one-time all-store discount or product discount, or a tiered discount system, such as "a 10% discount on spending $50 and a 15% discount on spending $100."
Flash sales.: Flash sales have generated some of the highest returns I've ever seen. Unlike conditional and unconditional discounts, the key to a successful fast sale is to run the discount for no more than 7 days and only a few times a year. This greatly increases the conversion rate of your site and increases the return on your advertising spend, which reduces your acquisition costs.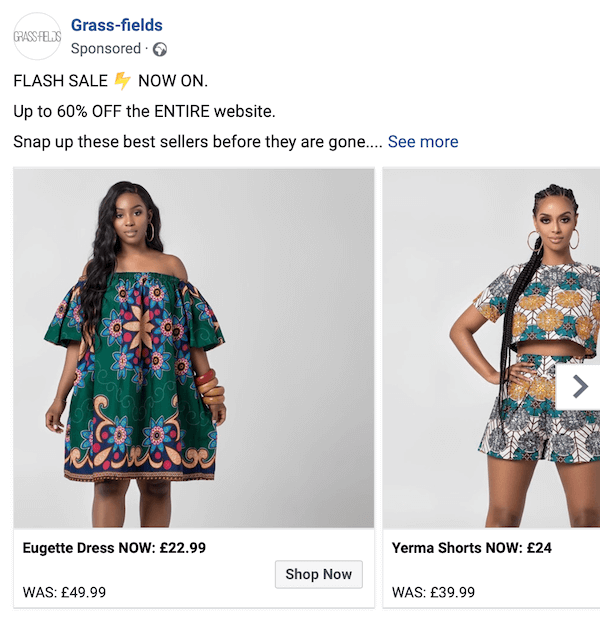 Seasonal sales.: When it's relevant to your business, there's no doubt about seasonal sales. These sales are based on physical retail and have been shown to convert quickly and generate new purchases. The biggest and most competitive holidays are, of course, Black Friday and Christmas, but don't forget other holidays such as Easter, July 4 and Halloween.
Shipping and bundling offers.: Although you're not targeting discounts directly in your ads by offering free shipping or "bundling and saving," you're actually giving people discounts. Similar to conditional and unconditional discounts, free shipping can also be linked to minimum consumption or a specific time period.
Amazon sets a precedent for almost free shipping, so offering free shipping instead of discounts on your products can lead to great conversions. This is especially true if you have a lower average order value consisting of low-priced products. To visualize this, when they buy a product for only $5.99, does anyone really have to pay $3.99 for shipping? Then you may not buy.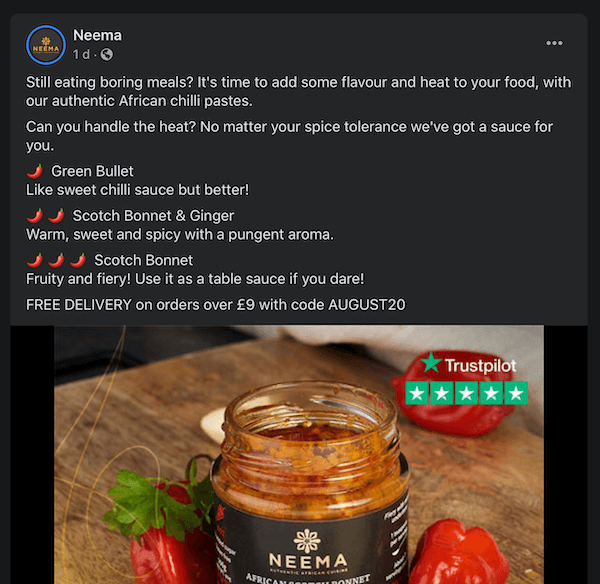 Now that you know the types of discounts you can use to run ads on Facebook and Instagram, let's take a look at the structure of high conversion discount ads.

Discount advertising documents can be divided into three parts: capture interest, product offers, desire to buy. The goal is to engage the right people in your target audience, interest them, and then follow your site to learn more and make a purchase.
Snapshots are strikingly copied on the first line. What this line should say depends on the quote you provide.
For example, a common tip is a specific code used for discounts and checkouts, such as "Get a 20% discount on your product name using the discount code FB20."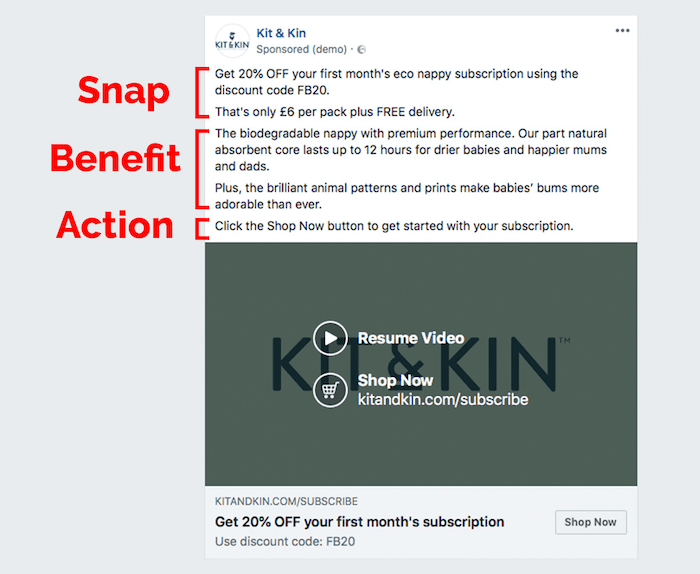 The benefits follow. It lists the core features of your product or service and their benefits to your target audience. For a copy to work, you cannot list only features. People want to know how these features benefit them and affect their lives.
The last part of replication is the operation. Here you can clearly describe the actions your target audience needs to take to take advantage of the quotes you're targeting in your ads. For e-commerce, the action will be the sentence at the end of the ad's text, such as "Click the Buy Now button to get started."
The following Facebook ad highlights a different snapshot that suggests another, more expensive solution to the problem with advertisers' products. This strategy immediately appeals to those who understand the problem and the solution but do not know the business and its products.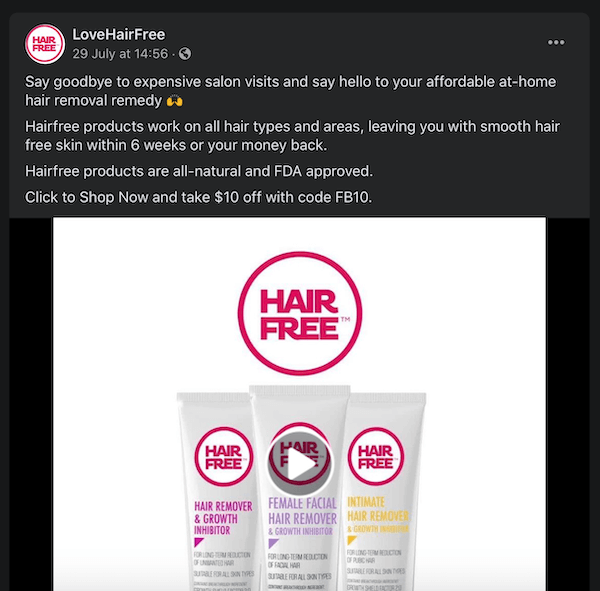 For these types of discount ads, you want to target both cold and hot audiences on Facebook and Instagram.

Targeting cold audiences (interest-based and similar) in the Cold Buy Test campaign is designed to trigger responsive people in cold audiences who are ready to buy right now without spending a lot of time. Use conversion goals optimized for purchases and test multiple audiences to find the most effective audience before expanding your ad spend.
For discounted ads for enthusiastic audiences, use your Facebook page and Instagram profile to engage your audience. Similarly, like cold buy testing activities, use conversion goals optimized for purchases. But this time, start by testing the duration of a single audience, such as the last 180 days, because this will result in the largest population still relevant.
#

2

:

How to write eye-catching advertising documents to reflect the urgency of the campaign.
Another type of ad that specializes in facilitating sales is reminder ads. Reminder ads sound simple and can be used for website re-marketing.
They create a sense of urgency by reminding someone of what they've viewed on your site and engaging them with your ads, revisiting your site and turning it into a customer. You want to use coverage goals to target your site's custom audience for people who have visited any page on your site in the last 3 days (ideally) or up to 10 days.
The shorter your audience duration, the more relevant your ads are, and the higher your conversion rate. By using coverage goals instead of conversion goals, Facebook doesn't narrow down already very qualified audiences (your site visits).
As with any ad, the key to crafting a fascinating reminder ad is discounts. The first line of the ad's document needs to get the attention of your target audience and immediately communicate that the ad is right for them. Reiterate that their statement that they have visited your site before is valid, as you can see in the Facebook ad below.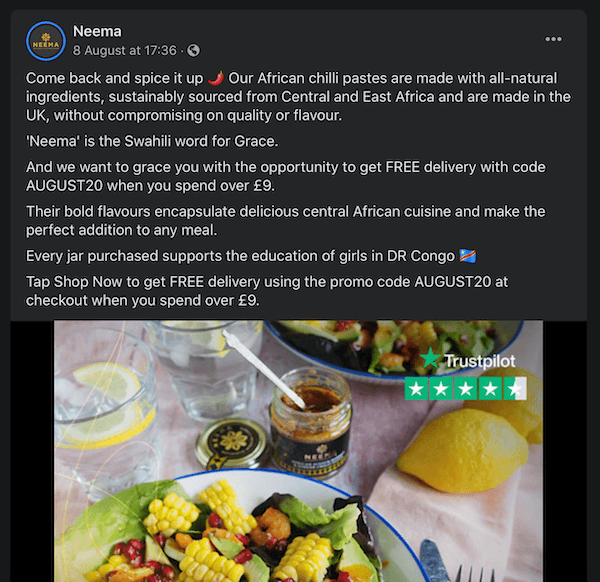 For the remaining copies, repeat any discounts they may see on your site or Facebook ads, such as those mentioned in cold shopping test campaigns or enthusiastic audiences' re-marketing campaigns.

To illustrate this point, repeat the conditional discount and the code they used to redeem it, such as: "You can get a 10% discount if you spend more than $50 using code FB10 at checkout." This is closely followed by call-to-action language (CTA) to attract people to the product pages you offer in your ads.
In addition to ad documentation, you can include discounts in creatives and or in title or news feed link descriptions.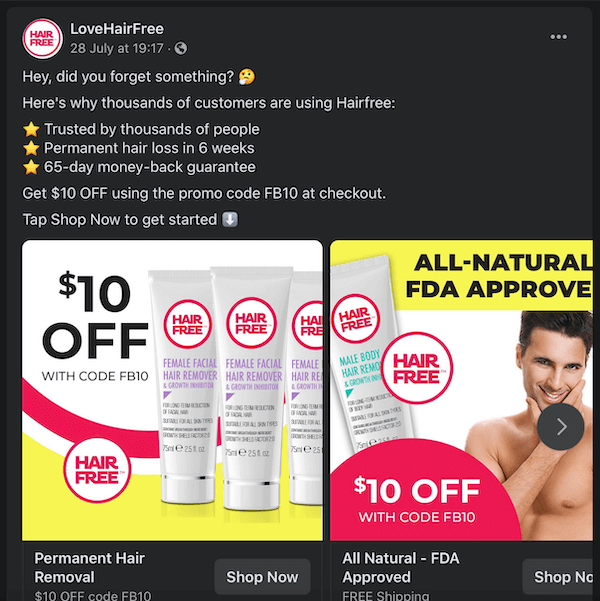 For this type of Facebook campaign, no ad format is more effective than others.

#

3

:

How to write a trust-building recommendation ad.
Ads that end up selling well are recommended ads. The goal is to build trust by providing social proof in the form of customer reviews or recommendations. Similar to reminder ads, recommended ads are best used in website re-marketing campaigns to target people who have visited your site but have not yet purchased it.
One of the most common questions I was asked about recommended ads was: "Should I format the recommendation as video or text?" "
I usually start with text ads because they are the easiest to get. In recent tests, I've found that text recommendations are better than video-recommended ads, but for some segments, the opposite may be true. You can start with a text ad to see how it works. If you have video recommendation numbers, it's also worth testing their effectiveness.
When you create a text-based recommendation ad, use the following ad document structure.
Start with your recommendation. (1) If your recommendation is lengthy, shorten or divide it into paragraphs so that it is not a small paragraph. (2) Use quotation marks so that the proof differs from the rest of the ad's text and ends with a hyphen.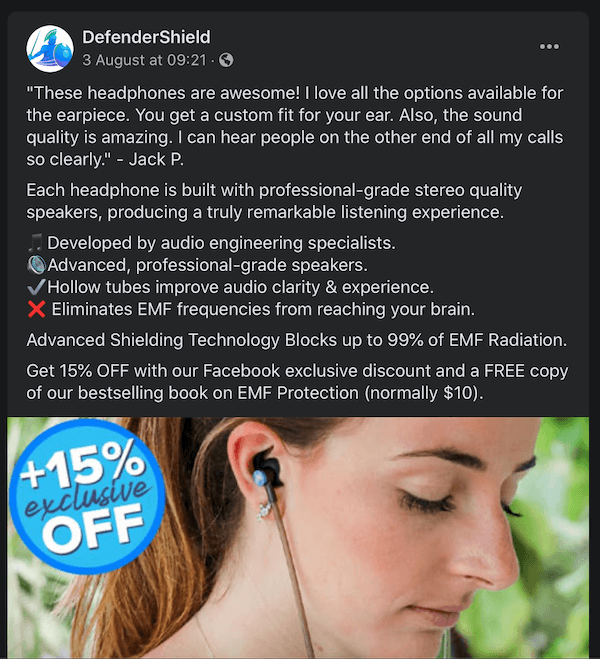 The second part of the recommended ad document is a service or product promotion. This is the same as a reminder ad. For example, repeat discount promotions, people in your site's Custom Audience have already seen it on your site, or you've informed them through a potential purchase test campaign or audience engagement talk campaign.

The last part of the recommended ad document is the CTA. Because these are direct response ads, and you want to see their people take action, the last part of the ad text should enable consumers to click on the ad and turn it into a customer.
The following Facebook ads show quotes after recommendations, followed by CTA, to attract ad clicks and direct people to relevant product pages.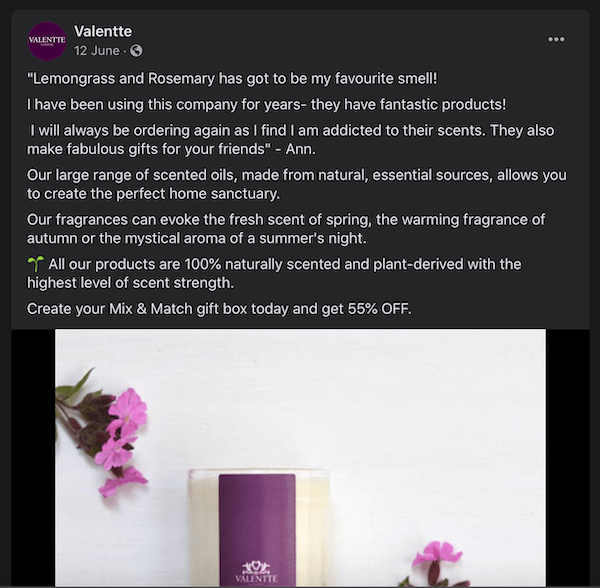 For creatives in text-based recommendation ads, select content that is relevant to the product or service you want to promote. Pictures and videos of lifestyle products work well.

Conclusion.
These three types of ads can help you sell products or services to a wide audience on Facebook and Instagram. For example, serve reminders or referral ads to visitors to your site, and offer discounted ads to people who don't know your business or who interact with you on Facebook or Instagram.
The key to using Facebook and Instagram ads to produce consistent results is not just relying on the type of campaigns they're in. If you focus only on website re-marketing and don't attract new users to your site, you'll run out of existing users. Or, if you focus only on potential purchases of campaigns and don't show ads to people who have visited your site, that won't work.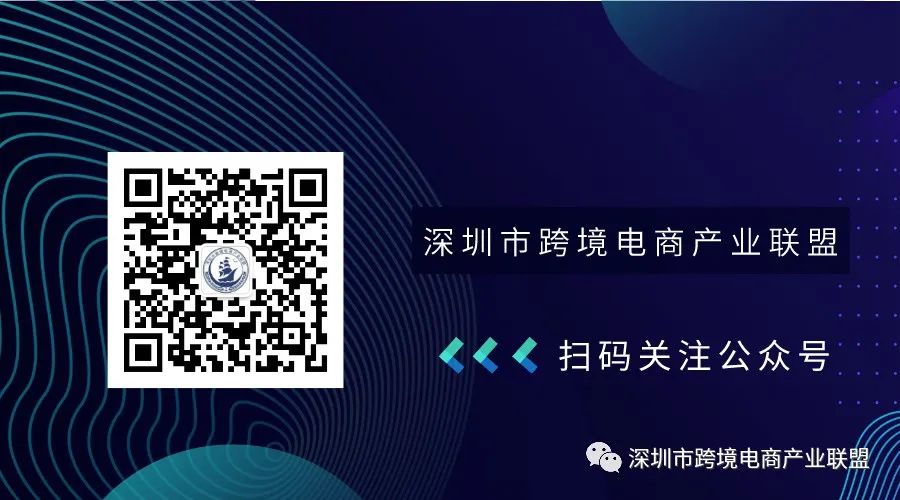 Pro, give Gobo "👍" and "look at it."
---