How to talk about sales without advertising on Facebook!

Facebook is one of the most popular social platforms, with people of all ages, tastes and backgrounds using it. This gives advertisers a great opportunity to attract customers. Facebook ads can get users' attention and lead them to sellers' websites.
Facebook ads follow the bidding principle. On Facebook, there are three ways to charge for ads, the first is through clicks on ads, the second is through impressions, and the third is through the number of purchases. The cost of an ad depends on which model the advertiser chooses.

Facebook ads can run on all devices and platforms, and advertisers can reach the people who are most interested in the business, regardless of where they are.
If you want to run ads on Facebook, you need to run a Facebook account.

Step 1:Search for Ads Manager

Step 2:After searching, you'll see as shown.
Step 3:Click the "Create Ad" button to go to the ad action page. Facebook offers a variety of advertising goals. Select Send people to your website to introduce users to your site.
Step 4:Enter the URL you want people to browse.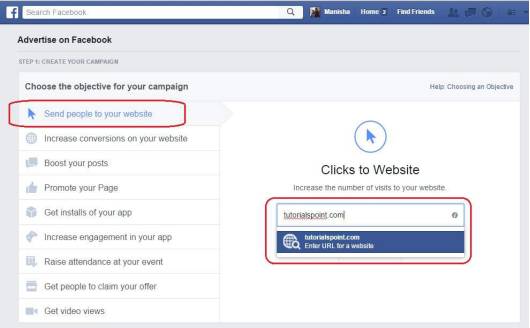 Step 5:Enter the name in the input bar of campaign name.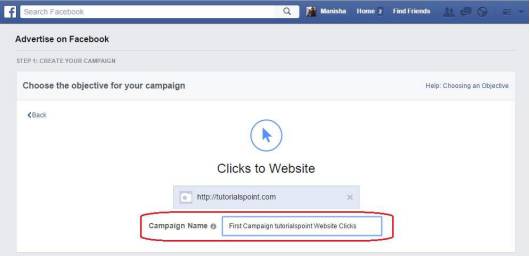 Step 6:Enter your account information.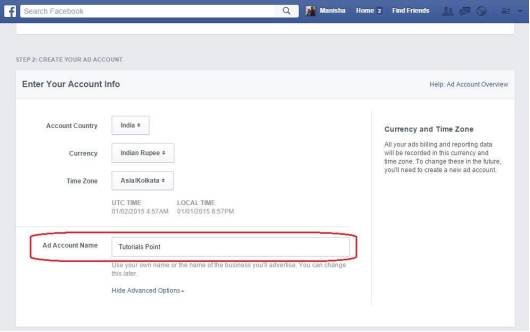 Step 7:Set region, audience age, gender, language.
Step 8:Choose the education level of the target population.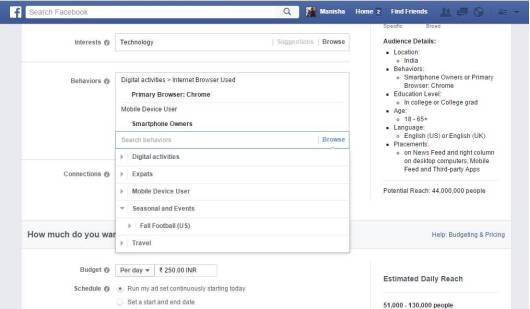 Step 9:Enter information such as interests (interests), behaviors (behaviors), budgets (budgets), and so on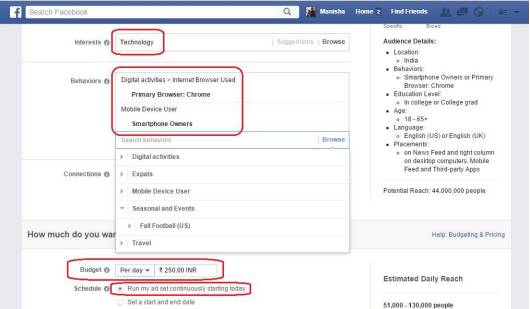 Step 10:Click "Run my ad from today."

Click Upload to add an image to your ad.
Select a Facebook page as a cloud computing tutorial.
Scroll down a few lines.
Enter Headline (title bar) to enter the ad title.
Enter in the text box: Text related to the content of the ad.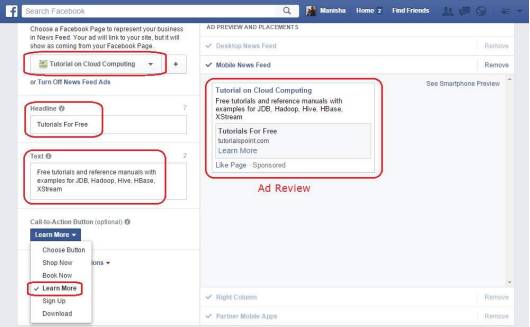 Step 12:Select Call-to-Action button in the "Learn More" pull-down box.
Preview the ad on the right hand side and change the range if conditions permit. You can create a page for your ads to use text and links for your ads.
Select the type of ad for your company, organization, or commercial use.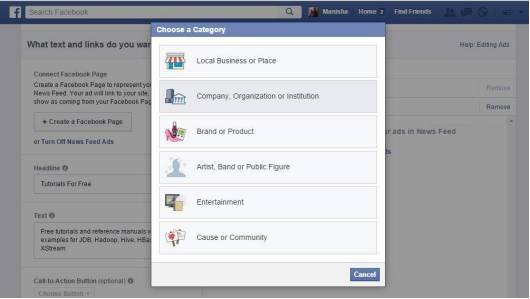 Step 13:In the Create Page dialog box, enter the page name. Select an ad category.
Click the Create Page button.
Step 14:Once you're asked to enter everything you need to enter, click the Place Order button. You'll need to enter your payment method, and you can enter your credit card details to pay for your ads.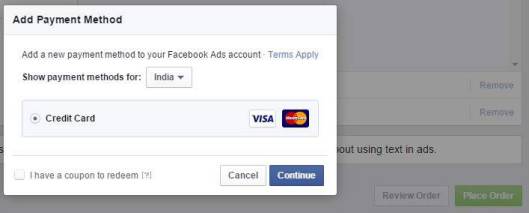 Once you've created your ad, you can find it on the left side of the account page.
Follow up on your account
Set the status of your account, Ads Manager (Advertising Management →) and Campaigns tab (campaign tag)

You can manage your campaigns Set it to active or inactive. You can set delivery options and delete your campaigns, ads, or accounts. Other advanced features are also available.
Modify your ad's budget or reschedule your ad budget, do the following: Ads Manager (advertising management system) → Ads sets (advertising settings) → Budget (budget)
Set the ad date: Ads Manager (Advertising Management System) → Ads sets →Date (date) at the top of the chart → select date → Save
Change the bid: Ads Manager (Ad Management System) →Ads sets → scroll current bids→ click on the pencil icon→ make bid changes→ Save
Edit existing ads: Ads Manager (Advertising Management System) →Ads sets →Ads →Creating), Targeting and Pricing→ → Save
You can add account groups to access multiple ad accounts
Manage the ads you create with the following steps:

Change how often your ads run
Change the budget for your ad
Change your ad's keywords and images
Make sure the changes are in place and running correctly
Attract more users to the site
Creating Facebook marketing ads is easy, but sellers can't simply send them out and wait for them to sell. To get a better return on investment, sellers need to target potential customers who are most likely to react to ads.
4 ways to make your Facebook ads more effective
For those interested consumers

To promote advertising, the first thing to consider is those consumers who have shown interest in your brand. These people are most likely to click on your Facebook ads.
Sellers can target consumers who have visited a page on your site or site, interacted with your Facebook page or post, or collected contact information such as mobile phone numbers and email addresses left on other sites.
Set up categories to target ads
To promote Facebook ads, sellers can choose which users to see and not to show according to different categories. The classification criteria are: behavior, interest, and geography, etc. You can also create an "other" category that puts the most associated customers in it, which maximizes customer conversion rates.
For example, if you're launching a mobile app that's only available on iOS devices, you can exclude Android device users when you post ads. In this way, you can avoid pushing ads to unrelated users.
Push ads based on the length of the interaction
The number of interactions people have with something shows how much interest they have. Sellers can promote Facebook ads based on how long people visit the site, or how long they watch a video.
If you want to promote based on how long people visit the site, sellers need to create a Website Custom Audience and then choose Top25%, Top10% and Top5% in the website engagement in the drop-down menu to promote their ads.
For tech-savavty users
If you want to avoid sending ads to customers who don't understand your product or platform, sellers can set up exclusions for specific behavioral users. To do this, the seller creates Custom Audience Behaviors that define user behavior, for example, with the option of excluding those who are 2G mobile connected and those who use Internet Explorer as their primary browser.
For the right customers, you can maximize Facebook's marketing. Of course, this is only the first step in optimizing advertising, sellers also have to separate test, which type of advertising is useful, which is useless. The combination of the two can improve marketing efficiency.
Wen/Hugo.com Chen Wei Yang Xueping
Please indicate the source of the reprint Hugo.com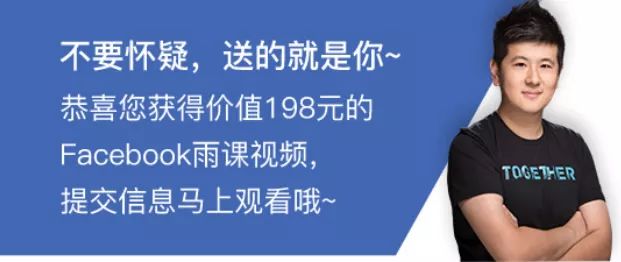 "Read the original" course
---