How do stand-alone stations do Google ad streaming? What types and advantages do Google ads have?
Google ads have become an important source of traffic for many businesses in addition to Facebook ads, and are one of the ways marketers must understand how to advertise. How stand-alone sellers use Google ads to refer to stand-alone site sellers, and today we'll talk about Google ads.

What is Google AdWords?
Google AdWords is Google's digital marketing self-service platform launched in 2000. Google AdWords leverages the "precision" of digital marketing to present highly relevant promotional messages to target audiences at the right time and in the right place, with the right devices (PC, laptop, tablet, and mobile).

Google Promotion is a way of marketing online through Google, often called Google Bid Ads.

Google is the world's largest search engine, providing search services in most countries and regions of the world, and has a large market share in the search market, google promotes a wide range of advertising resources, including Google search engine keyword spot ads, YouTube ads, Gmail ads, Google shopping ads, Google brand ads, Google mobile ads, Google admob ads, Google brand advertising and many other advertising resources, can meet the needs of different groups of people to promote our products information to more than 200 countries and regions around the world PC websites, mobile sites, mobile applications and most of the network channels, for foreign trade enterprises to bring a large number of exposure, clicks and orders, foreign trade enterprises to carry out overseas promotion of an important tool.
Google AdWords promotion.


Google Google Advertising Resources.
1, Google keyword ads.
Google keyword ads, also known as Google AdWords promotion, directly through the Google search engine to find relevant keywords to search for ads, for your products directly exposed, get high conversion results.
2, YouTube ads.
YouTube is Google's UGC video site, is currently the world's largest UGC video site, very popular with the vast number of users, the current YouTube ads are image ads, text ads and video patch ads, with ultra-high price-to-value delivery effect.
3, Gmail ads.
Gmail is Google's mail product, and Gmail ads can be used directly from the top of your email inbox to show interactive ads that include images, videos, or embedded forms that connect with potential customers in a personalized format.
4, Google shopping ads.
Google shopping is a Google-owned shopping ad that helps promote your product by enough people to get detailed product information before they click on your ad. Shopping ads show people information such as photos, names, prices, and store names of your products.
5、Google mobile ads.
Google Mobile ads are AdWords ads that show on mobile devices (phones and tablets) pages and apps, including call-only ads and app campaigns, to show users directly from your tracker for more efficient ad impressions.
6, Google admob ads.
Admob, Google's mobile app product, is a world-renowned app advertising platform with a worldwide large number of high-quality users, the ad has accurate delivery and more efficient exposure, for customers to directly improve the conversion rate of ads.
7、GoOgle brand wide.Sue.
Google brand advertising is Google's advertising of brand products, display more accurate, can improve people's awareness of the brand, enhance the interaction between users and your brand, so that your brand is more exposed.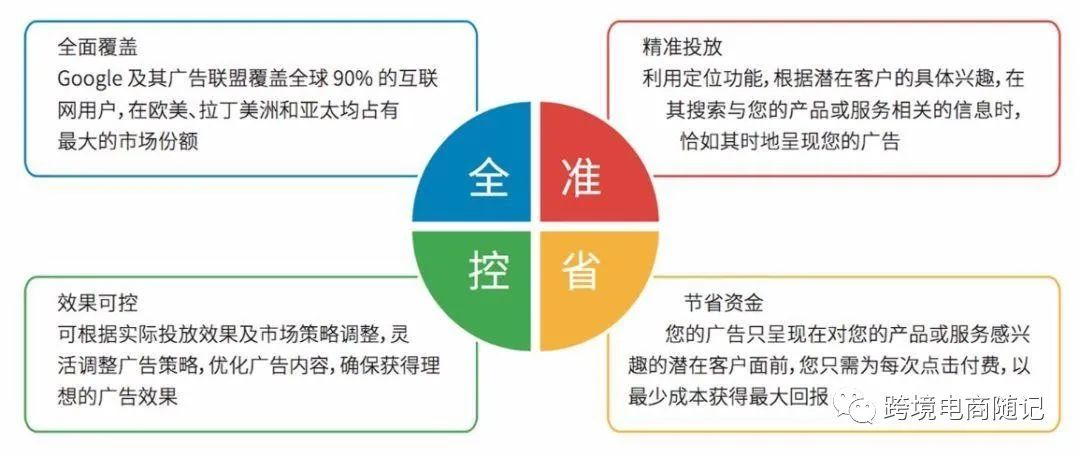 Features of Google keyword ads.
1) Global high-quality coverage, network prospects.
Google Promotion (Google Promotion) China Market: Google and its tens of thousands of online partners form China's advertising alliances and platforms, Google Promotion (Google Promotion) covers a wide range of high-quality customer population.
Google Promotions Global Market: Google and its advertising network cover 88% of the world's Internet users and have market share in major markets in Europe, Latin America and Asia Pacific.
2) Pay by effect, only for valid customers.
Your keyword ads will only appear in front of potential customers who are interested in your products and services, who will click to go to your site to learn more. You only have to pay per click to avoid wasting money.
3) Accurate advertising, door-to-door customers more high-quality.
Keyword ads deliver accurately based on your potential customer traits, ensuring that they reach the target audience, resulting in more customer intent and better quality.
4) Flexible and independent control of the budget, advertising should change.
Keyword ads provide budget control, targeting and ad optimization modification tools, so that advertising more dynamic with market strategy adjustment, so that enterprises can win the market competition.
5) Quality service along the way, all the way to help success.
Google will provide you with Google Promotion (Google Promotion) timely help by telephone, e-mail and online communication, or give marketing strategy advice and website optimization and other high-level services, enterprise success on the road to quality service.

Reasons to choose Google ads.
1, platform traffic: Google is currently the world's largest search engine, including users around the world, with more than 200 million search volume every day, can effectively promote products, get high returns.
2, many channels: Google has more than 200 high-quality global delivery platform, more than 1 million partners, advertising can be accurately displayed in various countries and regions, to help you open up a large number of overseas users and tap potential customers.
3, the conversion effect is good: the ultimate effect of advertising is to bring good conversion, such as accurate crowd exposure, a large number of people coverage and other advantages can bring high-quality conversion results.
4, the cost of advertising is low: the cost of running ads in Google can be entirely determined by you, according to the conversion rate of thousands of clicks, product profits, so as to calculate the cost per click, and ultimately lower advertising costs to achieve efficient conversion results.
Against the backdrop of cross-border e-commerce, more people are choosing Google to run ads. According to the data, Google's advertising methods have occupied 66.98 percent of independent site sellers, more and more people choose Google's way to stream, the same Google search trend is also obvious to all, the world's number one search engine!
Abroad, Google Shopping contracts 55% of ad clicks in Google's total search, which means that this section is a treasure trove of traffic and will eventually become one of the necessary channels for stand-alone sellers to access business opportunities, so don't limit itself to channels like Facebook. Google shopping ads are relatively more mature, very obvious in front of users, it can be said that as long as interested will try to click, click will produce conversion rate! And Google can also be based on a lot of analysis and data detection, to help you achieve better conversion rate and data detection!
Stand alone as a piece of their own species of land, play a variety of ways. How to achieve good marketing, build a brand, so as to gain the attention of users and purchase, is every independent station operators need to think about the problem. Therefore, for sellers should think more about the brand, consider how to precipitate the user down, have their own real core things, rather than simply selling goods on the platform.
And Google advertising just played an assist, we just need to grasp this high-quality resources, and do a good job of the relevant site optimization can be.
Images from the internet, if there is infringement please contact the author to delete. Author: LLYY3607.
This article by the author cross-border e-commerce with the original, reproduced please indicate the source.
---