Amy Chat Cross-Border: How to Avoid Wasting Your Google Advertising Budget? (ii)
Amy Chat Cross-Border: How to Avoid Wasting Your Google Advertising Budget? (ii)
By adding negative keywords, choosing the right type of match for Google ad keywords, and adding the right ad extensions, there are three ways to maximize accurate ad serving, in addition to confirming your needs to join the Google Display Network.
One, use too many keywords (Key words)
The number of keywords does not directly determine the effectiveness of Google promotion. The more keywords does not mean that the user clicks higher, too many keywords mean that any one keyword is not well configured, click dispersion results in can not better understand which keyword is the real conversion word, thus affecting the next step of testing and optimization. Choose more keywords, it is better to choose the right keywords. On the same budget, according to the user's actual search and click to select the right keywords, the fewer keywords, ads can get enough display and more surplus and competitors to bid.
Second, the website page does not do search ads optimization.
Website pages need to contain keywords, improve the user experience of the site page, to avoid the situation that does not conform to the content of the ad, should optimize the page, improve the page keyword relevance, advertising content relevance, browsing experience, increase Google Ad Score (Quality Score), maintain click-through rate while increasing conversions to achieve real benefits.
1) Whether the corresponding discount or offer is included in the advertisement.
2) Whether the layout of the site is clear.
3) Is there a mess of windows and other factors affecting the user experience.
4) Whether the navigation is clear or not.
5) Whether the search is available and useful.
6) There is a problem with the order or inquiry system.
Third, use only one ad (Ad Copy)
Using 2 ads, Plan A and Plan B were conducted simultaneously to compare the results of a certain period of testing to get more click-throughs or more conversions. Keep the most effective one and test it with a new ad. Improve the quality of your ads and deliver real business value in the process of continuous testing and optimization.
Google advertising has a clear goal, global coverage, smart click charges and so on, reasonable use of the advantages of the platform, accurate advertising, improve advertising performance, through continuous testing and optimization to improve the conversion rate of promotion is the ultimate goal. By understanding the properties of visiting users, using statistical tools to capture user behavior, distinguish between different users' different needs, analyze the bounce rate and length of visits to the web page, purposefully set the time and place of delivery, more accurately deliver ads to target customers, improve Google promotion conversion rate.
In order to make it easier for cross-border e-commerce sellers to find the relevant resources they need in the course of their operations,
Our Sand Star cross-border also set up a variety of resources docking group (the following is QQ group number, we search to join it)
1. Cross-border e-commerce Amazon Exchange Group: 856744717.
2. Cross-border e-commerce Amazon Art Photography Design Group: 1082781536.
3. Cross-border e-commerce Amazon FBA logistics cargo docking: 1082785351.
4. Cross-border e-commerce factory docking group: 1047825335.
5. Cross-border e-commerce station outside the Canal docking group: 637044975.
6. Cross-border e-commerce company registration exchange group: 1082918745.
7. Cross-border e-commerce recruitment group: 683997147.
8. Cross-border e-commerce Europe and the Middle East VAT registration declaration exchange group: 1061460089.
CEO of Acumen IBC & Safari Star

Founder and CEO of Azemin International and Shastar Cross-Border.  
Resident in The United Kingdom, familiar with the cultural differences between East and West.

He received a master's degree from Oxford Brookes University in the United Kingdom.
Assistant international trademark attorney, member of the British Trademark Office.
Since 2009, he has been engaged in cross-border e-commerce industry and has extensive practical experience in e-commerce operations and tax compliance.

Focus on providing local accounting services in the UK for Chinese enterprises, VAT registration and declaration services in Europe and the Middle East for cross-border e-commerce, and international tax compliance consulting and planning for Chinese brands.


Amy chats about cross-border public numbers and will share information about Amy's first-hand cross-border tax and overseas investments overseas from time to time.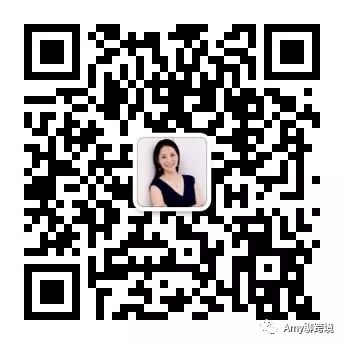 (Scan above QR code, follow Amy chat cross-border)
Stay tuned for more up-to-date, cutting-edge cross-border information.
---