How can I improve the elevator advertising audience experience? Here are five psychological principles to understand
The source of the article is . . Digital think tank
ID:neo_media
How do I create a great audience experience? Believe that this is the focus of each brand marketing. In the past, we could only rely on practical experience and even intuition, but as more and more relevant scientific principles have been proven to be effective by various studies, we can combine those theories with practical work to improve marketing effectiveness. Now, in marketing, understanding and applying the principles of psychology and behavioral economics is fast becoming a core skill in the industry.
With the following five key principles, you can effectively enhance the audience experience in elevator advertising marketing.
1, the theory of simplicity
"People tend to prefer simple things because they reduce our cognitive load."
Why are products that are simple to use often better than complex constructions?According to the survey, 64% of users are more likely to choose a brand with a simple product experience;55% of users prefer to buy a product that feels simple to use.Therefore, if you can minimize the cognitive load of the product, then to improve user likeability, enhance brand growth and improve product sales, it will naturally come to an end.
Elevator advertising in a relatively closed scene, elevator ride time is short, more suitable for simple, direct advertising information display."Sour a little eat sly plum", snuck plum through the trendy elevator smart screen, with a few simple slogans, to convey the concept of sly plum delicious and healthy, coupled with traffic star Yang Mi endorsement, naturally increased consumers' love of the brand.
2, select the overload effect
"People like to have choices, but they don't like to have too many choices.When there are too many choices, people become anxious, distracted and even depressed. "
Is the more choices available to users, the better?Of course not.Choosing diversity can attract more people to watch, but people are more likely to buy only when they have fewer choices.The negative impact of too many product choices may be more serious than missing out on sales opportunities because it can be a burden on users.
The more information you have, the harder it is for your audience to choose, but as ads continue to reach scenes in people's daily lives, people are more likely to be attracted, spend less time choosing, and generate buying behavior.Is the trendy elevator smart screen hot Ding Ting buy food creative ads, in the user every day commute to work, home must pass through the elevator, built"Order after work, go home to collect food"Easy to buy food consumption scene, the first time to seize the user's attention, to solve the difficulty of buying food pain points and demand。
3, the law of the end of the peak
"People judge an experience based on how they feel in the best and final part, not on average how they feel throughout the process.For better or worse, the judgment process is the same."
You can't remember everything, so the brain chooses to use some "thinking shortcuts" to sieve out the focus.One of the important basis for brain screening is "emotions", and the more intense and recent the emotions, the more memorable the experience will be.
In the era of fragmentation, our memory is also scattered, as the closest offline media way to home, community elevator advertising can arouse people's memories, so that the audience can effectively produce the feeling of experience, the brand has unforgettable memories.KFC's super-value hard-core lunch ad recently hit the nation's trendy elevator smart screen, 9.9 can enjoy a delicious lunch, effectively solve the ultimate problem of what to eat for lunch.
"People can focus on talking to someone, even in a noisy environment, because we always like to focus on the personalized information that's most relevant to them."
Today, it seems that brands are looking for personalized experiences.Everstring's report shows that 70 per cent of brands now make this a top priority because it drives purchases.The message in the delivery has been very clear:If you want users to buy products, personalize them as much as possible.
To provide consumers with personalized experience, the first thing is to have a link with consumers, scene marketing is a good choice, can make the brand build personalized marketing closed loop, promote consumer awareness of the brand."Children cough, afraid of pneumonia", Shenwei pharmaceutical god miao small lung sputum particles touched the parents' psychology, very clear information, and then through the trendy elevator smart screen covered by the community family, accurate transmission to the audience.
5, social identity psychology
"People tend to think of other people's behavior as permission to try new things."
When asked to try new things, we often feel anxious and hesitant.This fear is deeply rooted in our hearts, and if you want to overcome it, you need to be persuasive enough first.The key to mastering persuasion skills lies in a "social identity mentality" that enables consumers to become more convinced and thus consume.
People are used to following social rules, and consumer behavior can easily occur when a product is reviewed and recommended by most consumers.Elevator scene can cover the crowd, mostly the mainstream people who consume purchasing power, they are the city's opinion leaders, can form products and brands of word-of-mouth marketing."Beautiful clothing, super wash", recently, Nays super-energy laundry liquid landing trendy media national elevator smart screen, effectively penetrate the life trajectory of the family consumer population, natural health and fashion quality brand positioning, accurate touch to the target consumer's mind.
If you don't know how elevator ads should improve the user experience, start with these five theories."Products sold to home, advertising trend", as a focus on middle-class household consumption of social media platform, trendy media through the coverage of 200 million middle-class family population of 700,000 elevator smart screen, to help brands and consumers to generate deep links, effectively enhance brand sales, become a high-quality brand marketing choice.
Review of previous periods
❶ Tangshan 4.5 earthquake, trendy media elevator smart screen timely early warning
❷ Slip Mei strong overseat screen division and trendy elevator smart screen, competing for trillions of snacks in the big market
❸ Why can the elevator smart screen become a new product detonator for the dairy industry?

❹ Gome's 33rd anniversary with the trendy elevator smart screen, the first to open the year-end marketing drama!
❺ Halogen giant Zhou Black Duck launched a non-spicy series, hand in hand with the trendy media into the casual snack market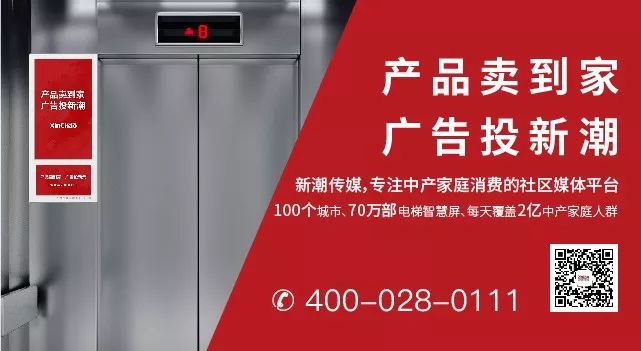 ---