CNN finally woke up, set up a team, research audiences to make a lot of money advertising, domestic television stations?
The following articles are from the all-media school , the author of the full media

All-media
Tencent News' all-media think tank captures the global content trend, focuses on cutting-edge media research, links industry pioneers, and publishes major summits, reports, and recruitment messages. Here, position the future.
Source: This article has been authorized by Tencent Media Full Media
After several years of user-scale tug-of-war, many foreign media have recently begun to "take a step back" and pay more attention to user relationship management.Maximize content and advertising performance by researching audience behavior, improving engagement, and increasing audience engagement, providing advertisers with predictable audience analytics。
Midfield turn, for any media is from strategy, products, content, to the organizational structure, corporate culture of all-round innovation. Recently, CNN has made the latest attempt to strengthen direct contact with its audience.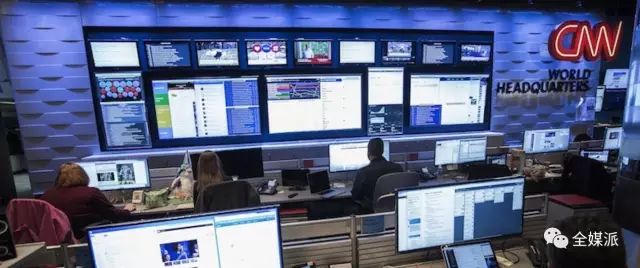 As a senior media group, CNN has been at the forefront of mobile news, big data mining, cross-platform communication, and user engagement.
At a time when the news industry is driven by technology, CNN is still adjusting its strategy.
Awakening: The number of audiences is only one dimension
Like many other media outlets, CNN has had enough of filling the black hole of user growth and is beginning to realize that quantity can only be one measure.It is still difficult to break through without fully exploiting the value of these audiences。
CNN's own platform has a large number of users and subscribers on Twitter and Facebook, but the loyalty of its fans is worrying - CNN is far from a part of their lives.
In the event of a sudden major event, audience traffic will soar to a high point in a short period of time, the news heat once and quickly fell back, it is difficult to maintain. Within the company, news and social divisions are separate, and fans from different channels are unable to create synergies.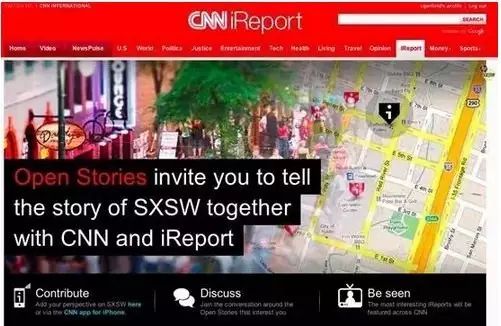 Action: Set up a team that specializes in audiences
CNN acted long after the problem was discovered.
A year ago, they first brought in Herbert, a senior vice president of digital platforms at IBM, who led the team to set up cnn's audience development team.
Last September, Herbert injected segal, a major general, into the new department.Committed to strengthening direct contact with your audience through products such as email newsletters and podcasts, especially on weekdays when no major news appears, activating user engagement, making advertisers' expectations more manageable, and ultimately striving to quickly double that portion of advertising revenue。
So far, Segal has assembled a 15-member team of data scientists and analysts, which could expand to 30 in the next two years.
"When we say 'audience development', we mean," says HerbertThrough data analysis, cultivate the news habits of the next generation of users, and better realize the realization of content。 CNN is already big and has an amazing audience, butCompared with our competitors in the paper media industry, we don't know enough about our users。"
The Washington Post and The New York Times formed "audience development teams" in 2010 and 2014, respectively, to study readership and reading preferences.As a result, CNN is now shifting from over-reliance on audience size to a greater focus on audience engagement, daily active users, and video viewing time.
Reform blocked VS results are beginning to show
In order to achieve this goal,CNN needs to really make audience development part of the company's strategy and even corporate culture。
Two years ago, CNN launched "War Room", a data monitoring feature on CNN Money that provides real-time reference to editorial teams by obtaining data about users' behavior on web and social platforms.
However, the ideal is plump and the reality is bone-chilling - the team's original idea was to be given independent editing space, free from advertising KPIs. But the truth is that members are still unable to fully jump out of the framework of their regular work - cumbersome topic-picking sessions, day-to-day business development, company product and sales meetings, and so on.
"To completely change your work strategy, you need the efforts of the whole company and the cooperation of all departments," Herbert said. Simply giving people a job hat doesn't solve the problem.There must be a fundamental change in the workflow。"
CNN says that while the audience development team is not yet able to talk about big results in terms of user size and financial growth, it has also made small achievements:
The user behavior analysis of news bulletins greatly improves the click-through rate and gives CNN a lot of streaming to its own website.

After the diversion, cnn website home page also according to the user's preference data, the content arrangement to make corresponding adjustments to further increase the reader's participation;

A news scroll module was tested and found that the function did not achieve the desired effect, as well as shut down, but also save a sum of money.
Battles: Videos, segments, and more
At the end of the day, CNN is a video-based media. Just knowing how many users are watching is not enough for today's highly data-based,It's also important to look at when these users forward and share and when they stop watchingin order to have a better predictive grasp of the future content. With a whole host of old and new platforms making the ferocious transition to video tracks, there's clearly a lot of headaches for CNN.
"Audiences on every platform have distinct characteristics, and the needs of video consumers are diverse," Segal said. We have to have a good understanding of many video platforms and deliver content there in the best way available. "
On March 7, CNN announced the official launch of the CNN VR platform, which will present global news in the form of VR, allowing audiences to experience VR news through a variety of end devices.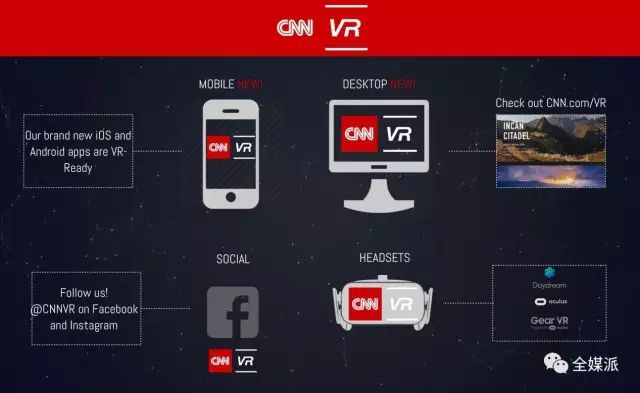 Of course, behind improving the user experience and increasing audience engagement, the Segal team is bound to be burdened with economic demands. In the past, CNN has been supporting the sale of digital advertising with its huge audience size;
Industry insiders believe that CNN is not a good idea to segment its large audience: "These media giants do hold the core scenario that advertisers value very much, but the crisis remains, and if vertical platforms can help advertisers reach the same people at a lower cost, the market will be quickly divided." "
"There is a real contradiction between precise distribution and platform-wide promotion, and advertisers still care about the broader reach, and if CNN can combine the two to understand what users need and find them in the right scenario, the growth prospects must be bright"。
From a single quest for audience numbers to a search for more direct, deeper connections with them, CNN is adjusting itself as the digital age progresses - a leap from quantitative to qualitative. How to adjust quickly in an era of constant change, CNN gives its own answer, which may also bring some thought to traditional media.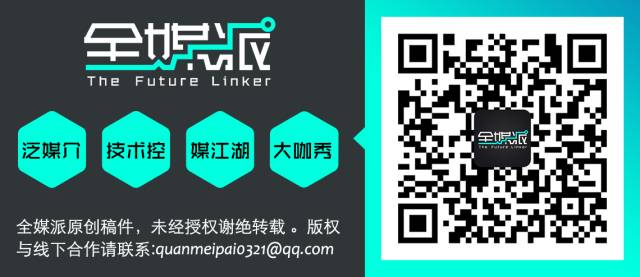 "Radio and television exclusive" is the radio and television industry's first subscription number, "film and television exclusive" deep perspective film and television industry law, operated by Beijing Zhongguang Chuanhua Film and Television Culture Consulting Co., Ltd., the new version of WeChat long according to the QR code map can be directly subscribed
---