Hands on how to monetize Facebook ads with Shopify.
ShopifyThese two years more and more hot, the reason is that it is convenient and worry-saving. You don't have to worry about the construction of the site, the security of the website, the complexity of the code, these Shopify all help you, you just need to optimize the product, get traffic. So.ShopifyThe stock movement is becoming more and more moving.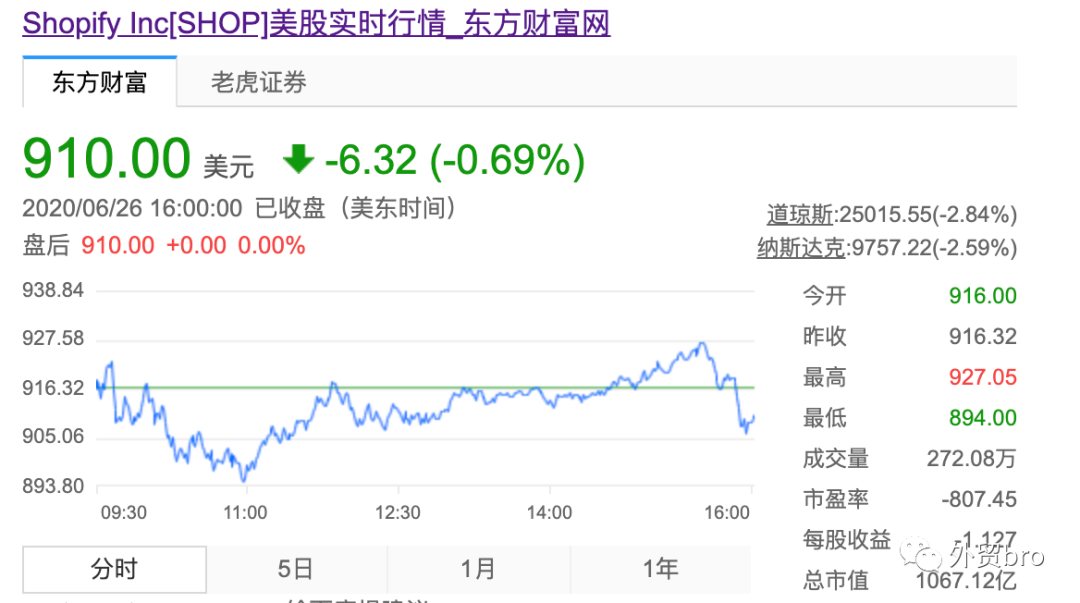 Today and you to share, how to use.ShopifyMatch.FacebookAd streaming to make money.
One, why use.FacebookAdvertising?
Second, set.Facebook Business Manager

Third, installation.FacebookPixel.

Fourth, understand.FacebookAudience.

V. Create.FacebookAdvertising.

Six, optimization.FacebookCampaigns.

                                   OneWhy use it.FacebookAdvertising?
1.  FacebookThere are many users.
as a possession.20Mega-Social Products for Million Monthly Active Users,FacebookOf course, you're the first choice for advertising. Plus.Instragramusers can also take care of in ads. China's main seller market is generally in Europe and the United States., And.FBSocializing in Europe and America.APPis in an absolute position. It's definitely right to choose it.
2.  FacebookHave huge user data.
FacebookThe huge user base means that he has extremely large user data, such as photos sent by users, songs he likes, interest groups he joins, topics of interest, likes, retweets, retweets, all of which are.FacebookCollected for use in portraits of users. Advertisers can use these profiles to run targeted ads.
3. Generate brand awareness.
Most businesses have one.FacebookAnd./Or.InstagramBusiness pages for connecting fans and customers on social media. When you decide.FacebookAnd.InstagramWhen using paid ads, you can choose to have them from your brand's social pages. This often increases brand awareness and brings new followers to your company, which is one of the benefits of running ads on social platforms.
Actually, there is.GoogelAdvertisingTiktokAdvertisingBingAdvertisingPinterst、Instagram……These drainage channels are available, but this article is mainly about.Facebook, The others allow me to slowly nag.
                               TwoSet up.Facebook Business Manager
1. Click to enter. business.facebook.com , click Create an account.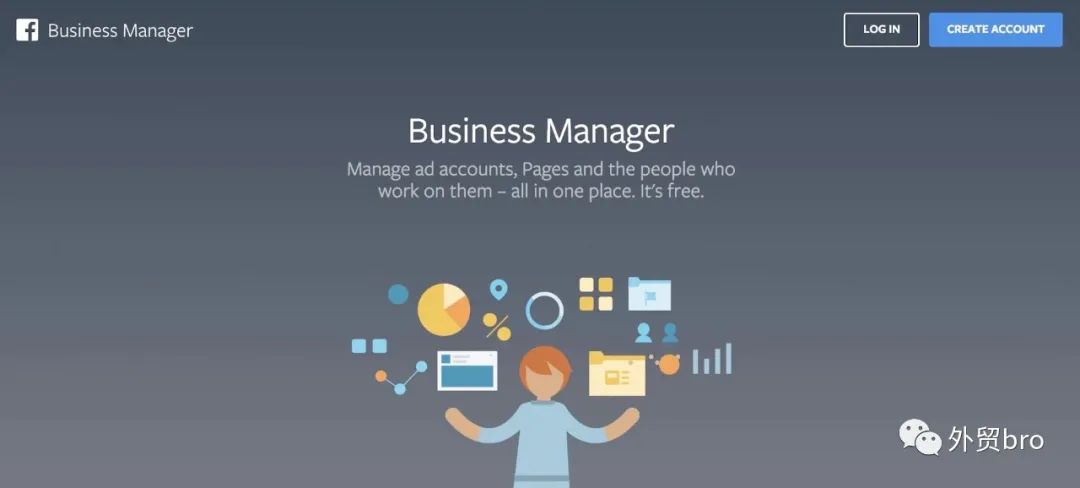 2. Facebookwill ask for the company name,FacebookCompany page (if not, create one first), name and email address.
3. Next, you need to create or add an existing ad account. In."Business Manager."Select in the menu."Business settings."and click."Account and ad account."to complete. You can choose to add an existing ad account, request access to an ad account, or create a new ad account. If it's never been before.FacebookHave you done an ad, click Create a new ad account, and then follow the prompts.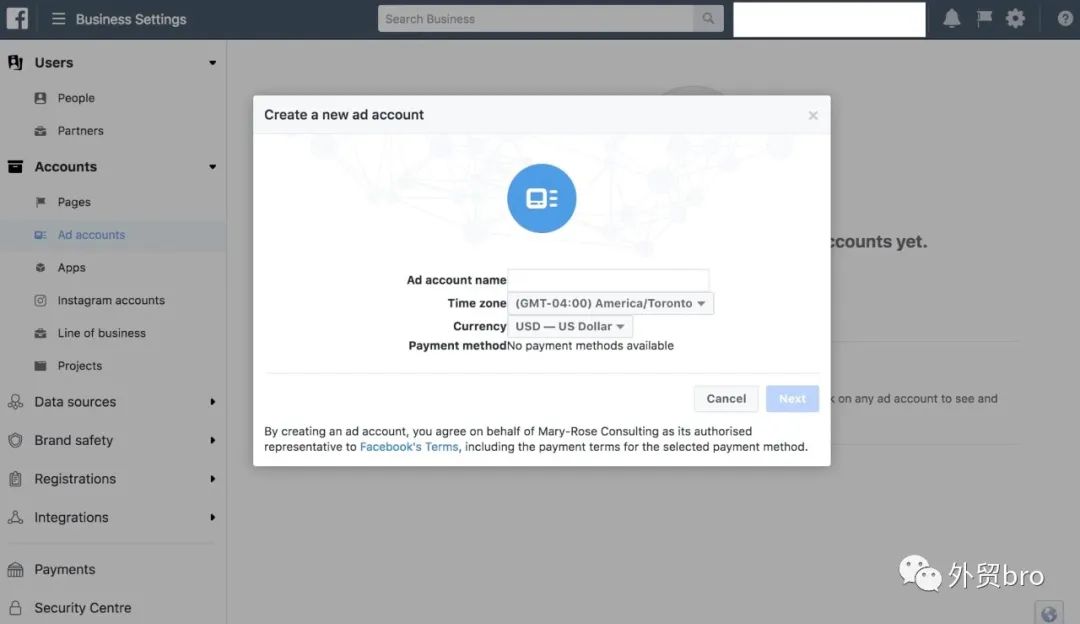 4. Once the creation is complete, go to the main interface.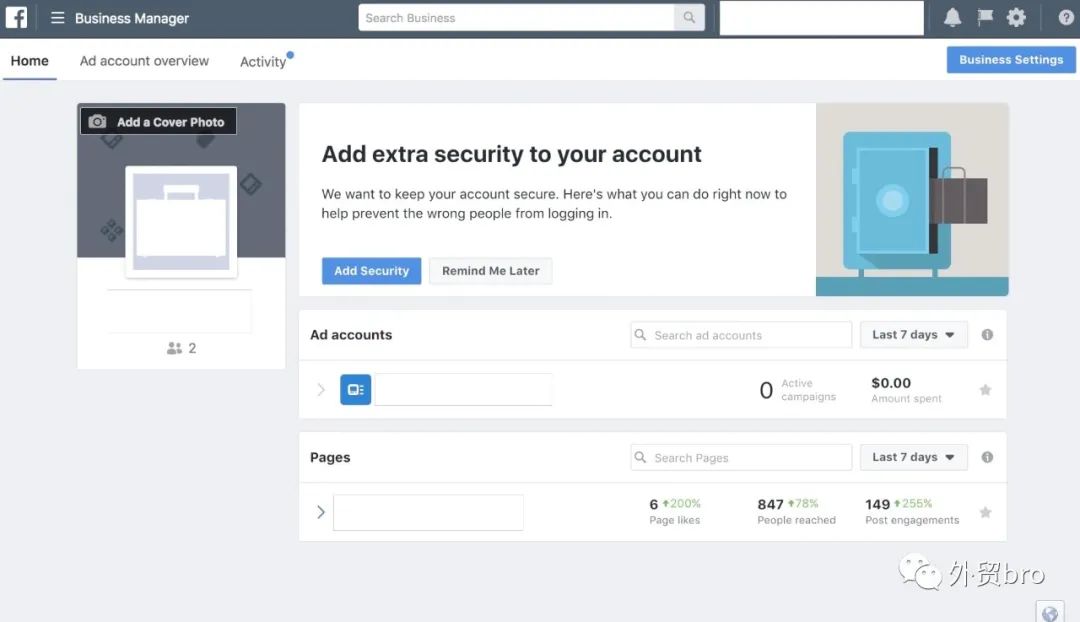 Three Installation.FacebookPixel.
What is.FacebookPixel?
Simply put, it's a bunch of code that tracks a series of behaviors that users do when they see an ad.FacebookPixels can tell you not only whether your ads are working, but also which audiences and creatives you're generating from those conversions.
Steps.
1. Copy.Facebook Business MangerPixels in the account.ID (16The bit digit.)
2. In .ShopifyShop, click.Settings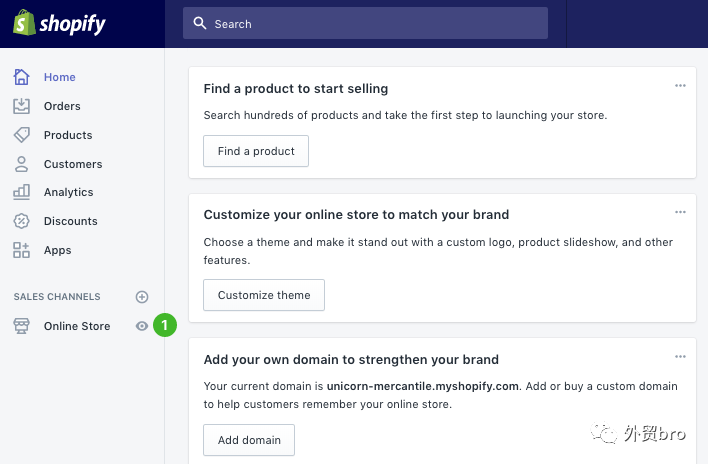 3. Choose.On line store ,Choose.Preferences,Fill in pixels.ID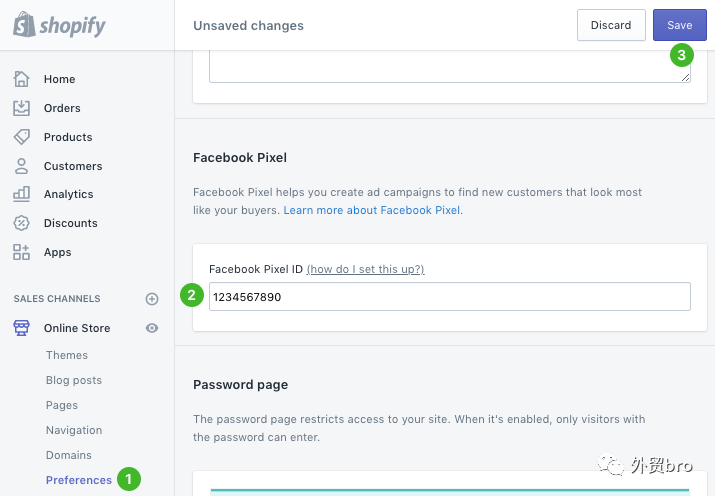 FourKnow.Facebook Audience.
The right advertising audience is the key to success, and if you sell bikinis and choose an audience that hates swimming, you can imagine that not only doesn't it work, it's also wasteful.Money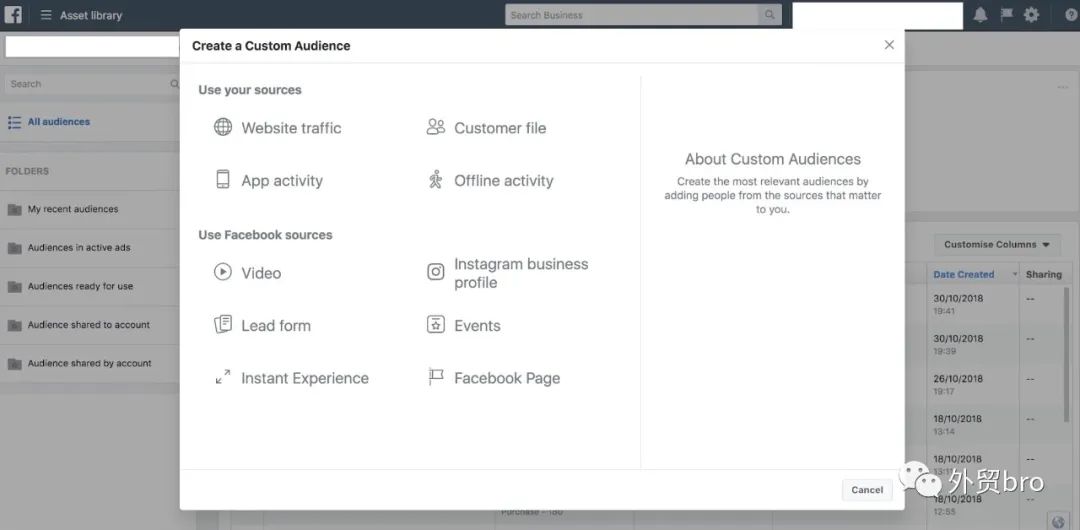 Redirect the old customer.
When we create a Custom Audience, we are recommended for the following three:
1.Customer profile.
Customer Profiles can upload a list of email addresses, phone numbers, and any other contact information you collect from customers or prospects. FacebookMatch this information to your own users, so you can target them directly through ads. Using customer profiles to establish target audiences is ideal for attracting previous customers to use new products or to engage e-mail users who have not yet generated purchases.
2.Website traffic.
Site visits allow you to create relocation lists to attract visitors to your site. Here, you can create lists of various sizes based on the actions performed on the site or the pages you visit. A list of common redirect targets that can usually be well converted is included in the past.30within days of visiting your site or in the past.7Users who added some products to the shopping cart within days.
3.Participation.
If your company is active.FacebookOr.Instagrampages, or ads that are trying to engage users (for example, likes, comments, and shares),FacebookYou can reposition these active users, direct them to your site, and generate deals.
  Find new customers.
1.  Lookalike audience
Expand from the running audience to get new, similar audiences.
Use any Custom Audience to create a similar audience, with the size and similarity of the audience in the selected country./region.1% to.10%。 1% similar audiences contain people and."Custom audience."The sources are the most similar, so it's easy to become potential customers.
As the scope of the goals is expanded and the budget increases, it will be."Similar audiences."the proportion increased to.3%,5% and final.10%, can eventually give you a wider reach.
2. Interests, behaviors and demographics.
You can use it if you don't have a list of previous customers or site visitors to create a similar audience."Saved audiences."Options are used.FacebookInterests, behaviors, and demographic data to create potential audiences.
Interests and.FacebookPages and content that users interact with are related (e.g.,K-popscuba diving, exercise)
Behavior is.FacebookDocument the actions taken by the user (e.g., celebrate a birthday, move to a new city, have a baby)
Demographics include user profile information (e.g., new mom, engineer, college graduate)
You may want to test several audiences from all available options in interests, behaviors, and demographics.
 Audience InsightsThe tool can help you narrow down these options and identify the categories to test.
                                   FiveCreate.FacebookAdvertising.
1. Enter.Facebook Business Manager, Click on the page you want to create your ad, and click Create an ad.
2. Choose your ad target.
Clicks to Website - Attract people to the website.
Website Conversions - Increase conversions on your site.
Page Post Engagement - Increase.FacebookParticipation in the page post. 
Page Likes - Publicity.FacebookPage and add page likes.
App Installs - Attract more people to install the app. 
App Engagement - IIncrease your app's engagement.
Local Awareness - Use your address to let more people near you see your ads.
 Event Responses - Help you in .Facebookto promote your event.
Offer Claims - Promote discount promotions.
 Video Views - Let more people watch the video.
 Lead Generation - Collect potential users.
 Product Catalog Promotion - Show products in the product catalog based on your target audience. Brand Awareness - Market to people who may be interested in your brand.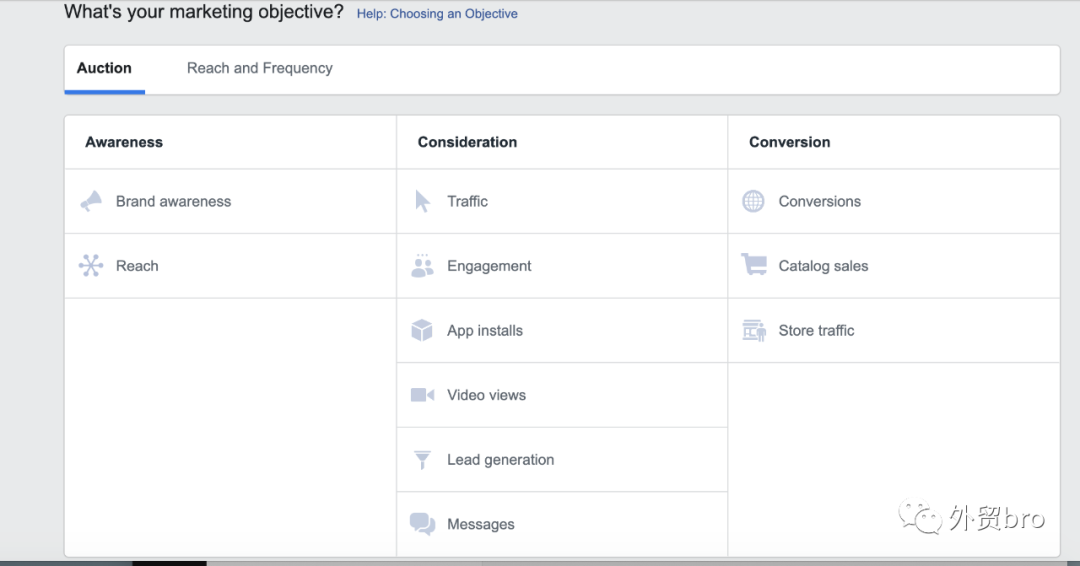 3. Choose your audience.  FacebookAllows you to determine your target audience based on age, gender, interests, etc.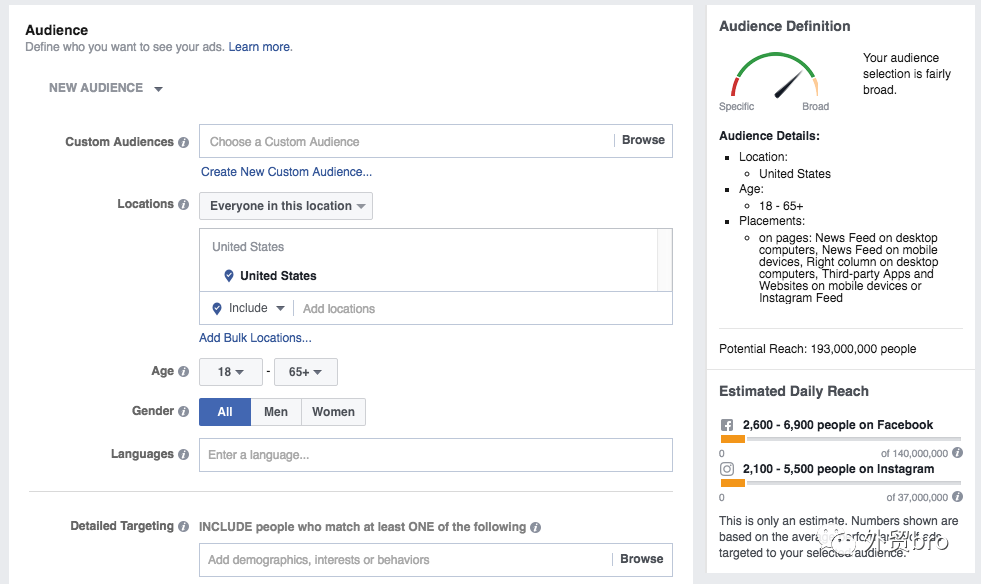 4. Choose where your ad will appear.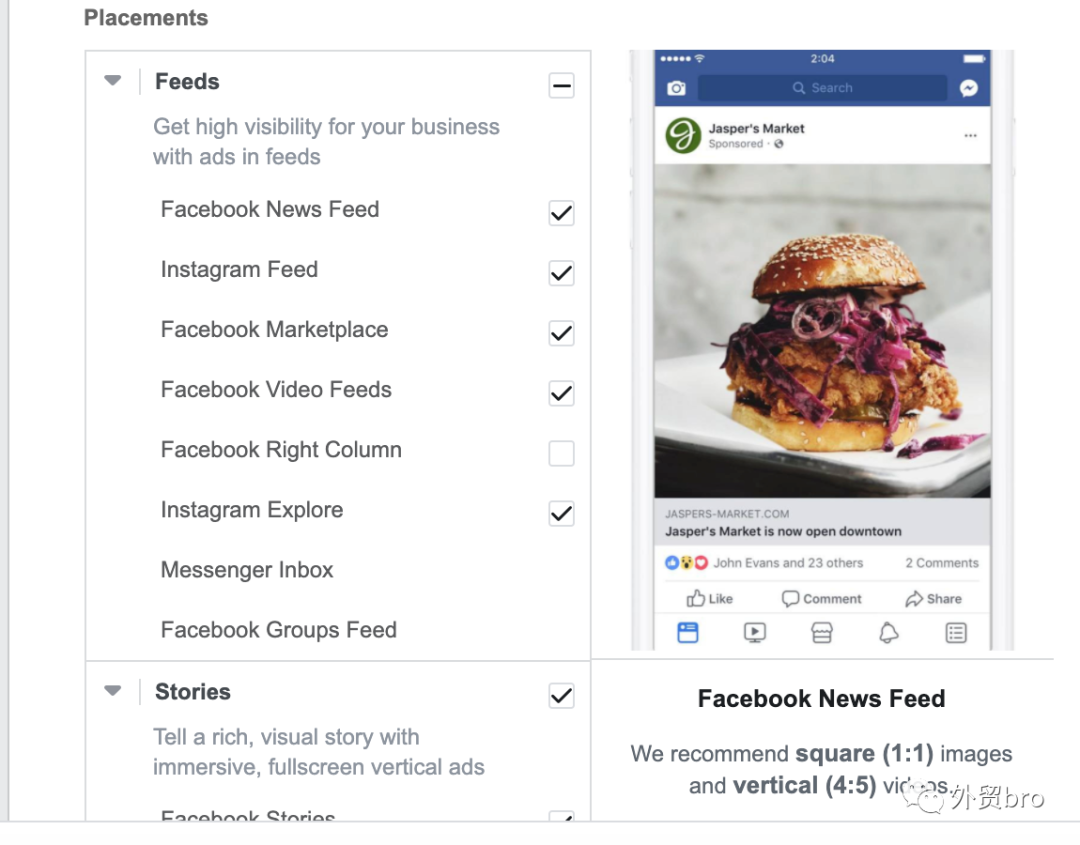 5. Complete the budget and deadlines.
6. Select the creative.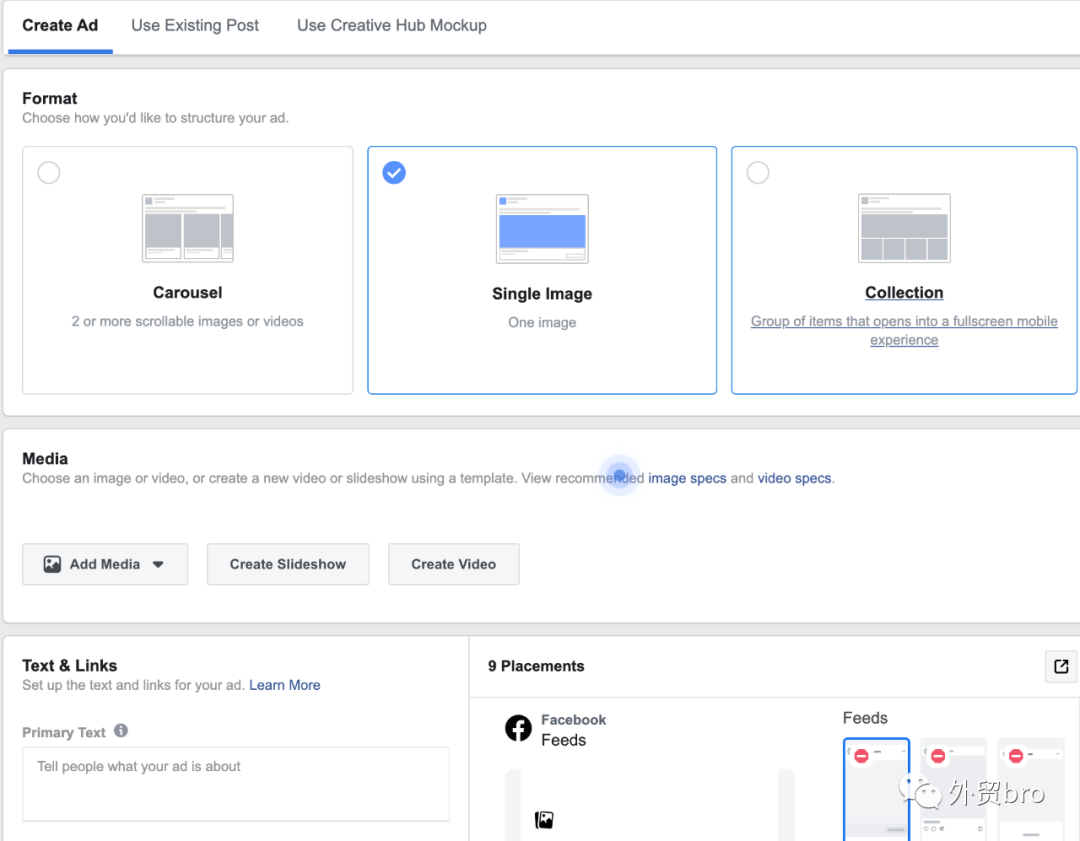 Preparation of the copy.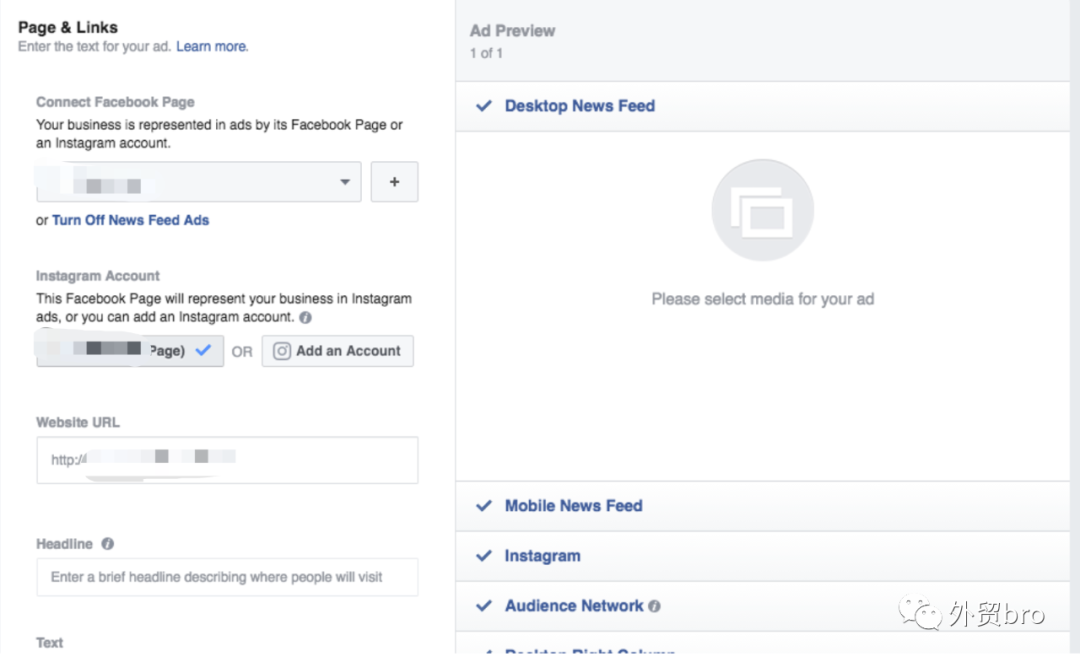 8. Next create finish, wait.FacebookThe review is approved and the ad setting is complete.
                                                 SixOptimize your ads.
In.FacebookSetting up a campaign is an important first step, but to be profitable, you must learn how to monitor its performance and optimize it over time. In general, check at least once a day.FacebookAdvertising (as spending increases, checks become more frequent.
If.48After an hour you don't see any conversions, you might want to try changing the targeting or turning off your ads, but be sure to give them.FacebookAdvertising learning time, can not change to change, later this aspect will be detailed.
FacebookAds take time to optimize so that the algorithm knows which customers are most interested in your product. If you're not sure if you should turn off your ad, try waiting for your ad to get at least.1,000and then optimize.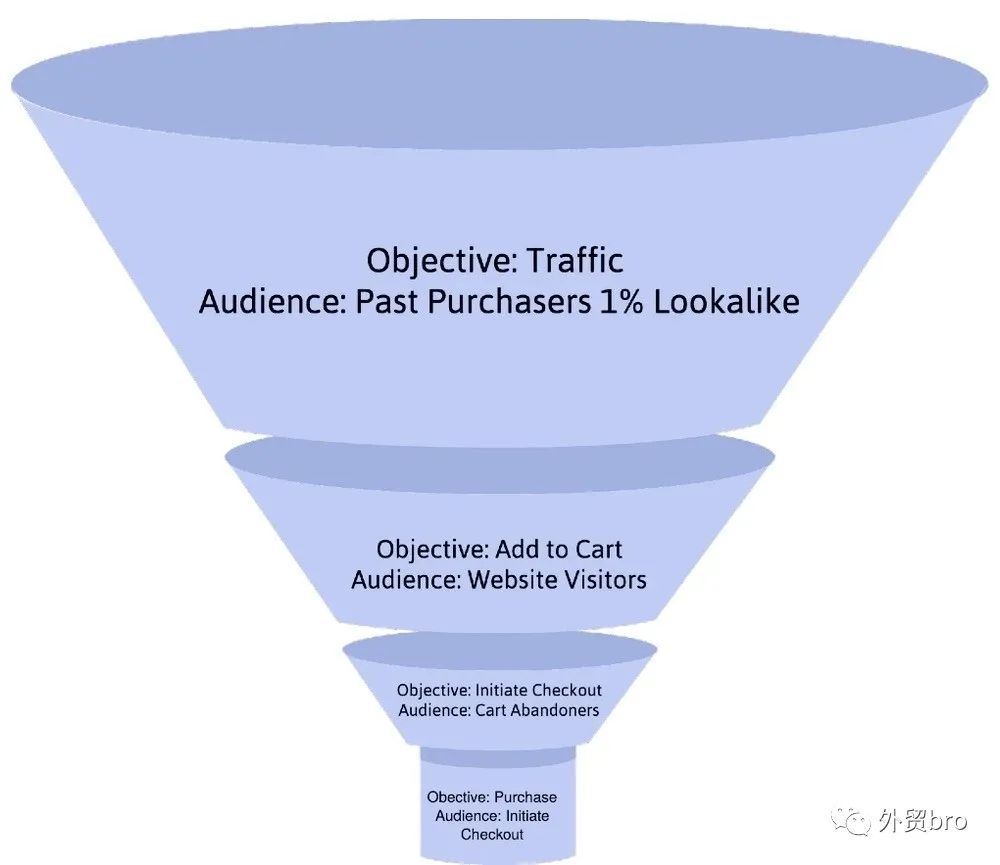 This picture is a typical example of a traffic funnel.
It tells us how to create a campaign to increase more audiences and traffic at the top of the channel, and then re-engage or reposition those audiences and traffic in subsequent campaigns, eventually leading customers to convert orders.
Well, simple ideas give you a framework, and then I'll put it.FacebookAdvertisement detailed and detailed series to share, hope to help you!
---