Giant Google: How to fight a hundred billion-dollar advertising battle?

Text . . Dude
Reporting by LeiPhone-sz
If you look closely at Google's earnings over the years, advertising has always been a big part of Google's revenue. The revenue model of over-reliance on advertising clearly needs to be adjusted. As a result, Google has been taping into revenue streams in recent years, investing heavily in cloud computing and hardware.
The laying is in progress and the harvest will take time.
Lei Feng.com compiled Alphabet's share of advertising revenue from the fourth quarter of 2015 to the third quarter of 2017. For a long time, advertising remained an important pillar of Google's bottom line. Google, meanwhile, is riding the air in advertising.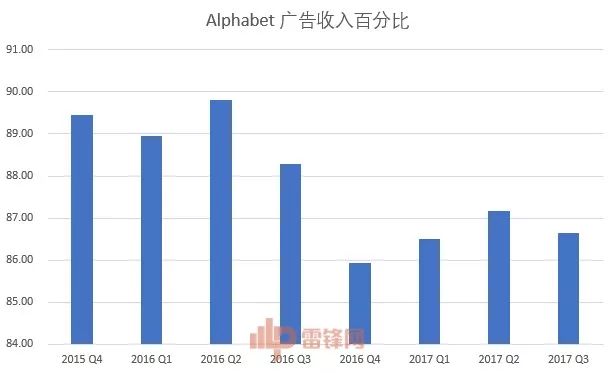 Facebook and Snap, which rely on social superiority, have crept into the territory of advertising, which has become a battle-hardened territory.
How does Google, the giant of advertising, defend its territory? How Google, the global technology giant, is using technology to power the advertising share battle in this advertising war.In this hundreds of billions of ad battle, giant Google odds geometry?
Lei Feng's net combed one by one.
◆  ◆  ◆
The dawn of the money printing machine
When Hal Wallian joined Google as a part-time consultant in 2002, he asked Shi Bojun, then Google's CEO, what role he could play.
Mr. Shi suggested that Mr. Wallian could "see" how Google sells ads because "it might make us a little money." Mr. Varian's arrival did open up the money-printing machine model for Google ads.
But it should not be overlooked that before Wallian's arrival, Google scientists had designed an ad auction mechanism that was perfect, a change from the traditional advertising industry model of selling ads through salespeopping.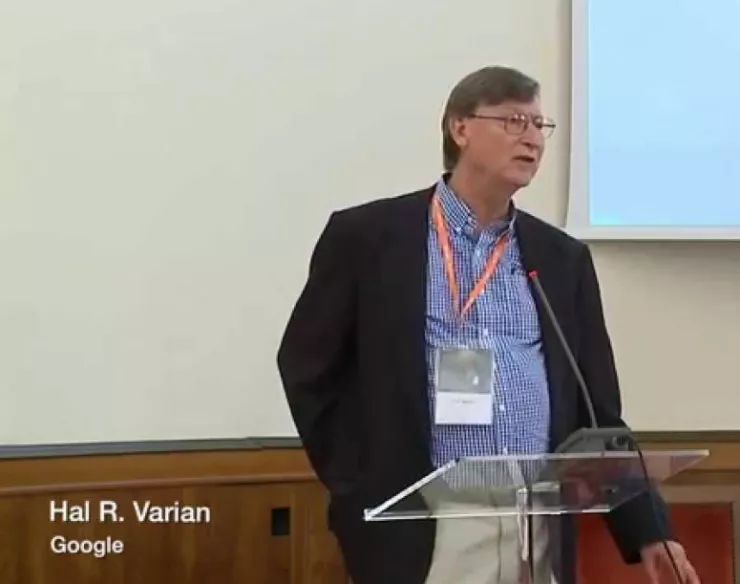 Linking ads to search results was not Google's first, but originated at GoTo.com, another search service, later Overture. Overture's approach is to sort ads based on online advertisers bidding on the corresponding keywords, and the higher the advertiser's bid, the higher its ranking.
When Google's engineers developed their own search advertising system, they realized that even if online advertising were ranked by bid, revenue would not have increased if the click-through rate had not increased.As a result, Google uses ad rankings that combine bidding with click-through rates.
In addition, to ensure stable advertising revenue, real-time monitoring of the data is implemented under the leadership of Nicholas Fox, then head of commercial products at the time. At the same time, Wallian and Diane Tang, chief engineer of Google's ad quality control team, revised the Keyword Library, which consists of a large sample of keywords to ensure that the results of statistical ad traffic are as accurate as possible. Through this internal index, Google executives have a more accurate grasp of the company's market performance.
Since then, Google's advertising model has officially entered the era of advertising money printing machines.
◆  ◆  ◆
1.7 billion acquisition of Youtube
In 2006, Google bought YouTube for $1.65 billion, just 19 months old.
At the time, YouTube, which had been in its 19-month history, claimed that its users viewed almost 100m views of its website's videos a month, and that google wanted to extend its online auction-based advertising model to traditional, old-fashioned advertising media.
The year before Google bought Youtube, the U.S. television advertising market was about $61 billion, while the online advertising market was only $8 billion. Google executives admit that part of the reason for buying Youtube is that it wants a better place to enter the traditional TV advertising market.
At the time, it was a bad decision for all the media to sing about Google's acquisition of YouTube, with billionaire Mark Cobaan bluntly saying that only "idiots" would buy YouTube, and even Google itself thought YouTube wouldn't work.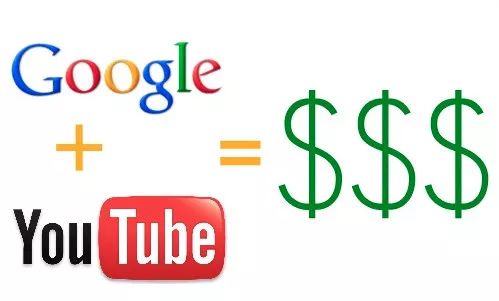 From the PC Internet to the mobile Internet, the business model and commodity form of the Internet have changed dramaticly. The acquisition of YouTube proved to be the right decision, with YouTube sharing new operational performance data at this year's VidCon conference, the most important of which was that 1.5 billion logged-in users visited YouTube each month for an average of more than an hour a day on their mobile devices to watch YouTube videos.
In addition to YouTube's own good data, Youtube has also done well for Google in its advertising business. In 2013, YouTube earned $3.5 billion, according to the Wall Street Journal. Youtube's revenue totaled $4 billion in 2014. According to foreign media MUSIC BUSINESS WORLD WIDE, Youtube's revenue reached $9 billion in 2015. Most of this revenue comes from YouTube video ads.
Now Google is adding technology to Youtube in the hope of making another breakthrough in advertising revenue.Google is making advertisers more efficient use of Google's broad ecosystem by using Custom Affinity Audiences by studying the types of searches users use, their favorite places and apps, according to Google China and Leifeng. In addition, Google's Director Mix adapts the same ad to each audience's characteristics, making it more accurate.
These are Google's tech bullets on Youtube in a bid to gain more share of advertising.
◆  ◆  ◆
The age of the strong enemy
It can be said that Google has been the advertising industry's dominant until the rise of Facebook, Snap.
Google and Facebook are expected to make $73.7 billion and $32.6 billion in digital advertising in 2017, totaling $109.9 billion, or 49.2 percent of total global advertising spending, according to eMarketer, a market research firm.
In 2017, Facebook reported first-quarter revenue of $7.857 billion, up 51% from the same period last year. In terms of user numbers and ARPU values, Facebook's monthly live users grew steadily to 1.9 billion.
These pose serious threats and challenges to Google. So how did Google fight?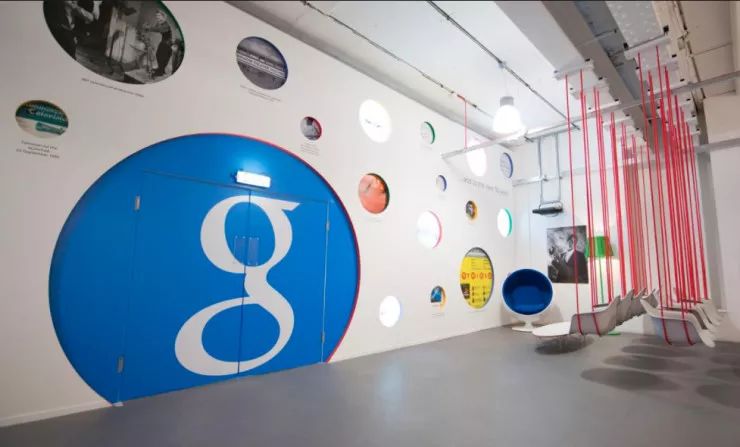 In September, during Advertising Week in New York, Alan Thygesen, Google's president for Americas, revealed how Google was taking advantage of the war marketing era.
Google uses these signals to recommend purchase intentions through a large number of google products. Google also places a high priority on premium mobile search (AMP, slideable interactions for easy access to local information and phone numbers) and ads, rewarding fast, latency-free websites and ads that are relevant to a user's background.
Also in early September, researchers at Google's New York office published a paper saying they had successfully developed a new deep learning system that could be used to predict ad click-through rates, further expanding ad revenue. In this paper, the authors point out that a company with a large user base can significantly increase revenue with only "a small improvement", while at the same time defeating other systems and reducing the pressure on development and computing.
It's not just Google, Facebook and Microsoft are also catching up on ads. Facebook is also stepping up its advertising, with John Cosley, Microsoft's director of search advertising, saying in an interview with Wired in September: "Online advertising is probably the most profitable app for AI and machine learning today. Microsoft Bing recently began using new deep learning algorithms to better understand the meaning of search queries and find relevant ads. " 
In short, the advertising market is a hundred billion-level war, in this competition, technology, traffic, platform will become a factor in the competition, advertising industry's old expensive and rookie will have a competition.

- Report download -
Lei newspaper is Lei Feng's special report on various industries to summarize, interpretation of the column. Here, you can see professional reports produced by well-known consulting firms and investment banking institutions at home and abroad, as well as exclusive industry white papers by Lei Feng.com, so that you can also have a global perspective.
Reply to keywords"Salary"View Lei Feng's exclusive compensation survey for the AI industry
Reply to keywords「0629」Download IBM's internal trend reports on cloud computing, site chains, the Internet of Things, and more
Reply to keywords「0633」Download the most complete research, application, and people interview report in AI history
Reply to keywords"Snatching a job"Calculate the probability that you will be robbed of your job by a robot
Reply to keywords"Goldman Sachs Drone"Download Goldman Sachs' market forecasts for drones for the next few years
Reply to keywordsVirtual Currency SurveyView Cambridge's analysis of the current state of virtual currencies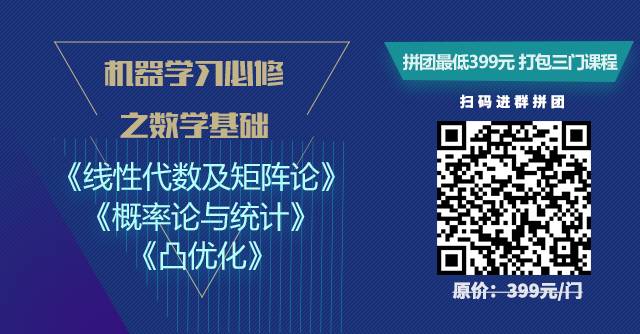 ---