Five traits that attract attention for social advertising
When it to social media, people often think of WeChat, Weibo, QQ and so on. But in the mobile age, the social behavior of netizens has been greatly generalized, video sites, e-commerce platforms, the news media have begun to have their own social functions, social behavior has become everywhere.
When WeChat, Weibo, post bar, bean petals, live broadcast, video and other "social software" infiltrated people's lives, people's daily life time is also highly fragmented social tools.
We can't help but wonder how social media in the mobile age affects individual users and branded advertising. Are these effects good or bad?
This article analyzes the impact of current social media on us in conjunction with Kaidyu's 2017 China Social Media Impact Report.
---
Individual users: entertainment to death, and entertainment and cherish
---
According to kantar's survey, people are generally positive about social media, which makes their lives better, with an average score of 79.8 on the "Social Media Impact on Their Lives" rating.

Social media has multiple positive effects on people, and its significance extends far beyond the social itself.And its most important role is to strengthen the connection between friends and family, but also to understand the social hot spots, an important way to increase insight.

Social media also has different positive effects and influences on people of different genders. For women, social media can help them ease life stress, boost social confidence, and help them make better shopping decisions.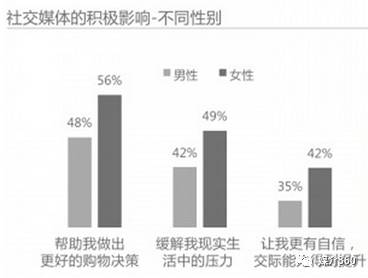 Social media has a different positive impact on people of all ages. Young people rely mainly on social media for entertainment and stress relief, while more mature people focus on using social media to communicate with family and friends.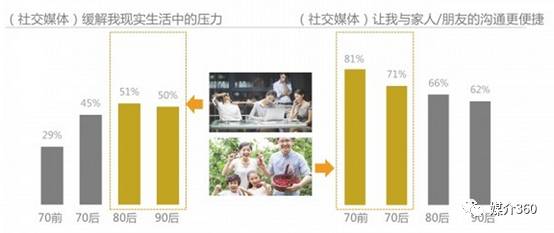 While people enjoy the convenience of social media, it also brings a lot of trouble to people.
The three most negative aspects are thought to be reduced reading time, threats to privacy security, and social media immersion that reduces sleep time and has a significant impact on people's health.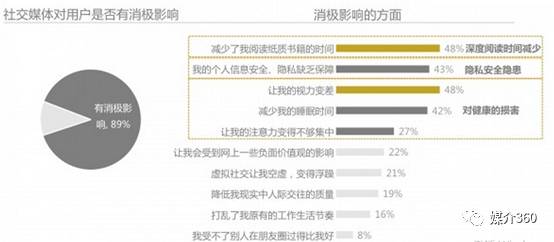 Young people's perception of the negative effects of these social media is most pronounced and profound. Surveys show that young people are affected by the negative effects of virtual social media, such as empty impetuousness, inattence, and negative values.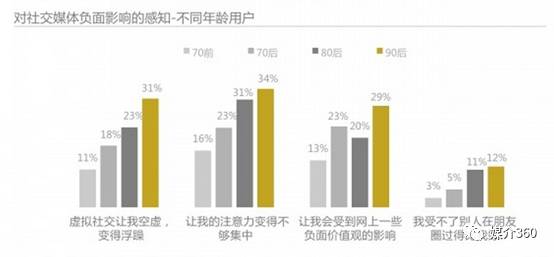 In the face of these negative effects, people will also find ways to minimize their impact on themselves, and self-discipline has become the best choice to avoid becoming a "mobile phone slave."
54% believe that conscious control of the number and length of time social media can effectively reduce the negative impact of social media. Nearly 40 percent also chose not to touch social media on specific occasions.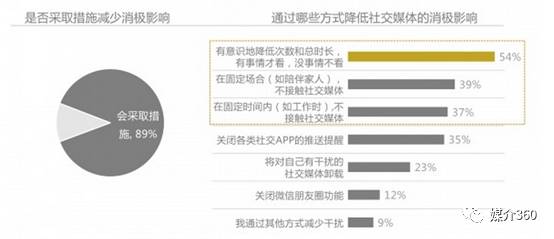 Among those who take steps to reduce the negative impact of social media, more post-90s young people will choose ways to avoid becoming "mobile slaves", and nearly four in ten will choose to turn off social app messaging alerts to keep them from disturbing their lives or work.
---
Ad serving:Creativity is a top social advertising priority
---
Now that users are becoming less and less likely to be disturbed, more advertisers are focusing on social media platforms and integrating ads into the stream of information viewed by platform users, a pattern that has proven to be more effective than hard ads that disturb users.

Social media advertising has also been one of the main drivers of continued growth in global advertising spending, which Zenith Optimedia had predicted would surpass newspaper advertising by 2020.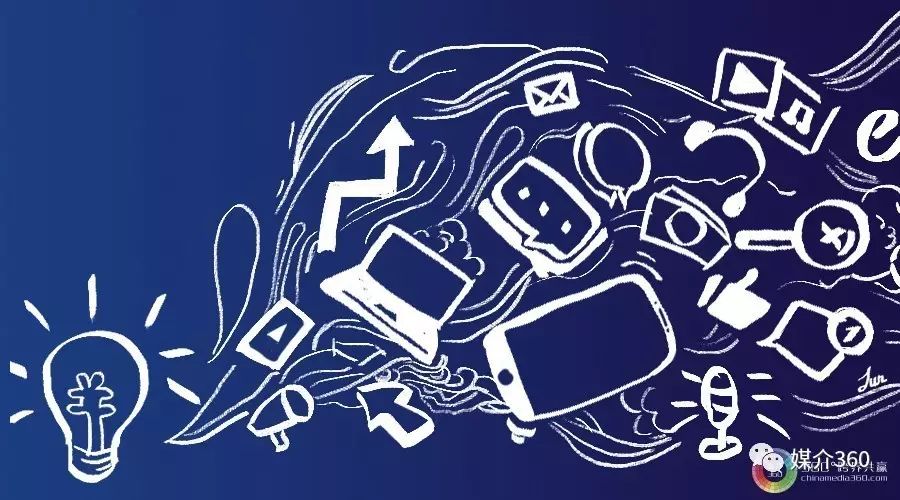 There are so many forms of advertising on social media that marketers can be confused. In the face of a variety of social media play, multi-style marketing strategies, delivery channels, advertisers how to market delivery?

For ads, social media users have the option to watch.The first factor that affects a user's choice is "the humor and fun of advertising", which shows that advertising creativity is the most important factor affecting the effectiveness of social advertising.
Second, the second factor that affects users' viewing of ads is"The relevance of advertising to the audience" or "the content has their own interests related to people, things", the accuracy of advertising is the second most important factor affecting the effectiveness of social advertising.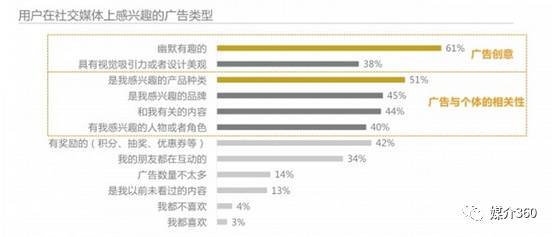 Compared with other forms of advertising, social media ads based on user data have the advantage of more precision and targeting, people on social media to see ads and their own relevance will be higher, and the advertising effect is relatively high.

According to the survey, 21 percent of people think social media advertising is basically related to themselves and have a better experience, while 51 percent think social advertising is acceptable.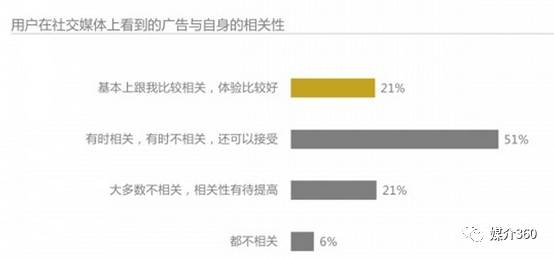 According to the survey results, people are more interested in advertising with the following five characteristics:

1, humor interesting; 2, excellent soundtrack; 3, reflecting real life; 4, special effects full score; 5, star, net red participation.
Ads with these characteristics can make people more click, the desire to participate, but also to improve the effectiveness of the key factors.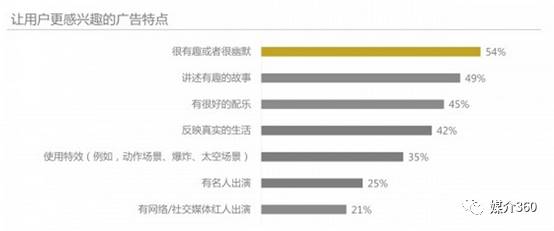 Written at the end:Social marketing has all kinds of benefits, but social marketing is getting more and more difficult to do, people's immunity to information is getting higher and higher, many advertising is often "call good not call seat". Studying the impact of social media platforms on users, as well as their focus on advertising, can help brands make truly effective social marketing programs.
---