Facebook ads are low-cost to help you promote the news media
Facebook advertising practices
Press Release Promotions (PRESS) is a high-value promotional campaign, a weighty piece published in the top media that instantly increases your company's visibility, authority, and the ensuing fan growth, inquiries, and increased opportunities for business cooperation that were often considered affordable by large businesses. So, what if you're the boss of a small company and want to do media publicity for your business? The old horse suggests that you try Facebook ads as a promotional channel.

In the past, the traditional way to send press releases was through professional channels, such as buying PRWEB services, to put written manuscripts on, so that journalists and editors from hundreds of media outlets in North America could see your manuscripts, so that some of them would choose your manuscripts to publish. The high cost is mainly spent on the delivery of rental channels, these foreign PR companies actually play the role of courier delivery, not comparable to the client, because no PR company can guarantee that a certain media will publish your manuscript.

In October, one of our factory customers just a few products rushed to release, trying to use the news media to quickly open up visibility, but the channel fees are higher, and we can not directly establish contact with the media, after consultation customers decided to use Facebook advertising to establish their own pipeline, with an affordable budget, to the media editors to contribute to establish a direct relationship.
OK to say, the manufacturer of this product release is hard work, the manuscript is written very standardized, there is no trace of Chinese is English, repeatedly modified the title, and strive to let people see on the interest to understand (that is, the so-called news value). If it's a junk article, there's no need to bother to contribute, huh?
When it's all ready,
In the ad setup session, set up WorkPlace (work unit) for your ad audience in Ads Manager to add major media: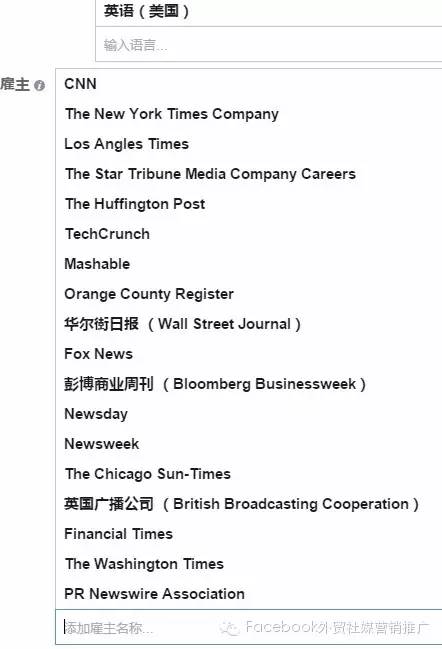 It's just a demo, and instead of putting all the above media together, you create ads separately, so that in the second step, it's clear which part of the budget you're tilting toward.

List the people in the audience, the title is this part of the reporter and editor, to target the target audience. Like what: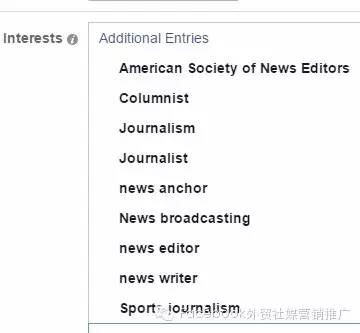 What many people may not know is that interest is the five parts of Facebook's data that derive from the five parts of the user profile: career titles, educational experience, like history, hobbies, and social activities, so we've included all the job titles in this step.
Combining the two options of Interest Interest and Workplace at work, the cross-cutting audience is the key person who can help you publish your manuscript.
Similar audiences can be filtered through LinkedIn, but they're much cheaper on Facebook than the expensive click-through price of ads in Linked In (starting at $2/click).

With a budget of $300 for a week, the manuscript was posted on six media sites and is easy to search for on Google's keywords. Considering that this relationship has been established, the customer will continue to use it in the future, that's all.
There's also an alternative to targeting the industry's most influential blogs, but this is contrary to Facebook's current policy, so there's no way to shout or die quickly. Interested can think about it for themselves, ha ha.
And so on, the vendor's advertisers, looking for agents, distributors,
Online malls that recruit affiliate promoters through Facebook to help you sell? So you'll just focus on collection and shipping in the future, and I think that's a truth
1
Off-topic, action comes first, skill no action is empty talk.
I proposed in 2014 to crawl peer rival fan data, and then targeted advertising, is too high-profile, now Facebook has blocked the data upload channel at the back door, the first batch of fast action with us to do data mining customers have stored dozens of megabits of user data, after watching this year QQ consulting can not do crawl, can only look at the future.
Social media, overseas portals, mail click ads, industry portal ads, high-end SEO, website streaming, holiday promotions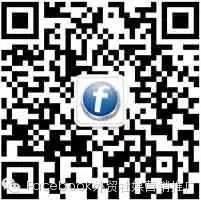 Personal microsyscopy: evgrow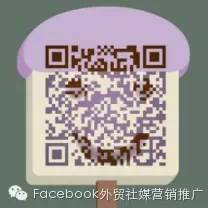 For more cooperation projects, stay tuned
---