Hands-on teaches you how to target Facebook's ad audience with precision

Starting with this article, and including the next few articles, to write about some important things about Facebook ads, can be very boring, I have not yet figured out how to use teasing language to get you to accept this boring knowledge of Facebook ads.
Although so boring, but what can be done, still have to write right ah, So... You can't stand it first
This article is about how to target Facebook's ad audience precisely
There is no accurate crowd positioning, how to optimize the picture, how to write a good advertising text is a sudden. Our common administrative settings for users can be done in two places

First: That's what we often do behind the scenes
Address.

:https://www.facebook.com/ads/manager/creation/
We can directly from the user's age, hobbies, language, country and even the audience commonly used hardware devices (Apple, Samsung, Kindle, window series) and other dimensions can do the user's interests and hobbies positioning. You can grow and downsizing your users to target the people we want.
I wrote this feature earlier How to use Power Editor on Facebook ads? As already mentioned, we can use Power Editor as a tool to target people precisely, and if some posts work particularly well, you can save them directly.
Both tools are more commonly used and more basic, and today we're going to introduce the use of Facbeook's AudiENCE INSIGHT tool to precisely position people
Facebook audience insight
Address:https://www.facebook.com/ads/audience-insights/
With Audience Insight, you can pinpoint the people you want, remembering that Xiaobei has written about anker's audience analysis articles before  In-depth analysis of Anker's Facebook professional audience data It provides a detailed description of the distribution of the anker population, the ratio of men to women, income, and educational level.
Open it.audience insight Address.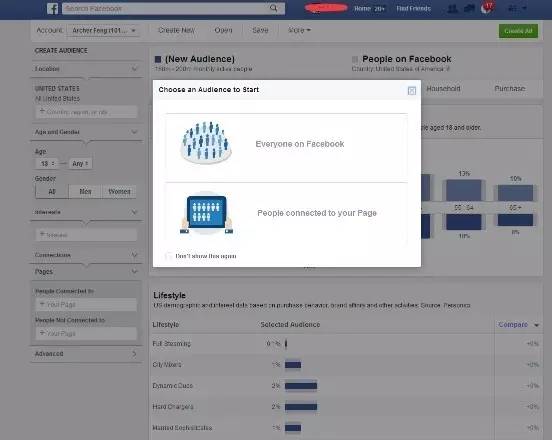 For example, if you're looking for a U.S. audience for Bluetooth headsets ---bluetooth headphones right now, you can see the specific user distribution in audience insight at this time. Here's the picture:
We can see an overview of the ratio of men to women to the U.S. audience of bluetooth headphones (age I don't choose, default settings)
Some people may think that xiaobei how this data came out,
Based on my observations of the sources of data listed by Facebook, which are derived from their own big data, and the second part is borrowed from third-party data, we can draw these conclusions by looking at the following information:
Let's move the mouse to household and Purchase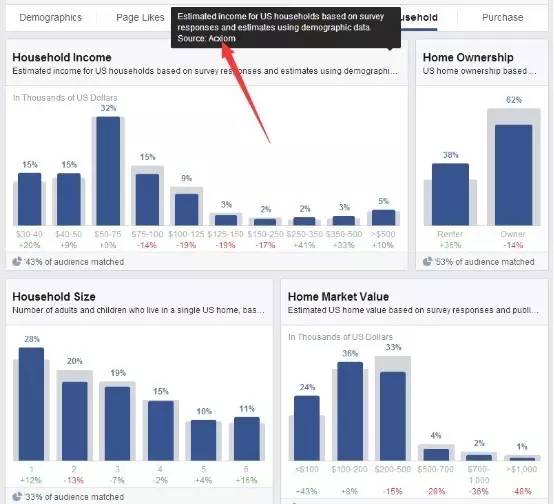 So there are two channels for summarizing some of these data sources
1 Facebook's official big data: such as the information the user fills out, which pages (topics) the user likes, the user's work history, education level, and even chat history with friends.
2 Borrowing third-party data: including the data mentioned above from third-party platforms included 
Datalogix 

(http://www.datalogix.com/) 
Epsilon 

(http://www.epsilon.com/) 
Acxiom 

(http://www.acxiom.com/)
Personicx 

(http://www.personicx.com/)
Why did Xiaobei pick out these three data sources for everyone? You can dig further, it is very interesting
Back to square one, borrowing third-party data is primarily to count users' buying behavior, household shopping concepts, and income behavior. I don't know if you've noticed a percentage below the table.
This percentage means the ratio of third-party data to the number of Facebook users being queried, based on Facebook's user ID
Let's take a look at some of the features of audience insight, which is divided into three modules
First: All users on Facebook. This is a pan match and is the value of all users on Facebook
Second: and your facebook page has established contact with the user
Third: Custom Audiences. Some people in this block find that they don't have this module because it only appears if you've set up a Custom Audience before or if you've saved it. What we'll cover later in Your Custom Audience is that the simplest is that re-marketing is powerful
Here's what it looks like: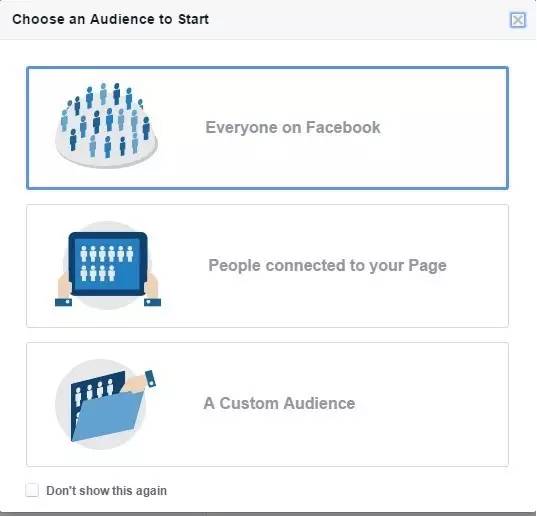 Of course, you can directly close this window, and then make your own choices, this has no effect
The left side of Audience insight is divided into six sections, which are:
Custom Audience (This has been said before to have been set before this option appears)
Advanced (User behavior, language, relationship status, education, work, money, family, living conditions)
Then there are the top 6 modules

All six modules are actually interrelated. We can click on each module inside to view it.
One word to note here is Affinity
Affinity is actually similar to a feature likelihood in a custom user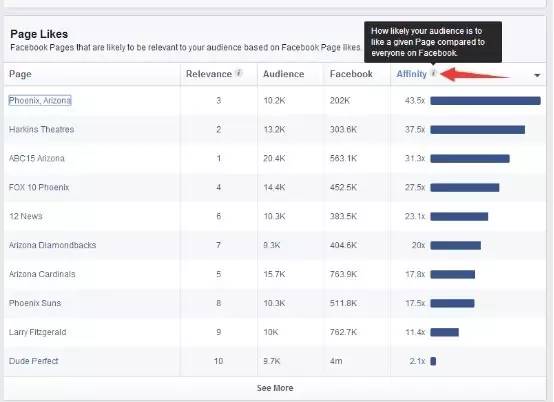 In the case of Phoneix, Arizona means how many of the facebook users you choose are like Phoneix, Arizona.
I'm a great believer in the exact value of Affinity.
Of the six modules, household is an example, and the others are similar.
Household represents the analysis of family life data for all users living in the United States, such as income, family relationships, household demographics, shopping views, and spending channels, which are also based on third parties. Several of the charts we can look at are:
Spending methods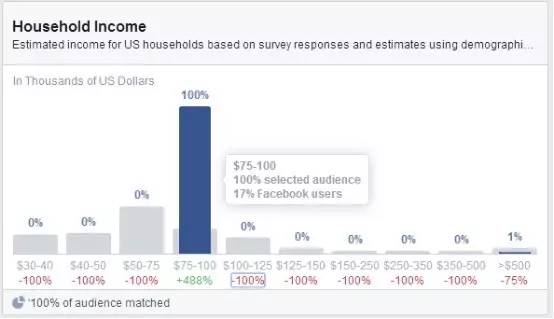 We can clearly see the specific annual income amount (to be specifically open to view)
The last function is to save the user, all of which are specific settings of audience insight, in order to get the exact user (you see this to set the user, is not more accurate than the ordinary background settings), so you need to save.
Saving is simple, just tap the Save button above

Then we click on the background address:
https://www.facebook.com/ads/manager/audiences/manage/
You can see the precise user data we just kept.
For the data we've just kept, if you want to advertise, you can advertise directly using Ad Create tool or Power Editor.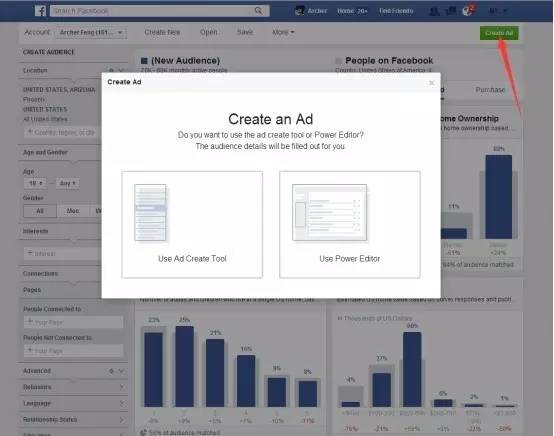 So profile use audience insight as a Facebook ad tool to set users in more detail, making Facebook ad users more accurate and easy to save.
---
Say two things, good and bad:
The good news: Yeahmobi recently offered Facebook free ad account opening needs, we quickly register to go
Registration address:http://facebook.yeahmobi.com/
The bad thing is: Sally urged me every day to hold an online class recently, and asked me to say.... I'm still thinking about the subject
There's one more thing:
This month Xiaobei should be very busy, most of the time will not be in the country, so it means that there is no time to write articles
Say yes, to update the article often right or wrong, how to break?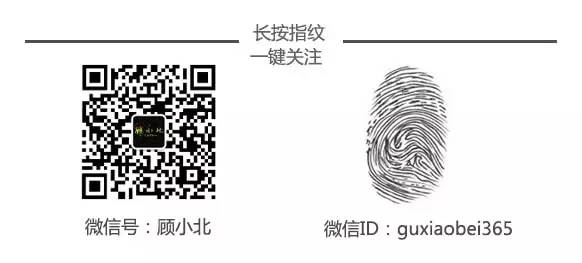 ---