Facebook . . . Once to understand the FB advertising fee guidelines, break through the knowledge blind spot.
Facebook ads often improve their functionality and interface, which is a good thing for the editor, but it's a matter of a lot of things that many people feel at a loss, and naturally creates operational problems. One of the questions often asked is: How do Facebook ads charge?

There is no standard answer to this question, depending on a number of factors, meaning that Facebook's advertising fees are not fixed.
If you're new to Facebook advertising, you may not understand the answer, but that's the truth, different campaign types, audiences, performance... All such factors will directly affect the cost.
This article is not intended to teach you how to calculate the cost of facebook ads in advance, but rather to explain what factors affect the difference in ad costs.
Facebook's advertising model.
Facebook ads are very similar to bidding auctions, which is why fees are not fixed, please try to think about whether bidding auctions are such a case.
In other words, advertisers need to indicate how much they are willing to pay for the bid, which can be set by manual bids. Alternatively, opt for an automatic bid model and let Facebook bid for you automatically.

However, it's important to understand that Facebook advertising is one of the most popular online advertising platforms at the moment, with a very large number of bidders, which can result in your bid not equal to the actual winning bid and often changes.
In addition, Facebook limits the number of ads that each user can see, so the number of ads is limited, and the cost of charges will naturally vary, and it will lead to higher fees.
What are the factors that affect FB advertising costs?
As I mentioned above, the reasons for the cost of FB advertising costs are not single, depending on a number of different factors. Here are five factors that affect how much Facebook charges for ads:
Factor 1. Advertising audience.
The audience you choose will directly affect the cost, because FB advertising is a bidding model, but the misconception is that many people mistakenly think they will only compete with their peers, but this is a big misunderstanding.

For example, if I lock in 18-24-year-olds who are interested in trend culture and fashion trends, i'm not the only one who's selling a joint-currency T-shirt, and it's not just similar brands that are my competitors.
Because the trend culture won't be the only trait of this group, they may also like coffee, basketball, food, movies... Wait a minute. So in fact, I'm competing with advertisers in different industries and putting ads on diverse audiences.
Fortunately, audiences aren't the only factors that affect the cost of advertising, and there's an opportunity to win well on a lower budget and bid than competitors.
Factor 2. Advertising quality.
The quality of advertising will directly affect the cost of advertising is significantly reduced or increased, just look at the four words of advertising quality may not be clear, you only need to look at two indicators to know: relevance score and click-through rate.

When an ad gets more than 500 hits, the ad background will calculate a different relevance score (both positive and negative), from 1 to 10 (the higher the number, the better). This helps you understand how relevant your ads are to your audience.
But you have to understand that the higher the relevance score does not mean that the better the conversion, the better the sales score, but there is a higher chance of successful bidding with a lower fee.
I tested three ad combinations, using the same campaign type, ad content, budget, and bids, with only different audience criteria. We can see that the first ad with a higher relevance score is the first, and its link click cost is the lowest, as shown in the following image:

In addition, Facebook ads have higher click-through rates, in addition to helping improve relevance scores, but also help reduce ad costs. And if you're optimized for clicks, you'll get more clicks.
When more advertisers are involved in Facebook's advertising battlegrounds, the cost will be higher than usual, and increased demand will lead to a higher level of competition, which is not played every day, but for some reason or holiday competition boom.

Try to recall that every year double 11, Christmas, New Year, the Olympic Games ... Will there be more advertising for the holidays, which will force the cost of the festival to rise.
While advertising charges will increase in some periods, these additional costs may be insignificant or even more costly than other periods. So the focus may not be on how to avoid the competition altogether, but on how to increase the return on investment.
Factor 4. Cost per conversion and return on investment.
Most people will consider the advertising budget and cost first, but there is one thing more interesting: cost per conversion (CPA) and return on investment (ROI s (profit/total investment) x 100%). When you focus on both, you'll be more effective at drawing up and adjusting your budget.

Example: Selling an $800 dress costs an average of $200 per customer, and 30% of those customers will buy an additional $200 in accessories. Then get 100 orders of advertising costs is $20,000, revenue is $86,000, deduction of advertising costs and $66,000. But don't forget to deduct the rest of the operating costs, otherwise there will be a difference in calculating ROI based solely on revenue and advertising costs.
This is done to ensure that you get a positive return on investment when you put in advertising, and when this is established, the lower the cost control, the less helpful it will be, otherwise it's still just cost spending.
Factor 5. Delivery effect and billing standards.
First, understand that not every activity type works the same, which is another misconception for many people, so they also have exactly the same delivery effect and pricing criteria. For example, the number of roll conversions activity, in the combination of four delivery effects can be selected.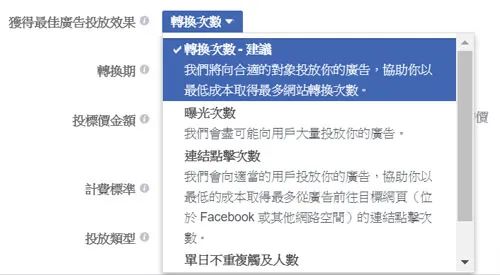 Also, the resulting impact can affect the cost, for example: the number of conversions may be more expensive than the number of exposures, but if you want to actually bring people to the site and complete your purchase, the number of conversions will be more meaningful than the number of exposures.
Also, if you use automatic bidding, Facebook will help you get the most conversions/impressions/linked clicks at the best price based on your budget and delivery time.
In contrast, when you use manual bids, you can enter bid prices that you can accept, change your budget and ad time at any time, or increase or decrease the bid amount.
Whether you are satisfied with the current Facebook ad costs and results, please do not put everything 100 percent to the advertising media, the impact of the final result of advertising is like the cost of a number of factors, but to learn small cost trial and error, rapid adjustment, this is valid for any advertising platform.
Sometimes, some abilities are developed and honed with money and time, and abilities are the key to how to play the tool effectiveness.
The content of the article.Reprinted from the focus horizon.
Intrusive and deleted.
---
Shoptago self-built station, stable, safe, low cost, closed shop.

For more information, please add VX to learn: Shoptago-BD033.
---