Everyone loan 8th anniversary TVC: Values are the best advertising brand!

Follow the reply"Marketing"Free 2G "Marketing Strategy and Management System"
⊙ author, Seven Masters Advertising Marketing (ID: iyxcom)
I've talked to you before,Financial type of product advertising is difficult to produce. How to balance the relationship between product implantation and storyline, so that users receive product information without feeling disgusted, this is every financial advertising needs to face the most direct point.Throughout our domestic current financial advertising, almost all are a way to emotional output brand culture, to cultivate user verses.
Like the Thai ad that was easily filmed before, "I'd rather you didn't use it for the rest of your life", although many people call it a "suicide ad", but its brand values still touched a lot of users. And just recently, on the 8th anniversary of Renren's loan, it's been filming an ad with "Don't Want You to Borrow Money" at its core, which is a far match for easy financing:
Through 4 different life scenarios, Renren clearly tells those who want to take out a loan and under what circumstances not to take out a loan.
1. If it's just a momentary impulse, we don't want you to borrow money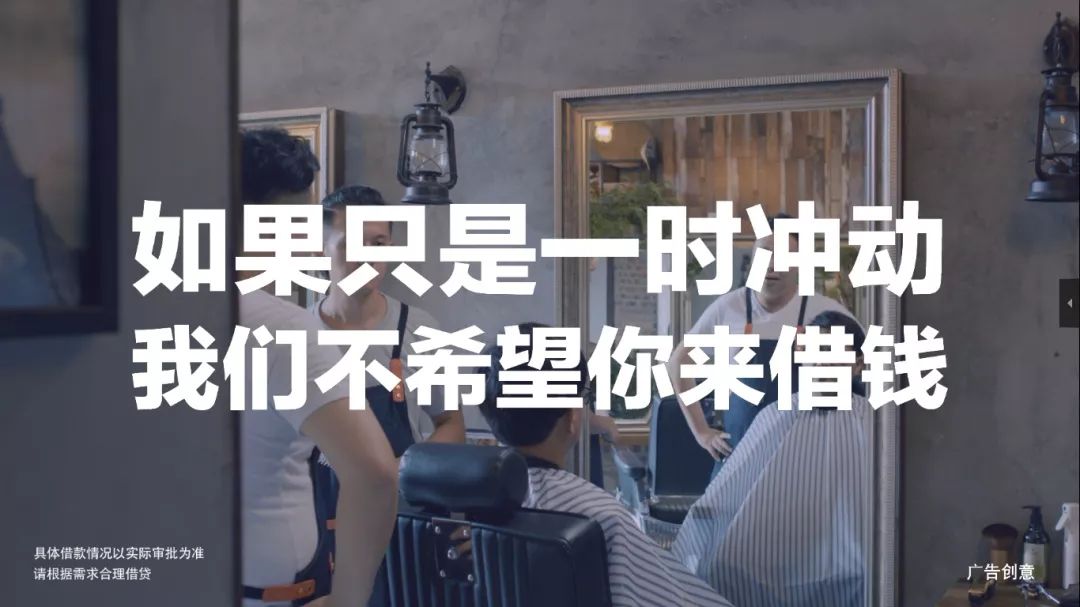 2. If you don't recognize the opportunity, we don't want you to borrow money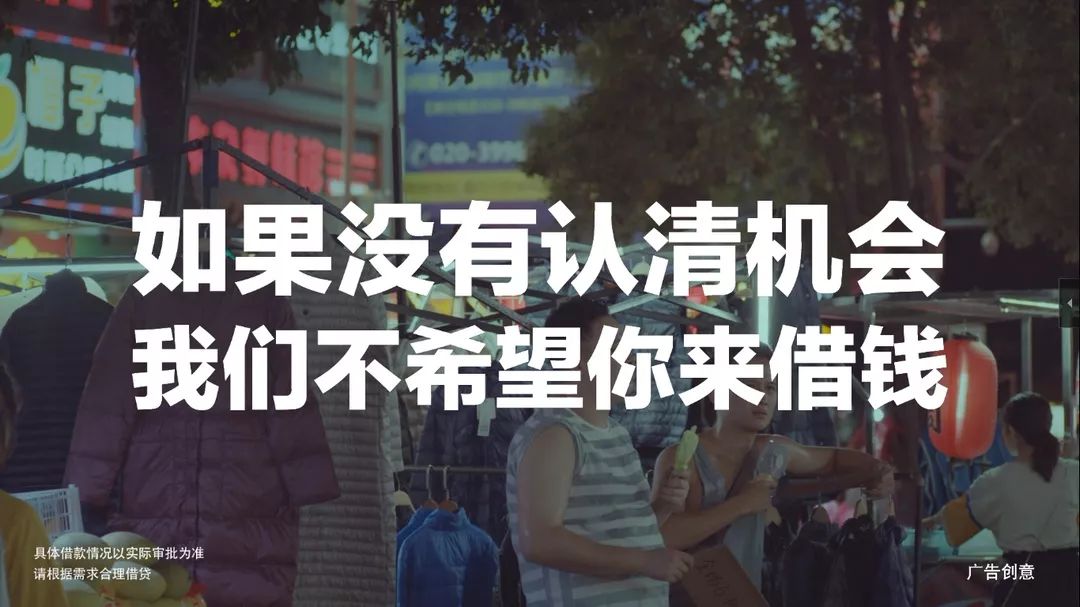 3. If you can't hold on for a long time, we don't want you to borrow money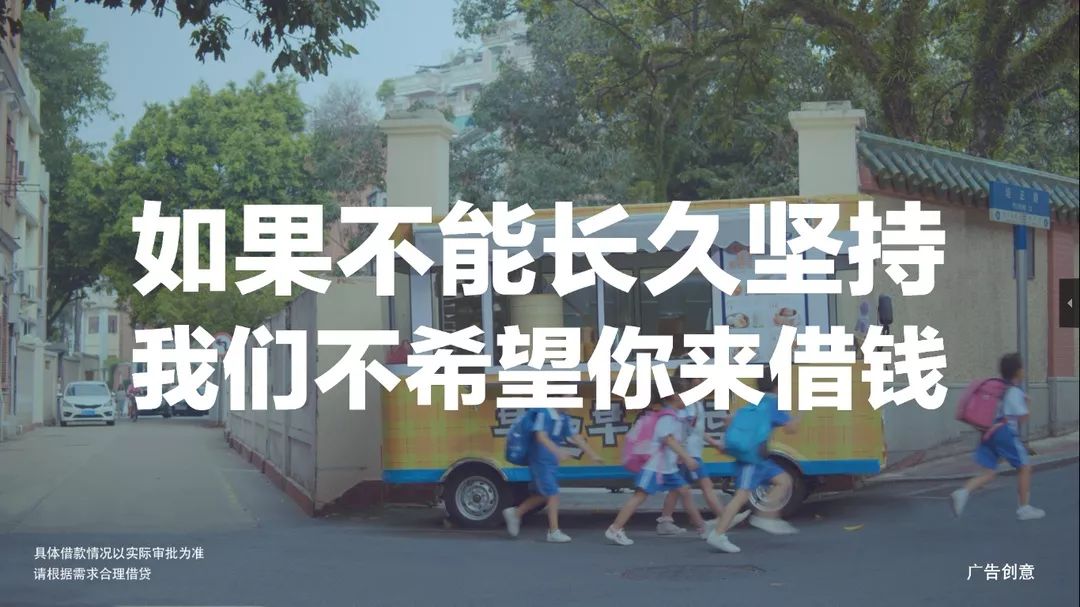 4. If it's just blind innovation, we don't want you to borrow money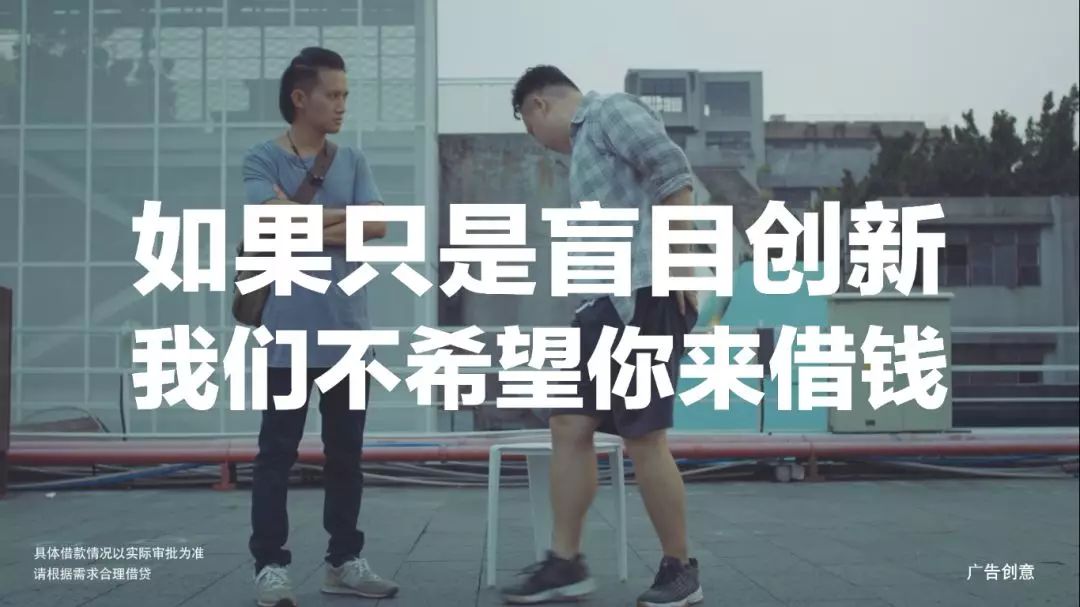 The whole advertisement, all around the "true friend, tell the truth" theme, the life of their own "weird" scene interpretation of the perfect. Renren also fully combined with its own brand characteristics, to the public to pass on the "rational consumption, rational lending" brand concept, so that the brand has become more temperature and humanization.
And what are the benefits?
1, good word-of-mouth effect
Consumers won't do that"Think for yourself"brand with malice,Such advertising is generally "soft", can use the easiest way to psychologically break people's brand defense line, and then close the distance between consumers, which brands to shape good brand value is also a great help, through the accumulation of good reputation, quickly get more consumer recognition and support.
Life experience tells us that the "duck-filling" can not meet people's psychological needs, can only arouse the user's antipathy, and this kind of advertising from the user can meet the user's multi-level requirements, so that users have more independent choice rights, enhance the brand in the user's mind image.
2, the role of brand values
This way of advertising to spread brand values, can let users invisibly accept the brand's cultural communication, and brand to establish a long-term link effect, which is its difference with commercial advertising the greatest advantage.
Today's society has so many brands that it's not likely that the public will remember every brand, so what brands have to do is help their audiences achieve themselves, not the self-branding of the brand era. In other words, the brand has moved from the era of mass publicity to the era of being able to influence others in a subtle way, when the dissemination of brand values has played a very important role.
If a brand wants to be recognized by its users, it must have an identity with its values.Today, brands are becoming an open media platform that generates appeal and influence with values.
Once Coca-Cola did an activity, Coca-Cola planning team found that in Dubai there are many working groups from South Asia, in order to earn money to support their families, life is very hard, for them the real happiness is to have a little time and money in the busy time to keep in touch with their families. But it's so expensive to call in Dubai that these workers can't afford to pay for it, so Coca-Cola implanted chips in the cap and made an international coke booth where they could hold the cap for a minute.Coca-Cola has made its core brand philosophy very well communicated and expressed through this public welfare project, and it has also had a very good spontaneous communication effect on social networks.With the telephone booth as the idea, the success of the brand reputation throughout the world.
So, doBrand marketing must go deep into the spiritual level,No matter how the form of content changes, the spiritual level of things can never change.So in today's changing era, do brand marketing must have patience, willValues level of things from the heart to pass out, far more effective than simply advocating products!

Maverick's new ad      Silent fatherly love       I love you brushing the screen 
Nokia Magic      A stranger       Love you so hard 
JD.com Mother's Day      Super-magic ads       Try a little bit 

Welcome to the bottom of the small partner to post a god comment, to communicate with us

Editor-in-chief: Seven Masters, capitalDeep marketer, graduated from Chinese University, has worked for an internationally renowned 4A company, as creative director, focusing on advertising, marketing, paper, creativity and other fields for many years.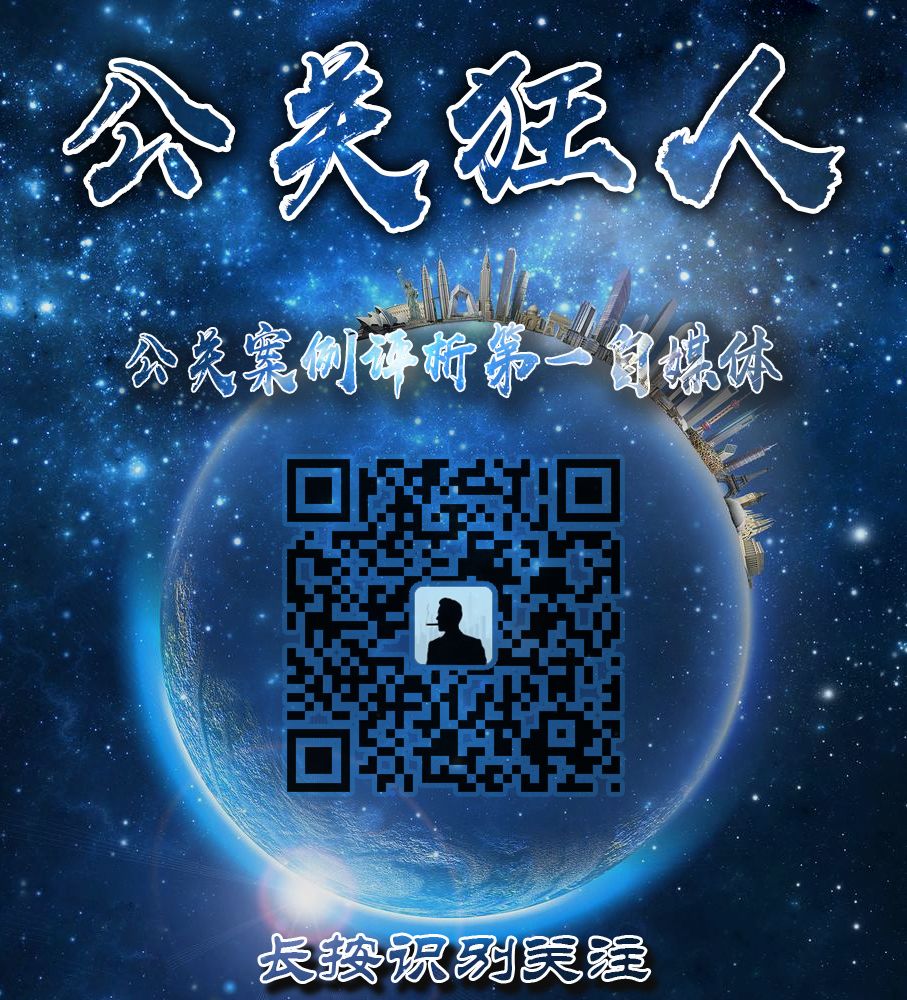 ---