This ad that has been complained about is also the best advertisement
Because there's drama behind it, take a look at this Japanese TV ad that's only 1 minute and 30 seconds old. Ah no, it should be said, release firstChicken soup warningToday, we'll see three videos that are full of family warmth and beauty, and you may move from start to finish - as if repeating the story of your struggle.

The first one was Tokyo Gas's TV ad, "Mommy's Refueling." The advertisement tells the story of a new person in the workplace in order to find a job, everywhere to rush the interview, see friends around one by one have succeeded in the job, she is extremely anxious. Of course, the follow-up development as you think, she is not discouraged, after a series of attempts, finally entered the final round of interviews, at this time, the mother is also cooking a hearty dinner waiting for her daughter to return. In the end, she failed again. When she cried about her failure, her mother still lit the stove, prepared her dinner for the day, and continued to selflessly encourage her.
But you wouldn't expect this ad to put Tokyo Gas in an unprecedented predicament , not because it's trying to express fierce competition in the workplace , but because it sends a (accidental) message:Hard work, and know how to smile girl, luck will not get better.
This brutal reality shattered the hearts of Japanese viewers, and after numerous complaints and huge pressure on public opinion,Tokyo Gas had to stop broadcasting the ad.
The reality is that since the safe and stable induction cooker came on the market, Tepco has begun to promote full electrification, and the consumer market for traditional gas furnaces has begun to shrink, making the gas system supported by Tokyo Gas an unprecedented threat. In the face of aggressive electrification systems, Tokyo Gas can only seek advertising breakthroughs.
Four years ago, to show the importance of gas in the family, Tokyo Gas began to throw a series of "tear gas" into the public, opening up a family-themed warm-up advertising model, locking the perspective into the most simple cooking of family life.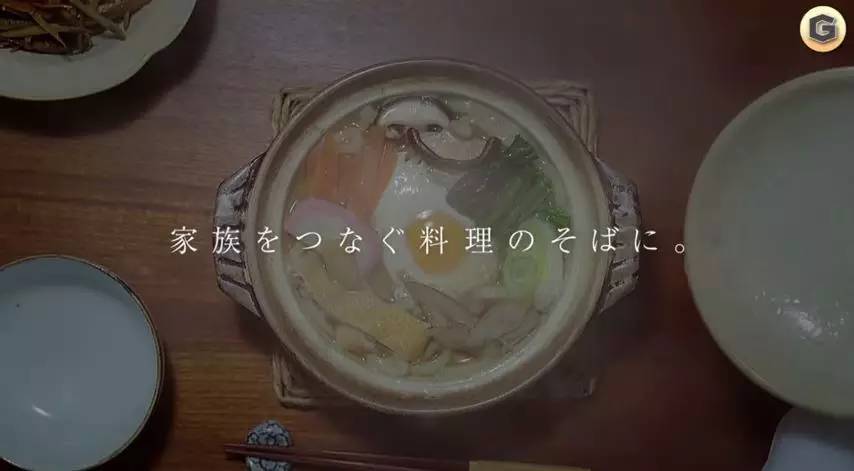 In fact, "Mommy's Refueling" is just one of a series of ads in Tokyo Gas, and from the feedback, the other ads in the series have not encountered such a bad situation.
"Family silently pay, do not ask for return, and finally you found" such an old terrier, in Japan's general advertising thinking, into a bowl of aftertaste chicken soup, "Mommy's Poop" and "My Mom" won a silver medal and a bronze medal at the Asia-Pacific Advertising Festival, respectively.
My Mom.
They even prepared several bowls of dog blood for audience friends who didn't buy (chicken soup) and had a unique taste, such as the love series. Unlike the family fetter series, the love series is almost seven minutes long, and you'll not only see the actor put a gas stove on the heroine's nameless proposal, but you'll also see a child who doesn't read the ad and doesn't go crazy.
I rely on, WeChat can only add up to three videos.
So dog blood video we'll talk about in the future. This year, they turned their attention to fast-paced urban life, shaping a humble, hard-working ordinary office workers. By learning the lessons of the past, you will find that negative energy is swept away. In short, in order to get a well-received advertisement, they really fight for their lives.
My Mantra
From a production level, we can think that Tokyo Gas has done its best to bring a whole series of ads that are not urgent enough to slowly implant the brand into your consciousness, and learn to balance the good people with those just DO NOT GIVE A FUCK viewers. In this sense, "Mommy's Refueling" is still the best kind of advertising, and with these stories, Tokyo Gas has finally become the kind of company that is "very good at advertising".
In short, happy people go out for the weekend, all the above videos to be alone at home to the variety show to turn white eyes of you. Have a nice weekend!

"Gas is gas?"
The world, the black fun and the bright heart

Microsyscopy and Sina Weibo @DACLODS
Try replying to these keywords: 1 seat, 25th floor Li Zongwei . . Rainforests . . Snapping up rentals . . Fashion Rentals . . Green tea Germany . . The New York Times Dark Cloud Dresser . . Years old Sex Addiction . . Anti-chicken soup . . It's a big one Harry Potter . . Liu Cixin . . Maroon 5 . . Li Yifeng . . New York The Mountain . . Shanghai . . Liu Dehua . . Melbourne . . Podcasts . . Airports . . Web Surveys . . Beckham Dark Cloud Daily
---