E-commerce news , micro-blogging small video online hanging product features; Google announced that it will turn YouTube into a shopping platform to challenge Amazon and Ali

The outside link will be officially banned from the Live Stream on October 9
On October 9th, according to an official announcement by Jiyin, third-party-sourced items will no longer be supported to enter the Jiyin live-streaming shopping cart, while small-store platform-sourced items will not be affected.In addition, from September 6th, third-party platform source product sharing needs to match the live streamer through the huge star chart platform. (New List)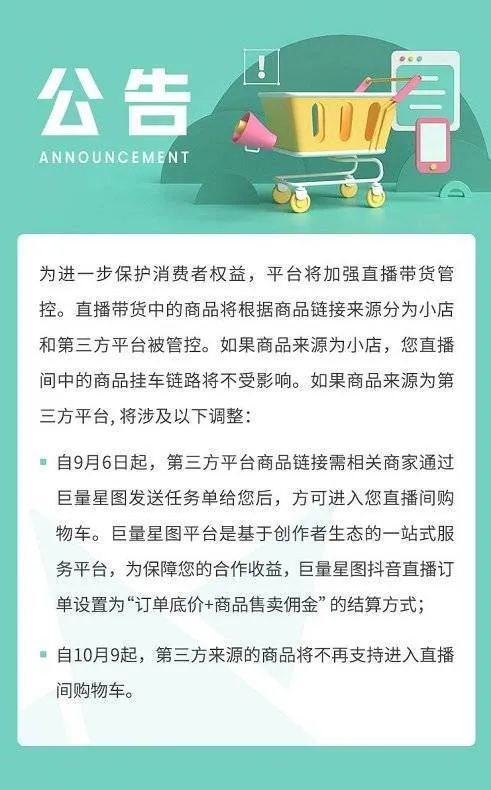 Weibo small video online hanging product function
Recently, Weibo announced that the small video online hanging product function. In addition, micro-blogging e-commerce joint micro-blog small video launched a "one minute good species grass" campaign, users posted within 60 seconds of the good things recommended video, and with small store merchandise links or small shop links, you have the opportunity to get cash red envelopes. Earlier, Weibo has said that in the next three years, Micro-blog in e-commerce will continue to open up the expansion of e-commerce platform interface, to explore the characteristics of e-commerce suitable for micro-blog. (New List)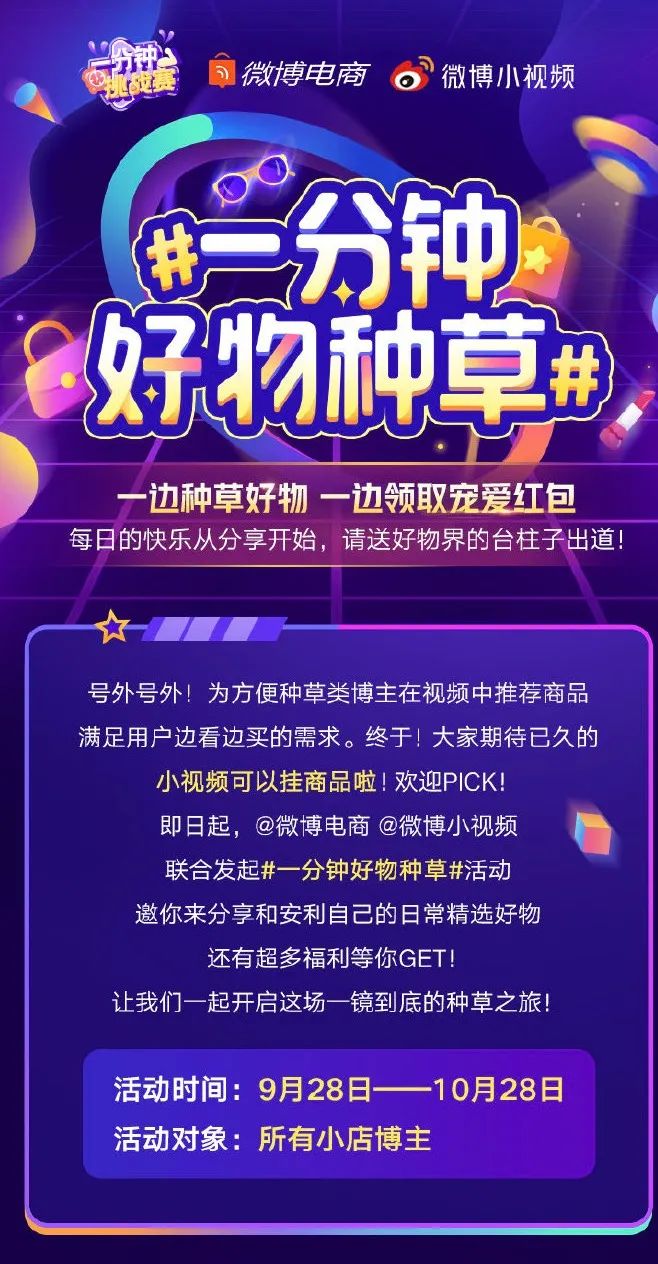 Knowing the on-line video creation tool, the image automatically generates the video
Recently, I know online video creation tools.The tool automatically provides video with pictures and motion pictures corresponding to the content through user-provided text materials.At the same time, the tool has a one-click dubbing function, according to the text content of the voice-over, and automatic calibration.
Suning 11 home economic consumption big data: live sales rose 23 times
1On 8 January, Suning Tesco released 11 consumer data, during which the overall passenger flow of Suning stores increased significantly to 58%.In addition, Suning Live's order volume increased by 1854 percent year-on-year and sales increased by 2383 percent. (New List)

Baidu Vice President Jing Wei as a guest to fight more live with goods
Recently, Baidu Group Vice President, Baidu Intelligent Life Business Group General Manager Jing Wei in the fight more live with goods.It is understood that the live broadcast is september 15 after the release of small smart headphones, Jingxuan for the first time for small full-line products with goods.On the same day, the multi-team small degree launched super brand day activities.Through live video, more than 180,000 netizens "cloud tour" Baidu Science and Technology Park, "cloud visit" small experience shop, and "cloud interaction" with Jingxuan. (E-commerce News)

Google has announced plans to turn YouTube into a shopping platform, challenging Amazon and Ali
Google is reportedly turning its video site, YouTube, into a major shopping destination, making it a rival to Amazon and Alibaba.People familiar with the matter said Google's move was aimed at inglying on YouTubeThe video is transformed into a huge catalog where viewers can browse, click and buy directly.In addition, YouTube is testing further integration with e-commerce company Shopify, which sells goods through YouTube.(Sina Technology)
"Live Nanjing" city live platform line
According to the Nanjing Daily Recently, by the Nanjing Municipal Construction Commission, Nanjing Radio and Television Group, Nanjing Newspaper Media Group, Nanjing Unicom jointly created the "Live Nanjing" city live broadcast platform officially launched, which is also the country's first official city live broadcast platform.

Byte beat commercial adjustment, jitter, search, e-commerce, education have changed
It is reported that a number of commercial-related business adjustments are taking place:Jiyin has a new product owner, called Seven;Search ads go online in today's headlines and shakes;E-commerce to increase self-employment, in the internal construction of closed loop;Education business explores new businesses such as high school AI classes and small classes.This series of adjustments corresponds to the three most important revenue channels for byte beating:New businesses such as advertising, live e-commerce and education.(Late LatePost)


The Ministry of Commerce publicly solicits the industry standard opinions of the B2C E-Commerce Platform Operators' Trading Rules Development Guide
On October 9th, the Ministry of Commerce issued a public consultation on the industry standards of the B2C E-Commerce Platform Operators' Trading Rules Development Guide. The industry standard of the B2C E-Commerce Platform Operators' Trading Rules Development Guide, which was established in 2019, has been drafted. In order to ensure the scientificity, rigour and applicability of the standards, public comments are made.
Drop announced the launch of 10 billion subsidies, involving network cars, bikes and other categories
Drops today announced the official launch of the "Drip Festival" activities, invested 10.1 billion subsidies, the distribution of platform-wide, multi-category travel vouchers, drops of 10 billion subsidies will continue throughout October. In October, fewer people taxied, and in order to make drivers' incomes more stable, drip-drip subsidies will encourage users to take taxis and drive orders for drivers, he said. At the same time, additional driver subsidies have been put in place to continue a series of pick-up awards for network cars and taxi drivers. (Sina)
Ai Qiyi and Changhong released the first Kiwi fruit "AI cast screen" TV
Ai Qiyi and Changhong released the first Kiwi fruit "AI cast screen" TV, and in the new e-commerce platform to fight more exclusive debut.Under the "10 billion subsidy", this 75-inch smart TV in the first price of the multi-do down to 2999 yuan, the first batch of products on-line sold out.This "AI cast screen" TV main cast screen function, hardware has a 75-inch full screen, dual-core A73 plus dual-core A53 processor, 2GB plus 16GB large capacity with MEMC anti-shake chip.And in the content resources, the product is equipped with Ai Qiyi Kiwi fruit, the whole network content resources can achieve a one-click cast screen.

Alibaba's three headquarters and three centers officially fell in Shanghai
9 October, AliBaba Group, Ant Group and the Shanghai Municipal Government signed a strategic cooperation agreement.This is the third strategic partnership between Shanghai and Alibaba since 2015 and 2018.According to the agreement, Alibaba Group, Ant Group's three headquarters and three centers officially settled in Shanghai, to promote high-quality development, high-quality service life, and comprehensively help Shanghai's new online economy to accelerate development.It is reported that the three headquarters is Alipay headquarters, box horse headquarters, local life headquarters,The three centers are Ali Shanghai Research and Development Center, Ali New Retail Center, Ant Technology Center.

Alipay team responded to the phone black: face recognition was not broken Victims were not ceded money and information
On the afternoon of October 9th, an article entitled "A black industrial chain of stealing personal information revealed by the theft of mobile phones to achieve the theft of funds" caused concern and heated discussion, and the article was combed by an information security expert based on his own experience.Alipay related departments in the circle of friends to respond that Alipay "non-attack" security laboratory students first contact with the old camel, and understand the relevant situation.Response pointed out that the article disclosed the black production in Alipay did not set up money and information;And Alipay promises to pay the full amount for the theft of funds, including the loss of the phone.(Sina)

SensorTower: 30 Chinese manufacturers pumped $1.92 billion in global gold in September
According to sensorTower's store intelligence platform, Chinese hands-on publishers will rank in the global App Store and Google Play revenue in September 2020.The 30 companies on the list attracted $1.92 billion in global gold in September, accounting for 28.8 percent of the total global hand-travel revenue for the current period.Lilith", which set the highest monthly income record for domestic SLG hand tours overseas, landed in the Chinese market on September 23rd and has been firmly in the top five best-sellers of the App Store.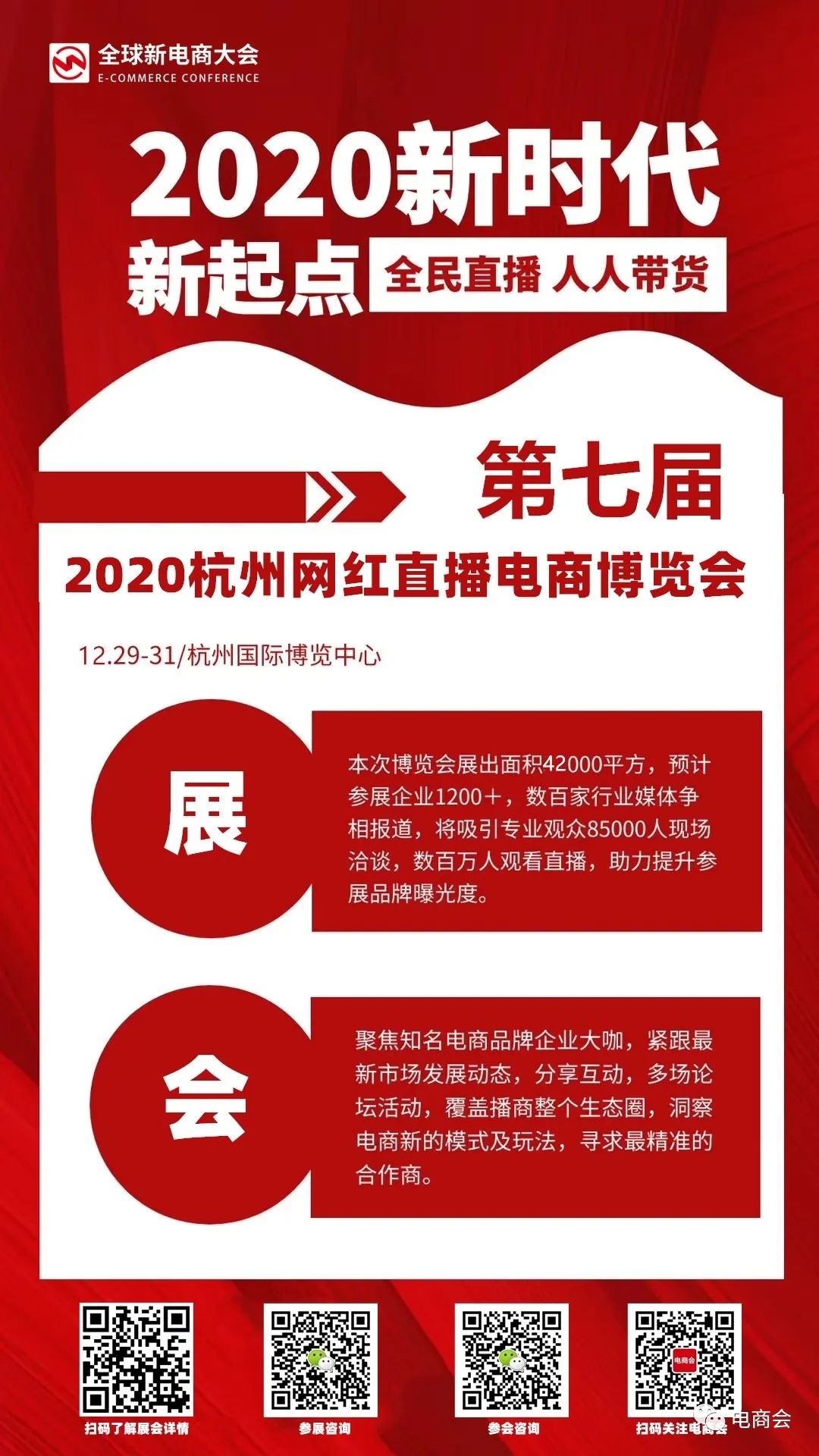 ---