Do a good job of cross-border e-commerce "big heart" - Facebook advertising draining skills.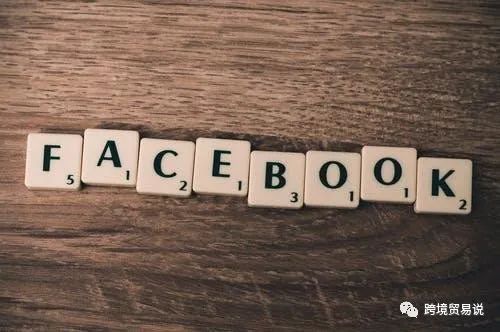 As the best social promotion of Facebook, it can not only promote independent stations and third-party stores, but also very accurate according to the customer's gender, age, region, hobbies and so on to do accurate push. Facebook offers a very simple way to target very specific audiences and drive those audiences to browse your site. No matter how well our shopify stores are designed and how affordable the products are, we don't promote them and people don't see us. It is because of these advantages that cross-border friends are happy to use it to draw streams.
Therefore, active marketing is necessary.

This article, let's talk to you about how to use Facebook ads to promote the shopify store.
Go straight to the theme!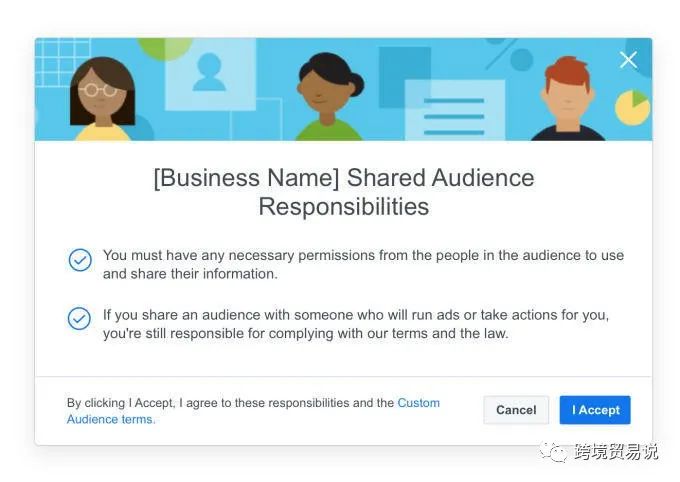 First, abide by Facebook's advertising rules.
To ensure a good user experience, Facebook has many terms and restrictions in place when your business serves ads, and when you break certain rules, it refuses to approve your ads or even suspends your account.
Before all the ad content is sent, Facebook is checking, don't waste time, waste money to do content that people won't accept.

Generally speaking, the review time is 24 hours, but many times it's not 24 hours...
Here are some of the ads Facebook won't accept:
1. Words that contain the words "press this now":

If you want your audience to press your button and jump to a page, you need to use its Call To Action feature, or Facebook will stop your ads immediately.
2. Misleading content:
The most common misleading content is written in your ad that your company or product is the first or best in the region, national, or even global, etc., but you do not have proof from a third party company. Try to avoid using exaggerated and misreal words.
3. Inappropriate use of the Facebook brand:
You may not use Facebook or Instagram as the most unique or prominent selling point for creative content; To mention Facebook or Instagram, you must write your full name and capital letters, not "f," "FB," "Instagram," "ig," or use Facebook or Instagram as verbs directly.
4. Advertising violates the "Personal Health" clause:
Ads must not contain "before and after use" comparison images, or images of u anticipated or impossible effects. Advertising content may not be designed to promote dieting, weight loss, or other health-related products that in turn imply or attempt to create a negative perception of the audience.
5. The URL shown in the ad is different from the actual URL:
For example, you show a URL in your ad that is abc . com's ads, but actually press down when connected to xyz . Com. This is not allowed by Facebook.
6. The image text overlay is not proportional:
While few people fill up the image's creatives, if you're not careful, it's likely to dramatically drop your ad reach and even be rejected by Facebook. That's because Facebook cares so much about the user experience that images with too much text can make users feel less good, so it lowers the ad touches for such material.
7. Contains inappropriate content:

Such as adult content, content controversial, misleading, profane words, forged documents, spyware or malware connections, and so on. The content is already in conflict with the law in everyday life, and it's not unusual to be banned on Facebook.
8. Multi-level marketing:

Refers to the pyramid-type direct marketing method, it is recommended not to use Facebook ads, Facebook has a lot of restrictions on such ads.
If you're sure you're not offended, but your ad is still blocked by Facebook, check facebook's reasons for rejection (if an ad is found to be in violation of Facebook's policy, Facebook sends an email to the advertiser's mailbox that simply describes why the ad was rejected).
If someone complains about your ad, it's censored or even removed even early in its run, and I recommend that you take a closer look at their advertising policies before you do Facebook ads.

For specific policies, you can look at the links and addresses below:
https://www.facebook.com/policies/ads/
Second, to create a brand story.
1. If it is intended to shape a brand in the first place, our proposed budget allocation is.: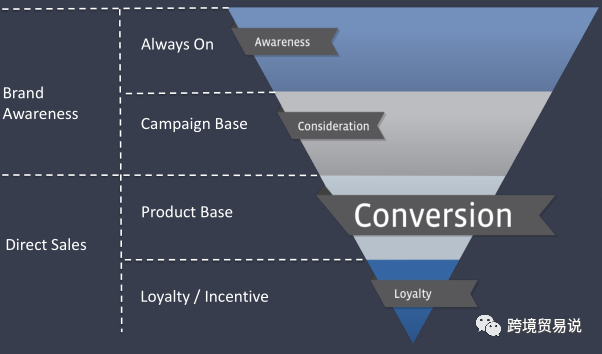 20% Brand Awareness
20% Cognition (Development)
50% Conversions

10% Loyalty/Re-purchase.

Even a short ad can tell a small story. People, regardless of age, like to listen to stories, and stories can help us remember things.
So, around a product, telling a story can deepen people's impression of the product. Speaking of which, by the way, shopify does a great job in our industry, phonebibi.
Address: https://phonebibi.com/ 
Maybe after you open the address, you will be shocked by the price above, how can it be so high ah?
yes, that's how people dare to buy it, and they sell it very well.
The point here is that a lot of the descriptions on this site really seem to be writing stories, which I like so much, through stories, very much a sense of being brought in, then users are easily attracted. And this kind of story, is really in line with the user usually encountered many scenes.
So storytelling is really necessary.
2. The content should be attractive.

A lot of people do Facebook ads very single, that is, put the product in a background, take a video, or take a photo, but the result is that the advertising costs out, but did not attract much attention.
To get attention, you have to make drama.
Finding drama points that can be relevant to the product, such as the many videos that are now shaking, can be used with such dramatic effects, sometimes even exaggerated.
3. In video form.
Many people don't realize the benefits of video for brand awareness, and the video's spread and viewing rates are higher, as well as the resulting response. Also, after the video is sent out, we can get two lists in the background, and we can save two lists first.

Viewers who watch the video.
The audience for the full video.
It has to be said that the audience for full video viewing is very high value because they are still very interested in our products and brands. We can use this audience to make conversions, or to do similar audiences to get more similar audiences.

Facebook's algorithm is actually more user-friendly to video content than text content. And not only does the Facebook platform prefer videos, but Facebook users also like them.
Data shows that more than half of users watch videos on Facebook every day, every day. So they're more likely to stop and watch the video.
4. Establish authority.

Facebook prefers comments and engagement rates, and the comment area is a great place for us to build authority and credibility.
If a user asks a question, answer it.
Remember, to answer professionally, after all, is our own products, must have authority. When we interact with these users, we are also building our own brand image.
Of course, negative comments are certainly there, and negative comments are not necessarily bad. Just like when we visit Taobao, if you see a shop, all are positive, a bad review, even a review is not, I always feel not very credible.
Of course, the bad reviews we're leaving behind are more pertinent, but like those brainless, just delete them.
5. From short ads to long ads for re-marketing.
Facebook generally doesn't put long ads, only short ads. Most ads are in 15-30 seconds.
So, if a picture has too much text message, the review can't pass. Although Facebook can't run long ads directly, it can put links, we can put links to long ads, from Facebook to ad pages.
All we have to do is post a short ad on Facebook and then add a "See more" to the back to learn more.
This page, we'd better not make a hard wide, make a soft wide. Then add a call button, so as long as the user believes us, you can click directly to buy.
So, if you're making a product that needs to be explained, or that needs more information, but that information doesn't fit fully into a Facebook ad, you can choose to do so. And the landing page of this link is not necessarily text messages, but can also be presented as video.
6. Interstitial advertising.
Gap advertising is the same as when we watch TV ads, watch TV well, suddenly there are ads interspersed in. This is interrupt advertising.
Facebook's ads are used in the same way, that is, it's possible that a user is reading a friend's post, but our ad will suddenly appear in front of him. is to interrupt him, but also to interrupt him under the premise of attracting him.
But this unsuresponsible interruption requires us to guide him step by step to be attracted to our products, so it is important to guide him to visit our stores.
That is to say, in this case, our advertising is not to do guide purchase, our advertising needs to be more affinity, more persuasive. The best way is to provide a solution to the problem. Like, "Always forget to bring your keys?" ..."
7. Call button.
If an ad doesn't even have a call button, no.Tube.How good the content of the advertisement is, it's all useless.This call button can be "Learn more" or "shop now".In short, the simpler the road users buy, the better, and the steps that can be simplified are as simple as possible.
Because, with each step, the likelihood of losing customers is a little greater.
So, if our ad's call button is for users to go to Google our store, there will be a part of the user who chooses to give up, yes, it's so lazy. So these call buttons are meant to be open-door and go directly to our advertising pages or our website.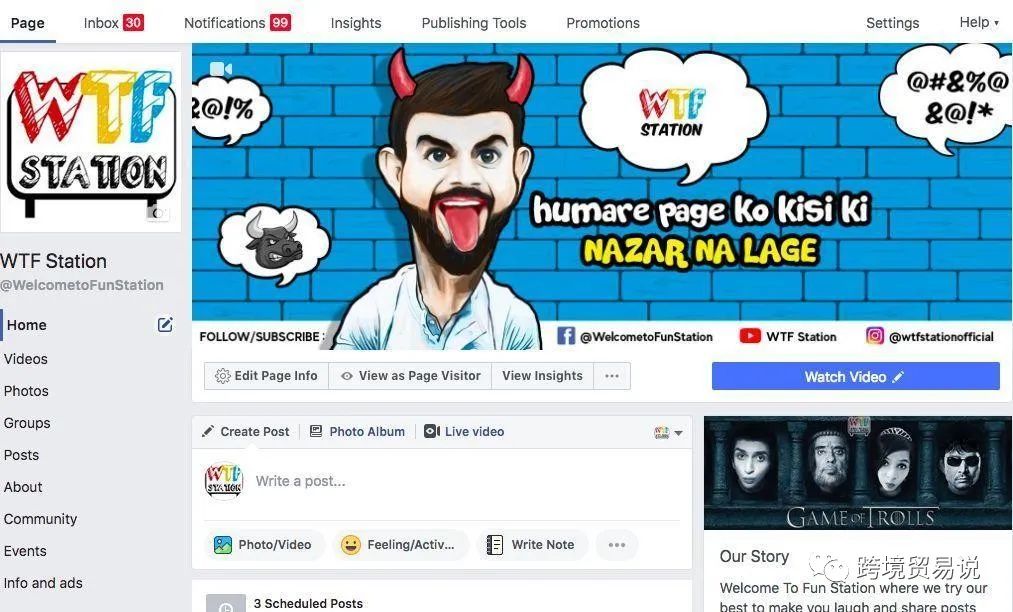 Third, create a Facebook page to distribute ads.
1. Pay attention to interacting with your fans.
Coupons are issued.

giveaways

Holding some interesting events can greatly improve the interactive nature of the topic.


- Be sure to write down what the prize is (is it attractive?) ), how many prizes, activity rules (clear, can be written in the first column of the review)
-We can run ads with good posts, the effect is much better than running new material, don't waste it.

Our store, or a particular product, is a good way to launch a competition.。
If we can set up the competition to win, we can give away a product for free, which can stimulate user participation. We give them free prizes, they give me free exposure, no matter what social platform, Facebook, Instagram, this is a very good way to market.
Before.Yes.An NBA, which team forgot, did a competition activity, as long as their friends, share this post on it.Winners can get free tickets.
2. Landing pages are consistent with Facebook ads.
The landing page we link must be consistent with the content of the ad. It's not just that, I've said many places before that, anyway, landing pages have to be relevant to what's ahead.
But this, really a lot of people did not notice, think to do a Facebook ad, as long as the material is done well, I do not know now fb will also review your ad landing page ah.
For example, your ad you sell women's clothes, but your linked landing page becomes a real estate page, which is not inexplicable.
3. Maintain relevance.
We distribute Facebook to stay relevant to our audience. Because:
Ads receive fewer complaints.
If your ads are relevant to your audience, your ROI will be relatively high.
Can be reviewed (Facebook advertising policy: all content contained in an ad, including text, images, or other media, must be relevant to the audience)

4. Share content other than sales.

But now this society, everywhere advertising, the purpose of too strong advertising is very offensive, others look really tired. Therefore, we can occasionally send some ads of less powerful nature of content. You can promote an event, or some related brand stories, and so on.
5. Record the data.

Advertising certainly can't just keep your eyes closed all the way down, we also have to monitor this data regularly. Monitoring data liquefacing is at the Facebook ad management center I just talked about.
As a first step, select create custom conversion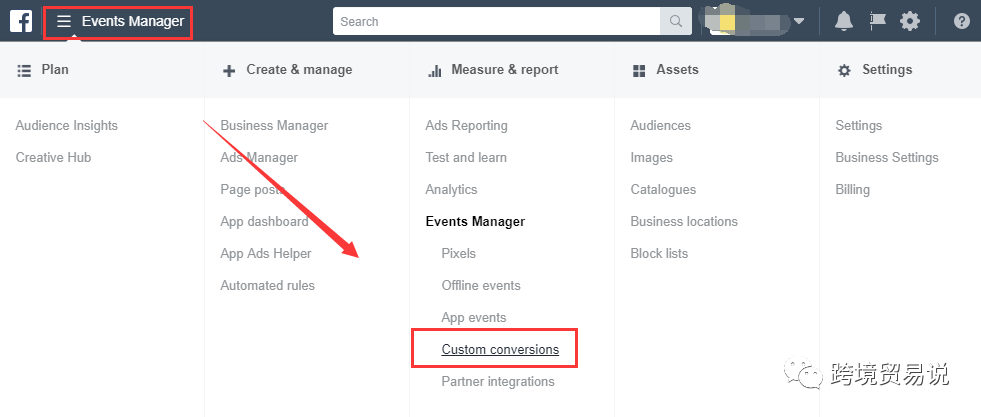 The second step is to choose what you want to track in the category.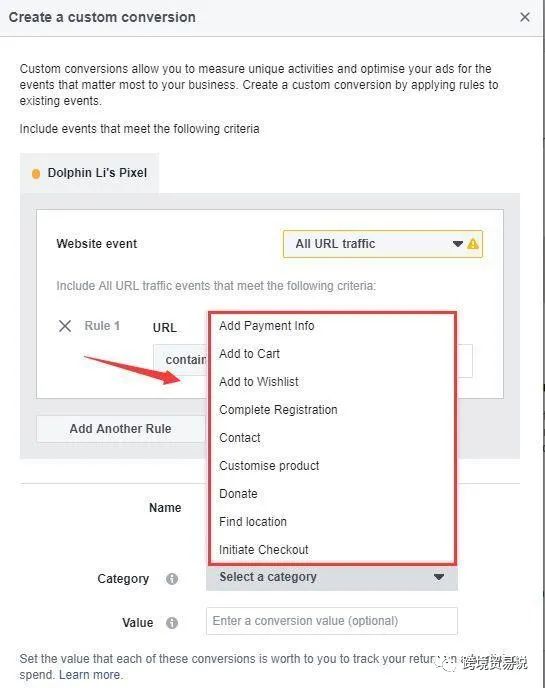 There are many types of things to pull down, including entering payment information in our store, or adding a shopping cart, adding a wishlist, and so on.
This is part of Facebook's real-world strategy, which, if we can take advantage of, will play a particularly important role in the transformation of our site.
6. Ads track people who have visited our website.

It's really important that a lot of people do Facebook ads that directly track new users that they didn't reach before, and you're doing the right thing.
However, it's more efficient to track down people who've been in contact with us before, because they've already had an impression of our brand and even a lot of us who've seen our products, so they're probably going to buy it.
So how are we going to set this up?
The first step is to go to the Facebook Advertising Management Center.

The second step, select Settings, pixel.

Step 3, select create custom audience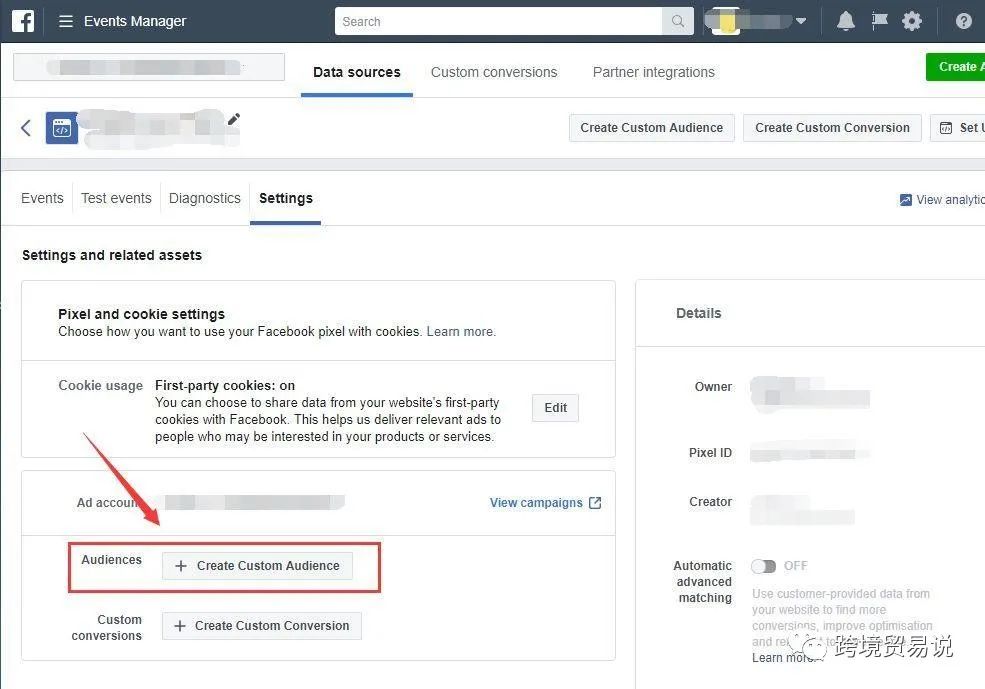 The fourth step is to select all site visitors.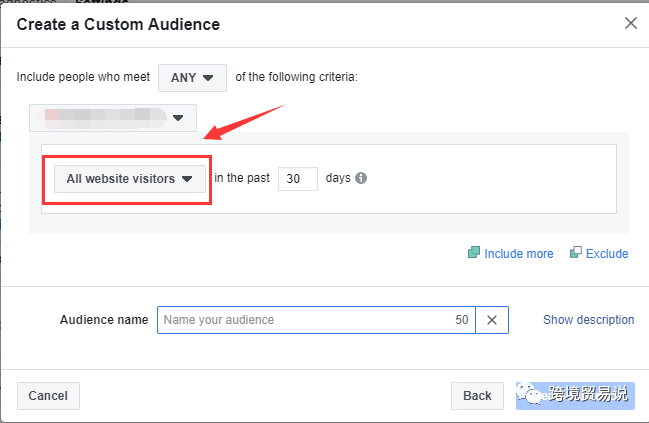 Complete.
Of course, if you have your own ideas, you can choose other options: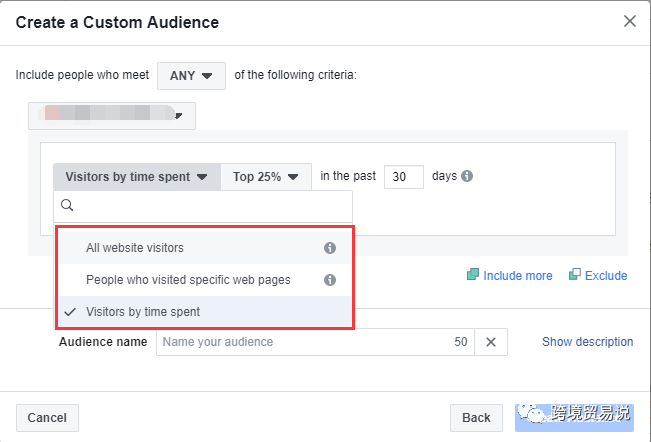 Author: Xiao He said foreign trade, WeChat public number: (Cross-border trade says.Images from the network, if there is an infringement contact delete: hzq1110111.

---