Digital advertising industry, why do I like Mother Ali?
Imagine a hot summer day when your phone knows it's hot and knows you like desserts, and then when you browse your phone, show you the nearest dessert shop where ice cream is on sale, or learn your location, combine ratings and reviews from nearby restaurants, and, of course, your daily eating habits and schedules to recommend the restaurants near you that best suit your taste.
Yes, this is an advertisement, this is an advertisement that "understands" your mind, and naturally does not have that feeling of being "harassed". Advertising, as it should be.
It's not easy to show the right ads to the right people at the right time, in the right place, in the right way, and to be accepted to the best of your audience.Only the program purchase of advertising, with the help of the power of technology, can be achieved.
In the long run, all advertising will eventually be all digital and procedural purchase methods to achieve, this is the intelligent way of advertising, many domestic advertising technology companies are committed to this. It's just that there's still a long way to go.
To this day, the domestic Internet giant, Alibaba's marketing company - Ali mother released a marketing platform called "Damo Sword", the domestic digital advertising industry is bound to go to another level.
Why do I like Ali's mother's "Damo Sword" product? Then let's go into the origin of digital advertising together to find out exactly.
Digital advertising has entered the era of data collage
Without data, digital advertising is wearing a digital coat, the line is still the traditional advertising thing.
Back in 2001, Doug Laney pointed out that the key to data was "3V": Volume, Velocity, and Variety. 3V is powerful data to release high-value possibilities.
When it comes to data, the top of the pyramid is still BAT, the three internet overlords, other Internet companies, that's a few streets away from the story.
From the point of view of the data energy required for digital advertising, who is king of BAT?
I think it's Ali. If the first two V (quantity and speed) are not much different, then the third V (dimension) should be ATB.
Baidu's account system is weak, the largest amount of data but for digital advertising, the dimension is far from enough.
Tencent and Ali are both part of a strong account system. Tencent is longer than social, weaker than trading, Ali is the opposite, longer than trading, weaker than social.
For ad serving, it's clear that transaction data is better than social data because it's closer to placed an order and the willingness and intent to buy revealed in the transaction is more realistic.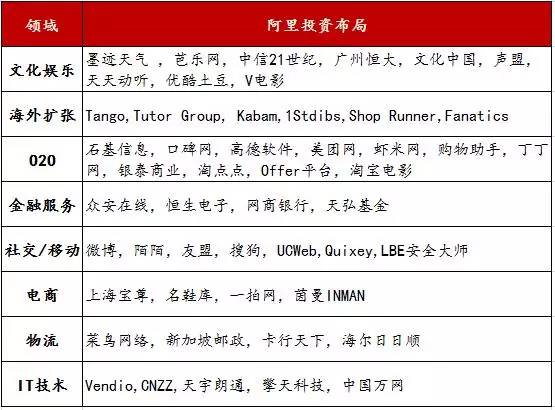 As can be seen from the figure above, Ali's holding company was the first data pull object of Ali's "DT" strategy. The huge empire, basically realized online and offline docking, from the flow of information to the flow of funds, users do not have to jump out of Ali's "closed loop", that is, to complete the entire consumption process.
Data show that Ali mother big data marketing platform Damo Jian has 630 million user data, with the help of Taobao, Tmall, Alipay, Sina Weibo, Gaud map and other account data exchange, it formed a scale of hundreds of millions of super account system, basically covering 98% of China's Internet users.
What's more, since the core of the Ali family is transactions and payments, the authenticity and uniqueness of this part of the data offers unlimited possibilities for the expansion of the "Damo Sword" in all its aspects, and the energy of such a strong account is unmatched by social data and search data.
Advertising needs to reach real people and instant moods
With data, the next step is how to use the data to find the right people, and then run a certain frequency of ads. Of course, but also to show different people different ads, the so-called "thousands of people", if the data give force, you can also add "thousands of scenes."
The more old-fashioned, of course, is by demographic attributes(age, education, income, marriage, place of residence, etc.) to expose advertising.
Almost all advertising platforms emphasize that they have accurate demographic data to ensure that advertisers' real audiences are found before they run. But is that really the case?
Typically, they do this through third-party sample libraries and cookies, which theoretically identify the same person across different websites. So, each cookie with a variety of characteristics, age, gender, interest category, location, can indeed be divided into "Beijing area 25 to 35-year-old male monthly into the million" and other traditional categories, followed by the different labels of the crowd sold to different advertisers.
However, this recommendation is based only on the age-gender income of the user's superficial network behavior, or is based on a sample pool of 10-200,000, and there is no way to really identify each user (because of the lack of high-quality 3V data). Therefore, can only let the advertisement and the user's gender, network behavior, etc. to make a simple connection, and thus push some unrelated ads, not only waste the advertiser's budget, and even cause the user's disgust.
In addition to cookies, Ali's data system is real people-centric, based on Ali's internal Super ID system, all the data corresponds to the real individual. Through Ali's real population attribute data, combined with the audience's recent online behavior, "Damo Sword" can identify whether each visit from the target audience, and have the opportunity to speculate on the audience's current state of mind and state, and then push the right ads, this is "thousands of people."
This is a revolutionary breakthrough in digital advertising.
In the "Baba" and "mom" in the embrace of the big data marketing platform "Damo Sword", after the acquisition of easy media, Ali's powerful data system in the "tao outside" can also show power, because Damo Sword has docked almost all the high-quality media resources in the market, including portals, verticals, video and social, and carefully selected the first screen, large size, sound and color brand resources, so that advertisers can through the "Damo sword" to reach the full range of media. And use Ali big data to cast the most correct advertising, complete the most perfect brand marketing.
A growing number of brand advertisers are no longer content with using demographic attributes to run ads because it solves only some of the problems in some industries, such as day-to-day and fast-food industries. If it is home clothing, health care medicine, mother and child and other industries advertising, all placed to 25-35 years old, highly educated, middle-income white-collar, this kind of delivery is too extensive.
Therefore, many big brand advertisers who entered digital advertising earlier have been looking for their users from the perspectives of business logic, consumption pattern analysis, consumer psychology, etc.
Take the home improvement industry as an example, someone constantly query decoration information and start ordering flooring, then you can judge that this person is in the process of house decoration, "Damo Sword" can be based on the progress of decoration and this person's consumption capacity and consumption preferences gradually recommend paint, water heaters, lamps, furniture, household items and so on. We don't have to worry about whether this person is an old man or a young man, a well-known person or an ordinary worker and other demographic attributes.
Even the beverage and fast-moving industries are less likely to define the audience by demographic attributes, because a brand's appeal does not have to advertise the product, but rather to find the soul that touches the consumer's mind. He could be a "cheap and pretender" or a "selfie-loving non-mainstream."
Data, data, or data, the important thing has to be said three times.
With the data, you have the fulcum that prys the earth, "Damo Sword" can do "know you don't say, know what you want to do" is also because back to Ali data system this big tree.
Birth determines fate, which is a bit cruel indeed.
Cross-screen: Spelling is the account system behind different screens
If people find it, will everything be all right? No, there's a challenge: We know that ads need to be delivered continuously to a defined audience at a certain frequency, not too much or too little。 However, the audience in the Internet between different screens are drifting back and forth, advertising to improve the efficiency of capturing the audience, cross-screen capture can not avoid.
I have talked with several different types of advertising technology companies, learned that the current "true cross-screen" difficulty is actually quite large, real operability is very low, mostly the use of models, theory to calculate positioning.
The difficulty with cross-screen is that it is "unique user identification across devices".
As strong as Tencent, I'm afraid I can't help it across screens. Let's use Tencent to cover the two strong account products with the most users: WeChat and QQ as examples. WeChat's only user identification information is a microsyscope or mobile phone number or QQ number, microsyscope must have, mobile phone number and QQ number can be associated, or not. QQ's only user identification information is QQ number, can be associated with mobile phone number, or can not be associated. There are a lot of people have more than one mobile phone number, there are more than QQ number, there is a part of the microseelectr and QQ number can not be unified to the same person. This is still based on Tencent's access to data between different products.
Ali belongs to the super account system, users can mostly be identified by the ID card number, if you really haven't opened Alipay (advertising to such people is a waste), or did not carry out real-name authentication (in the network real-name system tightening policy background, the real-name authentication of the payment system first, such users will be less and less), the only user identification code downgraded to mobile phone number, but Ali can still identify multiple mobile phone numbers actually point to the same person.
It can be said that behind each ali account is a real consumer, and there is a strong correlation between accounts on different screens. When all media is covered with an account system, it is almost the best cross-screen, cross-device solution, with the greatest possible network-wide precision data-based marketing.
Simply put, the ultimate effect can be achieved is this: when I work, using the company computer to open Taobao order a dog food, on the way to work, open their mobile phone video APP to see "Extreme Challenge", in the front patch saw a pet supplies brand advertising.
And if my honey doesn't have a dog, or never cares about anything about a pet dog, I can't see this ad. Because the purchase of video preposts is charged in the form of CPM, there is no need to pay for ads when they are not displayed. In this way, the advertiser of pet dog supplies has directly and significantly improved his effective reach while keeping his budget unchanged.
In addition to the PC and mobile, "Damo Sword" has the opportunity to identify and capture the audience as Ali's tentacles extend to CRM and even offline.
Advertisers only need to match their CRM systems to Ali Big Data, and the fragmented fuzzy messages in the CRM can become a plump user image. Coupled with Gaudre's LBS location information, maybe one day, an outdoor ad is designed for you to show a few seconds.
From mobile, social marketing and microblogging, to portals, search, video, driven by Ali holographic big data and technology, "Damo Sword" in the use of different contacts to convey the marketing path of different nodes to advertisers, is pushing digital advertising to a new level.
"Damo Sword" appeared, the industry pattern has changed sharply
In the digital advertising industry, Ali's mother has created a real-life, oversized digital advertising ecosystem. It is true that this is determined by the weight of the Ali system, but also the digital advertising industry to the present level, the only way forward.
We can foresee that Mother Ali will become a "gold-sucking stone",On the one hand, many brand advertisers' advertising budgets are sucked in, not only on the PC side, but also on the mobile side;
The prospects for independent DSPs, which do not have unique data sources, are perhaps even bleaker, for which these valuable data resources are out of reach, far behind from the starting line, where the development space is, is an extreme brain-burning thing.
Media fission will accelerate, digital advertising development more advanced, the more media advertising space will be tilted toward the bidding method, in addition to traffic, advertisers will increasingly value the quality of traffic. Of course, sales careers in the media that are solely responsible for traffic sales without contributing to integration value may soon disappear.
Under pressure, the buds of innovation also grow tenaciously from an angle, China's Internet has never been because of the emergence of a strong person led to the disappearance of the industry's innovation power, on the contrary, once the ceiling of industry development was broken by the forerunners, but also opened up the imagination of countless innovators, let's wait and see.
---