Byte beat day into 300 million into a crazy money printing machine, "public enemy of the whole people" Zhang Yiming with what?!
The following articles are from the investment community By Yang Jiyun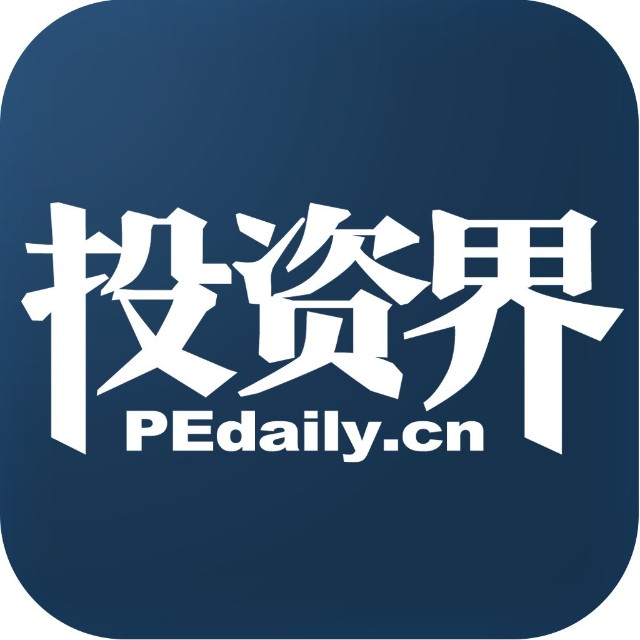 The investment community
Investment Community (www.PEdaily.cn) China Entrepreneurship and Investment Professional Portal
Solve sales problems and spread management wisdom  Come and follow me!
WeChat has recently been revised, in order to allow everyone to browse for the first time,
Please click on the "Sales and Management" button above→ click on the upper right corner "..." → iPhone's friends tap "Set to Star ★" (Android's friends tap "Top Public Number")

Sales tube headlines every day after the article will have eggs yo, don't miss ha!

Please see the top message on the winning list
Byte-beating revenue secrets began to surface.
On May 27th Reuters and Bloomberg reported, people familiar with the matter said.Byte Beats earned $17 billion last year, more than double 2018 revenue and more than $3 billion in profits.In this regard, the investment community (WeChat ID: pedaily2012) to the byte beat aspect of the evidence, the other side replied: the market rumors do not respond.
It's not a hollow wind. A few days ago, Sensor Tower data showed that Byte Beats and TikTok had already made more than $78 million in the Apple App Store and Google Play Store worldwide in April 2020, surpassing YouTube's $76 million for the first time.
It should be noted that this is the first time in history that a Chinese Internet company has achieved such a success overseas.
Eight years after its establishment, byte beats began to become crazy "money printing machines". Not long ago, a partner at an old PE institution in the United States revealed in an interview with the investment community that he was shocked by the byte beat."Until June 2018, several video platforms, jitters, volcanoes and watermelons, were not sold for a penny, and then at least 100 million were charged the day after the charge (commercialization)."
Bytes beat, scary money printing machines

With an annual revenue of $120 billion, Tiktok exploded
Compared with the money-burning unicorns, the byte beat can be said to be the "money printing machine".
On May 27th people familiar with the matter told Reuters about the secrets of byte-beating revenues: for the full year of 2019, bytes generated revenues of more than $17 billion, or more than 120 billion yuan, or 330 million yuan a day, and net profit of more than $3 billion, or 20 billion yuan.
Such detailed data, not hollow wind, the circle once guessed that this is byte beat actively revealed to the outside media. After all, such tactics are common in China's public relations community.
It has to be said that byte beat has become one of the most watched Chinese companies overseas. According to foreign media reports, the company is becoming a strong competitor to US internet giants Facebook and Alphabet, Google's parent company. Facebook's Instagram brings in $20 billion in advertising revenue in 2019, and Alphabet's YouTube earned $15.1 billion last year.
The Internet has memories. Over the years, the byte beat against sky-high valuations has been under pressure from revenue, but over and over again has handed over transcripts of multi-level growth:Byte-beating revenue was $6 billion in 2016, rising to $16 billion in 2017 and $50 billion in 2018.
Since 2019, byte-beating revenues have become even more compelling, with listing rumors swering around. Earlier this year, it was reported in the media that Byte Beat 2019 achieved its performance target, with full-year revenue of more than RMB140 billion, up nearly 280 percent from the previous year, while as early as November 2019, Byte Beat's daily average revenue exceeded 400 million yuan.
However, Byte Beats denied the $140 billion in revenue at the time, explicitly saying the information was false. In response to the news that revenue exceeded $17 billion, the investment community and byte beat confirmed that the other side did not respond to a request for comment. In other words, there is no direct denial.
Where does the main revenue from the byte beat come from? There is no doubt that Jiyin and TikTok became "money printing machines". TikTok reported more than 738 million downloads in 2019 and $177 million in 2019, according to Sensor Towera, a U.S. mobile analytics firm.
It is worth mentioning that the current trend of byte beat short video revenue is still continuing, especially in this year's outbreak is still strong. Sensor Tower data also shows that Jiyin and TikTok will have more than $78 million in Apple App Store and Google Play Store worldwide in April 2020, surpassing YouTube's $76 million.Today, TikTok has more than 1 billion users and more than 2 billion downloads, making it the only technology company with more than 100 million users in Both China and the West, with the exception of Apple.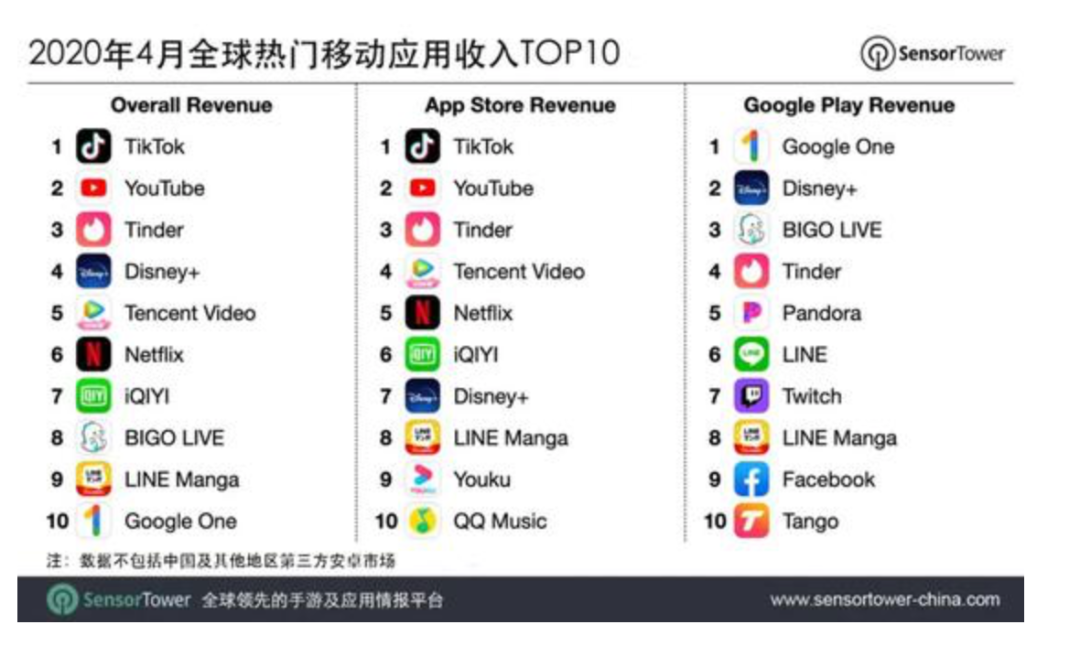 The investment community understands that most of the revenue from Jiyin and TikTok comes from advertising and in-app purchases. Since last year, the commercialization of byte beats on Jitter and TikTok has been growing rapidly, poaching talent from Internet companies with cash-out experience and resources at home and abroad. At the same time, in the organizational restructuring in March this year, Zhang Lidong, who is in charge of commercialization, and Zhang Nan, CEO of Jiyin, were mentioned as chairman of Byte Beat (China) and CEO of Byte Beat (China) respectively, which also illustrated the smoothness of the commercialization path and the deep recognition of Jiyin and TikTok's contributions.
In today's environment, digital advertising faces unprecedented challenges, but it's not hard to guess the growth in advertising revenue, as Tencent disclosed in its first-quarter results, that Q1 revenue from its online advertising business was 17.713 billion yuan, up 32% year-on-year, the best growth rate in five quarters.
On top of that, Byte Beats is expanding its revenue streams, including attempts at live streaming, e-commerce, and even search, as well as a game that will be one of the key businesses of 2020, a cash cow business that everyone understands and absolutely needs to play.
Early investors: Valued at at least $150 billion

In China's Internet world, the valuation of byte beats remain a mystery.
The $75 billion valuation is a thing of the past. In March, tiger funds revealed their investment in byte-beating in a letter to investors: "Over the past 21 months, we have bought byte-beating stocks at a lower multiply of future free cash flow." It mentions that byte-beating equity changes hands in the second-hand market, with valuations of between $90bn and $100bn.
Byte beat did not respond to the latest $100 billion valuation. However, an investor in Beijing focused on the transfer of old shares to the investment community revealed that the first half of the market is constantly a personal LP is transferring byte beating old shares, "more anxious, their own capital pressure is relatively large, in order to ease." "The valuation is up to $120 billion.
Two months later, valuations changed again. Byte-beating valuations have reportedly exceeded $100 billion in recent private stock trading, up to a maximum of $140 billion.
"Now the headlines (bytes are beating) to melt a new round of new shares, valued at at least $150bn." An early investor with a byte beat revealed to the investment community. But the sound of questioning is pouring in from all directions: Why is the byte beating?
In the eyes of the above-mentioned investors, the hard-nosed and determined tiger fund to earn is the information spread, and the circle more aware of the byte beat people continue to bet that the bet is the future potential of byte beat. "The market is very opaque, and very few people really know the reality of the company, its core competencies, its strategy and what it's great about."
At the end of 2019, a partner of a veteran PE institution in the United States revealed in an interview with the investment community, "We have also seen byte beat, but for various reasons did not vote, not because of the price of the problem, said that there are a few concerns, involving more sensitive issues."
But the investor said he was shocked by the byte beat, "before last June, jitters, volcanoes, watermelons and several video platforms did not sell a penny, and then charged the day after at least 100 million, which is the role of traffic." "
Previous investor analysis:"Whether the byte-beating valuation exceeds $100bn depends on how much TikTok can do overseas, and the final valuation depends on the global market."
Today, TikTok's ride has not only brought an ultra-high growth engine of globalization to the byte beat, but also a huge breakthrough for Chinese Internet companies' products overseas: all along, neither Tencent's QQ, WeChat nor Ali's Taobao or Alipay have been able to open up such a situation.
Entrepreneurs are beginning to discover

His final opponent became Zhang Yiming
Terrible byte beats, ready to hit everywhere.
Entrepreneurs in all areas are beginning to find that they are not only dealing with the problem of station BAT, but are now also wary of a more pointed opponent - byte beats.
Its tentacles are found in all walks of life: news, short video, live streaming, e-commerce, social, variety, networking, movie distribution, entertainment brokerage, music streaming, K12 education, English learning, electronic signatures, enterprise applications, finance, games, search, smart hardware, AI, car networking, cloud services... Sitting on a constant stream of traffic, the byte-beating layout is endless.
BAT's B has long turned into byteDance, and although it is not yet on the market, the hundreds of billion-dollar valuation of byte crushing Baidu is no 100m. To some extent, it is precisely because of the rise of short video, the mobile Internet landscape is rapidly changing, at present, Tencent products accounted for 50% of China's traffic share, followed by today's headlines.
Rarely exposed Zhang Yiming, I am afraid even he would not have thought that when the byte beat let the domestic Internet companies such as the enemy, overseas technology companies are also very unhappy with this from the sky down the opponent. Surrounding Zhang Yiming, this scene is playing out all over the world.
Zhang Yiming once said something:"You don't have to think about looking back, who's coming on the left and who's coming on the right." You don't have to think about tripping people up, it's no use. You run forward, focus on running forward, which may not seem like an ingenious way, but many times the most direct way is the most effective. "
Today, in the face of the siege of giants at home and abroad, bytes continue to beat - even if Zhang Yiming has become a "public enemy of the whole people."
Source: Investment Community (ID: pedaily2012)

Dear fans, a random selection of ten readers gets a free book. Today's gift book "Why Sibe's waiter always loves to laugh" price: 56 yuan.
◆How do you use a bad employee and how do you bring it?How to give employees dividends can stimulate the vitality and creativity of employeesForce, cohesion?For an increasingly large organizationShould.How do I drive and how do I manage it?Walking on the detour of enterprise development, how can entrepreneurs motivate themselves and move on the right path... This book gives you the answer.
---