BATT accounts for more than 80% of digital advertising revenue, where does oligarchic advertiser digital marketing go from here?
Planning / F Sister Studio
Production / Digital Marketing Industry Media Fmarketing - Digital Marketing Industry Value Transfer Platform
Interview cooperation contact WeChat:
2718929503
The oligarch era of digital marketing has arrived!

Recently, a recent report from Shengseon showed that BAT and byte beat are forecast to account for more than 80% of digital media advertising revenue by 2020.
Among them, Byte Beats achieved 213 percent growth in advertising revenue in fiscal 2018, accounting for 12 percent of digital media revenue, a figure that grew to 23 percent in the first half of 2019.
Investment in traditional media, television, radio, magazines and newspapers is on the decline. Growth in outdoor and digital advertising has also slowed. In the future, investment in television and radio media will be reduced.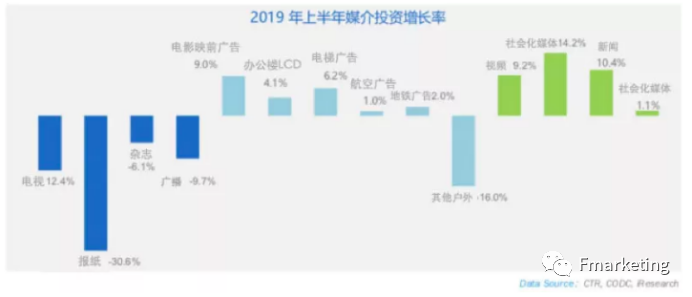 Source: CTR, etc
Coincidentally.
According to QuestMobile's 2019 China Mobile Internet Fall Report, the BATT four-series accounts for 70% of the network's length.
BAT three-series users have exceeded 1 billion, stock competition has become the new normal, sinking market into the user side of the only high-growth breakthrough.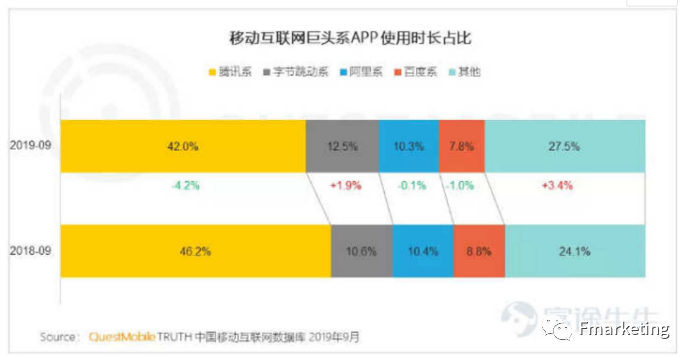 And these data all confirm that the internet marketing oligarch era has come. As traffic continues to gather,
Traffic is getting more and more expensive, and less and less has become the norm. In the stock market and the oligarchic digital marketing landscape, advertisers must change the marketing ideas of the past, embrace change, and explore responses. Well, in

What should advertisers do in digital marketing in 2020?
It's changed dramatic
Search.
traffic, still the brand can't ignore it
With the rapid development of the mobile Internet, the search market is declining, but it is still an entry point that no brand can ignore. BigData-Research has released its latest China Mobile Search Market Research Report for the first half of 2019. Data show that as of December 2018, China's mobile Internet users reached 817 million, of which the size of mobile search users reached 666 million in the first half of 2019, an increase of 2.1% month-on-month, accounting for 97.3% of Internet search users.
Users of the huge search demand, but also make many platforms in the search market layout, power. Baidu, the search giant, remains a well-deserved dominant company in the search market, despite a "bad year" in recent years, with third-quarter revenues of 21 billion yuan ($2.94 billion), down 3 percent from a year earlier. For advertisers, search marketing, Baidu is always an unavoidable part.
In addition to Baidu, this year's search market is more lively: in August this year, today's headlines launched their own search service "headline search";
WeChat has twice upgraded its searches, and Ali has been working hard to build his own

——

Quark to

"No ads" is the slogan to attack the sogou market, plus two other search giants, Sogou, 360, all make

The smell of gunpowder in the search market war is escalating, and the war is on the upswing.
In recent years, Sogou Search has been focusing on high-quality content differentiation and intelligent Q and A to improve the professional quality and efficiency of search: on the one hand, Sogou Search greatly increased the proportion of WeChat public number content in search results, providing differentiated high-quality content, while adding dozens of types of medical encycloptic content coverage for common medical problems, promoting search results click-through rate and other core operating indicators to increase by about 10%,
On the other hand, Sogou search continues to improve the content ecology, so that the coverage and accuracy of the first direct answer continued to lead the industry by 5 percentage points. In addition, Sogou has renewed its weChat-related partnership with Tencent, and will continue to give priority to The Search for Search in the coming year when WeChat provides third-party searches for external Internet content.
In addition to working with Sogou, WeChat is also on the search layout. In May 2017, the "Search and Search" entrance was launched. Then, in September 2018, WeChat opened up new capabilities such as direct functionality and shopping lists, allowing users to search for relevant functional terms to go directly to related services.
This year, WeChat was upgraded in March and May, respectively, to go online "page ingest" function, access to this function of all small programs all pages can be searched and new "good circle" entrance, users in the "circle" can also search.
In August, today's headliner launched its own search service, Headline Search. Today, the commercialization of headline search is getting on track. Headline search as an effective supplement to information flow advertising, is the growth point of byte-beating advertising revenue, after all, in the economic environment is not optimistic, the goal of hundreds of billions is really a mountain of pressure. At the same time, in
At a time when market traffic is falling, companies are rolling out a variety of products

"Link" is expected to reach users from various contacts, and search is undoubtedly indispensable, for the headlines, search is also an important part of their own ecological layout. Zhu Wenjia, the company's CEO, declared war on Baidu, saying that doing the search "must be aimed at the first place."
As an innovative product that continues to incubate in Ali's innovative business complex, Quark has recently come under fire for "no ads" posters in airports, subway stations, office buildings and a variety of applications, hitting the pain points of search engines and "declaring war" on bidding ads.
Diversification of search channels gives advertisers more choice of channels - it's always good to have more access to a new channel, but at the same time, it's also surprising that you want to reach different consumers, you may have to multi-channel delivery. This requires the brand to have a pair of eyes, according to the characteristics of different channels, to diversify the delivery.
As the flow of information matures in 2019, how to choose is also a challenge
A few years ago, streaming ads were new, and mentioning infoflow ads might have to be explained for half a day. In just a few years, information flow advertising has become the most important form of advertising. According to Aerrey data, the market size of information flow advertising reached 109.04 billion yuan in 2018 and is expected to exceed 250 billion yuan in 2020. Infoflow advertising's market share in China's online advertising segment is also climbing, at 22.5% in 2018 and expected to reach 35.8% in 2021.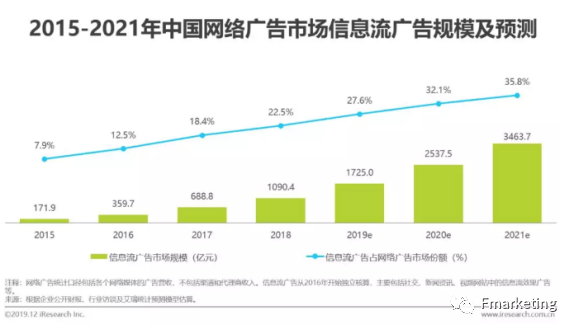 Information flow is also the world of giants, overall, showing Baidu, Tencent, the headline three-legged pattern.
According to QuestMobile data, in this year's overall mobile Internet users in the context of the decline, Baidu has maintained the momentum of a sharp rise against the trend, in Baidu App and good-looking video, driven by Baidu mobile products (including Baidu App, good-looking video, small video, Baidu disk, etc.) user length increased by 29%, 31% year-on-year.
Q3 2019 financial results show that in terms of core business progress, Baidu mobile business growth, Baidu App daily live users reached 189 million, up 25% YoY, Baidu Smart Program monthly active users reached 290 million, up 157% YoY, its positive trend can further promote Baidu's core operating margin up 14% YoY.
On November 18, Tencent Watch was officially released, which is equivalent to integrating the past several content platforms: such as QQ View Point, Daily Express and QQ Browser, providing information streaming content services for Tencent WeChat, QQ, QQ Browser and other scenarios. Tencent's point of view is that Tencent PCG integrates all aspects of its capabilities after the launch of the information flow service, relying on several traffic portals. At present, Tencent's total daily active users exceed 185 million, Tencent's daily content consumption exceeds 8.25 billion, platform users cover all ages in all cities across the country.
Although the start is relatively late, but the headline system has developed extremely rapidly, has become one of the largest information-based information flow platform, byte beat integration of today's headlines, jitter short video, volcanic video, watermelon video, leather shrimp and other products marketing capabilities, bringing together traffic, data and content partners.
According to Avery's statistics, today's headlines and volcanic videos are dominated by male users; The age of the product is still young, mainly young and middle-aged. Geographical distribution is mainly in first- and second-tier cities, third-tier cities below the user sinking expansion.
Short video has become the main carrier of information transmission, the mobile Internet era, where users, marketing is where. Fast hand currently exceeds 500 million monthly live, DAU up to 200 million, and the structure of fast hand users and the distribution of mobile users across the network is very similar, can be said to be national traffic short video applications. But fast hands have been controversial in terms of content quality.
In terms of commercialization, Fast Hand released a magnetic engine in October, in the "people and content" type of social ecology, based on this ecology has produced a strong sense of trust between users and brands, thus pulling up the overall marketing value of public and private traffic, and thus creating a commercial capacity for everything to be "goods".
In June this year, Fast Hand founder Cebu, Cheng Erxi, said in an internal letter that he was dissatisfied with the company's long-term "Buddhist" state, announced that the entire team into "combat mode", and set the first goal of the battle to reach 300 million daily users before the Spring Festival in 2020. It is worth mentioning that just yesterday, fast hand took CCTV 2020 Spring Festival Evening's exclusive interactive partner, will issue a total of 1.1 billion yuan of red envelopes. Driven by this, is bound to usher in a new round of surge.
In addition
interesting headlines
, a little information, Sohu, NetEase, Phoenix,

360PC as well
vivo、OPPO
Such as mobile phone manufacturers in the flow of information, although not compared with the giants, but in the traffic
The current downward trend is also a traffic supplement that cannot be ignored. Not only that, many brands respond, the effect of these channels is even better than the large channels.
With so many streams of information, it's also a challenge for advertisers.
In terms of the number of users reached, the giants are mainly first- and second-tier city users, but at the same time, they are beginning to move towards

"Outside the five rings" market extension. Multi-channel simultaneous layout is a good choice, but if

Multi-channel synchronization is turned on, and at a time when advertisers are squeezing their budgets, high operating costs tend to cost a lot of money. This is clearly not in the advertiser's first mind. Therefore, for a certain flow channel to dig deep, hard work is a more pragmatic way. At the same time, intelligent delivery has become a trend, whether it is Baidu, Tencent, or byte beat and other players are increasing

AI layout, and strive to be able to help advertisers achieve one-stop delivery through big data and artificial intelligence. This requires the brand in-depth research, according to the algorithm to achieve more accurate to impress users, improve the delivery effect.
Digital marketing company display

Click on keywords to view relevant company information
Contact: WeChat 2718929503
Easy to connect with each other|Xiaomi Marketing|Kodak shares
PulseMarketing . . The United StatesMarketing . . JD.com Marketing
Hua weiPeriwick line| Vitro Networks
Peter Cheng MediaThe Beafus
Know the Phoenix Network
Hydrogen Interactions . .long its numbers
Cheetahs move | The new number network
 Co-propagation . . The number is a hundred
 Ai Tsing Tianjie . . Rainforest woodwind
Microcast easy | Smart reading network
Number of lights discsThe era of Dongxin 
 Product-friend interaction | Huan net technology
Tick the positive data National double 
Wangxiang MediaAnalysis of the Chinese Academy 
Limei Technology|DataStory 
UnionPay Zhihui Point on technology
  Hui Jia, Jane Island
Our contact details:
Business Cooperation . . Interviews . . Submission:
F sister (microscope 2718929503)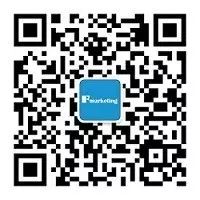 It includes: Medium-Public Digital Marketing (www.zgszyx.com)
Digital marketing new media Fmarketing has been stationed in the media alliance: Sohu from the media, interface, a little information, today's headlines, Phoenix from the media
---