315 Is your digital ad fraudulent?
On the occasion of International Consumer Rights Day on March 15, 2017, AdMaster, a leading marketing data technology company, officially launched the 2017 Advertising Fraud Research Report. The report analyzes invalid traffic data for the whole of 2016 and reveals the advertising fraud chaos of digital marketing in China.
On January 29th and March 2nd this year, Marc Pritchard, chief brand officer of Procter and Gamble, made keynote speeches at two important annual summits of the Interactive Advertising Bureau, IAB and the Association of American Advertisers. Comments about transparency and visibility standards for digital advertising have sparked a global debate in the marketing and digital industries. Procter and Gamble calls on the industry to take action on four areas:
1, digital advertising to adopt a unified set of visibility measurement standards; 
2, the implementation of third-party evaluation agencies verification and audit;
3, promote a comprehensive and transparent agency contract mechanism;
4, to prevent advertising fraud.
The chant also resonated with many industry organizations and companies in China that support transparency and standardization of Internet advertising.
In mid-2016, AdMaster released the Advertising Fraud White Paper, which reveals the current state of advertising fraud in the first half of 2016 in areas such as Non-Human Traffic, Video Invalid Traffic, and Effective Invalid Traffic, as well as strategies and techniques to address it.This time, AdMaster analyzed traffic data from more than 1,000 advertisers throughout 2016 and launched the Advertising Fraud Research Report for industry authorities, aiming to further understand advertisers and the industry's current domestic digital marketing advertising fraud through intuitive data.
Over the past few years, AdMaster has invested a lot of research and development resources in advertising anti-fraud technology, and for different modes of traffic fraud, AdMaster has launched BlueAir, VOA, MONITORing (SNAP) and other technical products, and gradually established a "all-round, deep-seated, multi-angle" advertising anti-fraud solution. Especially in programd purchases, AdMaster pre-judgment (Pre-bid), an anti-fraud technique for pre-ad, is able to troubleshoot traffic requests and ads when they are not displayed, based on historical traffic quality, thus preventing ads from running on invalid traffic in advance.
This study analyzes and summarizes the phenomena and coping strategies of non-human traffic, video invalid traffic, smart TV invalid traffic, low-quality traffic caused by ad visibility problems, etc. The AdMaster study found that invalid traffic (Invalid Traffic, IVT) accounted for 30.2% for the whole of 2016. Compared with the first half of the year, the phenomenon of invalid traffic in the second half of 2016 showed a small deterioration. In response to the new explosion of smart TV advertising, in 2016, smart TV ads monitored 51% of traffic through the Client-to-Server API and 49% through the Server-to-Server API. Because only the C2S API monitoring method can effectively carry out abnormal traffic troubleshooting, S2S API way cheating cost is very low, and so on, at present, the phenomenon of smart TV ads invalid traffic is also worthy of attention.
AdMaster used advertising anti-fraud technology to identify invalid traffic for the whole of 2016 as follows:
- Overall analysis: the overall proportion of invalid traffic in 2016 was 30.2%, and the second half of the year showed a small deterioration, with invalid flow increasing by 3.7%;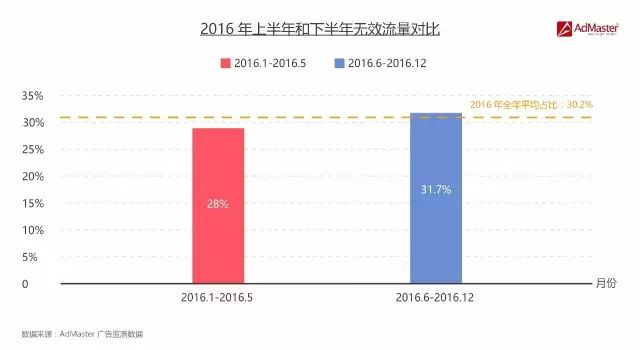 - The proportion of invalid traffic (months) in 2016 increased significantly, for example, in November and December;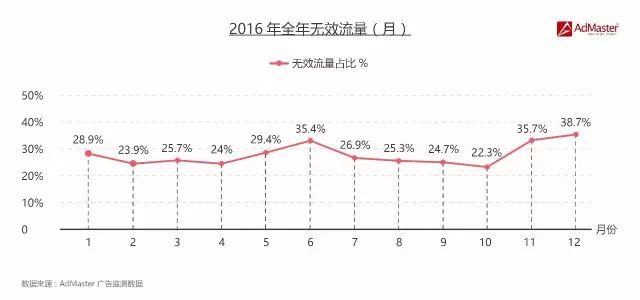 - Sub-media types: vertical media is the worst-hit area of invalid traffic, network alliance invalid traffic phenomenon improved in the second half of the year;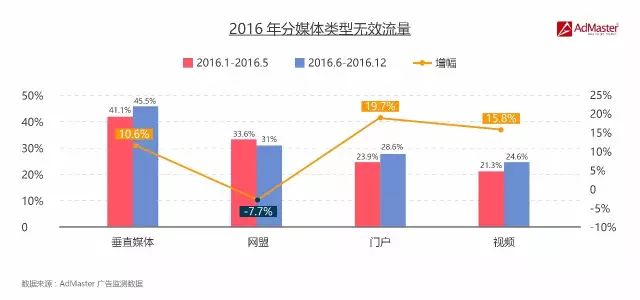 - Vertical media segmentation: female, mother and child, car invalid traffic accounted for a relatively high, still continued in the first half of the first half of the invalid traffic top three status quo;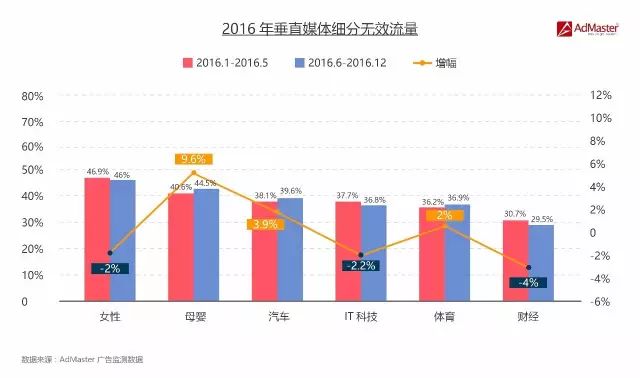 - Sub-platform: PC-side invalid traffic ratio continued to be higher than mobile side;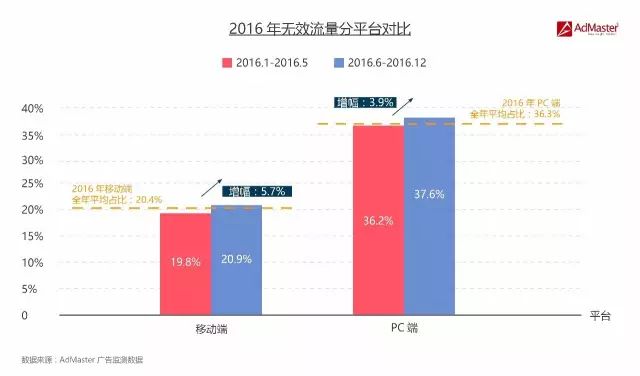 - Smart TV advertising fraud, based on AdMaster research experience found that the current smart TV traffic risks are mainly in the following two points:
Monitoring rules are not perfect, resulting in low water doping costs, industry technology lag leads to abnormal flow phenomenon frequently.
1) At present, the monitoring rules of smart TV are not perfect, the individual media collection field is not complete enough, even can only accept S2S monitoring methods and other factors, cheating cost is almost zero. The main form is: the amount of server brush.
2) Other frequent abnormal traffic phenomena, mainly manifested in: frequency anomalies, smart TV advertising projects doped PC or Mobile end traffic. This aspect stems from the industry irregularities and technology lag, the need for the media to carry out technical upgrades.
Currently, AdMaster uses BlueAir, a unique advertising anti-fraud monitoring tool, to screen abnormal traffic in dimensions such as smart TV IP, geography, frequency, and User Agent, blacklisting devices that behave logically abnormally to keep your ads running safe. At the same time, with Hisiton, Kangjia, Skyway, Huannet and other hardware manufacturers to establish a whitelist of smart TV equipment, in order to further identify the authenticity of traffic from the device dimension.
Analysis of data from AdMaster's 2016 Smart TV Invalid Traffic Monitoring found that:
1) Due to the relatively high cost of cheating on smart TV C2S API traffic transmission, the monitoring results show that the percentage of invalid traffic is relatively low, accounting for 6.51% of the total C2S API traffic. Among them, the video media invalid traffic accounted for only 3%, hardware (vendor) traffic in the proportion of invalid traffic is high, 12%.
2) AdMaster through smart TV C2S API traffic monitoring found that: different industries are affected by invalid traffic, automotive, finance/investment/banking/financial services brands are affected by invalid traffic, which is also related to different industries of smart TV advertising form and channel preferences.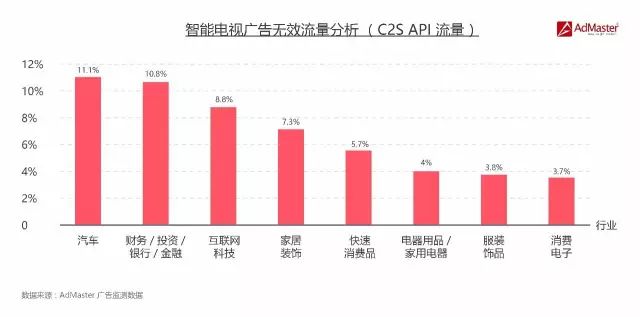 Note: There are generally three monitoring modes that support smart TV ads: third-party SDK monitoring, C2S, and S2S APIs. The first two are more secure than S2S and easier to monitor for traffic falsehoods, and it can be said that the C2S API is the starting point and foundation for smart TV ad monitoring security (S2S API transmissions are currently difficult to identify invalid traffic). At present, TV manufacturers with Internet genes and video sites have supported third-party SDK monitoring, Hisshey, Kangjia and other well-known TV manufacturers also began to support third-party advertising monitoring through C2S API last year; S2S upgrade to C2S is very important, at this stage for some hardware technical difficulties, but for advertisers, traffic authenticity is the top priority.
AdMaster smart TV monitoring data show: from the smart TV overall traffic transmission mode: video media (patching, suspended advertising, etc.) are basically C2S API traffic transmission mode, C2S traffic accounted for 98%; 2S traffic is 64%, and Network Alliance traffic (primarily power-on advertising) does not monitor traffic in the form of C2S (Note: If the Network Alliance/Agent project uses video/hardware media code, video media/hardware traffic is included).
Not long ago, Facebook and Google in the United States announced that they would be open and subject to MRC's validation review to verify the data products they provide to their customers. "While Facebook's 'walled garden' still exists, in the long run it is clear that the marketing market is becoming more measurable than ever before," the report said. After all, two years ago, industry stakeholders never talked about 'Ad Visibility' and 'Measurement Evaluation'. "
In 2016, China's advertising anti-fraud has also been highly valued, industry calls have been sustained, advertising anti-fraud technology and measures are also being upgraded, but the degree of openness still needs to be further strengthened and landed. So.In addition to comprehensive invalid traffic analysis research, AdMaster has been actively supporting and co-organizing anti-advertising fraud leading organizations and enterprises, such as the China Digital Marketing Committee, china Computer Association, MMA China Wireless Marketing Alliance, Pinyou Interactive, RTBAsia, etc., through a variety of data research, forum sharing, media reports and other ways to call on digital marketing ecology, boycott traffic fraud. Next, AdMaster will continue to carry out technical upgrades for invalid traffic screening, under the guidance of CMAC's unified anti-fraud guidelines for advertising, to accurately identify malicious cheating traffic (brush playback, ad cast, multiple calls, etc.), machine non-malicious traffic (such as reptiles) and other forms of invalid traffic, to maximize the interests of advertisers to protect.
Vincent Yan, chief executive 曌 AdMaster, said:"It's important that the industry is driven by multiple parties while maintaining continuous technology development and upgrading. Traffic party (media), DSP, advertising trading platform (Trading Desks), advertising alliances, third-party industry ecology needs to uphold a positive and open mind, to build and follow a unified, win-win industry norms, work together to resist all the fraud to prevent the healthy development of the industry. As an industry-leading marketing data technology company, in addition to continuous technological self-improvement, AdMaster once again called on the industry to work together, support and cooperate with CMAC to promote the establishment of industry advertising traffic quality standards, the use of technology and unified standards and norms of dual hard indicators, to promote the sustainable development of China's Internet advertising ecosystem. "
Data period: January-December 2016
Click to read the original text
Get the full version of AdMaster's Advertising Fraud Research Report.
---