Answer this week: How to avoid the pits in Google ads.
Free public lesson reminders.
How to avoid the pits of Google's bidding ads
Toronto time: Saturday, 9.26pm- 8-9pm. 
Zoom: 912 6169 7495.
Hello, students!
During the recent outbreak, everyone's enthusiasm for learning is still high, in our public welfare learning group asked a lot of good questions.
Today's North American online marketing training True-E's Jenny teacher will answer your questions one by one, I hope you can benefit from it.
To celebrate the new revision of our website (cn.true-e.ca).
The original paid courses are now free!
Just use your name, email, phone to register.
We'll send you a lot of free courseware.
Come to cn.true-e.ca to register!
We encourage you to think more and ask more questions, which will allow us to better understand the needs and problems of local entrepreneurs in North America on the Internet, so as to better serve everyone.

Not much to say, let's look at the first question!
What is google's advertising auction ranking mechanism?
In big words.Who pays more, who's in front.。
If the industry keyword is an average of 5 yuan, competitors 5.5 yuan, you out of 6 yuan, you come first.
If you and your competitors are spending about the same amount of money, everyone takes turns to get ahead.
Every day the ad back office has a budget setting, for example, your budget is $500, 5 dollars per click, 100 clicks to consume the budget.
But if your competitor's budget is 600 bucks, he'll run out later than you, so he'll be up there.
Also, depending on how many keywords there are ads, the more ads ad, the more intense the competition, the more expensive the keyword price.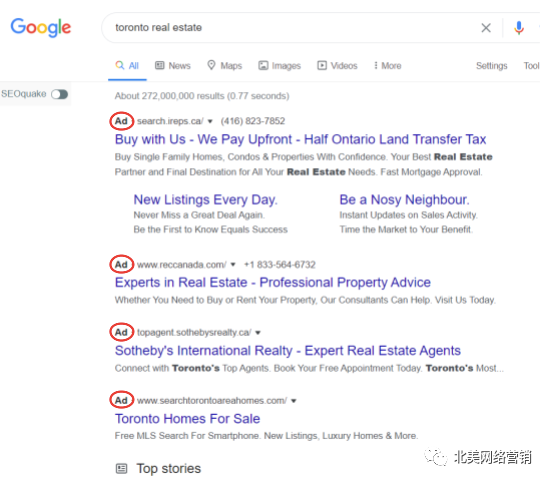 How do we see google ads from our peers?
You can search google for keywords and your competitors' ads will appear.
You can still pass.SEMrushThis software sees who competes with you on SEO keywords.

There are also paid keywords on who are your strong competitors.


How can we improve Google ads to make our ads better than our peers?
1. Advertising words.title,description和key wordsdesigned to appeal to an audience. For example, to do the medical and aesthetic industry, to highlight the recent discounts, special services and the hottest items. Extract the words you care about and put them in a clear position.
2. Use professional advertising.Keyword search software.Go to the maximum extent to find the keywords your target user will search for. One of the benefits of Google ads is that you can set 100 to 200 keywords by click, as long as the keywords are not ordered, Google will not charge you money, will not waste.
3. Use.Anti-selection keywords.to avoid non-target users clicking on your keywords. For example, you don't want the car you want to sell to be associated with a "car accident" scene, then you need to use anti-select keywords to block "car accident" and other keywords that you don't want to be associated with.
Want to learn more about Google bidding advertising,
Welcome to Toronto Time.9.26pm.of the .

How to avoid the pits of Google's bidding ads
Zoom: 912 6169 7495.
At that time, Jenny will share.
Advanced marketing tips for Google bidding ads.
And answer questions about Google ads one by one.
Background:
True-E Internet Marketing Research Institute is the only platform for Chinese in North America to share the latest online marketing knowledge free of charge, with 15 years of successful experience in North American Internet listed companies. With professional Internet marketing qualifications (see chart below), Chinese entrepreneurs in North America have a very good reputation.
We have also been "Xinhua", "Sina.com," "Tencent.com," "Sohu.com," "China Net," "Southern Fortune," "Finance China," "China Education Network" and nearly 100 other major Chinese media reports.
You may also want to see:
Copyright, originality is not easy.Thanks to friends for forwarding and quoting, however.Be sure to use hyperlinks.Form indicates URL link (TRUE-E network marketing)
http://www.cn.true-e.ca

Contact us:

E-mail:hello@true-e.ca
Tel:+1 416 878 0880
Working hours: Monday to Friday.

10:00am-6:00pm
If you like, order a "wow" (English "wow") to encourage us to ❤.
---