Ad Delivery Audience Analytics (FB-audience insight)
Included in the topic
#App增长 - from basic theory to advanced products
2
Please click on the above

"Suman Notes"

Subscribe to the public number
1
no.1
Precision audience method
    FB-audience insight

    Analysis for delivery
When you open audience insight, the page pops up a box to select your audience: one is all Facebook audiences, and the other is the audience that connects with your Page.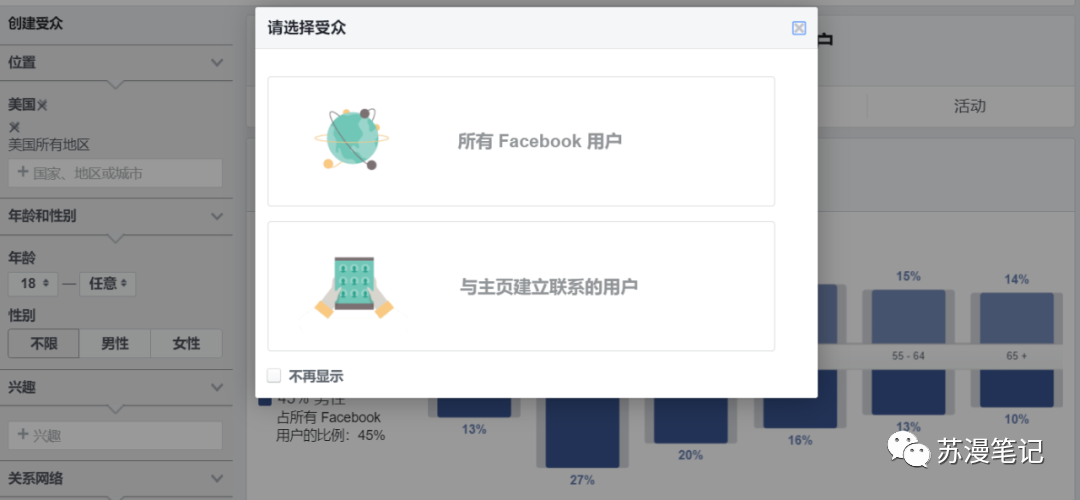 Select "All Facebook Users" for delivery analytics, because it's hard to see data if facebook fans aren't many.
Through audience insight, you can see what age group the product audience is at, where it is distributed, what regions, countries, interests, behaviors, and so on, which is very beneficial for serving ads to reach the exact audience.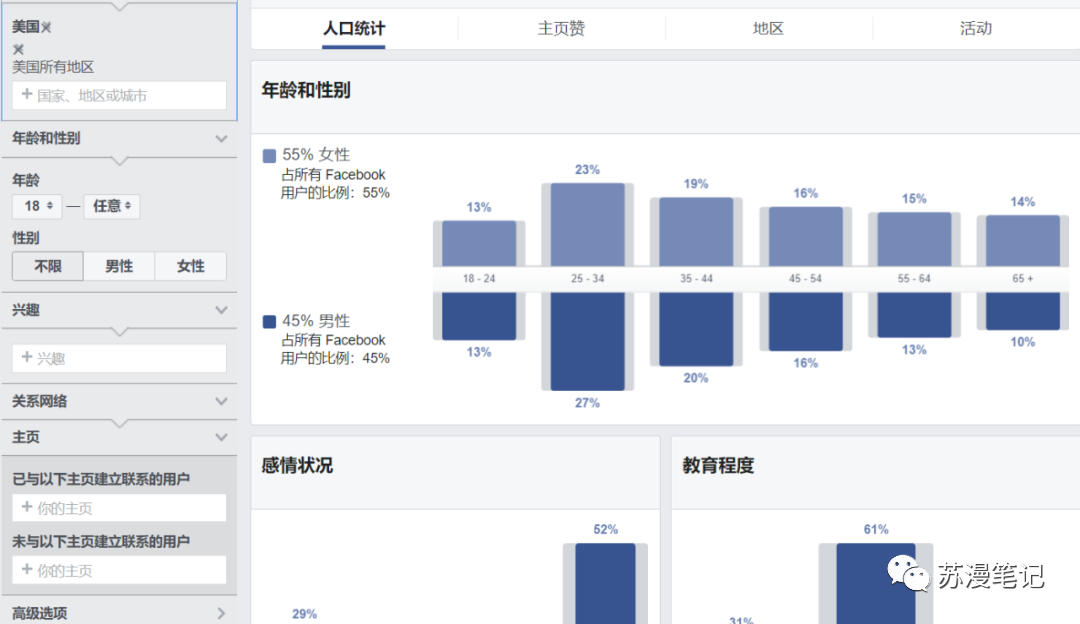 In the United States, for example, if the product is a casual game, we enter the casual game in the interests section to see what important information we can get: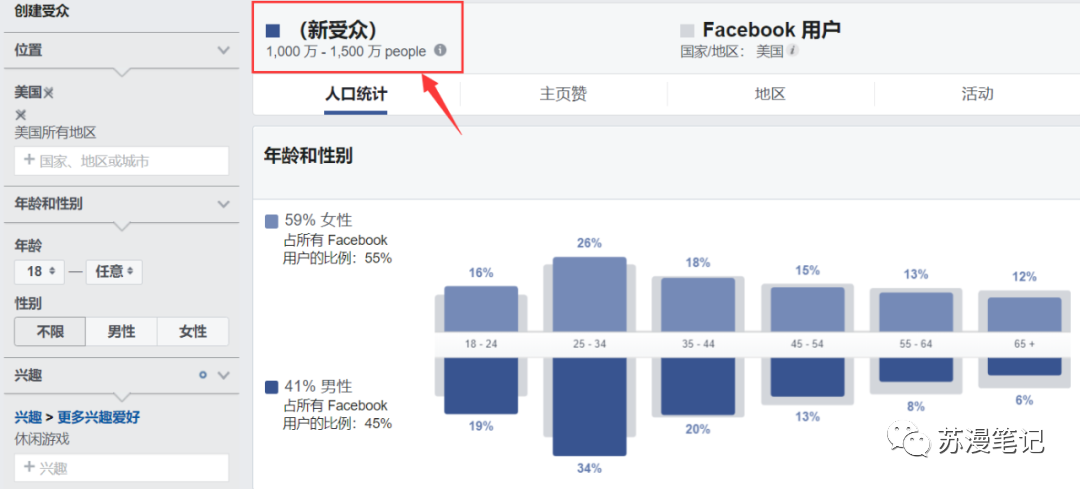 Audience range: between 10 and 15 million (over 18 years old)
Percentage of men and women: 59 per cent female and 41 per cent male
Age distribution: mainly between 18-44 years old, especially 25-34 years old accounted for the largest proportion
According to Facebook's self-reported information, users may be engaged in an industry: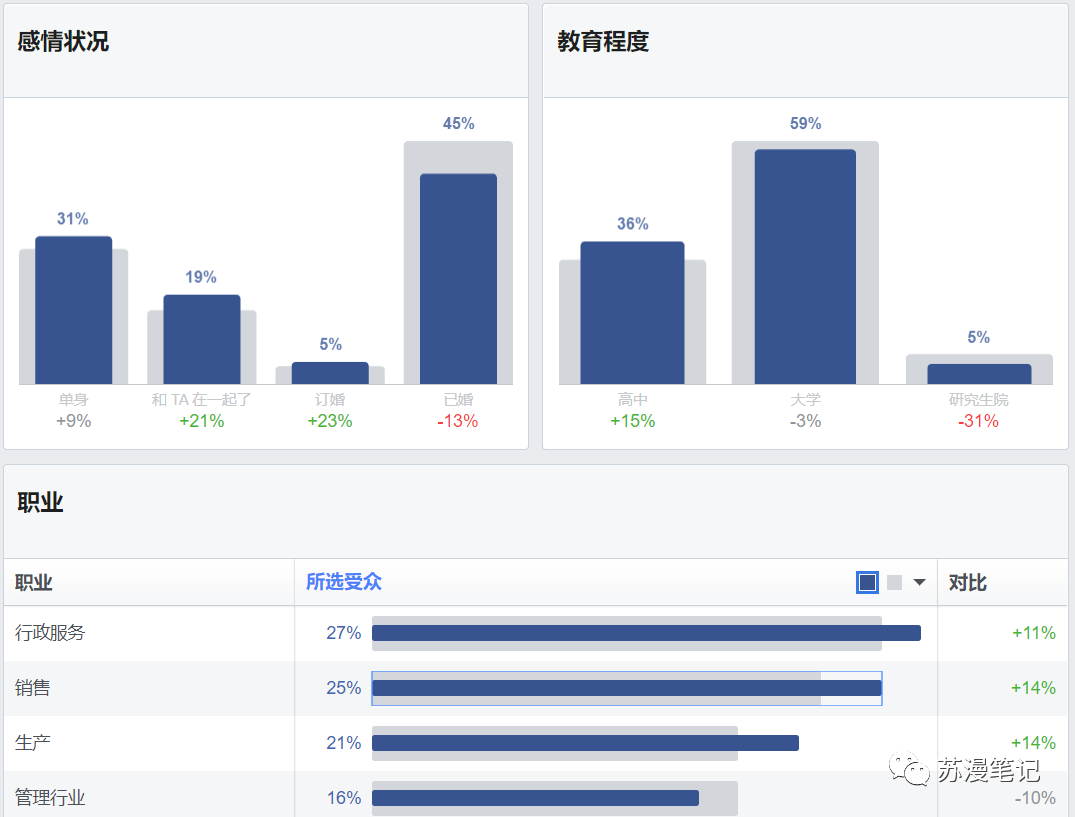 Education level: high school, university-based
Occupation: more engaged in services, sales-oriented
Next click "Page Like" to see what type of post your potential users are interested in, we can click on the button on the left to pinpoint: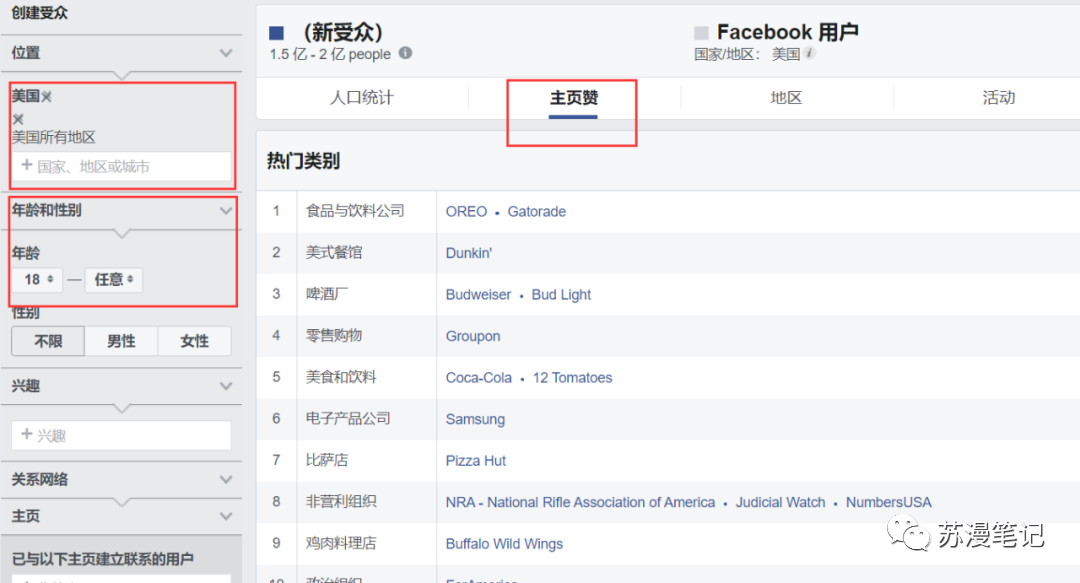 Find pages that might be relevant to your audience, based on how people like Facebook Pages.We can see the user pair living in the United StatesFood and beverage companies, gourmet restaurants, breweries and other likesHigh, everyone has a high interest in food.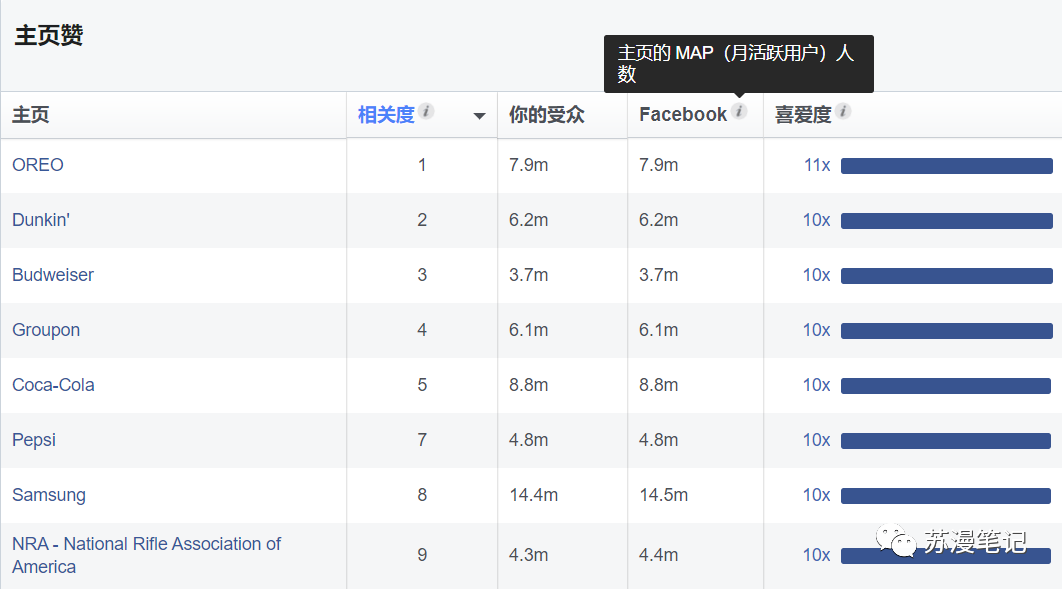 Next, let's look at the regional distribution of these potential users and click the Region button to see the major cities where your audience is located: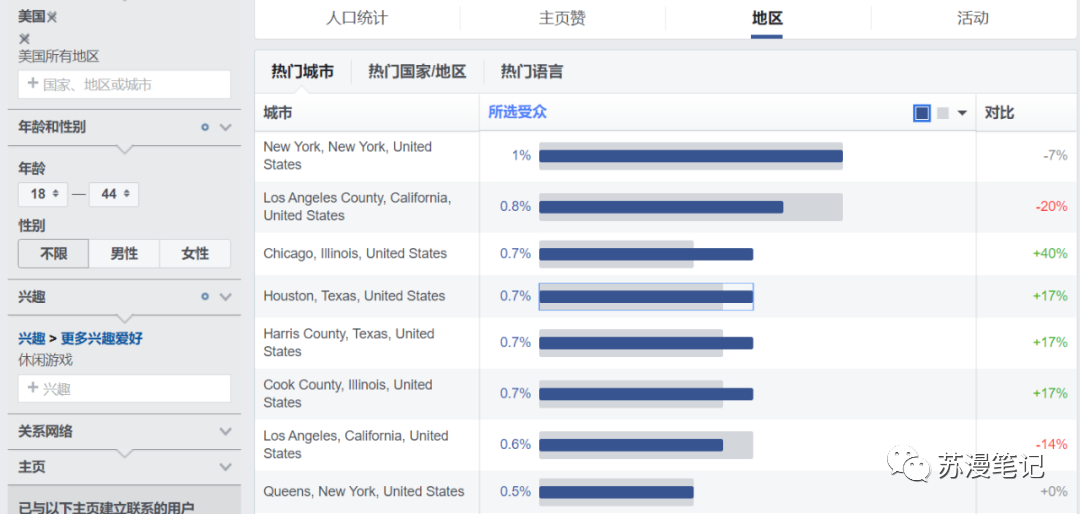 Click the "Top Languages" button to see your audience's primary city and the popular language you're using, which is necessary to narrow your audience in the future, and we've set up major regional cities and popular languages to deliver it to target a more accurate audience.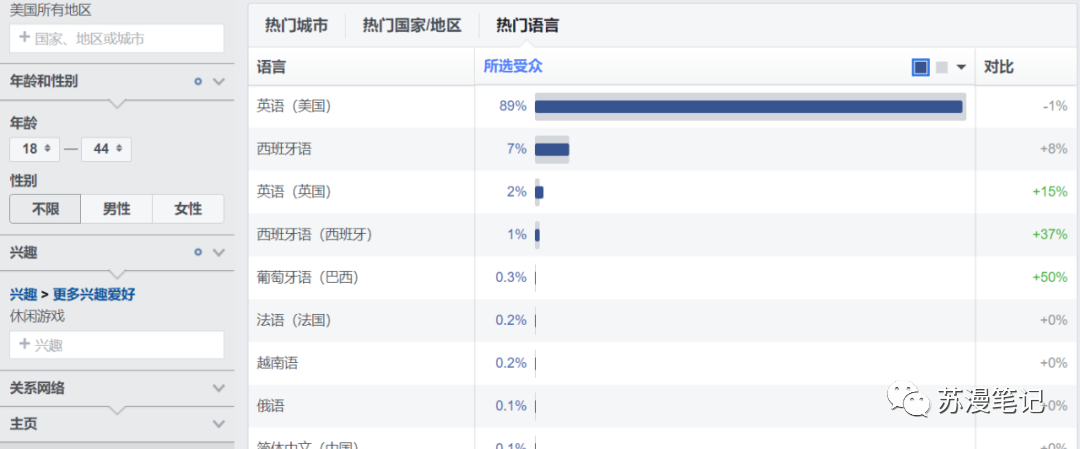 Next, we can click the Activity button to see some of the behavior of potential users on Facebook and how many times Facebook does the following:

Where blue indicates the Facebook audience you choose, gray indicates a comparison of all Facebook users' activities on Facebook, and we can clearly see that the range of 18-34 options on Facebook is much higher than other users' activities, relatively active, willing to participate in some Facebook activities, comments, retweets, etc.
In the past 30 days, the percentage of users using different devices when visiting Facebook is based on user activity and environmental data: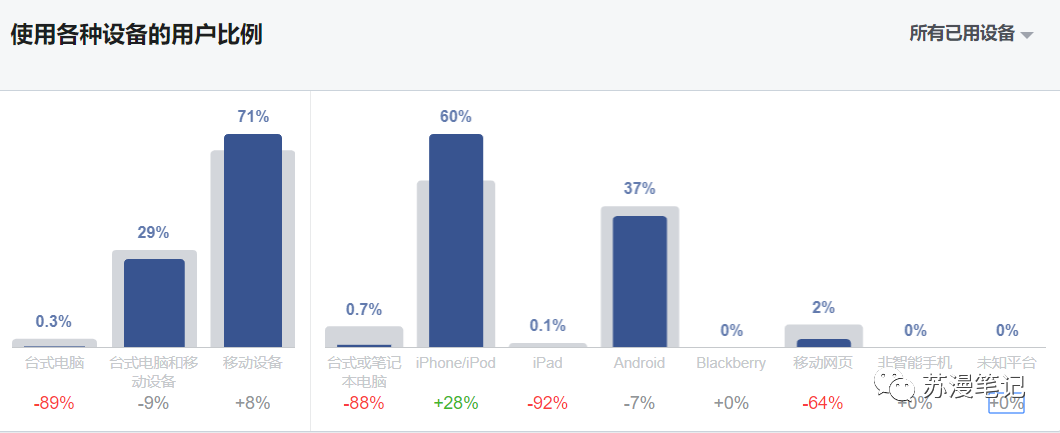 When selecting your audience's interests, we can enter keywords for system matching, or we can choose from categories that have been set up in the interests column.
We can add more keywords to match your audience exactly, or we can create several different groups of audiences to do audience comparison tests to get the exact audience for your product.
Once your audience analysis is set up, we can click the Save button to use the saved user the next time we set up your ad run, or we can create an ad directly and put it into your ad.
You can also click on advanced options to accurately match your product audience, such as emotional situation, life chronicles, upcoming birthdays and so on can be targeting, but also targeting users to log in with the mobile device and so on.
Marketing thinking
Paper planning
Have any questions or ideas,Welcome to leave a message belowCommunication.
---