AD-Created . . Embrace social advertising, Mingyuan cloud customers to achieve 100% re-investment rate

Real estate and social advertising? It's far more "right" than you think! Unlike the marketing of goods such as fast-disappearing, how can real estate marketing show the charm and dividends brought about by social and Internet to the major brands? This issue of AD- and about created by Mingyuan Yun guest e-commerce Co. , Ltd. Chairman and CEO Yao Wu, with you to share how to create real estate advertising 100% re-investment rate of the industry performance!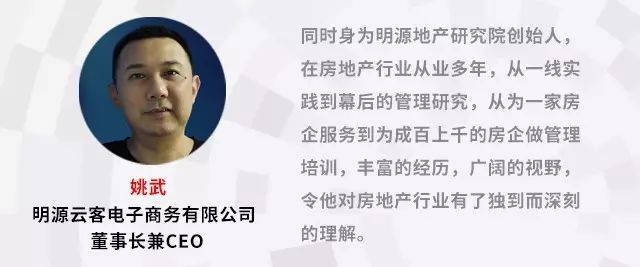 Change, starting with your delivery habits

Tencent Social Advertising: Social advertising in the real estate industry, what do you think is the biggest change?
Yao total:The first is that advertising habits in the real estate industry will change.In the past, the real estate industry was mainly placed on television, newspapers and other traditional media, and in the future will be more on new media, because it can track the effect, and targeted people will be more accurate.So what we're seeing is a big change in the marketing cost structure of the whole real estate, which is the biggest change.

In addition to the whole real estatethe marketing model will also change. In the past, our launches were funnel-shaped: first a city, then a shrinking crowd of interested people, and finally to a deal's customers.
The future is more to find a number of customers who have been traded or interested in customers, and then continue to spread out to similar groups of people, and then finequasi-delivery, formationThis funnel model of this inverted pyramid. So social advertising will certainly make the entire real estate industry's delivery habits, delivery methods, including the guidance of future marketing work, have made some changes.
Mingyuan Cloud Customers is China's real estate industry-leading mobile Internet integrated service platform, committed to providing developers with a set of Internet-based, big data-based social marketing ecosystem, with the industry's largest database. He is currently a service provider for Tencent's social advertising real estate industry.

The perspective → amplify → reach and form a closed-loop methodology

Tencent Social Advertising: As a pioneer in real estate marketing, has there been a summary of some operational strategies?
Yao:In fact, this is our most important cooperation with Tencent. Because we also have our own big data platform, called "Cloud Hawkeye", that is, the customer has been traded as a group perspective. Our whole methodology is this:
First of all, when a real estate company gets a piece of land, what kind of house is to be built on this land, such as just need, or luxury, or tourist housing, it will have a portrait of the customer behind it, including buying habits, family structure and so on. But these are traditional tags, do not know what the relationship between the Internet and it is, so here is a crowd perspective, dialysis, these labels are interpreted as online tags, that is what we are doing.
We have more than 200 tags, Tencent has more tags, we are now developing some products to match our and Tencent's tags, then we can find the target population through Lookalike, relationship chain amplification and other technologies.
The third step is to reach them, after locking up a larger crowd. The key to reach is: the right time, the right content. If the right person sees an ad, it's not an ad, it's called valuable information. This is Tencent's point of view, and it is very much in line with our theory. When we know what this group of visitors are interested in, using the right force in the design and creativity of the paper will increase our reach even higher.
Finally, a closed loop is formed. When I've advertised, someone's been touched, and I've been involved in interactions, we'll leave clues by asking them to leave phone numbers, card certificates and the like. Through these clues, we will advertise after the user is interested, there is no room to see, see if there is a deal after the process is tracked, the production of the hot attempts of the visiting crowd, the hot end of the transaction crowd, and thenStack.Plus Tencent's social advertising engagement crowd is eager. Three onesStack.Plus we can really know the whole customer portrait changes on the Internet, this will also be the whole real estate marketing breakthrough changes, is a better weapon.

So we're mainly in these four pieces, which is to form a closed-loop trace. From the early perspective to amplification, then to the touch, and finally to the closed loop, this is our standard theory, and now with the social advertising department is developing such a closed-loop product.

Empowering power: from 0 experience to 100% re-investment rate

Tencent social advertising: Mingyuan cloud customers from the Internet advertising sales business 0 experience, to 100% re-investment rate, how to complete the "counter-attack"?
Yao:This cannot be separatedHelp from our entire regional and industry channel team,Including promotional program discussions, operational guidance and test support, optimization audits, etc., we are quickly familiar with Tencent's products and audit rules.
In the past a real estate company, cast a time not to vote, we have investigated, because the real estate investment has a strong concept of time, such as ten days before the opening must be cast, and then began to harvest, but we interviewed a lot of customers, began to audit more than ten times, after the audit has passed the node, and our audit is generally about three days, because with our pre-audit, after the audit pass rate will be much higher,At the same time, in the absence of non-compliance, we can also give customers some advice in advance,This is a very important piece.
At this point, Tencent's social advertising department has helped us a lot, we generally review are about 3 days, because we have pre-audit, this time the approval rate is much higher. I think this help is the biggest piece.

Then there's the product level. We're two big data docking, but we don't understand Tencent's data structure, our data model, so in this respect, we have almost weekly meetings and constantly test algorithms. Each time we launch, we design a pilot algorithm or a directional package in this package to measure its effect and then quickly improve it. I think it's mainly in the product and this level of support that helps us a lot.
There is this year's policy, this year's policy has also done some very good optimization, now more motivation, these pieces are to help us relatively large.
Tencent Social Advertising: What are your special expectations for the use of social advertising in real estate marketing in 2017?
Yao:In fact, we see a lot of real estate industry, in fact, do not understand this new media, even micro-signal how to use, or find a third-party agent, how to put is not yet known, so there is a nurturing process. So we see that social advertising now accounts for only three-tenths of the total marketing, I think next year can double, that is, double every year, to the last three years ten times, I estimate it needs to have such a growth process.

Big data accurately depicts and locks in the right people

Tencent Social Advertising: Big data can be said to be a great weapon in social advertising, is there any case to use it to achieve significant results can be shared with us?
Yao:I'm here to give an example of a Hainan property. Hainan belongs to the tourist plate, the tourist plate is the most difficult, because it is not just needed housing, can lock in the scope of the purchase crowd, it is the whole of China more than a billion users can buy, in hundreds of millions of users to find your customers is very difficult.
When they first launched, they didn't deliver based on the recommendations of our Big Data Perspective, and they chose the wrong delivery areas, which, sure enough, had a fairly low rate of interaction after launch.The second timeAccording to the customer portrait we gave to do the re-cast, the effect is several times better, so I think this use of big data delivery mode is very effective.

Big data can quickly help us target potential customers, and we even suggest that when the crowd is small, we can advertise to these potential customers a few more times, because we think that when a person he sees your ads when he's on TV, opens your ads that his circle of friends sees, and his friends are sending this ads, that's going to speed up the deal. That is to say, the circle of friends advertising is not only the real estate enterprises to find the way to buy people, followed by the consumer circle of friends and relatives who have bought a house will also play the role of "experts", affecting his purchase decisions.
So we were to the real estate company to develop a plan is a long warm-up period before the opening, and then open those days very intensive delivery, and then to the direct sales area, generally to cover three people, three times covered, the transaction speed will be very fast. So we're going to combine big data with point in time, with people, with content, which is very much in keeping with Tencent's concept of "useful information."
Talk and laugh there is a big curry, exchanges are master. More exciting content in the "AD-Plus" !

Click on the image below to see more of the creation

How does the three-fold increase in sales of AD-Plus come about? Zhuangchen told you!
"How to play social and e-commerce through the full closed loop link, Erico, Qi Qi have ideas!"

AD-Created . . Play around with social platforms and e-commerce, bosses e-commerce beach social new dividends
"The boss of electrical brand general manager Ye Danxuan and Ruilu communication founder Zhang Jiming experience talk!"

AD-Created . . Mushroom Street talks about double 11 marketing social and e-commerce real-life
"Mushroom Street uses social advertising to enhance brand rendering and sales conversion."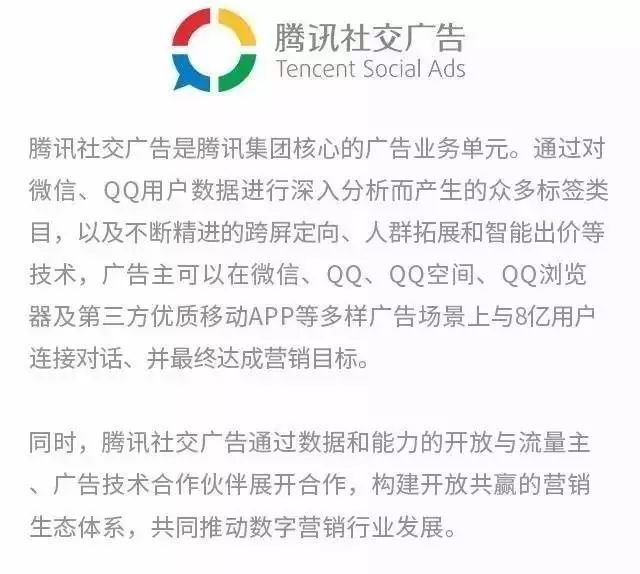 ---