【Economist】Microblogging: Weibo woes
Chinese guide

Weibo, known as the Chinese version of Twitter, does function like Twitter and, like Twitter, relies heavily on advertising revenue. However, while the outbreak has hit hard and weibo advertising revenue has fallen, it has also faced challenges from giant byte-beating and other Internet stars. In order to be able to meet the tide of the times, micro-blogs continue to come up with new, such as live broadcast, oasis, question and answer, etc., to attract advertisers. However, Weibo, which has been facing a number of crises since 2018, continues to see revenues fall.
No light at the end of the tunnel for China's answer to Twitter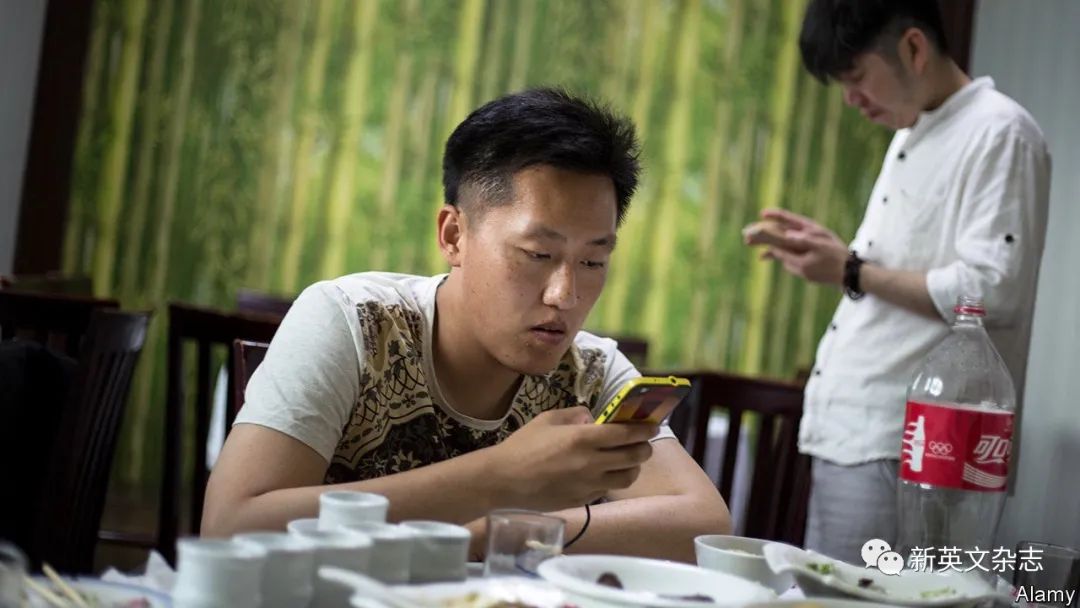 THREE YEARS after Twitter launched in 2006, Chinese techies created a similar microblogging service in China. Weibo (literally "microblog" in Chinese) boasted an average of 241m daily active users in March, more than Twitter. Like its American cousin, Weibo allows users to follow other users, tweet, retweet and browse a real-time list of trending topics. And like Twitter, it relies heavily on advertising revenue.
So as coronavirus-induced uncertainty led advertisers to slash budgets, Weibo saw advertising revenue, which accounts for nearly 90% of sales, plunge. In the first quarter it fell by a fifth year on year, to $275m. Operating profit plummeted by more than half, to $58m. Delayed second-quarter results, due on September 28th, may be less terrible. China was the first to be hit by covid-19 but began to recover just as the West went into lockdown.
But Weibo also confronts a longer-term challenge. Yujun Shao of Westwin, a Shanghai-based digital-marketing firm, notes that for much of the past decade two firms—Weibo and Tencent (which owns WeChat, a messaging service)—sucked in the vast majority of advertising spending on Chinese social media. Today the "big two" are competing for ad yuan with another behemoth, ByteDance, which operates Douyin, an addictive short-video app (as well as TikTok, its global version). Other rising internet stars, such as Pinduoduo, which offers bargain shopping, are also muscling in on the advertising market.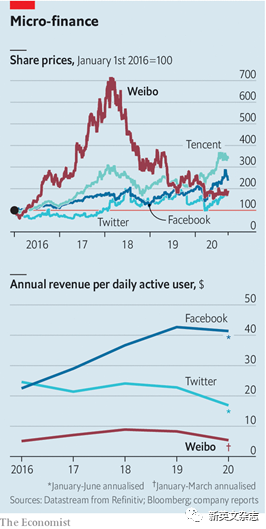 Weibo already boasts more than half a billion registered users in China. But user growth has slowed. To keep advertisers on board, Weibo must therefore boost user engagement. The company understands this. It already sports a richer array of functions than Twitter, for example a popular question-and-answer service in the mould of Quora. It is constantly adding new ones. In 2018 it acquired Yizhibo, in which people live-stream stand-up comedy, moonwalks and other acts for tips. Last year it launched a photo-sharing service akin to Instagram called Oasis. Still, Weibo's revenues per user have been declining since 2018, and its share price with them (see chart). That is one more feature it has in common with Twitter—but is the opposite of what you would expect from a platform with strong network effects, such as Facebook.  ■
——
Sep 26th 2020 • Business • 380 words
---
One study a day
2020/10/01
文章最后一段第四句话"It already sports a richer array of functions than Twitter, for example a popular question-and-answer service in the mould of Quora." 中的 
sports 
What's the explanation?
Note that the sport here is a verb that means "there is something to be proud of", synonym for boast, which is interpreted in English as To have as a public feature, such as a car sporting a new paint job. It's a newly painted car. Here's what it says, Weibo already has more features than Twitter, such as a popular Quora-like question-and-answer service.
(For more explanations, welcome to The New English Magazine.)•The EconomistReading training camp, down-to-earth to improve reading understanding ability, vocabulary of more than 8,000 to follow the school)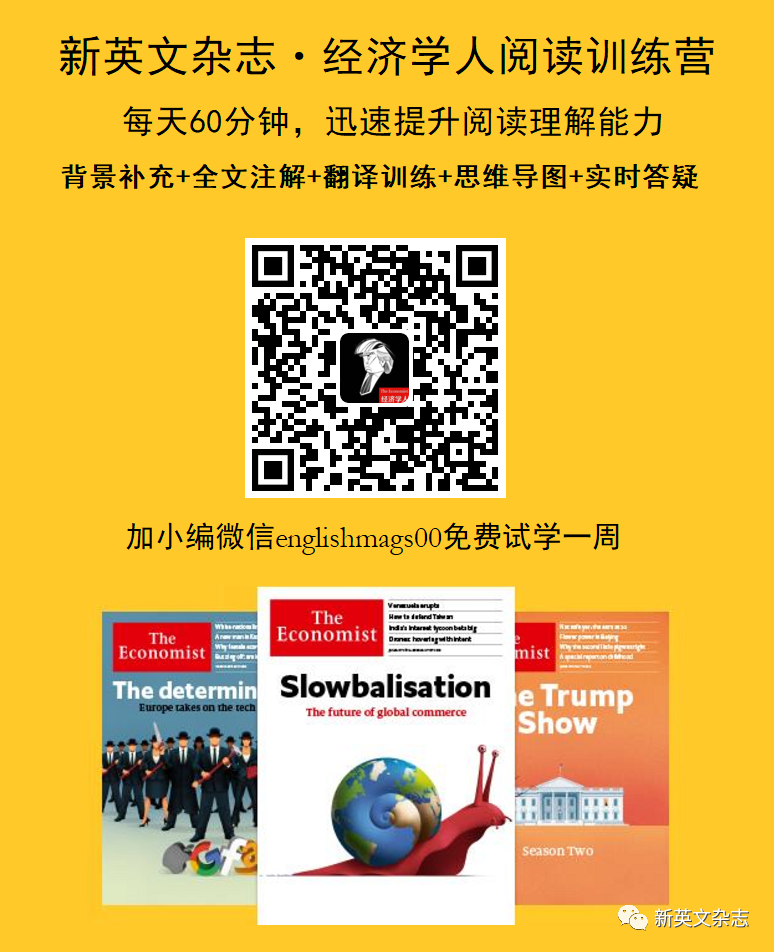 Statement:
This article is excerpted from The Economist/The Economist (Sep 26th, 2020) and is for personal learning communication purposes only. Welcome to the Circle of Friends.For business reprints, please indicate "This article is from the public number of the new English-language magazine" before the body.
©New English magazine
New English magazine
It's not just learning English
Sweep the code to follow us
Do you like today's content?
Just order one if you like.
I'm watching
"Well, let's go."
⇣⇣
---