Who made "Li Zixuan" and "Grandpa Amu" youTube red?
The following articles are derived from the poison tweezer , the author's poison editor's department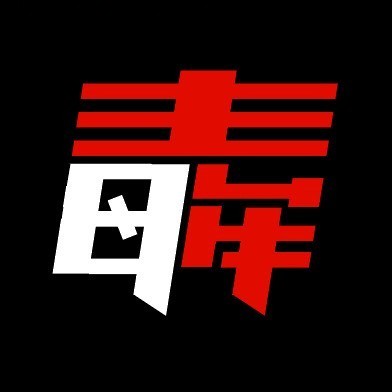 Poison
See through the entertainment, die the truth
This article was reproduced from the public number: Poison
(ID:DomoreDumou)
Text . . Fu Qiongjun
Edit the . . Jiang Yuxuan

"The poison tongue movie has been updated in the pipeline?"
Recently, there are readers toPoison (WeChat ID: Domore Dumou)A screenshot showing the Poison Tongue Movie Channel has 846 subscribers on YouTube, the latest of which was released a day ago and keeps a high frequency of updates. However, after consulting with colleagues in the relevant business, the company has not yet opened up overseas operations, the account video is pirated handling, the company's legal department has begun to deal with the matter.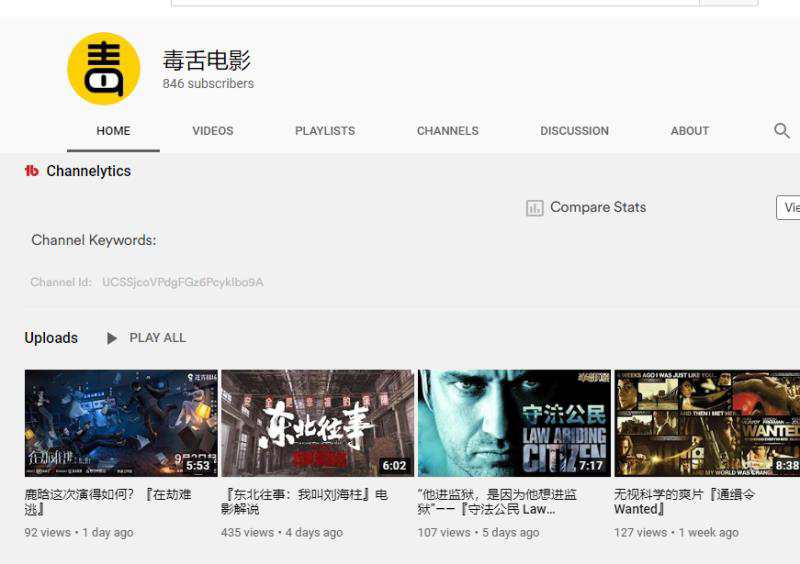 But also after this toss, poison found that the original Chinese movie commentary, pull video, on YouTube has long been a popular category, many domestic video platforms such as movie commentary category large, such as "Yugo said movies", "small films say blockbusters" and so on in YouTube have accounts, and have a good number of fans and attention.
Unlike drug-tongued movie content, which is illegally handled, these accounts are essentially entrusted with specialized operations. Many creators have told the drug lord that their original intention of "going out to sea" is similar to the "encounter" of the poison tongue movie, "hard original videos are being moved to YouTube, we have no income, why?" As a result, creators have commissioned professionals to begin to lay out their overseas operations.
After further understanding of the drug lord learned that in recent years in YouTube popular Li Zixuan, Grandpa Amu and other Chinese wind bloggers, but also by overseas operating agencies in operation. Acting operators often sign agreements with content creators to guarantee powder increases, content planning, and help creators distribute content, subtitle production, copyright confirmation, and even analyze background data to give creators feedback on content.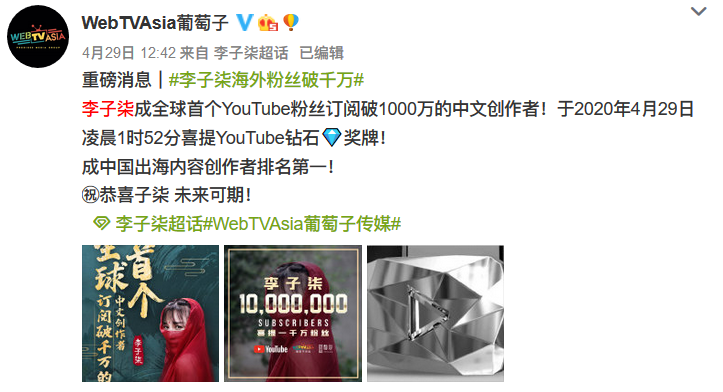 Mr. Li's overseas operations are grape media
From being forced to "go out to sea" to being proactive, YouTube is becoming a major expansion for many Chinese net-a-porters and KOLs, and "handling videos" are becoming a more professional, formal and common business.

"Going out to sea" starting with "pirate content"

Piracy is the beginning of a lot of Chinese video creators and YouTube.
As one of the world's largest video sharing and publishing platforms, the key to YouTube's ability to attract a large amount of premium content is its unique split model.
In 2007, YouTube officially launched its "Partner Project" and announced that it would share advertising revenue with people who upload videos - including pre- and post-post ads for videos, display of text ads, and marketing revenue after branding. Since only head channels are allowed to join at this stage, piracy has not become a relatively common phenomenon.
The turning point was in 2012. During the year, the Partner Project opened the entry threshold, allowing any creator to join freely. After the program was liberalized, the number of partners increased from 30,000 to millions in just a few months. In 2012, YouTube's CPM (cost per 1,000 ad views) was $9.35, according to the data. Based on this cost, a video that breaks 500,000 can reap about 29,000 yuan.
As a result, many people saw the business opportunity, set their sights on overseas Chinese and overseas students, and began to move some of the original domestic episodes, variety, UGC content to YouTube. According to the post at the time, the video for "Censorship" received at least 10 million hits on YouTube in 2012, with video porters earning hundreds of thousands of dollars in 2012 CPM calculations.
In the face of personal damage to the interests of the tv has become the first wave of "sea-going content creators." In 2011, Shanghai Oriental TV registered its account on YouTube, "SMG Shanghai TV Official Channel", which is the first of the big four. In 2012, Jiangsu Satellite TV also joined in, starting to update the content of the TV program on YouTube.

Compared with the powerful content, the legal team backed by the TV, in the face of pirated content, many domestic UGC video creators are also deeply disturbed by it but often at a loss. Dan, CEO of Little Five Technologies, told Poison that many of the country's creators were troubled by two problems at the time:I don't know how to solve some legal challenges, defend my rights, or have the idea of going into YouTube but don't know how to operate.
Against this backdrop, some people with experience in overseas video operations are starting to use studio mode to help creators plan on YouTube. Soon, the first group of crab-eating creators found that this can not only increase advertising revenue, but also to ensure that their content will not be pirated to carry, can be said to be a lot. Then the model has been more and more practitioners recognized, "regular army" also officially on the stage.
In 2015, the parent company officially registered Grapes (Beijing) Culture Media Co., Ltd. in Malaysia, becoming the first company in China to operate as a creator. By the beginning of this year, Grape Media had signed nearly 600 channels in China, including "Li Zixuan", "One", "Yu Factory Director" and other head IP.
At the same time, YouTube also cracked down on piracy by publishing content recognition systems, pulling up the revenue threshold for creators (two conditions need to be met to add ads to the video: 1,000 followers, and the total length of time the video was viewed reached 4,000 hours), making many content-based accounts lose their chance to make a profit.
The first Chinese networks to be popular on YouTube have appeared under the co-action of Tianli.
In February 2017, The Office Ono's fourth video, "Water dispenser cooking hot pot," became popular on YouTube, where it quickly became a hot topic on YouTube with "creative cooking" such as knitted instant noodles, hot-burner steamed buns, electric drill marshmallows and other brain holes. YouTube officials have certified Ono, who was one of the fastest-growing fans of Chinese-created content that year.

Ono now has 9.31 million followers
As an excellent representative of "Going out to sea", China Daily published an exclusive interview with Ono, the BBC, the New York Times, Discovery and other overseas media and programs are also following her. In September 2017, she was also invited to the YouTube FANFEST Chinese mainland as the only invited guest.
Although Office Ono did not sign up for an overseas agency, and the YouTube channel was under the full responsibility of its company Onion Video, the first two years were until they joined Dan's overseas MCN agency to safeguard the growth of their channel.
The success of Office Ono has allowed more people to see the imaginary space to operate overseas video platform accounts, so they have joined in. Dan joined Little Five Technologies in 2018, and several of the industry's most mainstream generation operators have been established around the same time.
In the early days of UGC content, gourmet content was the most important category, but as the number of people entering the market increased, the category gradually enriched. From the author of the small five technology contract, now covers including food, games, agriculture, handicrafts, traditional culture and other kinds. Especially after the lizi fire, many traditional culture combined with food to present the Chinese bloggers also began to become popular, such as doing traditional carpentry presented by the "Grandpa Amu."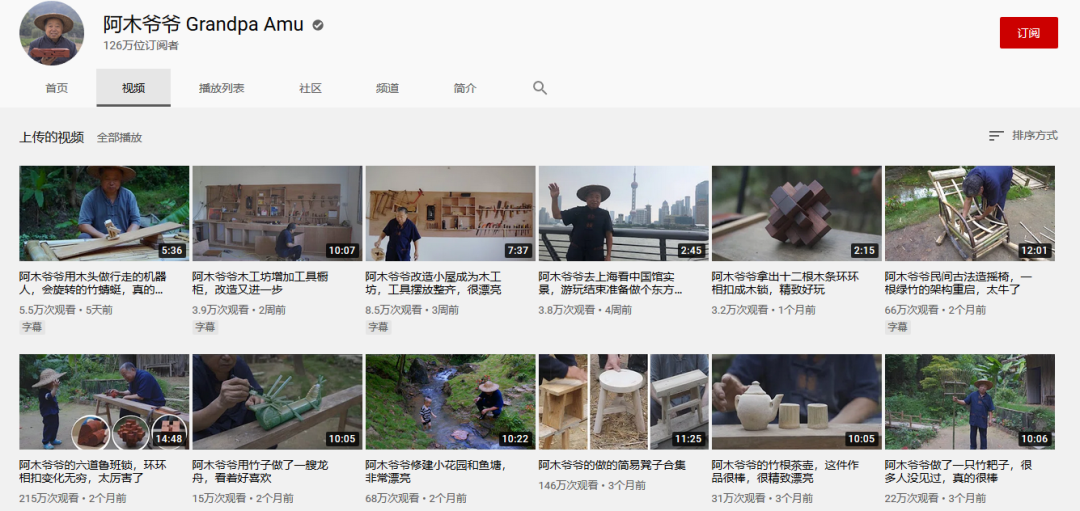 Grandpa Amu's tubing channel
Most of the time, in the "sea" matter, the acting operators are still a more proactive party, they will take the initiative to contact some of the authors they think have potential, active communication, to dispel concerns. Now in YouTube's fan base of 1.26 million, this year many times on the hot search, but also by the People's Daily, Xinhuanet, CCTV News and other media reports of Grandpa Amu, is the small five technology initiative to contact.
Amu's operator, Acheng, told The Associated Press that there were not many details in the initial agreement, and that the core content was simply to authorize Xiao Wu Technology to operate overseas for Amu's grandfather. And for both sides need to comply with some guidelines, as well as different stages of the powder rise, etc. , are later in the operation of the process of chatting. Small five technology will also help Grandpa Amu on the background data and operating conditions for a detailed analysis, "how to adjust the content length, title and so on, these small details they will not let go, give us a lot of help." "
"When the industry was not formalized in the early years, some agents would use poor information to hide some of their revenue, and only do pure handling of content, not analysis of content, and no advice." Asked about the general concerns of creators, Dan said. But as the number of people entering the market increases, so does the degree of specialization in the industry, and the more transparent the revenue figures become, giving many onlookers more confidence.
But it is too early to say that the industry has matured.
While some of the creators signed up by Little Five technologies have started to pick up some of the ads on YouTube starting in 2020, most creators' revenue models on YouTube are relatively single: mainly in terms of advertising revenue, while the rest, such as fan appreciation, brand or ad collaborations, e-commerce, live streaming and copyright revenue, are still in the exploratory stage.
"In YouTube, it's mainly about video playback to make money, in addition to video playback, there are ads, sales of our own products, and some live streams," he said. "How to make the current single income model more diversified is the focus of the current efforts of all players - and to get to this point, "breaking the circle" is the key.

It's easy to go out to sea, it's hard to break a circle

It has been five years since the "regular army" entered the country in 2015, when a large number of Parts of China's Internet Red "out" YouTube. In these five years, how many "out to sea" bloggers have really done "breaking the circle"? In Dan's view, this number may not be optimistic, and among the broken bloggers, there may be only two real phenomenon-level content creators, namely Office Ono and Li Zixuan.
But such content is unstoppable, and it is difficult to replicate it successfully.
Office Ono early began to lay out overseas markets, in just seven months its YouTube channel has reached 770,000 subscribers, a total of 77.41 million views, Facebook powder 3.5 million, to become the Greater China Facebook user number 4 blogger; In December, her supporters claimed that she was exporting Chinese culture on YouTube, a view that has also been stamped by several state media outlets.

Li Zixuan is on YouTube
Why is there such a limited number of Chinese bloggers who are actually breaking the circle?
It's about the audience. By the end of 2019, YouTube had more than 2 billion monthly users, but according to relevant media statistics, YouTube's real overseas Chinese users are only about 100 million, with fewer people with a background in Chinese life and who understand Chinese pop culture today. Therefore, in fact, such language-dependent video content as the pull film commentary, although more and more hot, widely praised by international students, the real ceiling is not high, even if there are subtitles, foreign audiences do not necessarily understand its deeper expression, the dissemination effect will be greatly reduced.
And Li Zixuan and others can become a rare lap breaker, the choice of food, a common language around the world is an important reason. The new list has reported on the idea behind The Grapes, the acting operator behind The LiZizi, that food is borderless, and that food videos often don't require too much subtitle translation to show the most authentic look of the food through the lens. At the same time, staff will be more targeted to do fine-tuning operations, such as the introduction of the text into multiple languages, to ensure that overseas audiences in different languages, different regions have an intuitive understanding of the content.
The attitude that creators embody in the content is also important. In the video, Li Zixuan builds a world-like life, while Office Ono is an attitude of having fun in everyday life."The most popular content overseas boils down to two things: one is chinese-only, like Li Zixuan's; the other is what the whole world is doing, but the creator can do better than anyone else."Julie, director of vine content, summed up the new list.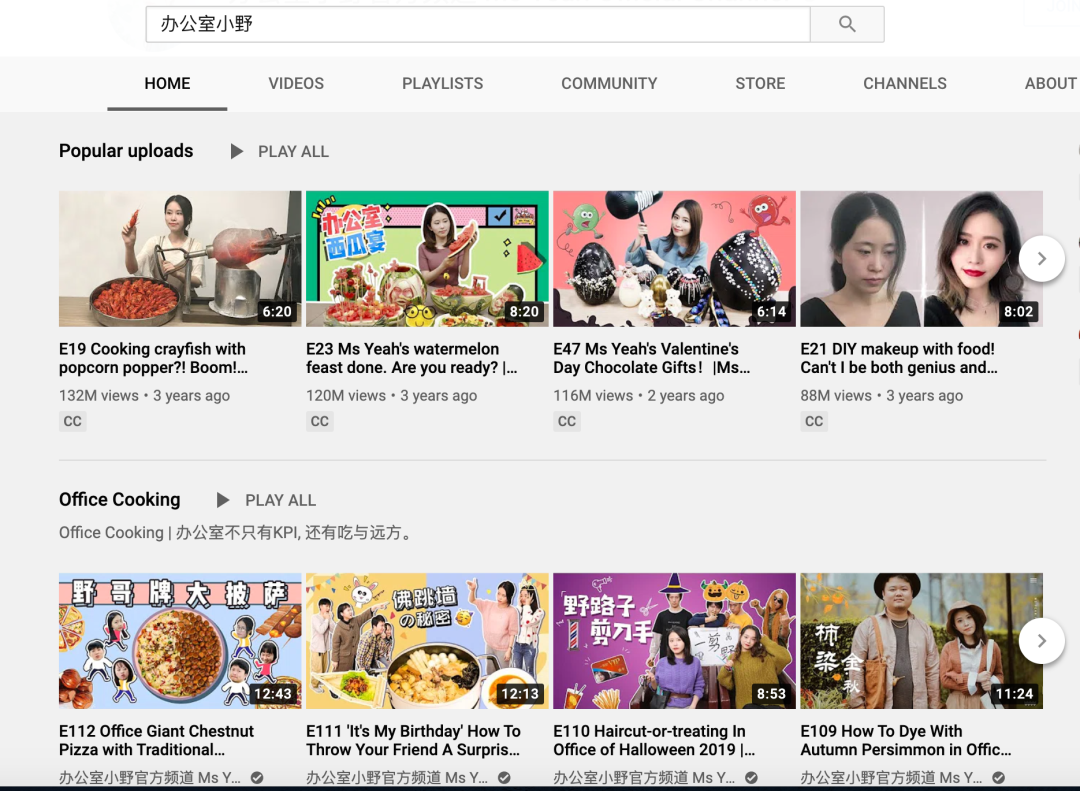 Office Ono on YouTube

So although more and more categories are now out to sea, but the real fire, the opportunity to become a phenomenon, or lizizi, office ono, this kind of food as an inflection, or there is a clear cultural label of the creators. So at this stage, breaking the circle has become the biggest pain point for many generations of operators, in Dan's view, the majority of creators' audience is still overseas Chinese, who can take the lead in fighting for overseas users outside of 100 million Chinese, who have a better chance of breaking through.
In this process, the advantage of Xiao Wu Technology is to work closely with the official. It is currently the only MCN in the Mainland to be listed as a YouTube provider, and therefore has more opportunities to communicate with the authorities and get more plans and resources. "In 2018 we started meeting with this thing, our operations, content writers and YouTube's official strategists every 1-2 months." Dan indicates.
Grandpa Amu's popularity in the pipeline is also inseparable from the official communication with YouTube. Grandpa Amu's earliest positioning was the local food channel, and later in Amu's operator and YouTube's official operations strategist, watermelon video operators jointly discussed before deciding to focus on the traditional image of carpentry based on personal IP.
Similar fine-tuning operations are also an important direction for many operators. Grape Media's senior overseas operations Zhao Yannan has introduced to the new list, she averages the number of key daily operations in about 20 accounts. This includes recording the daily channel management, including uploading video number, channel maintenance, cooperative communication, etc.
In addition to the regular download and upload work, such overseas operations in a day also responsible for the channel's fine operations such as modifying the title introduction, adding keywords, as well as fan interaction, copyright maintenance, cooperation communication and other work.
Although not every creator can become the head of the phenomenon level, but YouTube's stable income and year-on-year high user usage, so that overseas markets do give content entrepreneurs more choice and economic income support, so to help more small and medium-sized content creators go out to sea to cash out, improve the sustainable development of content entrepreneurship, has become the focus of similar institutions such as Small Five Technology.
But compared with many MCNs operating on domestic video platforms, limited by data samples, and so on, these overseas operators want to cross a lot of hurdles, so the battleground may not settle so quickly.
It is important to note, however, that it is not only YouTube and medium- and long-term video that see the potential of traffic in overseas markets, but also short video operators that specialize in TikTok. In recent years, along with TikTok's popularity overseas, many advertisers have also turned their attention to the field. In the eyes of MCN Whale, which has TikTok's overseas operations, TikTok is now making grass-belt goods, and TikTok's online value for money is actually higher than that of YouTube and Facebook.
On the one hand, TikTok is relatively cheap as a platform to capture the market on a large scale from 2019, and on the other hand, TikTok also has a large conversion rate. "Our million-fan TikTok account is often over 100 million, and a short video can bring in thousands of dollars for a GMV." Zi Hao, head of the whale-eating market, told The Poison.
Given that many advertisers will have relatively limited resources overseas, although not a true zero-peace game, the growth in one side's focus is bound to have an impact on the other's cash-in space. Although many creators can take into account both platforms, the content processing and output to different channels, but in the view of Zihao, the content creation logic of the two platforms is completely different.
This is evident on two points: in YouTube's recommendation mechanism, recommendations to bloggers are based on content categories, and overseas users can still swipe to Chinese bloggers, but in TikTok's recommendation mechanism, "Asian faces are hard to recommend if they want to be recommended by white People in Europe and the United States." Bloggers' unsealed videos may be more recommended than bloggers of different nationalities and races. Zihao told the drug lord.
In addition, TikTok's recommendation mechanism does not recommend content that has been on or on a jitter or other platform, compared to what domestic creators can upload on YouTube and domestic streaming platforms. This has forced some creators of multi-platform operations to make some trade-offs between TikTok and other platforms.
Zihao also revealed that TikTok's current algorithms in Europe have changed significantly, with higher demand for localized content creation and operations, so TikTok's generation operations are more focused on providing the brand with "TikTok Original Generation Operations". Whale EAT MCN has signed up many foreign anchors and is training overseas KOLs to create online red IP on social media such as TikTok, YouTube and Ins.
Because TikTok is currently able to bring a lot of exposure to the brand and translate into a certain number of orders, many cross-border e-commerce companies are willing to tilt here. Dan can feel the impact, too, but says he won't be doing TikTok for the time being, because TikTok's short videos are different from medium- and long-form videos like YouTube in terms of production and dissemination, and he and his team want to focus on what they're good at first.
The future of China's online red-out-of-the-sea war is fraught with variables.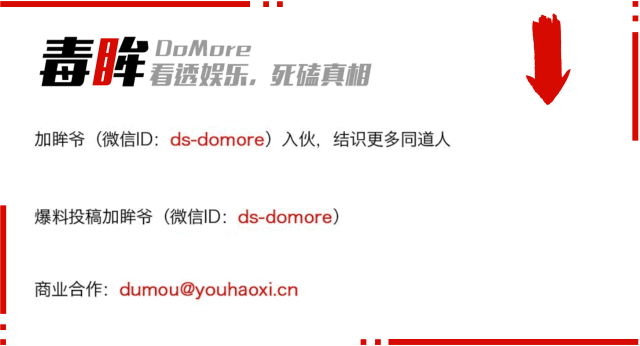 About / NetEase Creative / Public No

NetEase Creative Official Public Number, the first time to update NetEase Creative's content brand marketing dynamics, interpretation of the creative methodology behind the explosive works.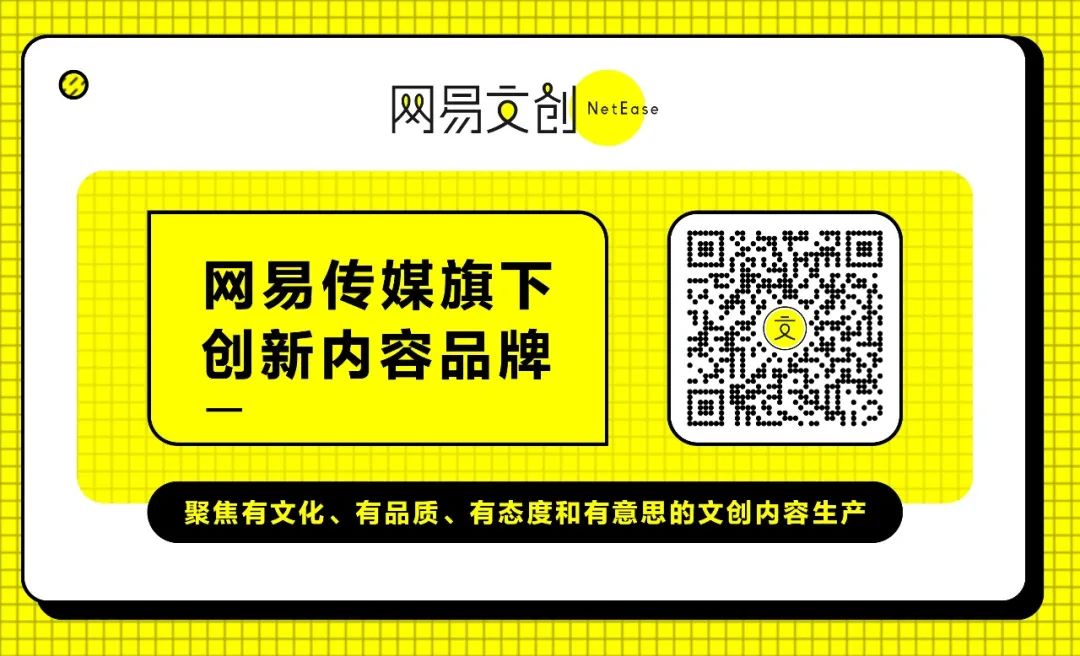 Click to read the original text
Learn about NetEase Creative
---