Under the Internet age, the market development of social advertising
Hunan - NingxiangWith Chengxin MediaAdvertising full-time operators
In the Internet era, 1 or 2 mobile phones per capita make the traffic market grow rapidly, and the social advertising market is on fire.
And social advertising means passingA wide range of tag categories resulting from in-depth analysis of various social APP user data, as well as technologies for cross-screen targeting, crowd outreach, and smart bidding,Help enterprises, merchants in the third-party high-quality mobile APP to achieve a variety of advertising scene interaction and hundreds of millions of users to create a connected dialogue, and ultimately achieve the goal of advertising marketing.
According to the "Advertising Industry Market Prospects and Investment Strategic Planning Analysis Report" released by the Forward-Looking Industry Research Institute, the overall size of China's advertising market grew from 79.489 billion yuan to 597.3 billion yuan between 2001 and 2015, with a compound annual growth rate of 14.32%.
It is initially expected that the scale of China's advertising market will continue to grow steadily in 2018, exceeding the 800 billion yuan mark.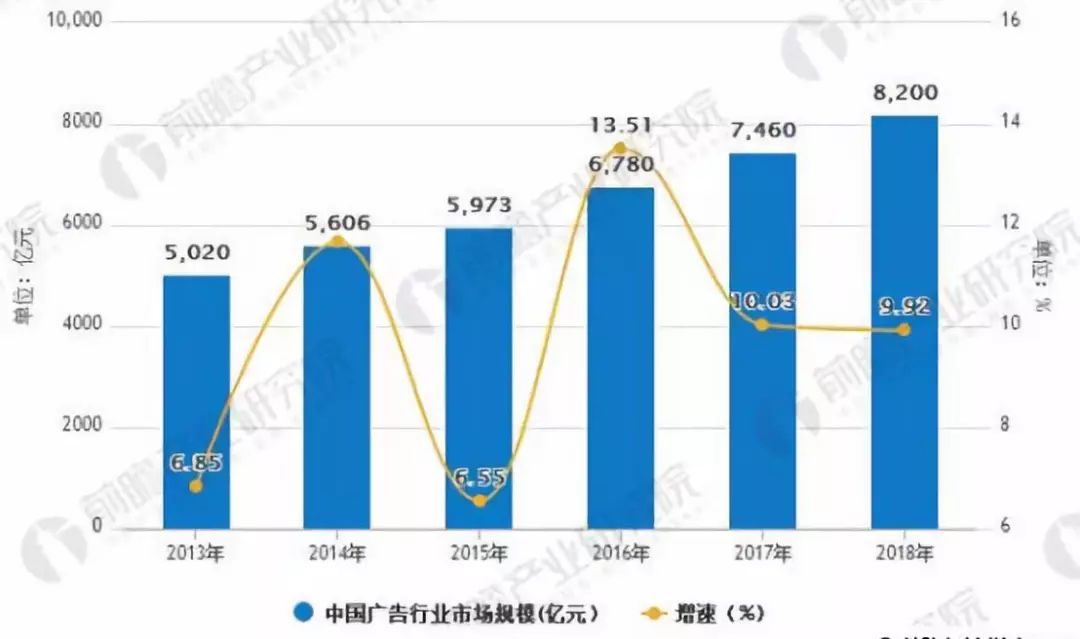 Source: Forward-Looking Industry Research Institute
And looking back at the history of online advertising:
The first stage is portal advertising, content control in the portal, push to the user's content thousands of people side, baseless;

The second stage is search ads, according to the order of key words, the key point lies in the user, the user search what to push what similar ads to him;

The third stage is the social age, through the user's mobile phone generated social data, background big data is responsible for pushing and matching social behavior of advertising, in order to achieve the cost of marketing, accurate advertising.
The rapid rise of jitters, small programs and short videos has brought huge traffic data to the market, while the realization of traffic data will also depend on social advertising, the development of social advertising market has a large gap.
Next, share itThe latest social media advertising market data and trend analysisto help you better understand the development of the advertising industry in the social age and develop future planning strategies.
● This year, the scale of online advertising revenue will reach502.25 billionNetwork marketing revenue will also continue to grow at a faster rate.
● This year, the size of the mobile advertising market will reach 369.84 billion yuan, a growth rate of 39.6%, the continuous iteration of technology will bring the mobile advertising market continued to grow at a high rate, mobile advertising will account for 73.6%.
● Social network advertising will reach a scale56.75 billion yuan, the growth rate of 50.9%, native information flow advertising, video advertising and other forms of evolution, social advertising to a high-speed development period.
Growth in delivery and advertising revenue
● In recent years, the size of small and medium-sized advertisers and the amount of money to grow rapidly, with the data, further improvement of delivery technology and small and medium-sized advertisers on the value of LBS mobile advertising, small and medium-sized advertisers are expected to continue to grow, to the advertising industry to bring new increments.

● Under the establishment of competitive advantage, with a huge user base and attention, superimposed continuous and perfect monecuration scenarios (games, live broadcasts, e-commerce, etc.) and technical capabilities (e.g. precision advertising ability), mainlySocial platforms have entered the golden age of monetization, and Tencent and Weibo advertising have maintained high-speed growth in advertising revenue in recent years, ad-by-ad user revenue continues to rise. 
● In 2018, the global advertising market looks seemingly stable, with advertising spendingThe annual rate of about 4% is growing steadilythis growth rate has been increasing since 2011.
● However, much of the advertising growth has come from large and large cities and has gone to large online platforms. The spread of digital technology has changed the way consumers discover and watch content, and the way brands communicate with consumers.
● Rapid change is put pressure on top marketers, who are less confident about the future than they were a year ago.
● 2017-2020,China and U.S. contribute 47% to new ad spendingThe top five countries (the US, China, Japan, the UK and Germany) will contribute 57%.
● In these countries, large cities, with young and high-income populations, promote global advertising by focusing on productivity, innovation and trade.
Comparison of market differences
● The U.S. and China will be the two largest markets for social media advertising.Social media advertising accounts for 20 percent of total digital advertising spending in the U.S. to $9.6 billion by 2017.
● Regionally, the average age of Chinese social media users is significantly lower than that of global social media. China's social media use still lags behind the world in terms of population penetration and diversity. 
● WeChat and Facebook focus on access to and interaction of personal life information, and on Weibo and Twitter, netizens are keen to discuss entertainment and social media.
● In 2017, television accounted for 37% of consumer media time, butInternet usage grew fastest, accounting for 31% of media time.
● Mobile Internet usage is growing rapidly, by 21% over the past two years, driving overall media time growth.
● Since 2014, five major network video platforms have accounted forThe share of online advertising spending increased from 67 per cent to 72 per cent.
These five aspects of the data, can roughly reflect this year's social media advertising market situation and future trends.
IM Smart Marketing CenterHas been committed to the first-line to build a marketing campaign to increase practical experience, at the same time, also use big data analysis to consolidate marketing theory guidance.
In the future, in the context of the increasingly rich use of artificial intelligence,IMWill strive for a leading position in the field of intelligent marketing.
PS:Some of the data references come from Ari.com and Plum.com.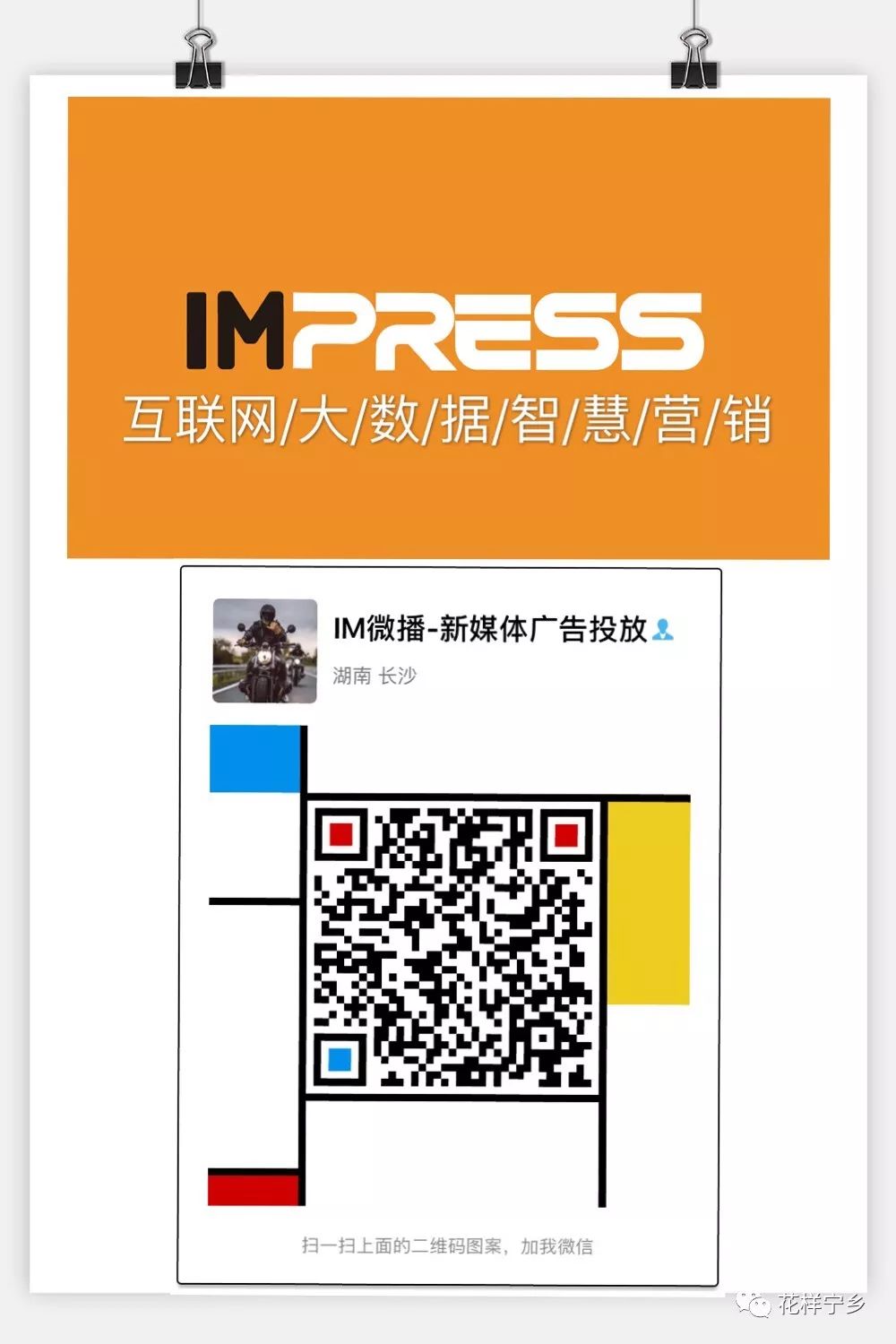 - IM Professional provider of new media advertising solutions -
---