Tiktok signed up for the second installment of the Nuggets
As mentioned in the question, Tiktok signed up for the second installment of the Nuggets.
This campaign we recruit300 people,200 places for UU vera studentsAt the same time, in order to give external small partners also have the opportunity to participate together, weOpen to the public for 100 places.
Registration deadline is 12 noon on Tuesday, June 16.
If you would like to register directly, please look directly at the fourth point, read the rules, and fill in the link to register.
— 1 —
TikTok user downloads
Every time a new platform appears, it will benefit a group of people who take the lead, so where are the new opportunities in 2020?
TikTok has been downloaded more than 2 billion times in Apple's APP Store and Google Play Store, according to market research firm Senser Tower.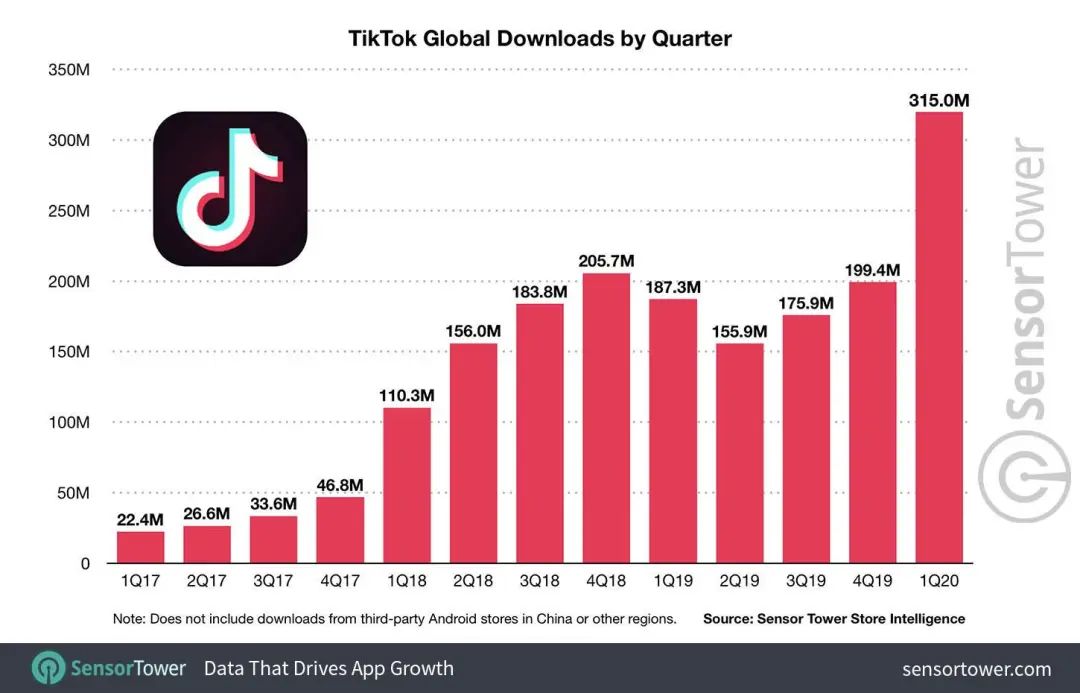 TikTok had more than 119 million downloads worldwide in May and revenue of more than $95.7 million in the month, the second-highest total for non-gaming APP downloads and revenue worldwide, according to the latest data on June 8.
Xiaobei teacher said that the list is a good display of the needs of human nature. The top part of every list must be the most just needed part of human nature, and there are huge opportunities.
— 2 —
Why TikTok?
it's a huge new opportunity
Why is the overseas version of TikTok a huge new opportunity?
Everyone knows that if you're in 2018, it's the first wave of crab eaters, and now TikTok is the equivalent of shaking two years ago.
If you register your account in advance and enjoy the bonus period, the powder will rise quickly.
TikTok is the overseas version of jitter, its function, play and interface and jitter is basically the same.
TikTok is likely to replicate the domestically verified way of cashing out. In November 2019, TikTok began testing the shopping cart feature in the U.S., allowing more than two dozen top content creators to add product links to short videos.
In addition to shopping cart window with goods, the way to cash out, but also through the account home page bio straight chain, directed to the independent station / express or Amazon e-commerce platform / alliance site to sell goods, or directed to Youtube, through advertising sharing cash, or directed to Instagram social account powder.
You can also create IP network red account, advertising or evaluation. Live rewards now, and future live streams.
It's not hard to imagine TikTok more than any other existing foreign social channel, such as Facebook, Instagram,There are more diversified cashing channels and broader prospects.
In order to seize this wave of dividend period, as soon as possible to explore the TikTok algorithm and rules, Xiaobei boss in the knowledge planet officially announced, "TikTok sea nuggets" registration began!
And invited in the TikTok field has a wealth of practical experience of the two sisters , Moning Rabbit and Xiaoyi as TikTok out-of-sea Nuggets project leader.
We also invited 100 students from Yulian Vera to participate in the event, which lasted 30 days to punch and log together.
— 3 —
Tik Tok edging out to train with the Nuggets
What are the results of the first phase of the battalion?


The results of the first issue of the previous Xiaobei Effect are as follows:
In the first training camp, a classmate had 250,000 fans in two weeks, and a single video reached more than a million.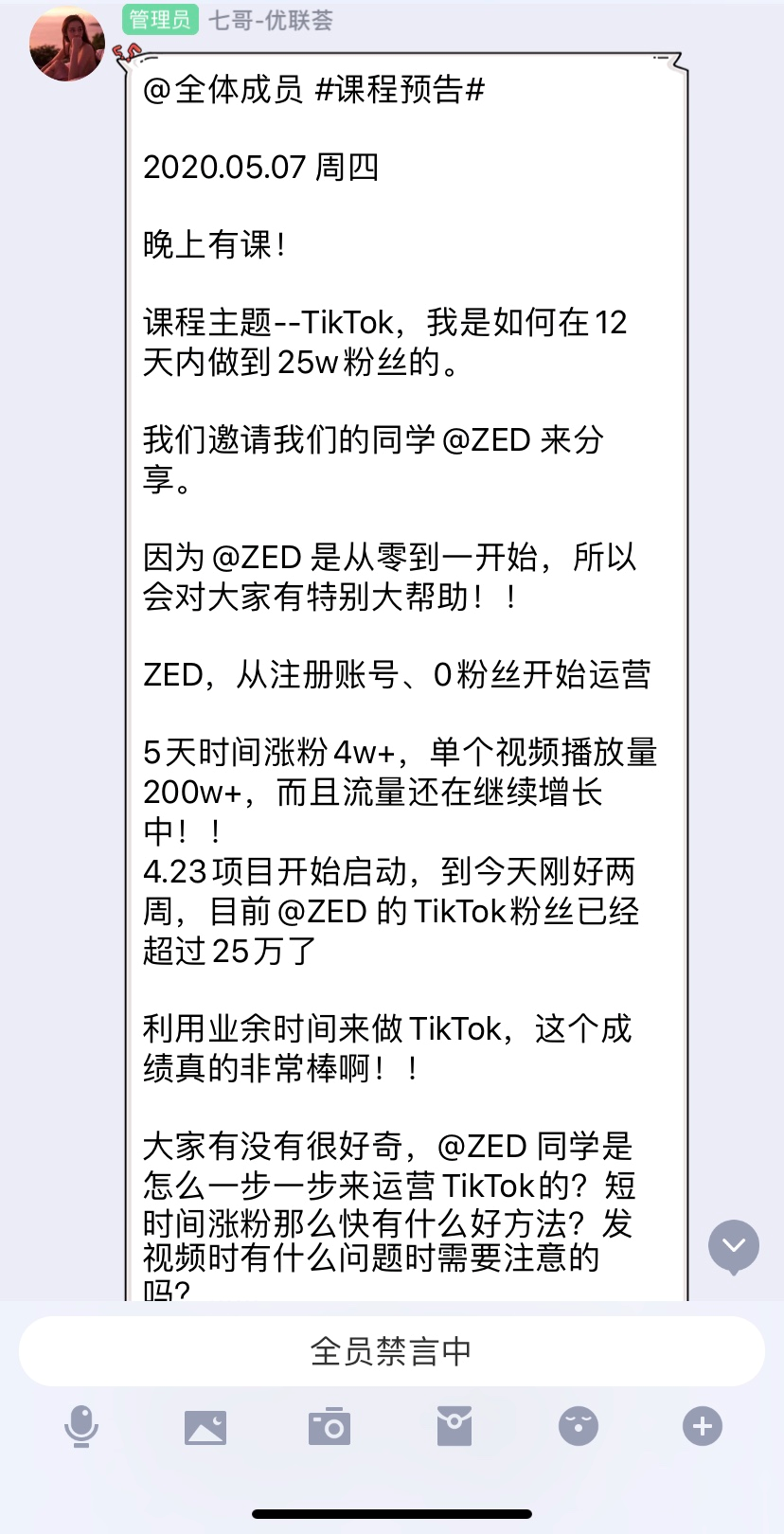 There are students, 5K fans can be cashed out, through the league to make money, out of 21 orders.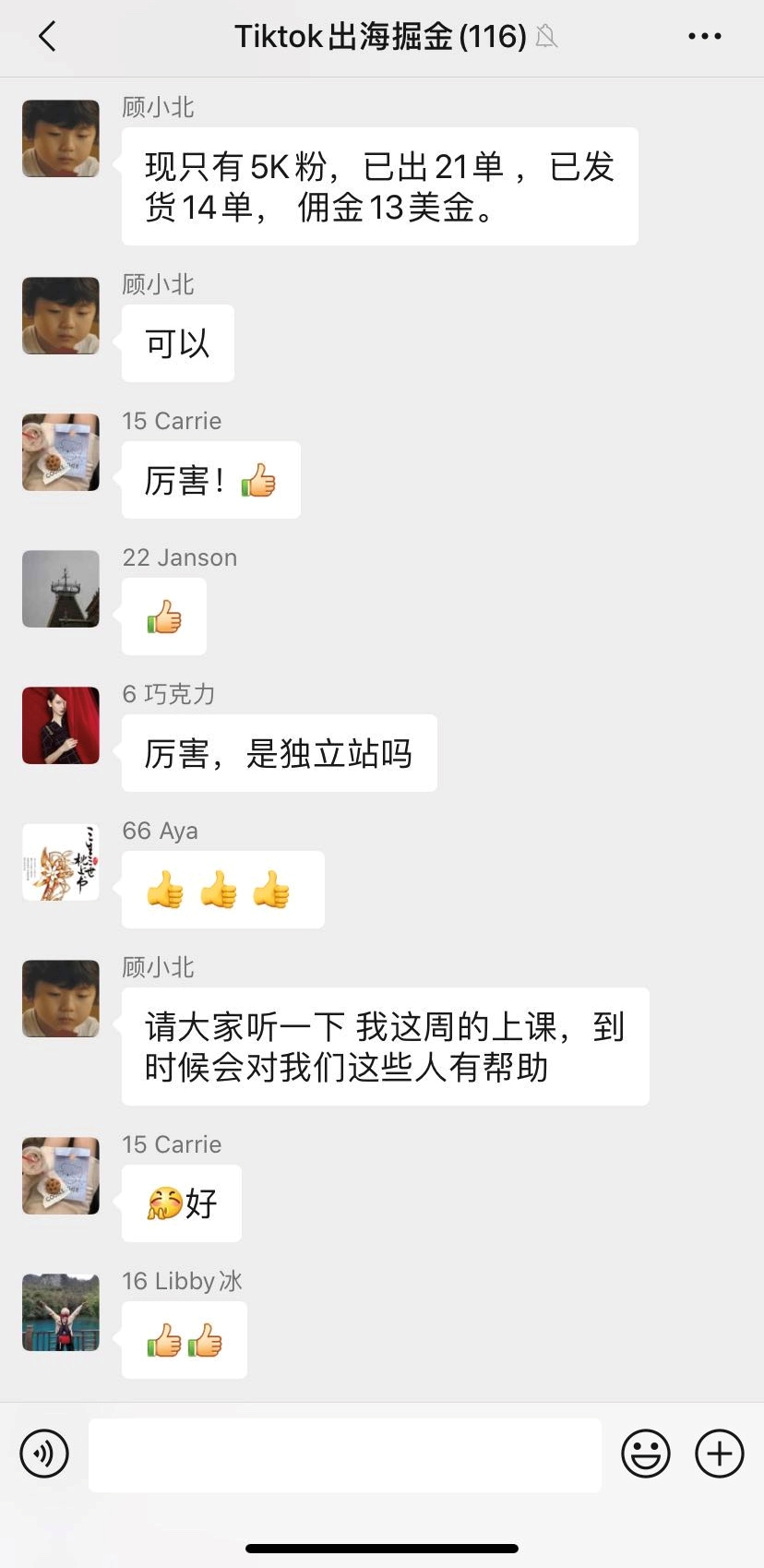 The quality and atmosphere of the training camp was well received by the participants. Feel full of energy, do not want to sleep every day. Students are unreservedly sharing and helping each other.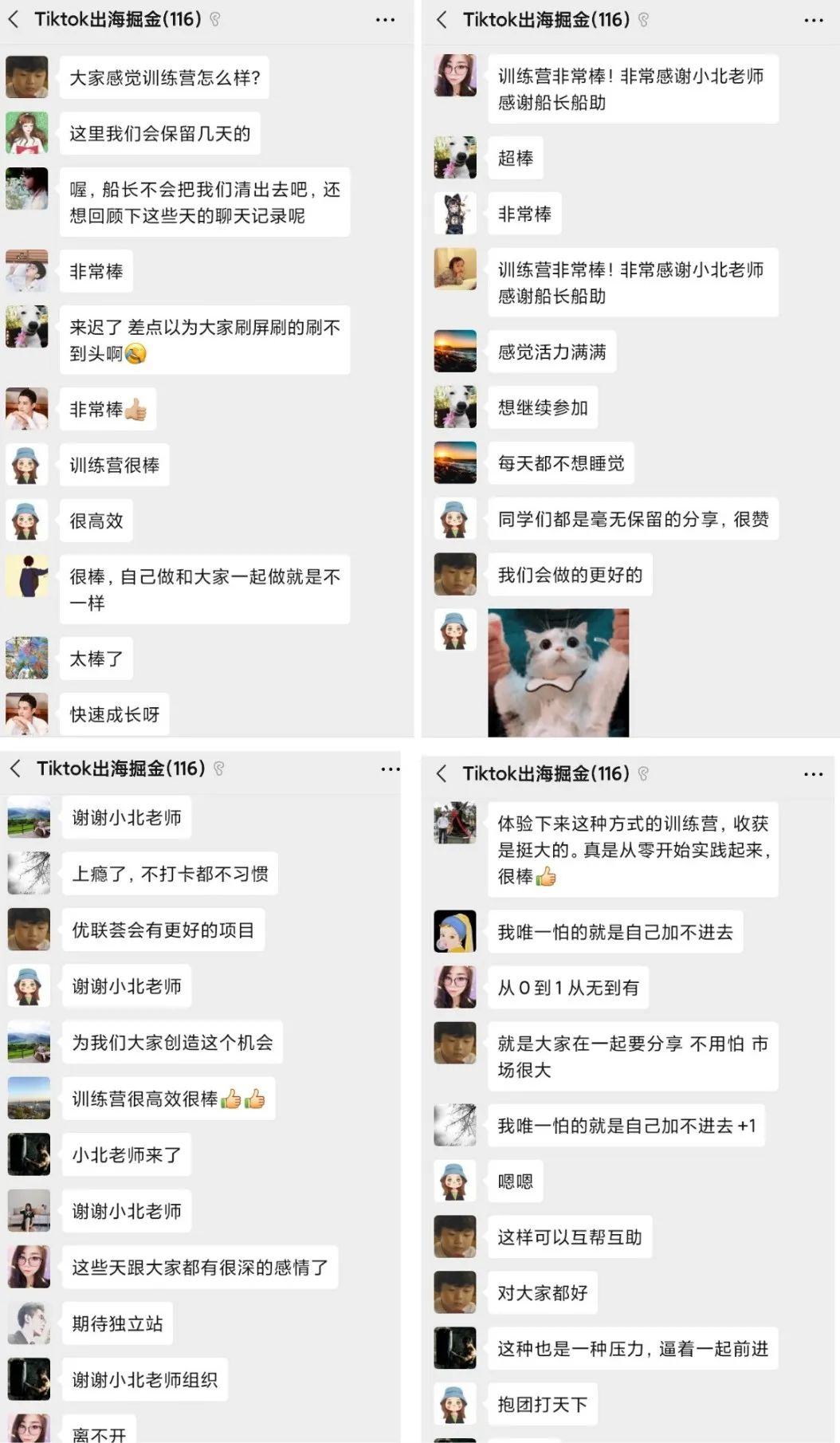 After the training camp, a classmate sent a message to Xiaobei teacher saying,Strong desire to drive, desire to be with good people。
At TikTok's Sea Nuggets training camp, his mentality and character have been greatly tested and enhanced, and he has tapped into his work potential. The classmate has his own brand and is ready to devote himself to the project.
Many students, after this study, practice, output and sharing, and constantly improve their knowledge system.
It is our greatest satisfaction to see the rapid growth of our students.
To that end, we launched the TikTok Sea Nuggets Training CampUpgradeAnd the same isThe Rabbit of MoningAnd.Small artWith the team, this time there will be more play, welcome interested small partners to participate.
— 4 —


Tik Tok es for the Nuggets training camp
The second phase of registration requirements
This campaign we recruit300 people,200 places for UU vera studentsAt the same time, in order to give external small partners also have the opportunity to participate together, weOpen to the public for 100 places。
300 people explore TikTok's game, share the process and document the experience.
If you would like to participate in this TikTok training camp, please fill out the form below, there is no guarantee that every small partner who fills out the form will be successfully admitted.If you meet the following criteria, you will be given priority admission:
1. Have experience or foundation in operating TikTok, write the number of fans;
2. There are TikTok accounts, and there are independent stations, shopify, express or Amazon stores, tested cash and profit;
3. Have network software technology and other skills;
4. Have experience in short video operations on other platforms, or understand video clips;
5. Strong execution, daily time and energy into TikTok operations, including daily selection of material, editing, video release, etc.
6. Love to share experiences and help other small partners grow together;
7. Willing to work with the team to arrange tasks and test with other small partners.
In order to ensure execution and the quality of the training camp, each participant is required to pay a 999 yuan deposit and complete the punching and log within 30 days.
If you complete the target of 10,000 fans with a 30-day punching mission, the 999 yuan security deposit will be returned. Students who don't complete the task don't return, but within a month, you gain 1 month of operational experience and a group of like-spirited friends.
Expect every little partner who signs up to take it seriously. If you confirm your participation, please fill out the registration form below:
http://helloamz520.mikecrm.com/qH6CHmd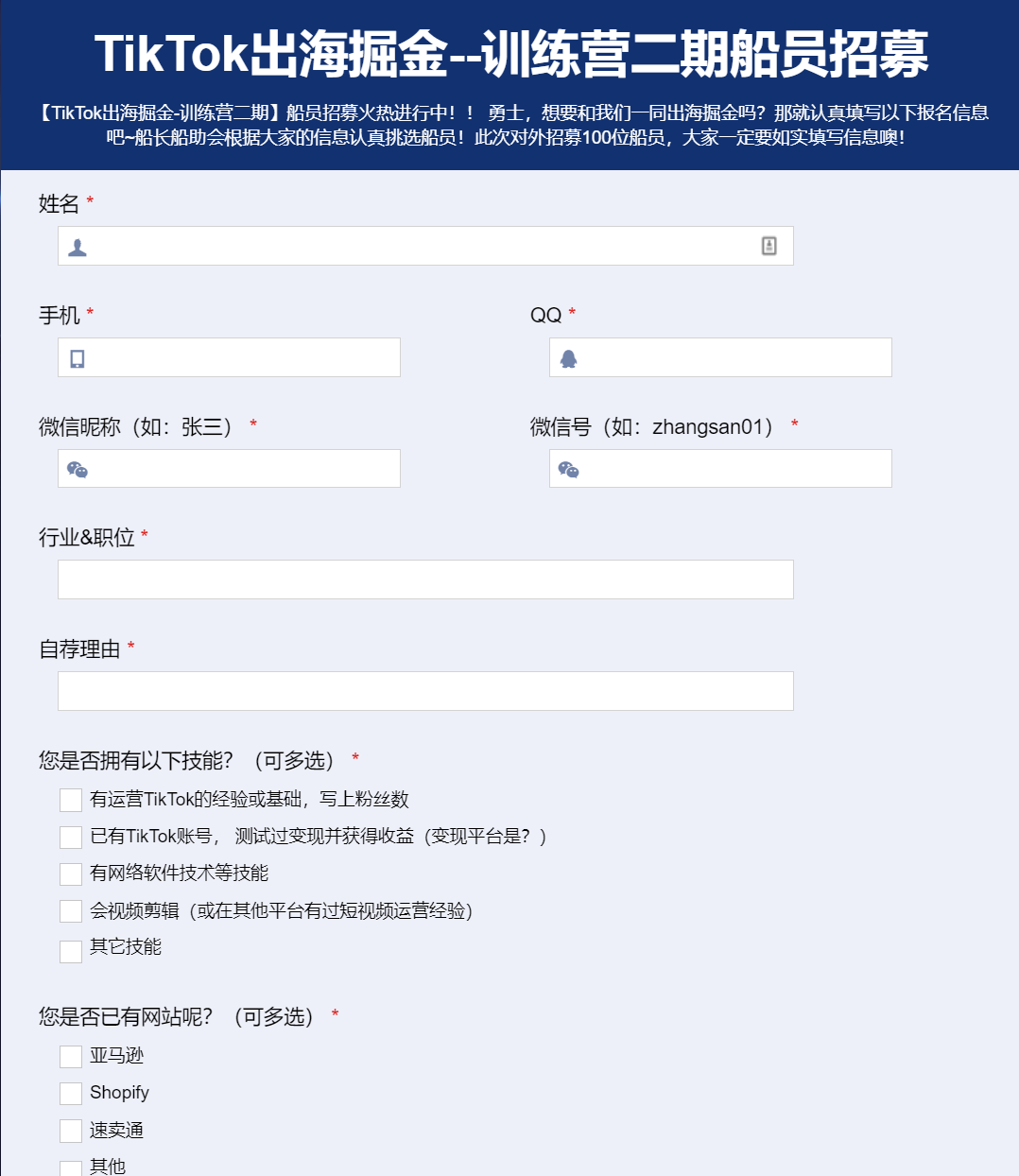 The filling deadline will close at 12 noon on Tuesday, June 16.
TikTok Sea Nuggets Training Camp Phase II Duration and Goals:
Time:June 20, 2020 - July 19, 2020
Goal:Each participant reached 10,000 followers
— 5 —


Take part in TikTok's Sea Nuggets training camp
What good can it do me?


First, when you go to TikTok's Sea Nuggets training camp, you learn not only how to run TikTok accounts and accumulate fans, but also, more importantly, how to improve your thinking and master the whole flow system.
We will work with independent stations, Amazon/ Express and other e-commerce platforms, together to explain and explore a variety of cashing methods.
Second, you will have the opportunity to join Ukip in the future, get to know and link to more than 1000 cross-border e-commerce big curry and small partners, all of usShare resources and develop together。
Third, sometimes, Mr. Xiaobei is worth millions of dollars for an idea. This value does not need me to say more, understand people naturally will understand.
In order to ensure the quality of the training camp, we will control the number of people in order to better serve everyone. We do not recommend that you sign up for a small partner who has poor execution or does not have time to operate the account. Please take it seriously.
Above!

-----------------------
Public number:Xiaobei's Nightmare (ID: xiaobeishare)
Station B:Little North's nightmare
Weibo:Little North's nightmare
Long down the figure QR code attention, you will feel an interesting soul, and each article has a surprise.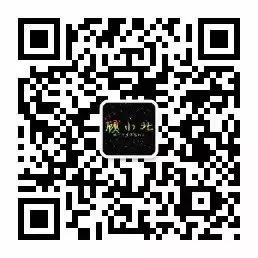 Press and hold the QR code and pay attention immediately!
---