Byte beat 10 million to dig away the big V, B station why is in a dilemma?
The following articles are from Tech Planet The author, Yang Yeying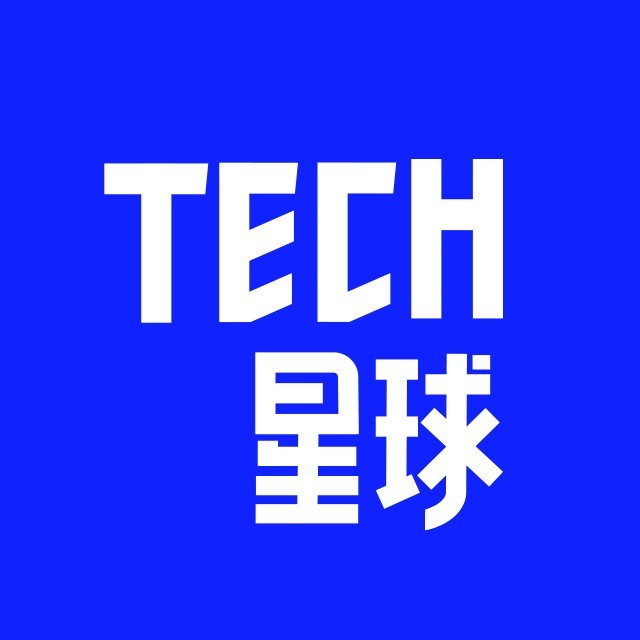 Tech Planet
36 brand media, focusing on the Internet cutting-edge technology and new business.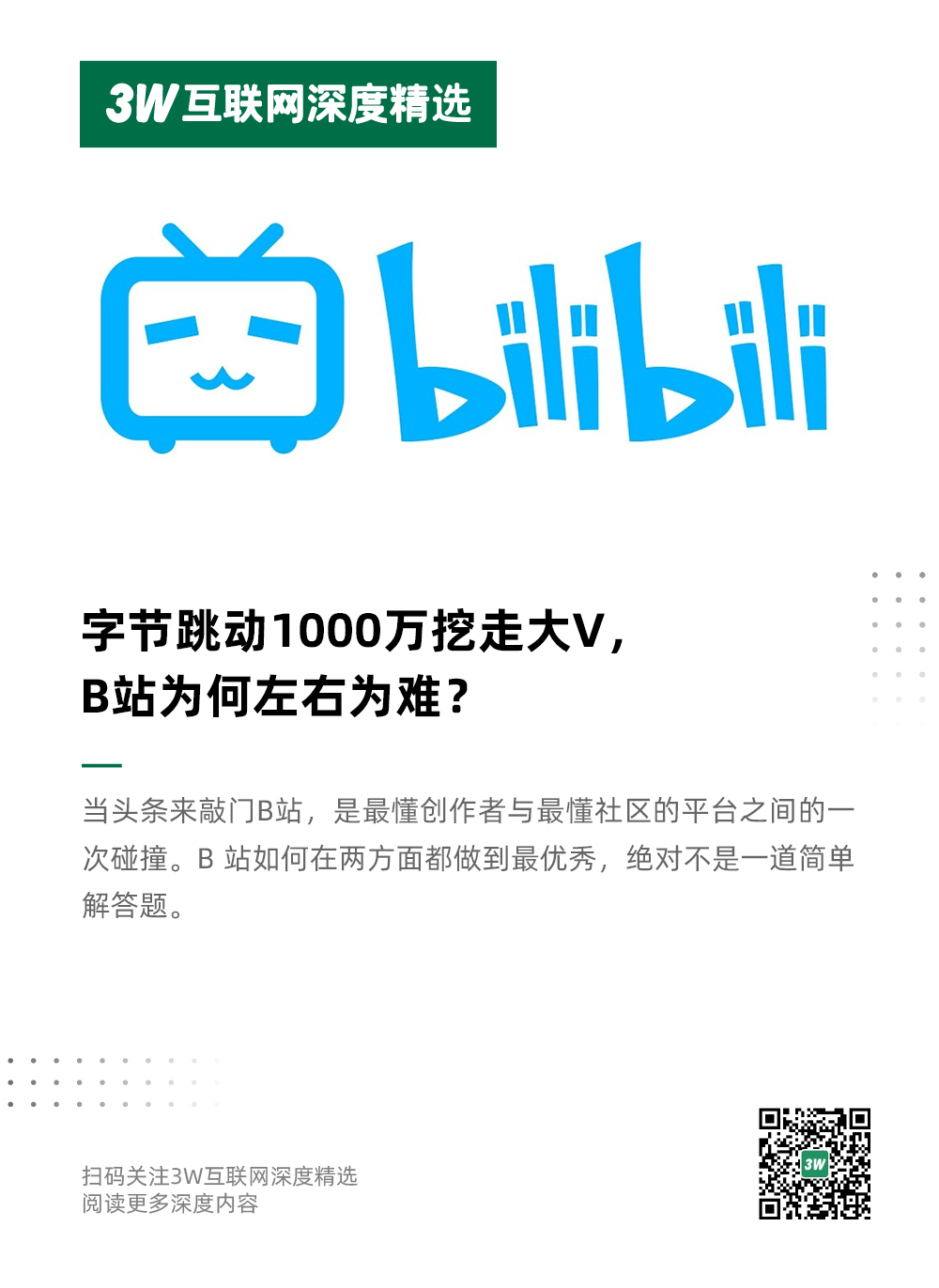 ---
Author . . Yang Yeying
Source . .

Tech Planet (WeChat ID: Tech618)
B station and byte grab big V, the most understanding creator and the most understanding of the community platform who do you choose?
As one of the two major brands of station B science area, "witch finance", on June 14 high-profile announced the withdrawal of station B, the future of the new habitat "make another arrangement", the news instantly "break the circle" spread.
Tech Planet(WeChat ID: tech618)Through the industry was informed that the wizard financial contract is byte beat its watermelon video, the signing fee is expected to be up to 10 million yuan, the contract period of 2 years. B station high-level also side confirmed the news: "bytes are still very good to give." "
If only Big V had left voluntarily, perhaps things wouldn't have spread so quickly. Behind this tumulty "break-up" is the ups and downs of the big V on whether the B station is in default, whether the "high-energy alliance" of the B station gathering the excellent UP master is stable, and the byte-intensive strong digging angle B station UP master.
"I don't want to be so stiff with Station B, but they give too much." Well-known self-media person Reisling forwarded the B station announcement content, imitating the witch financial jump tone so said. A B-station high-powder UP owner also told Tech Planet: "Wizard Finance in Station B is not business advertising, headlines can give a high signing fee."(Supports no business creation)This is still very attractive to the UP master. "
The UP owner revealed that many UP owners at Station B have received jitter systems(Jiyin, watermelon, volcano content has been opened)The invitation, "they developed a B station more than 10,000 people powder UP main digging horn list, a bit similar to that year's fighting fish tiger teeth dig each other big anchor situation."
This byte system has ignited a grizzly war, that year's headline question and answer strong dig to know the big V drama once again staged, and for station B, how to let the departure of wizard finance does not cause "military heart shake", many UP owners are also watching.
A love-hate feud with Station B
"I'm sorry I haven't been able to show up with you yet, so I'm going to talk to you about this." "For some users it's a farewell, for me it's a fresh start."
On June 14th, at 10 a.m., "Wizard Finance" recorded a video in its public number, releasing a video entitled "Exit Station B", "Fresh-clothed Raging Horse Junior" - about net red, content industry, my growth", announcing that it would withdraw from Station B, and many people speculated about why they were leaving Station B and the next stop for Witch Finance.
As the "black horse" UP owner who grew up at Station B, Wizard Financial won the 2019 Rookie UP Master Award and amassed more than 3.11 million followers. With its unique hard-core financial content, Wizard Finance has become a well-known big V station B with 4 million fans of "Half Buddha Fairy" and 6 million fans of "Luo Xiang Said Criminal Law" and other UP owners.
The popularity of non-ACG content also means that station B's outbound strategy is becoming more successful, with different user groups flocking to Station B, and traffic to Station B rising, from 71.8 million monthly live at the time of listing to 172 million today;
In particular, the 2020 "May 4th" Youth Day, B station's corporate propaganda film "After wave" brush screen circle of friends. B station market value beyond the "Ai Qiyi", but also let the room produced "B station's back waves, will not be the best Ai Teng shot on the beach" argument. Station B has this opportunity, after all, PGC-based Eton(Youku, Ai Qiyi, Tencent), always facing high content copyright costs, and Station B's PUGC model and successful community use, so that countless UP owners willing to "power with love."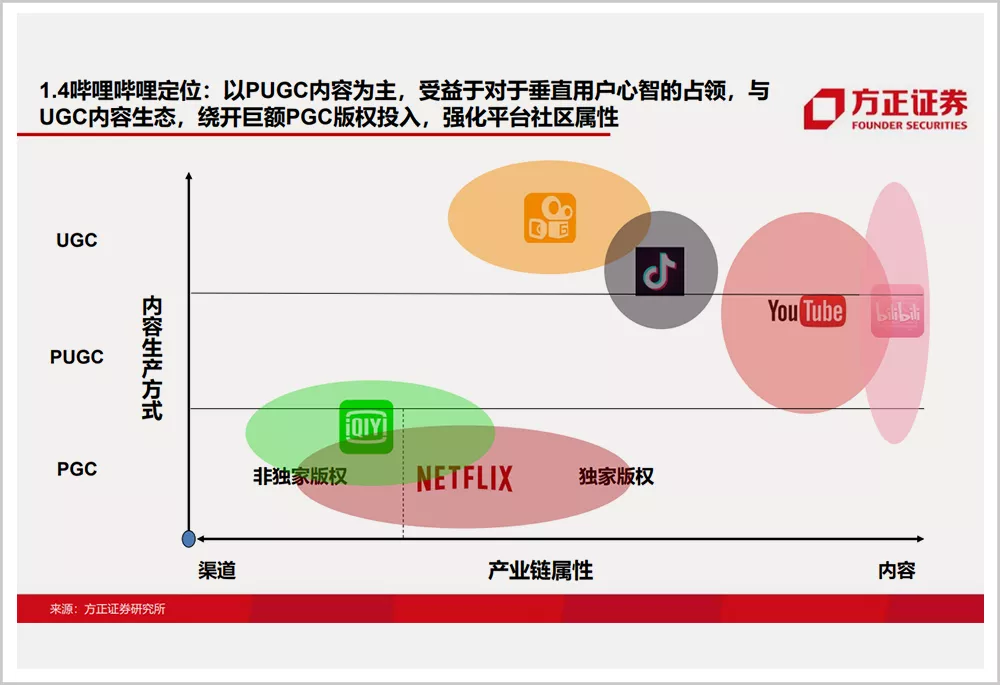 Wizard Finance is also the representative of this type, its behind-the-scenes producers from the university period on the "mixed" B station, from their own attempts to edit to gradually become a hard-core finance UP master, "you will see me more than the previous content quality is worse", Wizard Finance is in the B station growth and evolution of the UP master.
Since the first video was released on September 17, 2019 to analyze business events to analyze the workings of the capital markets, Wizard Financial's first video has been streamed in more than a million years, and today's 14 videos are absorbing 3.1 million, an amazing growth rate. In particular, the latest issue of "The Impact of the Epidemic on the Economy: The Special Report on Wizarding Economics 03" reached 5.21 million.
Compared with the shaking sound of tens of millions of traffic, wizard finance this hard core content can get high attention in B station, in addition to B station lack of financial content factors, but also B station push, as well as wizard finance itself content quality factors.
And wizard finance in order to the quality and fairness of the content, has always stressed not to receive advertising, in fact, in order to rebuff the Internet factory business cooperation, wizard finance external quotation is more than 1 million, in order to "scare away" customers. But for Station B UP owners, the money from reward alone is not enough to support himself.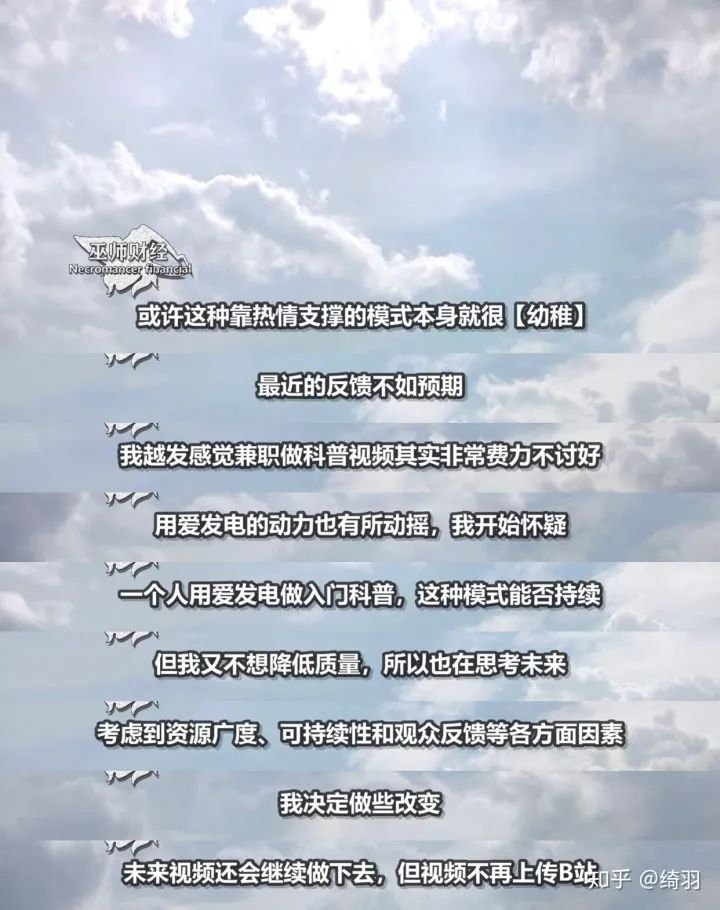 On the other hand, wizard finance during the outbreak was caught in the plagiarism entanglement, many people questioned its pedestrian settings and plagiarism know the content. The wizard also apologized, but things like this don't seem to be forgotten any time soon at Station B. After all, IP operations are still the top thing for UP owners compared to the machine recommendations for jitters.
Station B must have been very concerned about the big V's every move, so it also started to improve the up master's operating ecology very early.
"The Wizards have signed up to the High Energy Alliance, which has a high barrier to entry, similar to station B's official MCN." Station B A UP master tells Tech Planet(WeChat ID:tech618)After the node events such as "Hunting 100", B Station Listing, B Station accelerates the commercialization process of up master.
The issue in the Wizards' financial dispute over whether to sign up is the MCN agency that signed with Station B in April. It is reported that The Wizard Finance and Station B are talking about exclusive agreements, because The Wizard Finance is the UP master of the B Station's ecological success. And the "half Buddha fairy" and other UP master did not sign an exclusive agreement, after all, "half Buddha fairy" very early knowledge and WeChat public has become famous, he will not give up other platform ecological fans.
Not just by signing up to retain UP owners, for some high-growth UP owners, Station B also has a double revenue plan. It is reported that B station live goods are also in an orderly process, these measures are for up master can "decent" to do content, not for business orders and worry.
But the witch's financial outing may mean that Station B is still a little late for all this.
When the headline video comes knocking on the door
The Internet has always been a game of infinite warfare, and the speed is relative.
B station has the patience to improve the ecology, but when the UP master and B station to determine the "marriage agreement", encountered a more suitable "like Langjun", the Italian horse heart ape is difficult to avoid.
For the UP master of Station B, "Ruyi Langjun" is the more powerful byte beat. The byte beat of the "miracle of greatness" has a precedent for large-scale poaching at high prices when filling in the gaps in certain areas.
In 2017, the headline department's Wukong question-and-answer session dug up hundreds of big Vs in one breath, according to hedgehog commune interviews with big V "devil milk dad" said, "and."(Headline)Is to give money, the annual income is higher than ordinary white-collar workers, after signing can no longer know, equivalent to an exclusive agreement. "
It is reported that at that time, there were 300 people who knew that Big V had contact with the headlines, and many people exclaimed that there would be a collapse of the content. But since then, the Wukong Q and A team completed its transition in July 2018, shifting the overall shift to the micro-headline team, and Wukong's Q . . . strategy of digging up big V against knowledge has failed.
The lost byte beat, does not seem to abandon this set of play. Especially after the byte beat to clear the content system of jitter, watermelon and volcanic video, the today's headline app was updated again on the evening of June 15th, with two updates, "Long Video Cache Feature" and "Video Creator Access Creator Rights System", pointing directly to up to upstable revenue issues and indicating that the desire for video content from byte beats has increased again.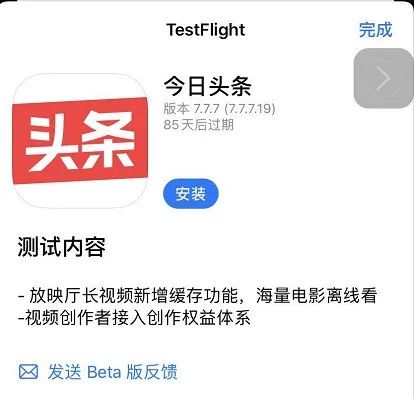 At this time, The Wizard of Finance expressed the hope that the platform can provide a high salary, so that creators do not worry about commercial advertising, can do content with peace of mind. The platform pays wages, which is really attractive to the commercially insufficiable UP master, after all, compared to the head UP master's ad delivery price of about 500,000, many UP master's single video price is between 50,000 and 100,000 yuan.
Although the price is no longer low, for many low-yielding hard core content players, whether these revenues can cover team costs is still a question. Moreover, the "spark" commercialization platform of station B similar to the jitter "star map" is being perfected, and many UP main order revenue-generating capacity is not stable.
Commercial realization has been very perfect byte video ecology, not short of funds but lack of high-quality content, especially watermelon video itself PUGC content is a weakness, if you can introduce a number of high-quality content creators, can quickly supplement high-quality content.

This is also the factor behind the shaky intensity of the main offer to the B-station UP. "This event can only be invited on our list of intentions, " an official operator of shake-sounding watermelon told a UP owner, the big UP master is the focus of the horn-digging object, the growth of the 10,000-person powder UP master also welcomed.
Not only is the byte system more traffic, but the signing fee is also high, which of course includes exclusive ex-terms that can no longer be published on Station B. This is also the core reason why B stood behind the wizard's financial outing and issued a notice denouncing the latter for not complying with the contract and even going to court.
Previously, the wizard financial video is also distributed in WeChat public number and other channels, this signing watermelon, the exclusive agreement will let B station completely lose a high-quality content author, sitting back will undoubtedly lead to more UP main job-hopping watermelon video, which is the key to B station official complaints against wizard finance.
In a three-way ecosystem like Station B, platforms tend to value users more because they are a source of platform traffic. However, there are often concerns about the third party that generates the service, and conflicts sometimes break out between commercial interests. For example, at the beginning of this year, the United States group of Guangzhou catering collective resistance to high pumping, wizard finance, ASMR anchor Shaohan Shine and other UP owners from the B station, are ecological service providers are dissatisfied with the platform cases.
It can be said that when the headlines knock on the door B station, is the most understanding of the creator and the most understanding of the community platform between a collision. B station how to do the best in both respects, is definitely not a simple answer to the question.
A double-edged sword for the community
Founded in 2009, Station B was originally a purely secondary community. With Chen Rui into the main B station, B station began a rapid lap operation. Out of the circle will certainly face the balance between content and commercialization difficulties, but did not expect the wizard finance to make this issue become a prominent event.
Looking back at the early days of Station B, it quickly expanded from the original animation, music, ghost animals, and other partitions to 20 partitions, including the latest "knowledge" partitions. The community evolved from the original secondary user group to the Internet-friendly Gen Z group. Station B is always changing, but it's the community atmosphere that doesn't change, and powder is a prerequisite for all the important changes.
"No one will be 18 forever, but there will always be users who are 18 years old."Station B's director of operations, An Tianlei, said it was crucial to attract a steady stream of young people to Station B. But are young people the best group in terms of willingness to pay and acceptance of commercialization?
On YouTube is a very normal patch ads, forced by B-station users to promise never load, video UP main promotion of certain products, impeachment screen will cross the full screen of "just rice", "next time must", B-station video and live strip goods are also still exploring, currently only members buy this e-commerce business, B station is also in other MCN invasion of the ecology, began to improve the UP main operating system.
Although the PGC and PUGC models are slightly different from those of Ache, the overall commercial energy of Station B is not fully released compared to Ache.
According to the latest financial results, Station B's revenue in the first quarter was 2.32 billion yuan, with the average monthly paid user number in the quarter increased to 13.4 million. According to Ache's financial results, total revenue reached 7.6 billion yuan in the first quarter of 2020 and paid membership reached 100 million yuan.
B station to the left, is in the commercial exploration for many years of knowledge, has given up commercialization of the pods, when the platform's community is becoming more and more intense, more and more die-hard powder, the corresponding commercialization is also difficult to do well, content creators in order to "just rice" to escape from the community is a necessity.
Chen Rui, an investor, is leading Station B cautiously to the right. With a bit of a quick hand in the community atmosphere, almost no community atmosphere of shaking and shaking volcanic versions, watermelon videos, etc., Station B is looking in the direction of its competitors how to commercialize, how this process no longer arouses the opposition of the user community is difficult.
According to Aurora Data, before the commercialization of Station B in 2017, "back waves" under the age of 24 accounted for about 75.2% of the total number of users. In 2019, the proportion of "back waves" at Station B has fallen to 43%. The cone-shaped division of the user group that Station B wants appears to be forming, but there are no advertised B-stations, and it remains unknown that there are many more commercial challenges to be overcome from YouTube.
Station B does not match the byte beat quote to the UP master, and most UP master "power generation by love" will be the norm, and how to stabilize the ecology at this stage is a real challenge. Fortunately, station B, which has a good community atmosphere, is already on the market, and it has more opportunities to flash around, and everything is still possible.
---

---