The ecological composition of digital marketing and digital marketing
Eyes under the foot of the road, the heart must have a grand plan.
Do cross-border e-commerce for some time, take the time to organize some cross-border knowledge, I hope this series of articles can help you better grasp overseasDigital marketing ecologyAnd.Google AdsSolution-related knowledge, after reading this series of articles, can have a new understanding of the enterprise sea and global layout.
First of all, the basic knowledge of the composition of digital marketing and digital marketing ecology at home and abroad.
That.What is."Digital marketing"It's over? Before we know about digital marketing, we need to know"What is marketing"?
There are two important roles in marketing: consumer and seller.
These two characters are everywhere in our lives.
We are all part of the consumer, as consumers, we are thinking about what to buy, how much to buy, where to buy, and where to get product information;
Sellers are considering marketing strategies to meet consumer demand. They are thinking about what to sell, how much to sell appropriately, where to sell, how to promote product information;

We can see that whether consumers buy products or sellers sell them, they will consider the product, price, location, promotion. That's what we always say4PStrategy.
「 Marketing strategy is to take customer needs as the starting point, according to experience to obtain customer demand and purchasing power information, business expectations, planned organization of various business activities, through mutual coordinationProduct strategy, price strategy, channel strategy, and promotion strategyThe process of achieving corporate goals by providing satisfactory goods and services to customers.」
Now, when it comes to marketing, there's an answer. Marketing is thereThe right time, the right place at the right pricethrough appropriate means of information communication and promotionthe right consumerProvide.Products and services。
Marketing is to meet the needs and desires of mankind for the purpose of creating and meeting the needs of customers.
Next, expand the chat4PStrategy.4PA policy is thatProductProduct strategy,PricePricePlacePlacePromotionPromotional strategy. Sellers will be flexible in their development process4Pstrategy to target different markets and consumers to achieve marketing goals.
We say almost one-piece Uniqiq, how to develop for domestic consumers4PPolicy.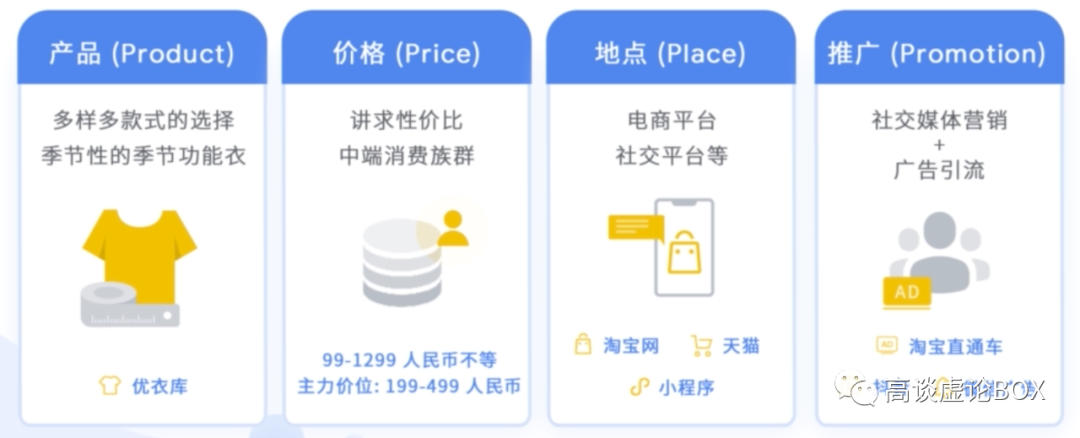 First of all, on the product side, Uniqiq party offers a variety of styles, and seasonal functions of clothing, which can meet the needs of different types of consumers;
In terms of price, price-performance ratio is the characteristics of Uniq co., Uniq party is aimed at the mid-range consumer groups, pricing is mainly in199-499between the dollars;
Online sales channels on the choice, Uniqlo mainly in the major e-commerce and social platforms, as well as the domestic unique WeChat small programs sold, these are also commonly used by domestic consumers shopping channels;
From the point of view of promotion channels, Uniqiq party mainly uses social media marketing, as well as advertising channels, to communicate with consumers.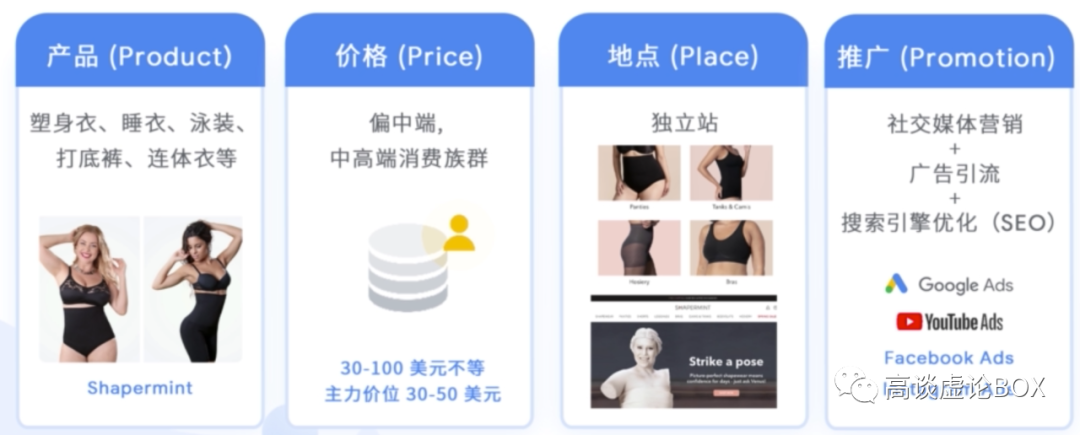 After watching Uniq party in the domestic e-commerce platform about4PThe application of the strategy, we look at foreign e-commerceShapermintHow flexible combination4PStrategy, you may not have heard of this brand.ShapermintIs a sale of slimming clothes, pajamas, swimwear, leggings and jumpsuit e-commerce, from the model map, we can not difficult to see their consumers, positioning is a group of women. Sellers offer products that match women of different sizes, in addition,ShapermintPricing is primarily in30-50U.S. dollars, for the middle and high-end consumer groups, sales channels on the choice,ShapermintMainly in the independent station for sales, which is also the main difference between foreign e-commerce and domestic e-commerce in the selection of sales channels.
Someone might want to ask what a stand-alone station is?
Simply put is the official website of foreign companies, about independent stations, I said in the following article.
ShapermintAbout promotion and ad streaming,ShapermintPromotion abroad is mainly through social media marketing, for exampleFacebook Ads、Instagram Ads, advertising diversion is mainly throughGoogle Ads、Youtobe AdsAnd.SEOSearch engine optimization.
About.SEOSearch engine optimization,I.It will, tooIn the following articleFocus.Say it。
After reading Uniq party andShapermintIn these two cases, we can briefly summarize the concept of marketing strategy. The marketing strategy is to put the right price on the product and the right place at the right time. As a merchant, in the making4PStrategies also require attention to competitors' marketing strategies.
If you are a business, how will you use it in different environments?4PWhat about strategies to achieve marketing goals?
Now let's look at what digital marketing is.
Digital marketing is the practice of using digital communication channels to promote products and services。
Compared to traditional marketing, it canCommunicate with consumers in a timely, relevant, customized and cost-effective manner. Digital marketing contains a lot of technology and practice in Internet marketing.
Digital marketing is broader and includes many other channels of communication that do not require the Internet, such as non-network channels:television, radio, text messages, etc., or internet channels, such as:Social media, e-advertising, banner advertising, etc.
We will be able to better understand what constitutes the digital marketing ecosystem by comparing the differences in user behavior in the common digital marketing ecology at home and abroad.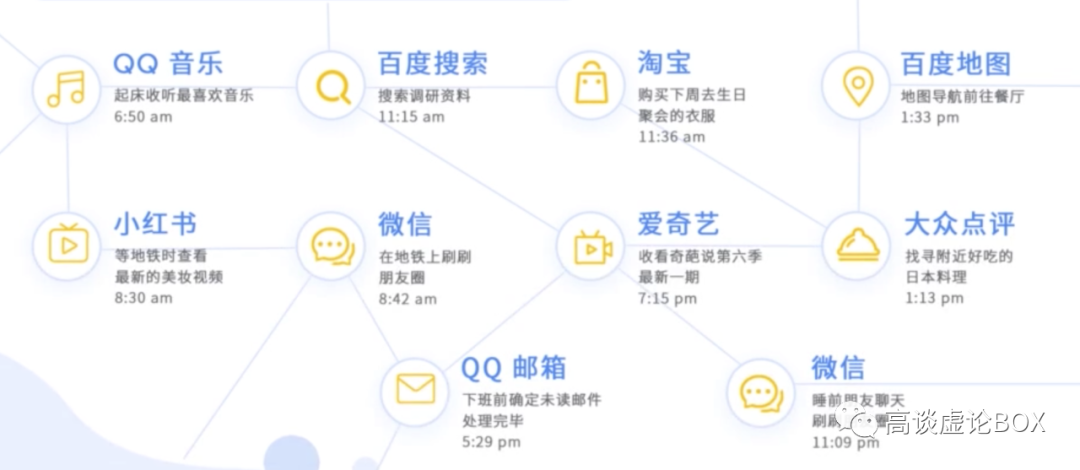 First of all, let's look at what user behavior is like in a common digital marketing ecology in China.
The user behavior in the image above should be very familiar, I believe that most people's daily life is similar to this. Popular reviews in the image above,QQMusic, Taobao and so on are the composition of digital marketing ecology.
So what are the main categories of digital marketing ecology in China?
For different media properties, we can actually simply categorize. For example, e-commerce, video, short video, community, social, search, music, etc.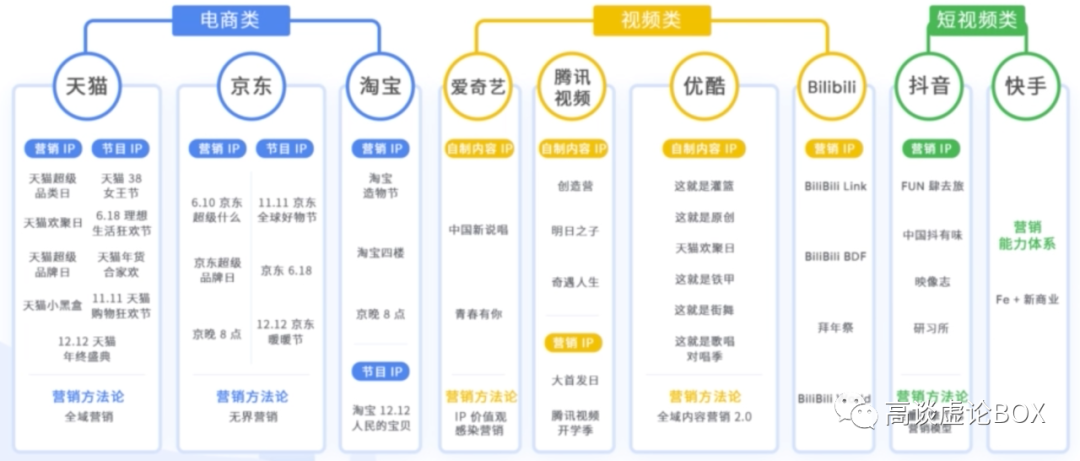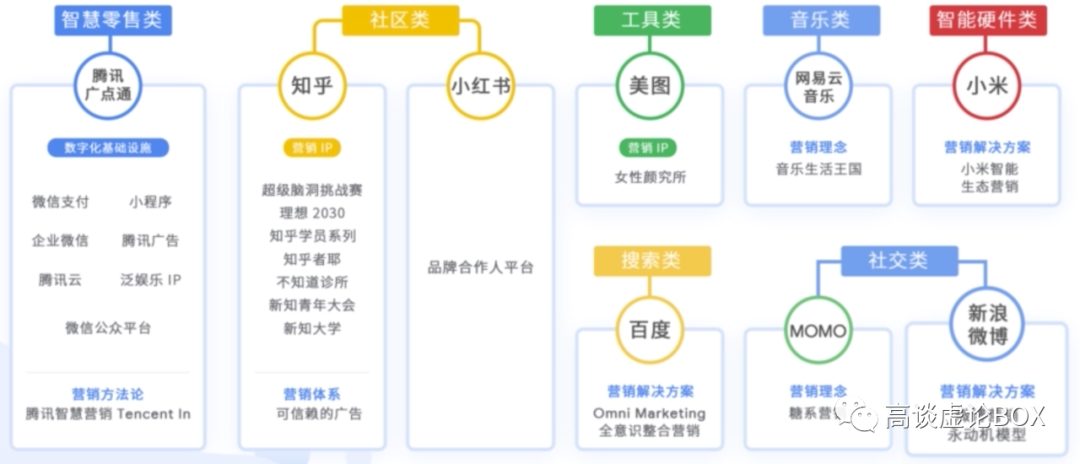 Next, let's do a little thinking about the more popular apps for music, video, community, social, search, etc.What are the applications that correspond to the digital marketing ecosystem in the United States? What about the behavior of U.S. users?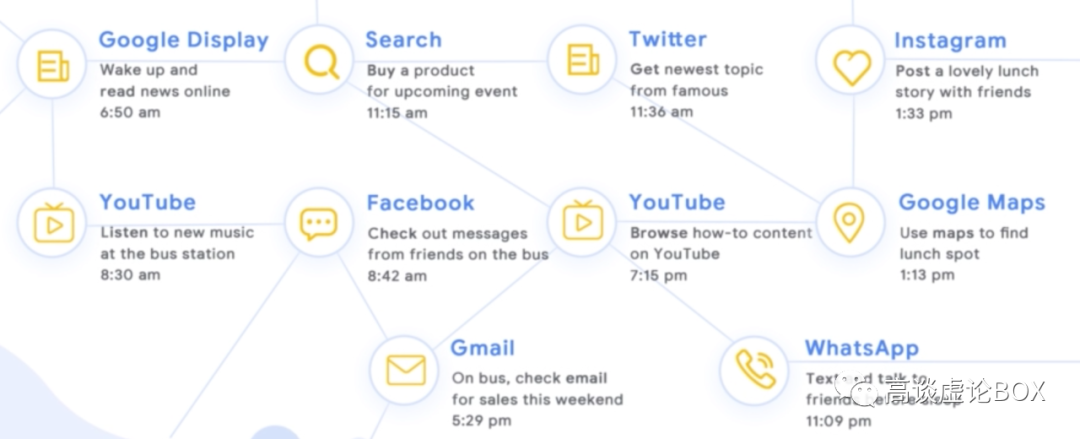 Looking closely at the image above, user behavior within the U.S. digital marketing ecosystem believes it's easy to find answers to both of these questions.
U.S. users may use it on their way to workYoutubeListen to music, watch videos, use them during breaksFacebook、InstagramOr.WhatsAppConnect with friends and family, and see new updates from friends, viaGoogleShow alliances, for exampleYoutobeor other news networks on the Internet, for exampleBBC、CNNTo understand the news, here to emphasize the use of foreign usersGmailare very frequent because they will not only be usedGmailProcessing work will also passGmailConnect with friends.
Taking into account the user behavior in the common digital marketing ecology at home and abroad, we can divide the composition of the digital marketing ecology into the following six categories:
●Website./ APP
●Search engine.(For example, Baidu,Google、Bing...)
●Social media(For example, weibo,Facebook、 Twiter..)
●Email.(For exampleQQMailboxGmail...)
●The content site(For example, small red books,BiliBili、 YouTube...)
●E-commerce platform(For example, Taobao,Amazon...)
From the search engine point of view, the domestic we are used to using Baidu to search, and foreign users generally use the search engine isGoogle, Bing, Yahoo, etc.
In particular, domestic and foreign users use search engine habits differences, domestic users before shopping, rarely use search engines to search for relevant information, while foreign users are used to shopping before, useGoogleDo detailed purchase homework that they will useGoogleTo search, compare, view product-related assessments, to obtain more product information, so Google search engine use more frequently;
Social media, the domestic people are more familiar with microblogging, foreign users are commonly usedFacebook、TwitterAnd so on, the difference in e-mail is relatively large, about 90% of foreigners will useGmailto communicate work and life, but not at home;
About the content site, the domestic is mainly small red books,BStation, the United States is toYouyobePlatform as the first;
Finally, regarding e-commerce platform, the domestic is mainly Taobao, JD.com,
Foreign counterparts are Amazon,Ebay;
The composition of the digital marketing and digital marketing ecology is shared here first.
Welcome to cross-border e-commerce interested in or start a business friends browsing or private communication.
Micro.Letter.Public.publicnumber : High.Talk about.Virtual.On.BOX
Micro.Bo.:@High.soLong.
Long.By.Sweep.Code.offNote.
---