Smart marketing empowers smart retail, and social advertising drives all-link upgrades for retailers
On April 12, the 2018 China Internet Plus Digital Economy Summit was held in Chongqing on the theme of "Helping the New Ecology and Sharing New Opportunities". In a speech entitled "Internet plus Helps Digital China Build", Ma Huateng, Chairman and CEO of Tencent, listed social advertising as one of Tencent's "seven tools" in its digital toolbox, and its effect of integrated online and offline marketing has been recognized by more and more advertisers. In the afternoon of the "smart retail" sub-forum, Tencent's senior director of social advertising Lu Chengxuan brought a keynote speech entitled "smart marketing to power smart retail", systematically expounded the role of social advertising in smart retail all-link upgrade, and shared with sub-forum guests data-based engine-boosting offline retail brand application examples.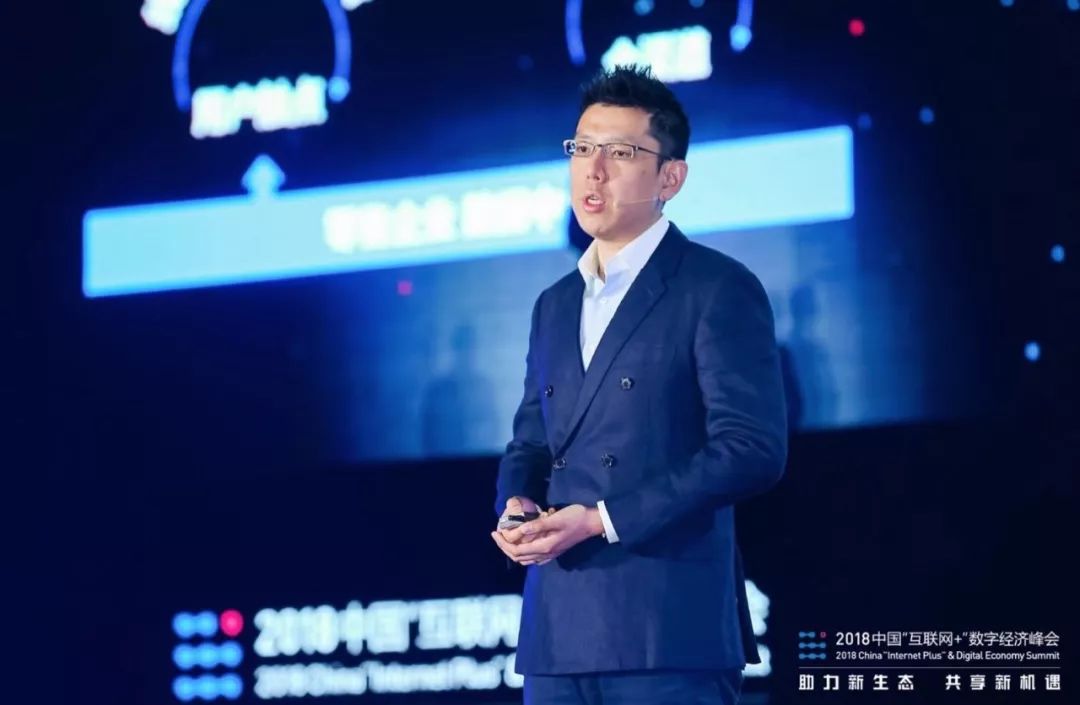 Lu Chengxuan, Tencent's Senior Director of Social Advertising, describes the power of smart marketing for retailers
Power smart retail full-link upgrades

Today, with rising retail operating costs and limited store drainage capabilities, retailers have a strong demand for accurate access and effective retention and conversion of customers, and online and offline integration is a trend. According to Lu Chengxuan, Tencent's social advertising mainly starts from the four levels of "holographic insight", "full scene access", "seamless sales transformation" and "user retention and management", and opens up the complete user life cycle offline, fully empowering retailers to improve marketing efficiency and achieve smart retailing.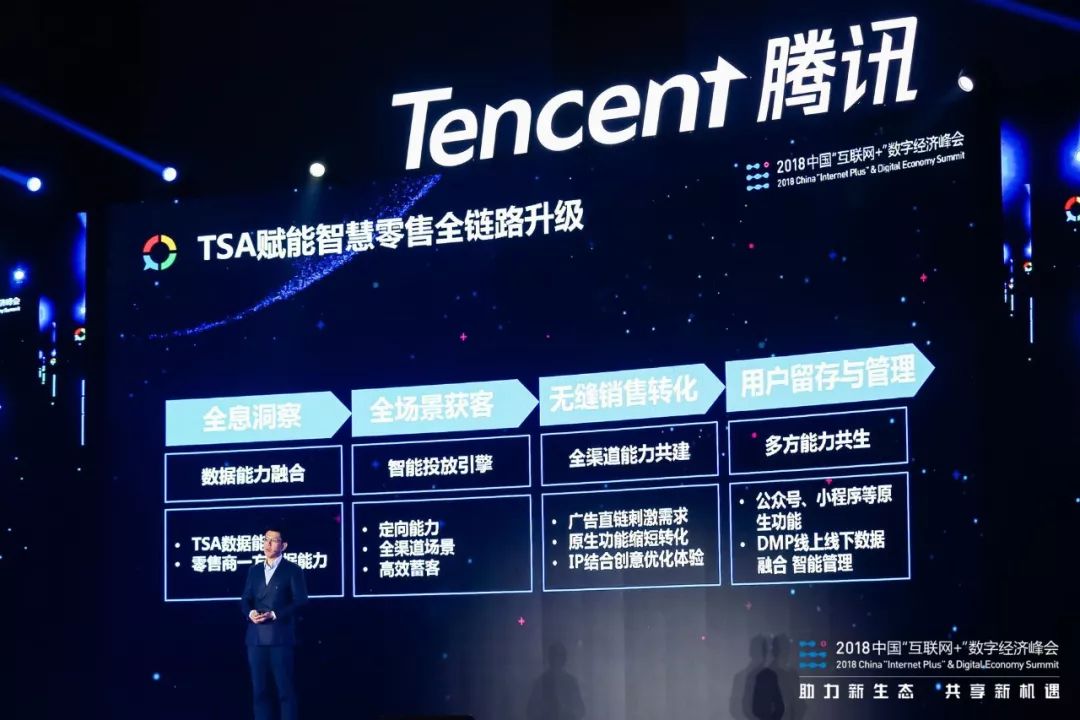 Holographic insight: breaking the island state of retailer data, building a user holographic portrait through social attributes and shopping attributes, not only can we predict consumer behavior in advance, but also maximize the value of user life cycle;
Full scene of customers: intelligent delivery engine as the core power, through social, information, entertainment and other online scenes and offline scenes of stores, to achieve a network-wide 300-channel intelligent distribution, greatly improve the retailer's access, promotion efficiency, in the consumer actually before the store will be one step ahead;
Seamless sales transformation: online advertising direct chain to small programs, WeChat card coupons and retailers public number, greatly shorten the user's willingness to buy the consideration cycle, directly stimulate consumer demand, supplemented by WeChat native functions, the consumer appeal quickly directed to offline stores, and ultimately with offline traffic maintenance to form a co-construction, multi-point trigger purchase behavior, enhance sales conversion;
User retention and management: make full use of the public number, small programs and other native functions, and retailers' first-hand data into DMP, in the full measurement of direct purchase characteristics at the same time to add social relationship dimensions, complete a full range of customer operations and intelligent management.
Create a benchmark case with retail companies

In the application case section, Lu Chengxuan described how Tencent's social advertising can help Carrefour, Kids Wang, Lancome, McDonald's and other partners with different marketing goals, such as storage, conversion, creative integration of content IP, supporting the data-led smart retailing for the industry to bring a new round of opportunities.
Carrefour: Member Resergation and Precision Drain
Tencent social advertising and Carrefour first-party data through WeChat friends circle advertising accurate target Carrefour offline membership crowd, and the group into WeChat membership card users, effectively realize membership re-activity; With the launch of the Friends Circle small program ads, Tencent social advertising and Carrefour together to explore new cooperation, the release of friends circle small program ads issued single coupons, holiday coupons and general coupons, and in line with the public flow, and constantly accumulate user needs. During the advertising period of the Friends Circle small program, with the cooperation of the public number, the average daily attract more than 180,000 consumers to register as Carrefour members through the small program;
In a speech entitled "Data-Driven Retail Change" at the forum, Yu Ying, Carrefour's vice president and chief marketing officer for China, acknowledged the role of Tencent's social advertising, saying: "Carrefour spends hundreds of millions of yuan a year on paper promotional materials, but the touch is very single, if all cast in a circle of friends, can let members receive a Carrefour circle of friends every day of the year advertising, better achieve membership reach." "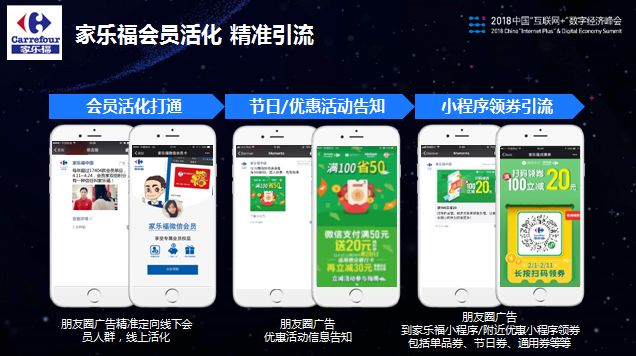 Child King: Equipped with social advertising technology, mother and child brand O2O new play
Child Wang and Tencent social advertising once again join hands, in March this year's milk powder festival activities, the use of store and brand data and Lookalike crowd expansion, LBS and other targeted technology, through the circle of friends advertising, WeChat public number, WeChat group and other online channels to complete the introduction and recruitment of new customers. Among them, the user coupon rate of 26%, offline store write-off rate of nearly 40%, ROI as high as 568%.
Lu Chengxuan said at the end of the speech, data-based online and offline integrated marketing, not only need Tencent to do a lot of work, but also need to work with industry partners to build their own data platform belonging to retailers. Tencent's social advertising will be open, with partners to build data assets, improve infrastructure, optimize the marketing "toolbox", upgrade the marketing link, for the retail industry to create a data-driven online and offline integrated marketing system.

Personal column: columnist, angel investor, well-known Internet analyst, senior commentator in the TMT field, CCTV CCTV Finance Special Internet Commentator, 2016's most influential de self-media person, 2017 the country's top ten technology self-media. Author of the best-selling book "The Change of the Mobile Internet". Take you into different Internet technologies with unique perspectives, independent perspectives, and exclusive stories. The article reprinted with business cooperation plus personal microsound: zhaicaihua002.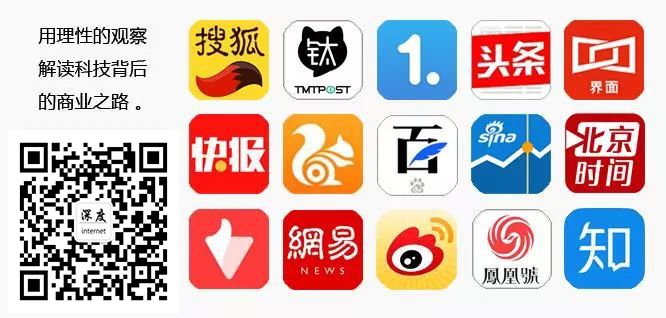 ---