The end of social advertising is the demise
The following articles are from advertising department stores The author is three waste people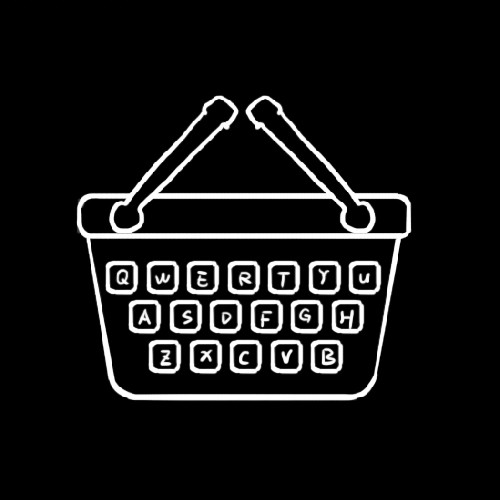 Advertising department stores
Advertising department stores are committed to sharing fun and creative content with advertisers around the world, as well as marketing, industry observation, advertising communication, art design and other related knowledge content. Maybe advertising can't change the world, but we believe it makes it colorful.
I saw the first issue of China's New Rap.
Because of the strength of rapper King Ether and Aige was eliminated by the judges
triggered by whether music should be valued more
Music is still a heated discussion of popularity
It reminds me of the advertising industry
Traditional and social advertising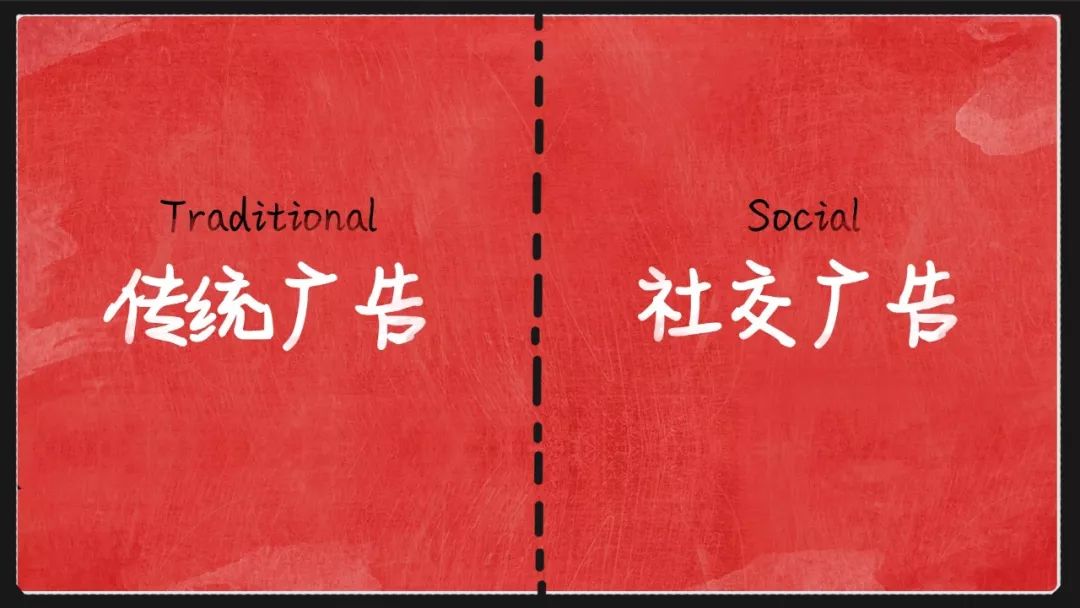 Traditional advertisers and social advertisers have long hated each other.Traditional advertisers find social advertising embarrassing and too aggressive, while social advertisers think that traditional advertising is self-contained and too self-contained.
But with the rise of interactive companies to earn a fortune, many traditional advertisers wavered, for a time all the passers-by have been singing down 4A company, social is the future trend of the speech is even more endless.
I was also in the fog, weighing up tradition and throwing myself into the arms of the social, and in those years I did see the power and grandeur of the social, illustrations, H5, live broadcasts, short videos, circles, KOLs, interactive cases everywhere.
Everyone has the opportunity to publish works, net red is also creative, creativity can also become net red, can easily get the visible effect inspired by the sense of achievement.
At the same time, it also caused a great impact on my creative view.Traditional thinking simply can't keep up with the speed of social,Also do not understand how everyone's idea came about, anyway, a chat about this cow forced absolute bombing. Fortunately, i was greatly inspired by the words of an earlier predecessor, who said:
Traditional advertising tells the audience more about what the brand is like, while social advertising makes the audience think what the brand is like.
It made me understand that advertising is not simply a publicity, but everything revolves around consumer sentiment.
What do you mean? Let consumers react, Ta will help you spread.
Now, four years into the golden age of social advertising in 2014, I've come out to start my own business by chance, and now, as an ad-fringe figure, it seems to be better to see the relationship between tradition and social advertising, and to have a good chat with you today about my recent views.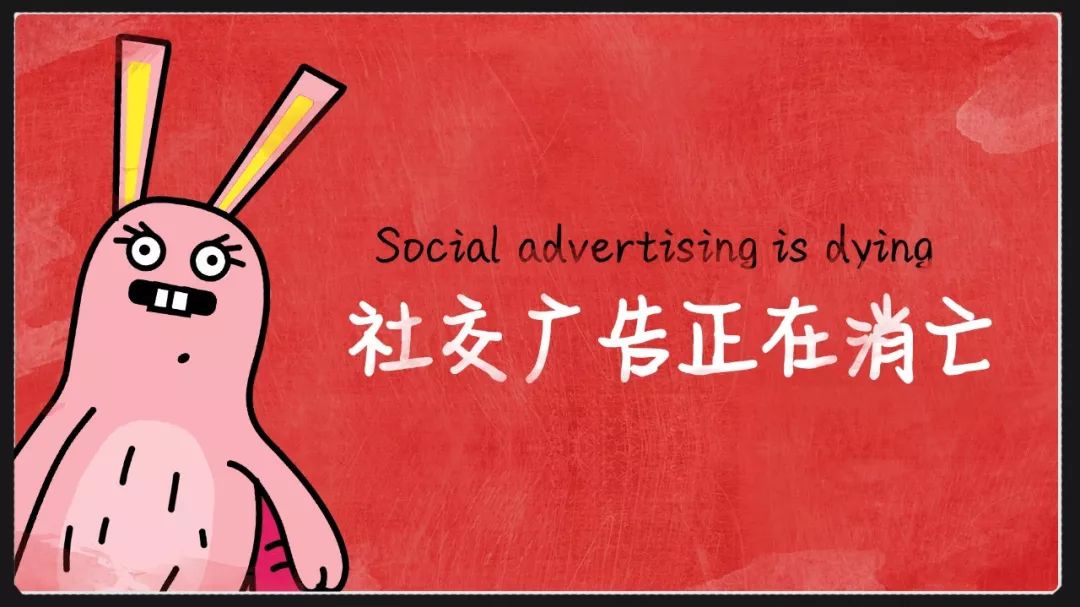 Around 2011, with the rise of smartphones, the popularity of double micro, social advertising in a new media platform began to shine, first eat crab brands let everyone see the power of social advertising to small and broad, slowly more and more brands began to try to use social advertising this form of small money to do big things.
In fact, this form of social advertising is not from the sky, but from digital marketing evolution, but before the popularity of the mobile Internet, the form of advertising is more attached to the major traditional media platforms, major websites have also appeared some interactive new play, viral video and so on, just because of the limitations of device channels, the public can not see it.
Thanks to this era, advertising marketing can easily fly in the crowd.
But crabs always have a day to eat, after seven or eight years of development, social advertising has begun to show fatigue, or has reached a balance.
With the birth of various interactive companies (social groups), the entry of advertising talent, party A more professional, the Internet's information fragmentation intensified, the freshness of users decreased, social advertising has become less mysterious and magical than the original.
With the exception of first-tier cities, the vast majority of second- and third-tier cities, social advertising has not yet begun to work, because the budget and ideas of thinking and other issues are basically over.
And interactive companies are also less and less brush screen cases appear, or brush screen is not like the so-called social advertising, which is a can be seen the fact.
In fact, there are now widespread advertisers who think that so-called social, that is, hot spots and H5, even so, but this is not optimistic.
Hot spots basically catch up with the public numb, more sudden hot spots are either not timely, or is the kind of eye-catching harmonic terrier, neither interesting nor the formation of brand assets.
H5 is not attractive, the first form is about to be developed almost, the second to do a quality H5 kung fu is no less than shooting a TVC, and can not guarantee fire, so Party A is not willing to invest in it, resulting in Party B complex unwilling to do or can not do, simple and can not hit the consumer, become a dead end.
But the good news is that some big Internet companies can also from time to time some brush screen-level H5, such as NetEase's recent brush screen "she struggled 48 years of childhood died, no one knows", but this fire is for a reason, we put on the back.
Think of the original illustration just came out, amazing, early ring for JD.com to do a set of illustration style ads, but also won the prize, but now has rotten street.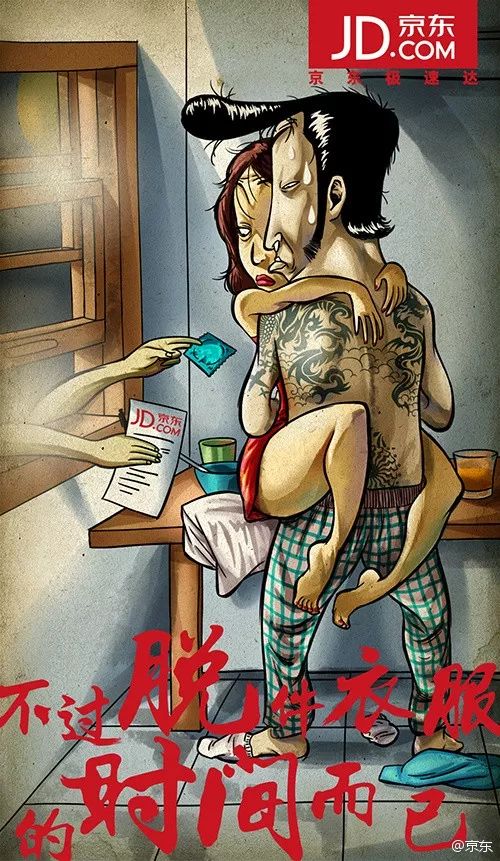 (Early works of ring-time interaction)
Viral videos are not viral, event marketing is not events, there is no real news point.In short, social advertising has become less social, creativity is getting harder and less powerful.
And it all happens for a reason.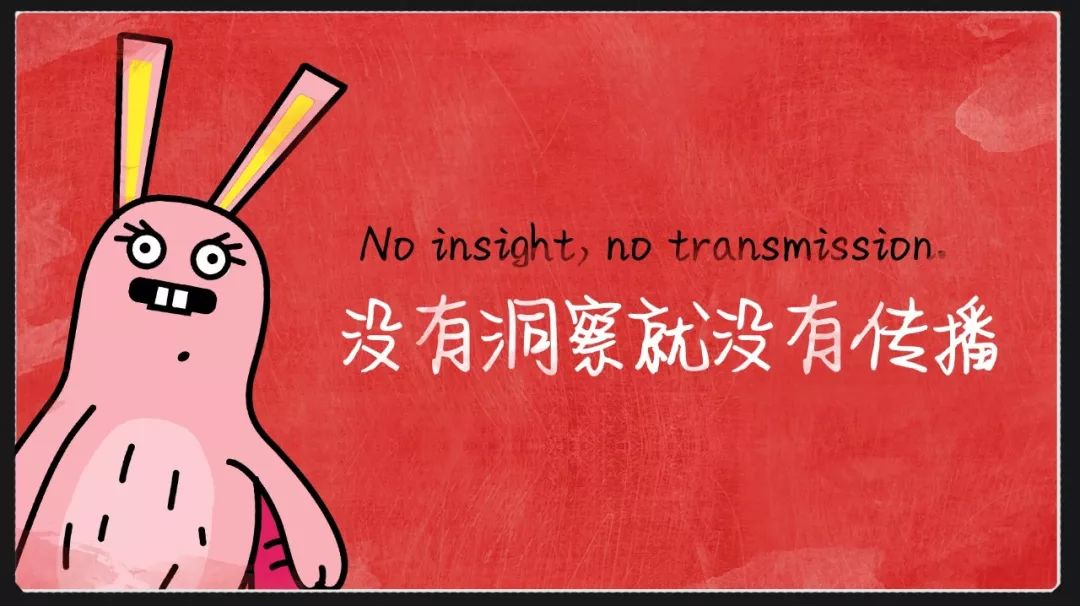 Social advertising is about communication, but the situation is that it doesn't work.
This comes from changes in the media environment,The first is that the threshold for self-media is low and profitable,More and more people have joined the ranks of self-media, fierce competition, user choice becomes more and more, distracting the reader's energy, opening rate is getting lower and lower;The second is that the bubble since the media is too big and there are too few effective fans,Brushing data has become almost the industry's rule.
Active dissemination of secondary sharing is becoming more and more difficult, and there are times when Party A and B are full of confidence to promote a wave of ideas, the results finally found that the whole TM is their own people turn.

In addition, the social network derived from the community is not good, preliminary estimates, now active on the Internet, each person on average not less than 20 groups, really commonly used is also two or three, the rest are basically not speaking, or even do not look.
So if you want people to forward, red envelope can not be less, no red envelope who help you turn ah, sometimes you do not send, there are people who take the initiative to ask for hair, sometimes even if the red envelope, red envelope is the collar very fast, there are still a lot of people do not turn.
The era of patting the brain is over, the era of playing gimmicks is over, the era of technology and form will eventually pass, social advertising is gradually reduced to self-hey, if there is no media budget, a lot of promotion is basically internal digestion.
In my opinion, this is no different from the effect of traditional advertising, and it is not good to spread through the traditional media, the effect will be better.
The more essential reason is that the content is caught up in the vulgarity.
In Beijing and Wuhan, met a lot of companies claim to play interactive do social, to play a different point, found that many do not understand what is called interaction, not to mention social marketing, do things both lost the traditional tone and quality, things do not say clearly that there is no dissemination, as if there is no dissemination of the concept.
Not to say that chasing hot spots to write a few interesting paragraphs, language grounding gas is social, nor casually think of an event, creative to find a few KOL push and push to complete the spread. If so, social advertising is too easy to do.
And the reason for all this, in my opinion, is to forget the nature of advertising marketing,Brands (products) don't make enough connections with consumers, both materially and spiritually.
Successful ads have deep insights that unconsciously stir up a certain emotion in your heart, and then you can't help but show or participate in a discussion with someone else, as the ad says or isn't.
For example, before the 999 cold spirit of "always someone secretly love you", insight into this anxious society, everyone has helpless frustration, hit the general public soft heart, because who does not want to be cared for, there is a person secretly love themselves?
For example, the famous work "My Secret Weapon in the Workplace", after watching a part of the envy, good hope that they can also ah, and some of the values of this film, which is to teach others to do the workplace bar, not hard to get?
Even just brush the screen of "she struggled 48 children died, no one knows" this H5, can brush the screen in addition to the content of the form of fresh, but also inspired the public sense of justice, the protection of blue whale everyone has a responsibility ah.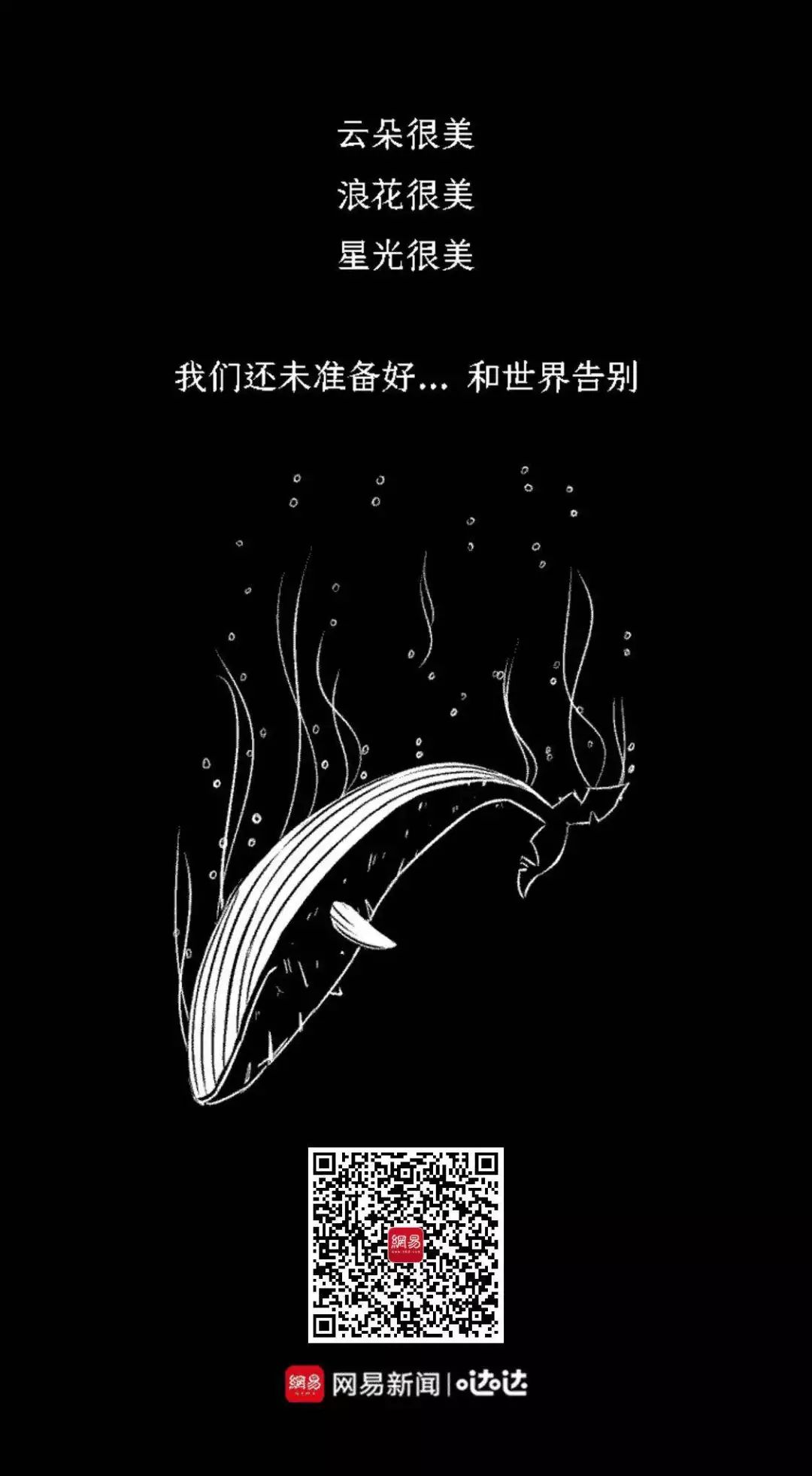 Many people who have studied social advertising have summarized the elements of social communication, and I mentioned them in my article a long time ago, about the following 5 points:
1, news events:In other words, it can form a topic for discussion.

2, happy to see:Popular point is fun, can make you curious or laugh.

3, the resonance of value convergence:Preferences, insights in everyday life, that's what I or I want to express.

4, useful:Unknown skills or techniques can be normally forced again.

5, forward the sweepstakes:As long as the credibility is high, the prize is attractive, the effect is gratifying.
On the face of it, these points are used to determine whether your idea is social, and in fact each one reveals an inner insight into the user.
Believe that advertisers, especially traditional advertisers always listen to people say insight, but what exactly is insight, how to find insight, many people are half-knowing. Share my methods briefly here.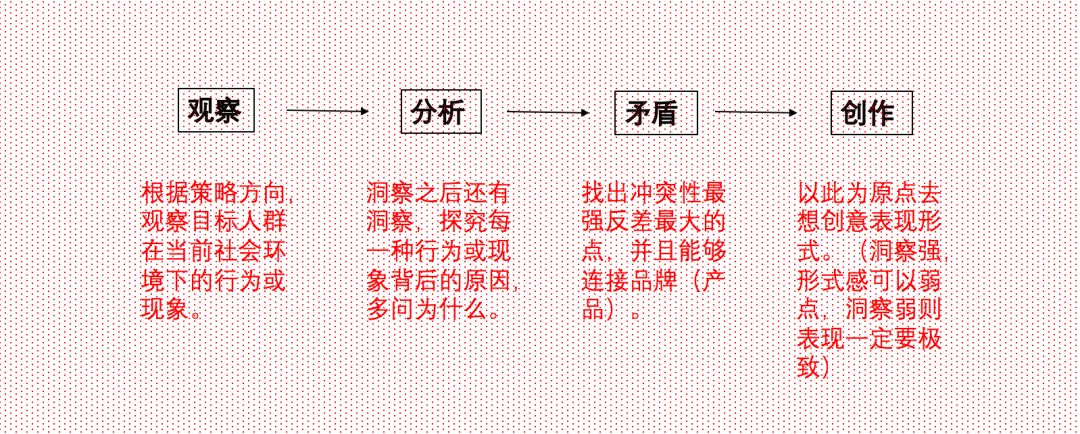 (Click to see the big picture)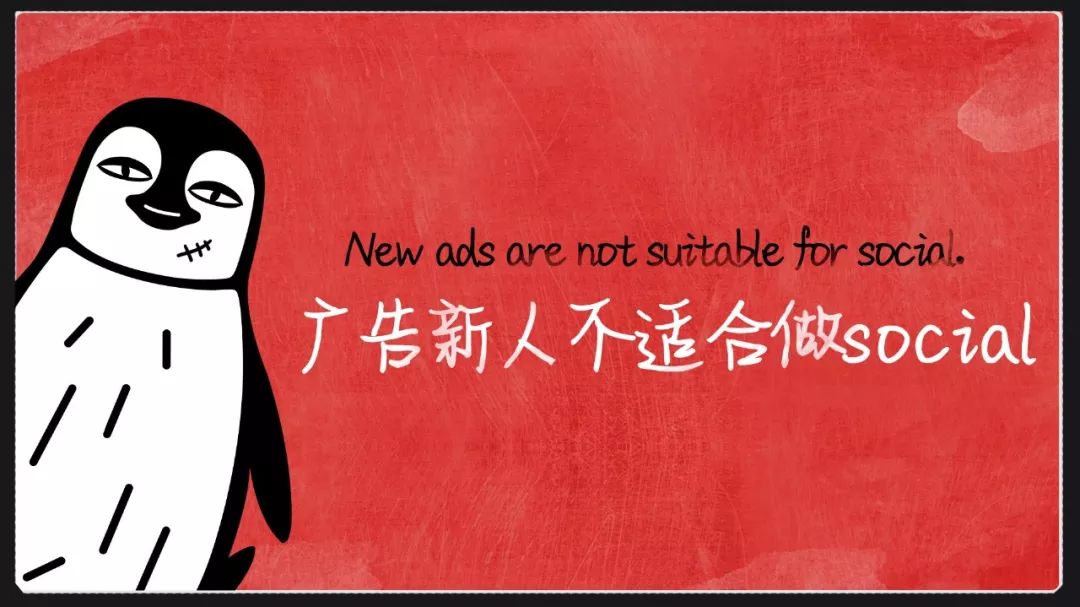 It's no exaggeration to say that interactive companies are d'ailing because there are too many new advertising people, there is no meaning to crowd out or discriminate against new advertising, but advertising newcomers are really not suitable for socializing, especially social advertising to this stage.
Early social advertising people, most of them have been baptized by traditional advertising, they not only have precipitated down the knowledge of marketing communication, and as a pioneer of new means of communication, they put a great deal of enthusiasm into it, and constantly try to sum up, only in the marketing and promotion of the road to kill a blood road.
But as brands grow younger, knowledge limits, and the Internet divides, these predecessors, who were in their 20s on average, are becoming slower to innovate, and companies need to grow, and they need more interesting young blood to supplement their shortcomings.
In the first few years there was their enthusiasm, coupled with a good social advertising environment, so play feng shui. But slowly these people began to retreat behind the scenes, and younger social advertisers appeared.
Think about what these people can do. They do not understand marketing, do not understand advertising, do not know 4P, do not even know the targeting language, do not understand the language of advertising, let alone insight, in addition to may write a paragraph, WeChat Micro-blog and other articles, write short essays want to do creative execution is simply nonsense.
With the help of the "social advertising elderly", some people can slowly adapt to the rhythm of social advertising, but it is also in this way, the social advertising environment slowly become a surface form.
And for those who are looking forward to the advertising industry, apart from high salaries is not a good thing, because as more and more companies transform, and Party A's familiarity and requirements for social advertising, coupled with the poor communication environment, creation will slowly move closer to the direction of traditional advertising, just interesting (not yet interesting) is not enough.
Ring-time interaction in the establishment of 2 to 3 years later, there is a period of time to absorb a large number of traditional advertisers, I was also lucky to transform in that period of time, it is expected that Lao Jin long foresaw the situation after social advertising.
In fact, more and more creative hot shops with 4A backgrounds have emerged in recent years, robbing a lot of interactive companies of business, creating a lot of work with communication, but also indirectly proved that the previously said.
This time if there is no advertising experience, but also in the interactive company to find a terrier, you can imagine how difficult the road in the future. So I suggest, like social first to the traditional advertising company transition one to two years, and then go to the interactive company, more competitive.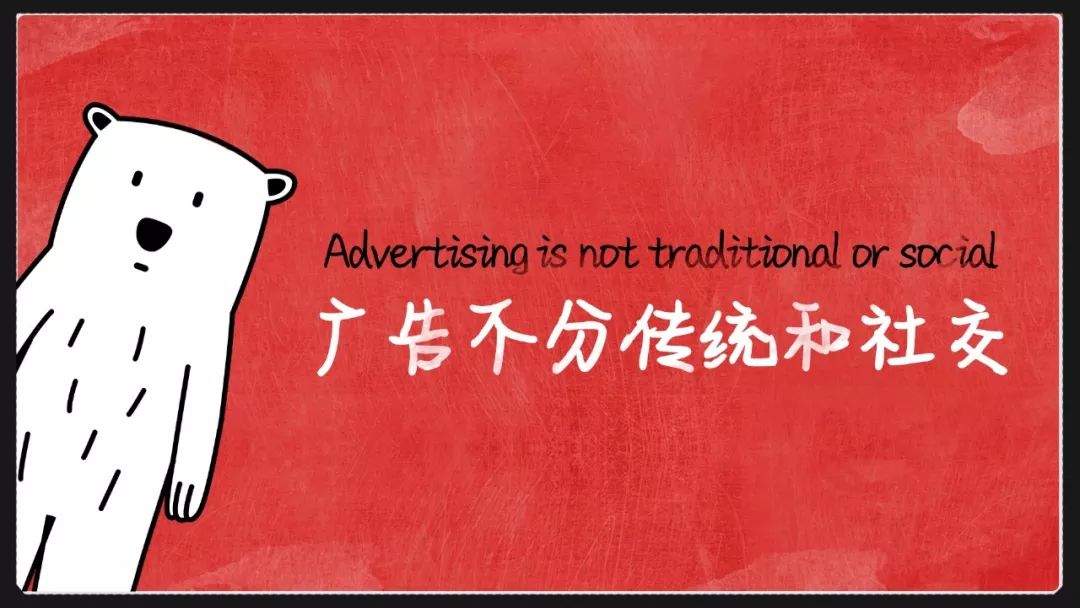 Before I discuss this, I would like to talk about the definition of traditional advertising.
What the American Advertising Association means for advertising is:Advertising is paid mass communication, the ultimate goal is to transmit information, change people's attitude towards advertising goods, induce their actions and so that advertisers benefit.
You can see that there are several keywords in this definition.
1. Mass communication.




It should be understood that advertising is for everyone, and social advertising is also about maximizing communication. Only the communication channels are different, the previous channels of communication are mass media, television, newspapers, magazines and so on, and now the channel of social advertising is the new media.
2. Passing on information.




There's no objection to this. Whether it's brand temperature or product value, every ad has a purpose. Traditional and social advertising are.
3. Change your attitude.




An advertising release, attention is the basic, more important is to get the consumer's approval and affirmation, is the key. It seems to me that traditional advertising also applies in social advertising.
In fact, jump out of the advertisement to see the advertisement, the consumer will not care whether you are a traditional advertisement or social advertising, he will only look at you this advertisement, whether it is useful to him, whether it impresses him.
So I think advertising does not respect tradition and social, and even now I think that the combination of the two will make more influential and communication works, so may as well open your eyes, do not stick to one side of fertile soil, not to be biased, half-knowing, mutual absorption of strengths, the future you are a master.
Source: Storead
Author: Three Waste People
---
For more exciting content, please click on the button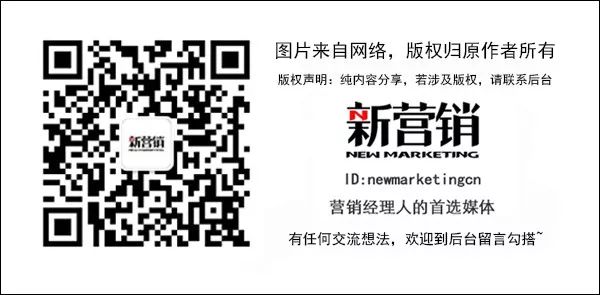 ---