SKAG - a weapon that gives Google ads a quality of 10 points
米课-YouTube-Lynda-JDThat's how I explore Google Ads.
looked at so many methods, among themSKAGStrategy is the essence.
SKAG is a single keyword ad group for The Type Keyword Ad Group
What is recommended in Google's official documentation is to put 10-20 keywords in a regular ad group.
This often results in us not being able to refine and optimize our ads, making them expensive.
And in SKAG strategy oursOnly one keyword is placed in an ad group。
This strategy can help us increase the intensity of control of our ad accounts, increase click-through rates, and reduce ad spending.
Advertising quality of 10 points, it is not difficult!

SKAG strategy has been very common in foreign countries, is the basic requirements of PPC outsourcing.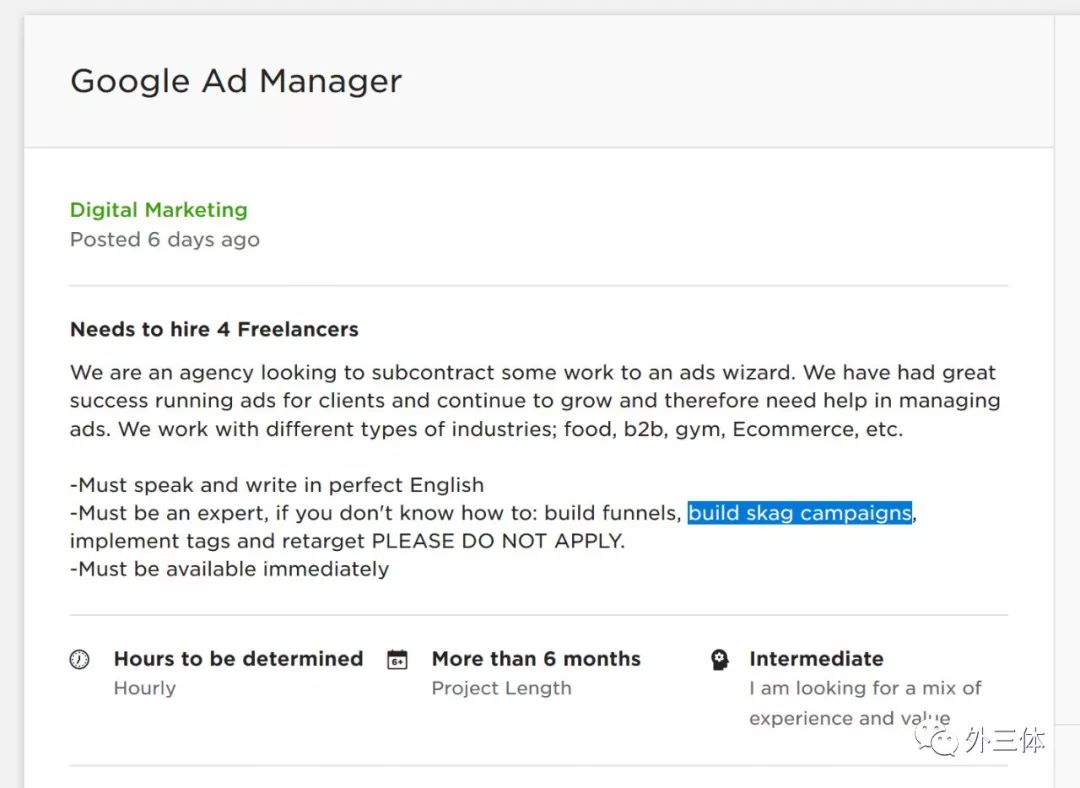 One. Quality score with SKAG
Quality scores are associated with three factors: ad relevance, landing page experience, and click-through rate expectations
As long as you're here

All three factors are above average,

The quality score can basically go up to 10 points.
SKAG directly affects the relevance and expected click-through rate of the two factors inside.
According to research by Adalysis abroad
Ad relevance and click-through rate accounted for 61% of quality scoring algorithms
That's why SKAG is so effective
When a group contains many different keywords, we need to create more generic, fuzzy ad content, which makes it difficult to ensure that the triggered ads match the customer's needs.
Using SKAG's strategy, we create highly relevant ad content for each keyword individually, so this relevance score and click-through rate are guaranteed.
1. Here I omit how to create a campaign, collect keywords and other steps, hit the core
2. Click to create an ad group that I'll take

Tube Filling Machine为例
It's in the keywords

Add a keyword

But.

Set up three matching modes

As follows.
A widely matched variant of the s-tube-filling-machine
The "tube filling machine" phrase matches
The (tube filling machine) exactly matches
3. Click Save and continue to create ad content
Title 1: Convention into containing keywords, avoid because the relevance of advertising is lower than the average
Title 2: Write advantage or scope of application.
Title 3: Usually it cannot be displayed due to the length limit of the title.
You can't show it until the words written in title 1, 2 are shorter.

Show path: Include keywords to avoid because the ad is less relevant than average
The first line of ad content description: Include keywords to avoid because the ad is less relevant than average
The second line of the ad description: Just don't write
4. Click to complete continue to create at least 2 ads to make Google Roth
5. Add additional links and other details
6. After a period of time, add good negative keywords, etc. to create more ads for testing
7. Continuous optimization
1. Core industry words are not edding
For example, Filling Machine core word traffic is large but not accurate, do not use such words to do SKAG.
2. Words that are too long-tailed do not use SKAG
Foreign sKAG is also controversial, many of the more extreme marketers will ask
"I have 1000 words, do I have to do 1000 keyword groups, 3000 ads?"

R U Crazy?

"
Early on we were sifting through some precise intermediate traffic words to do SKAG. Like some traffic below 10, there is no need to do ads alone. Just let her be triggered by an ad match variant or phrase match pattern for the SKAG group.
Such as fillingtube machine for sale, monthly search traffic 30 keywords are too long at the same time traffic is not high. You don't need to do SKAG. When foreigners search, our advertising content will be either s-tube-filling-machine or
"tube filling machine" is triggered.
3. Constantly refine SKAG
When the account is in operation for a period of time, we will find a long-tailed keyword that often brings us conversions. Then we're going to use the word

Get it out separately and optimize it

。
For example, the word plastic tube filling machine often brings inquiries, so make a SKAG alone. 
Remember to be there when you're done

The original group denied him,

Avoid competition within 2 ad groups
In the following case, add the negative word Plastic to the Facebook filling machine group.
4. Sign-in page experience
SKAG is more about ad relevance and click-through rate, 2 aspects to improve your quality score.
Also need your website to do a good job login page, especially the inquiry experience, mobile experience must do a good job, 3 factors are done well, in order to achieve the 10 points you want!
Learning -internalization-upgrade-sharing is my way,
After playing SKAG for a while, I combined my experience with B2B delivery in China.
Single Country Single Keyword Ad Groups 

A single keyword group for a single country.
Simply put, each country creates a campaign and then has only one keyword in each ad group.
Many beginners will think that our quality score is the same in the world, in fact, in different geographical locations, we also have a different score for an advertisement.
Yours.

The same ad in the United States and the Philippines may score a very large gap

。
We're still going to explain it on three factors
1. Landing page experience
In different countries, your web page load speed is different, browsing habits are different, color aesthetic habits are different, all through the landing page experience affects the quality score.
If your site opens quickly to U.S. customers, the bounce rate is low, the experience is good, and the quality score is high. Open slowly in the Philippines, poor experience, quality score is low.
Different countries, the degree of exclusion of advertising is different, the content of the ad selling point preferences are different, all through click-through rate, and ultimately affect the quality score.
For example, people in the United States know what information is advertising information, low trust in advertising information, and your advertising points are not attractive to the U.S. market, resulting in low click-through rate in the region.
And the Philippines these netizens like to click on ads, selling points enough to attract them, will lead to high click-through rate in the region. The result is the same advertising content, with different quality scores.
(The country's netizen habits are just examples and do not source real survey data)
Correlation is more on the text, and this factor has the least variation with the change in geographic location.
I'm Jason, WeChat:
Besfar, welcome to communicate
---