Roku: A huge opportunity for digital advertising
| At the end of the article free access to the United States and Hong Kong exchange group
The Roku platform brings together streaming content, providing a simplified user experience while helping content publishers and digital marketers expand their audiences. Roku takes full advantage of two common trends: the growth of wire cutting and digital advertising, which will only get more attention, making Roku an excellent long-term investment philosophy. It is summarized in three points:
Roku is the top streaming platform in the U.S. in terms of streaming time, or user engagement. This makes Roku's platform valuable to both content publishers and digital marketers, providing a huge market opportunity for Roku.




 Roku collects a lot of user data. Roku's demand-side advertising platform (OneView) helps unlock the value of this data, enabling marketers to create, manage, and optimize targeted campaigns for more than 80 percent of U.S. households.




Over the past three years, Roku's user base has grown at an annual rate of 38 per cent, while streaming time (i.e. user engagement) has grown at an annual rate of 61 per cent. Since 2017, this translates into 47% annualized revenue growth.



Roku generates revenue from two different business units: players and platforms.
Player revenue is earned by selling Roku streaming devices, which currently range in price from $29.99 to $99.99. Roku also sells other hardware, such as Roku Smart Soundbars and Roku TV wireless speakers.
2. Platform revenue is generated through subscription services, billing services, licensing and digital advertising.
Subscription services:When Roku users sign up for subscription channels through Roku's platform, such as Netflix (NFLX), Roku receives a percentage of the subscription fee. Specifically, Roku earns 20 per cent of net income. This revenue-sharing agreement also applies to in-app purchases.
Licensing and billing:Trading channels use Roku Pay (Roku's billing platform) to pay monthly subscription fees, in-app purchases, and more. Roku generates revenue through billing services, although they do not provide specifics. In addition, Roku earns revenue by licensing its operating system (Roku OS) to service providers and tv brands (Roku TV).
Digital ads:Roku makes money by selling its digital advertising resources (i.e. ads displayed on the Roku channel, local display ads on Roku's home screen and screen saver, and advertising resources provided to Roku as part of the content publisher agreement). Specifically, ad-supported channels must allocate 30% of their advertising resources to Roku. This segment also includes revenue generated through the OneView platform (i.e., marketers use OneView to purchase advertising resources and Roku earns revenue by providing this service).
While Roku didn't provide specifics on OneView's earnings, Scott Rosenberg, Roku's senior vice president, said on his second earnings conference call in the 20th quarter:
OneView gives us the opportunity to participate in transactions that occur in the Roku ecosystem, even between advertisers and publishers on Roku.
In other words, OneView allows Roku to monetize third-party advertising resources, even if they are not sellers of that advertising resource. This includes ad inventory on and between the Roku platform, as OneView allows marketers to manage campaigns on OTT TV, desktop and mobile devices.
Julian Mintz, head of advertising sales at Roku West and Central, said in a recent interview:
OneView is a single platform rooted in Roku's TV data that enables brands to plan, activate, and measure media not only across OTT plans, but also on mobile and desktop computers. This is an all-channel solution.
This is a huge move for Roku because it opens the door to huge market opportunities. Further, the global digital advertising and marketing market is expected to grow from $323 billion in 2020 to $640 billion in 2027, with an average annual growth rate of 10.3%. This means that digital advertising will become a growing part of the global OTT services market, which will reach $157 billion by 2024.
So let's take a closer look at OneView because I think it represents most of Roku's current addressable market.
Roku's OneView Platform: Roku released OneView DSP in 2019 after acquiring dataxu, the demand-side advertising platform (DSP). Roku's OneView platform combines Roku's first-party data, which they claim is the largest TV dataset, with Dataxu's identity and attribution tools. Marketers can also integrate third-party data. The result is a DSP that allows marketers to programmatically purchase ad space and measure results by targeting campaigns. Roku also uses OneView to provide marketers with guaranteed results (such as website visits or mobile app downloads).
But the benefits are not limited to Roku's platform. OneView can purchase ad resources from any source that Dataxu can access. For example, OneView can purchase ad resources on other OTT platforms, such as Hulu. OneView can also purchase advertising resources from Xandr, the seller's platform at AT&T (T), which is widely used in television and digital media (mobile, online, social media).
As a result, marketers can use OneView to manage campaigns on OTT, desktop, and mobile devices. This means that marketers can target ads on the Roku platform based on a user's network or mobile activity, and vice versa; Or, if you recently saw an Instagram TurboTax ad on Roku's platform, similar ads might pop up the next time you browse the web or social media sites.
As a result, Roku estimates that the OneView platform can cover more than four out of five households in the United States. As a result, Roku is expected to gain significant value as the digital advertising market continues to expand.
In addition, I believe Roku will continue to improve OneView and innovate around the platform. Recently, for example, Kroger (KR) teamed up with Roku to launch a new shopper data program. It combined data from 60 million households in 2,800 Kroger stores covered by the OneView platform. This will benefit packaging consumers (NYSE:CPG) marketers because they are better able to target consumers and measure the effectiveness of campaigns through attribution tools.
However, the platform's opportunities are not limited to advertising, but also include TV-based commerce and digital payments. Roku Pay has enabled users to purchase subscriptions and pay through the platform. As a result, Roku could theoretically extend this functionality and enable users to make other purchases. Jordan Rost, Roku's director of advertising marketing, commented in an interview with Build In. One day, he explains, Roku users might be able to use Roku Pay to buy anything, such as sneakers in a Roku ad.
Roku's competitive advantage comes from (1) intangible assets and (2) high conversion costs.
Roku's main advantage is in certain intangible assets. These include its well-known brand name, the know-how behind the platform, and a growing repository of user data. Roku is not always a neutral platform, for example, Peacock was launched on July 15, 2020, but was not available on Roku until September 21. But Roku's platform has nothing to do with content, because Roku doesn't produce content, so it really can't compete with other content publishers. Competitors can't say the same thing. Amazon (AMZN) has Prime Video, Apple (AAPL) has Apple TV Plus, and Google (GOOGL) has YouTube TV. Motivate these competing platforms to emphasize their content, because more subscribers means more money, which can hurt the user experience.
How important is this? Well, it depends on the user. If most of your streaming content comes from Amazon Prime Video, you may not care if Amazon's search emphasizes your content. However, roku may be a better option if you value a platform that treats all content equally.
In addition to these intangible assets, Roku also benefits from high conversion costs. Once a user has purchased a Roku streaming device or Roku TV and takes the time to set up all their subscriptions and become familiar with the user interface, switching to another platform will take time, effort and (possibly) money.
Roku's strengths help them expand their active user base and increase user engagement. As these metrics grow, Roku's platform becomes more valuable to content publishers and marketers. As a result, average revenue per user (ARPU) has been growing.
Let's take a closer look at these key metrics.
Roku focuses on three key metrics:Active accounts: This metric is highly relevant to revenue. As Roku's user base grows, more and more people can buy (subscribe, etc.) and watch ads on Roku's platform. This earns revenue from subscription video-on-demand (SVOD) and ad-based video-on-demand (AVOD) channels.
Play time: This metric is an agent for user engagement. As user engagement increases, marketers will have more opportunities to attract potential customers through advertising.
ARPU: This metric evaluates the total extent to which Roku is monetizeing its user base.The figure below shows the growth of active accounts over the past three years.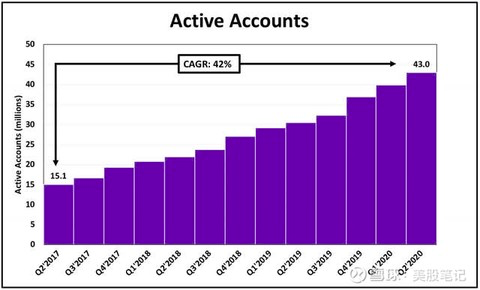 As noted above, active accounts have been growing at an annual rate of 42 per cent since the second quarter of 17. In the most recent quarter, growth increased to 41% year-on-year, with 43 million active accounts. However, as the figure below shows, streaming time is growing faster than active accounts.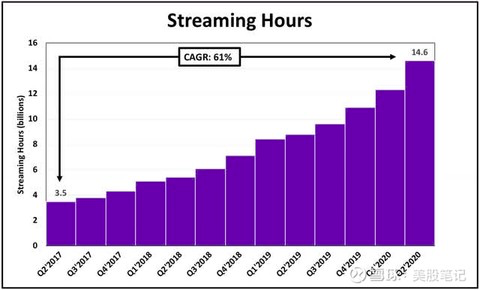 Streaming time has grown at an annual rate of 61% since the second quarter of 17th. In the most recent quarter, streaming time reached 14.6 billion, up 66% year-on-year. In a second-quarter earnings conference call, Roku's management said streaming time surged at the start of the COVID-19 lock-up and, although it has slowed since then, is still above pre-COVID levels.
Finally, the figure below shows the growth of ARPU over the past three years.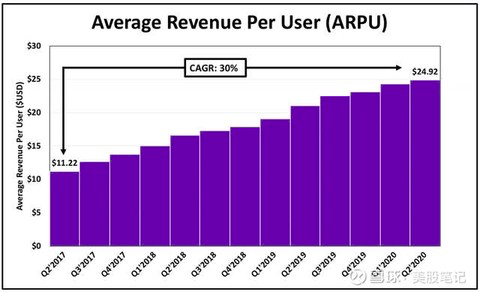 As noted above, ARPU has grown at a rate of 30% per year since the second quarter of 17th. However, growth has been slowing, growing by 18 per cent year-on-year in the second quarter of 20 years.
Even so, the overall growth of these key indicators remains strong. That means rapid revenue growth. Roku's revenues have grown by 47% a year since 2017. The following table shows.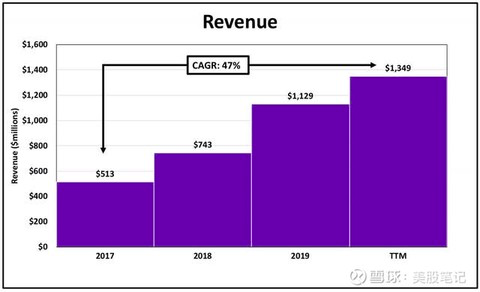 Revenue has accelerated every year since Roku went public, from 29% in 2017 to 45% in 2018 and 52% in 2019. Revenue rose 55% year-on-year in the first quarter of 2010. In the most recent quarter, however, growth slowed to 42 per cent. However, this may be due to a temporary reduction in advertising spending as a result of the closure of the COVID-19 business.
As evidence, Roku reported a 50 percent increase in revenue from video advertising in the second quarter of the 20th quarter, a strong increase but a sharp decline from previous quarters. A year ago, for example, in Roku's second-quarter earnings call, they noted that profits from video advertising more than doubled from a year earlier. So, as the pandemic improves and advertising spending recovers, I believe Roku's OneView platform can accelerate revenue growth in the coming quarters.
Competition:
Amazon is Roku's closest competitor in terms of market share for streaming devices. Amazon last reported user metrics for the fourth quarter of 19 years. At the time, Roku was second with 36.9 million users, while Amazon was 40 million.
Amazon has not updated these metrics as of 2020. This is a bit confusing because the company provides updates every quarter of 2019. Does this lack of news indicate that growth is slowing? 
Even though Roku is still in second place in terms of active users, I believe they can close the gap and take the top position in time. Roku estimates that one-third of all televisions sold in the U.S. in 2019 will be Roku TVs. And while Amazon has released Fire TV Edition TVs, they're not producing much. If Roku can sustain or accelerate this trend, they will be well positioned to overtake Amazon and stay ahead of the curve, as smart TVs are much more expensive to switch than streaming devices.
In May 2020, Kantar, a data, insights and consulting firm, named Roku as the top streaming platform by streaming hours. So even if Roku's user base is smaller than Amazon's, its user base seems to be more attractive. Marketers value dedicated user base.
Emarketer agrees, calling Roku the most popular online television platform in the United States. They estimate that Roku users will account for 47% of internet TV users this year. Emarketer also speculates that Roku will capture more than half of the market by 2022 and that Roku is likely to maintain a strong lead. If this is true, Roku is well positioned to gain value from the ever-expanding market.
The last thing I want to say is that Google is reportedly building streaming service aggregation in Chrome. The feature, which is neither used by consumers nor explicitly confirmed for release to the public, is now known as a comeo. Little is known about the project, but investors should be vigilant.
In addition, Google is reportedly creating a new streaming device, coden named Sabrina. Rumor has it that the device is a successor to Chromecast Ultra, but unlike Chromecast, the content is not streamed from smartphones or computers. The device will reportedly be equipped with Android TV software and a dedicated remote control, which will be a direct competitor to Roku's streaming devices, just as Android TV competes with Roku TV.
Valuation:
Roku is not currently profitable. However, the stock is expensive at about 16 times sales - although it is difficult to compare Roku to competitors such as Amazon at PS ratios, as Amazon's business includes segments that are very different from Roku's (e.g. Amazon Web Services).
In any case, 16 times sales are still a high figure, compared with the average of 2.3 times for the Standard and Poor's 500-stock index. As you'd expect, this high valuation comes with huge fluctuations. Last year alone, the stock hit a low of $58 in March 2020 and a high of $200 in September 2020.
As for risk, I wouldn't ignore Roku's size relative to its competitors - by contrast, companies such as Amazon, Google and Apple are giants. These are the world's largest and most dominant businesses. Amazon has more than $71 billion in cash and current investments on its balance sheet; Google has more than $121 billion in cash and current investments; Apple has more than $93 billion in cash and current investments. But Roku has only $885m in cash on its balance sheet - in other words, Amazon currently has 80 times the available capital.
This can be a serious disadvantage because Roku is unlikely to match these competitors' investments in research and development or sales and marketing. This, in turn, could lead to Roku losing market share, either because they can't keep up with technological advances or because they can't successfully attract new users through marketing.
So far, however, Roku has managed to compete with the giants. Roku has accumulated a large user base, and it seems to be very active. At the end of the day, that's what marketers want - a large, active user base. In terms of valuation, Roku's trading price is certainly high. As in March 2020, Roku's share price is likely to be cut in half again. However, fast-growing companies with huge market opportunities often trade at high valuations. I don't think that will deter potential investors. But if you do invest, be sure to know that this could be a bumpy ride.
Today, one-third of American households do not have traditional television, and another 25 percent are cutting back on television, with the digital advertising market worth more than $300 billion. Roku is taking advantage of these trends, so its platform is becoming increasingly popular among users, content publishers, and digital marketers.
Roku's platform distinguishes it from its competitors, all of which are content publishers and are motivated to promote their content. As a result, Roku's platform is ideal for almost any user, regardless of the streaming service they prefer.
With regard to key metrics, Roku is increasing active users, increasing user engagement and increasing ARPU. What's more, the growth in active users and streaming time has actually accelerated in the last quarter. Since Roku's listing, growth in these key indicators has driven strong, accelerating revenue growth.
In addition, I believe Roku will continue to innovate around the OneView platform and expand its partnerships to provide marketers with more data that will enable them to better target different consumer groups. And, in the future, Roku's may mix its advertising platform into digital payments, allowing consumers to make (or even close) purchases on that platform.
All in all, Roku is a market leader in streaming devices, and through the OneView platform, it is a strong competitor in digital advertising. As more and more people move from linear television to OTT, and as the digital advertising market continues to expand, Roku is well qualified to be a long-term winner for investors.
Risk Warning: The views mentioned in this article only represent the views of individuals, the underlying recommendations involved, according to which to buy and sell, at your own risk.
Welcome to the U.S./Hong Kong Stock Exchange Group
Please add a small assistant WeChat to the group
meigubiji
Instant U.S./Hong Kong stock information
Exclusive U.S./Hong Kong stock data
Full range of U.S./Hong Kong stock services
---