Jiangnan Chun: Good advertising has three standards that customers don't recognize? Employees don't use it? Do competitors hate? "
Jiangnan Chun talks about advertising: If you draw pigs, you can't order dragons
✦ When you rush to write a very satisfied with their own advertising words, please calm down, with a simple three-sentence review, respectively: customers do not recognize? Employees don't use it? Do competitors hate?
- JiangnanChun
Founder of Centring Media
Advertising is less mysterious, mainly based on the way, not creativity.
A good idea may be the "dot" of drawing dragon's eye, but really make it like a dragon or the basic skill of painting a dragon, if you draw a pig, I believe that no matter how you dot, also can not point to a dragon.
Advertising generally consists of three paragraphs: The first step is to use the main ad language to say your differentiation, the second step is to write your trust, the third step is to dig out your function seduce.
According to my "advertising three-paragraph theory", although there is no guarantee that a classic award-winning advertisement will be made, but at least one 80-point work that does not make mistakes can be handed over.
Simply say differentiation
More than 20 years in the industry, although I can not read countless ads, but at least I have seen thousands of ads, good or bad. From these ads, I summed up the four main principles of good advertising language.
The so-called type principle, that is, how to say your differentiated selling point,Say why consumers choose you over others.
1, direct appeal
In the main advertising language directly explain what the product can solve the needs of consumers, do not need too much decoration, hit the consumer pain point.
Such as "mobile app loans to find loans," "intercept scam calls with 360," "to crowdfund on the cloud," "pack buses on the bus," "credit card repayment with repayment," "renovation to find the rabbit" ... These are obvious direct claims and the best sentences. Although this sentence may seem simple, there are three things to note:
Simple.
This sentence must be concise enough, an extra word do not say, "to crowdfunding cloud" is the best example, 6 words to delete a word can not, concise to the extreme.
The brand is exposed
In this sentence, it is best to include the brand name. Such as "sleepy tired drink Red Bull." Although the words refined, but still achieved the brand exposed and the perfect combination of user needs.
A lot of advertising design brand exposed not enough, often first say a word, and then the brand name, which wastes consumer time, not to mention some ads at all there is no brand exposed, let people see the next fog.
Use more colloquialisms
Please believe that spoken English is the origin of human beings.Good sentences are simple enough, they are all spoken, slang, and idioms. Guangdong has a saying called "no line of defense", especially easy to enter the minds of consumers.
Many rural brush wall advertising sentences are very good, such as "to marry a daughter-in-law, immediately on Taobao" and so on, this sentence is very easy to spread. If your ad looks very written, it doesn't work very well in general.
Look at this Red Bull ad - "You have more energy than you think, Red Bull functional drinks" for example. The sentence was really tall, and the result was to take Red Bull up the air at once. It turned out to be"Sleepy tired drink Red Bull", can let consumers produce conditional reflexes, now have to pull to the level of energy, too written.
What are the written results?Dongpeng special drink to take advantage of, immediately launched the "tired sleepy drink Dongpeng special drink", the response is great, so that Red Bull lost some of its original brand assets. If you don't cherish yourself, you can't blame others for picking up leaks.
There are many ads with the same problem, TCL company has spent hundreds of millions of yuan in CCTV to play "TCL achievements between heaven and earth" grandior, it does sound like a big pattern, but too far away from ordinary consumers, some groundless.
And some ads like to play word games,For example, "Good Builders Bank" was once the advertising language of China Construction Bank, which has the words "build" and "line", but the question is in addition to the advertising policy, who can crack this word game for the first time? Or, everyone is very busy, which consumer is free to play word games with you?
2, dramatic expression
Breaking down intrinsic thinking and expressing unconventional expressions can also be memorable for consumers. Such advertisements are full of drama and are easy to make people feel refreshing.
If you're hungry, don't call Mom, are you hungry? Consumers after reading the first sentence will think: hungry don't call Mom? What's that called? Do you want to make it for me? Then the second sentence tells you, hurry up hungry, hungry to send you takeaway.
It is such a full of dramatic advertising slogans, so hungry out of the United States group takeaway and Baidu takeaway surrounded by heavy, hit their own name. Nutrition or steaming well, real kung fu is the same.
3, news statement
"Newscast" we have all seen, because of the habits developed over the years, most consumers in the first time to hear the news, will believe its authority and objectivity. The same is true of news statement ads.
"400 million urban population, 200 million people a day to see the crowd", "thanks to the people of the whole country to let the boss high-end smoke machine 15 years of sales far ahead", "Shenzhou car first license", "rice oil we ate a hundred years late, we are ahead of the world today" ... And so on, is the news statement advertising.
4, question-type advertising
Ask questions in the advertisement and give solutions, such as the first sentence: "Afraid of blocking, afraid of crowding, afraid of rush?" Then the second sentence gives the answer, "Use a certain one no longer need to be afraid", this is the question-type advertising. "Which electric car is more high-end?" Yadi" is also a representative of this type.
There is no doubt how important a good slogan is, but many of the slogans in this society are wrong. For example, there is an ad that says, "The first ray of light on the side of the day..." He thinks that the advertisement will be read like a poem, but this advertisement has no title at all, does not know what to say, intends to let consumers guess for themselves.
For example, Qingdao pure life, fresh life, very rhyme is very regular, but say the brand differentiation? Say why you chose not someone else? No! If you change it to "100 years of yeast, pass on the wheat fragrance", this advertising language is very good. Why do you drink Tsingtao beer? Because it is a hundred years of yeast fermentation, drink up to have a passing wheat fragrance.
Although it can not do spoken, read not so Lang Lang mouth, but at least than the original advertising language more reflects the product differentiation.
✦ Tips:
Three alternative tips for writing ads
First, force the boss.
Business owners tend to have the most thorough understanding of the brand and the deepest love, from their mouths often can find some "golden sentence." Therefore, the first tip is to face the boss for half an hour, let him in half an hour to come up with a sentence that best reflects the brand differentiation, the more vulgar the better.
Try to be able to simply say brand differentiation in 15 seconds, and why you chose not someone else.
Second, visit the sales champion.
Find out 3 to 5 sales champions in the enterprise, let yourself stand in the position of an ordinary user to buy things, see how they say to you. Sales champions are often right because they use the actual sales volume of the terminal to prove his point.
Third, interview loyal customers.
In addition to the two above, you can also interview loyal customers. Loyal customers are people who not only buy your product for a long time, but also introduce others to buy your product. What you need to do is watch how he introduces others to buy your product.
Mr. Hua Shu, chairman of Huahua Marketing Consulting Company, said: "The so-called advertising, is not the enterprise to write a word for consumers to listen to, but to write a word for consumers to pass on to other consumers to listen to."
So how consumers spread it is critical. The sentences that your most loyal customers spread are often of reference value and are spoken enough.
If a new brand wants to break into the consumer's mind and enhance the consumer's trust, it needs to use the trust form.
Trust form is a way of trying to convince consumers that you have to call the following 8 points that consumers generally believe:
1, with hot sales to trigger the follow-up purchase
The so-called hot sales, in fact, is the "people's psychology", with the big slip.
This feature is the brand's strong trust, easy to trigger consumers to follow the trend of buying, such as "700 million users are using the news app," "four small partners three with drops," "three-year cumulative sales of 110 million units," "Red Rice National Mobile" and so on.
Hot sales will affect the minds of consumers, all kinds of sold-out hunger marketing is the classic way to create hot sales. Queues can also lead to high sales, and people tend to choose which restaurant to eat at because they see which restaurant's captain is in line at dinner.
2, with the opinion leader favor endorsement
Favorability refers to a particular group or individual's preference for a product, which is also a social identity. All kinds of stars, groups or organization endorsements of the current season are the concrete manifestations of favor.
The use of such trust is often not a leading brand in the market, such as "Farmer's Hill Springs for national leaders to cook food."
Take the yellow wine brand "will audit mountain" as an example, the best selling yellow wine in China is the ancient Yuelongshan, how can the ancient Yuelongshan be defeated? It took advantage of the most popular opinion leaders of the trust, said that they are "Shaoxing people love to drink Shaoxing yellow wine."
Consumers generally believe that Shaoxing people know more about yellow wine, will audit the mountain will be the field of yellow wine opinion leader as Shaoxing people, said that they are more favored by Shaoxing people, won the recognition of many yellow wine lovers.
3, highlight the leading brand position
The so-called leading brand, is "I am the best selling" or "the most people choose", such as "10 consecutive years of sales far ahead", "guar second-hand car direct sales network sales far ahead", "high-end kitchen electric brand leader", "10 cans of herbal tea 7 cans of Gadobo", these ads are the use of leading brands as a form of trust.
4, with expert authority to create a professional image
Often, there is an inherent perception of an institution or enterprise that focuses on something or a particular product: since it is an expert or authority in a particular area, there must be more experience or higher taste and requirements.
For example, consumers generally believe that specialists are more specialized. In fact, there are many doctors flowering on many sides, may be better than others in two or more fields,But he can't say he's strong in both areas,If you say so, consumers don't believe it, which goes against the basic common sense of the user.
Such as "the only Chinese financial case selected for Wharton Business School", "Yixin Fortune won the Asian Banker Award", "Comfort, Global Dental Recommendation" and so on, to the user's mind of the expert image for the brand endorsement.
5, with a long history to provide consumers with a sense of security
Products with a long history often provide consumers with a strong sense of security.
Such as "Wang Laoji herbal tea, created in the Taoguang years, 185 years of authentic formula", even if there is a major raw material in the herbal tea category whether the summer grass is toxic controversy, most consumers will think that "have been drinking for a hundred or two hundred years, no longer have a problem is not much."
If new categories and brands are found to have problems in this area, they will soon disappear.
There are many success stories, such as "Tang Dynasty Court Wine, Sheng Shi Jian Nanchun", "100-year yeast, heirmes", "146 years of scientific research results", "German centennary brand" and so on.
6, with the image of the pioneer to shape the brand's non-replicable
Mercedes-Benz's ads will always say they are"The inventor of the automobile invented the car again",No brand can replicate this seemingly flat but overbearing slogan.
Because behind this sentence, is the car from nothing to more than 100 years of glorious history. By the same to no re-inventing POS machine, "Nine Yang is the pioneer of soy milk machine", are the first products to open the industry.
In order to cater to the market wave of consumer upgrading, Xiang Drift bought a star-studded private milk tea shop, LanfangYuan, from Hong Kong. This milk tea shop has created a Hong Kong-style strong milk tea made from tea bags(Commonly known as stocking milk tea)Category, so the fragrance floating in the high-end brand for Lanfangyuan advertising, then used the "stocking milk tea pioneer" reference.
7, with the manufacturing method of lean to impress consumers
Manufacturing methods are an indirect physical difference. For example, the word "pure manual" often makes users feel valuable and represents fine workmanship.
Please note thatWhat I'm saying is that "user perception", that is, user perception, is inherent common sense in consumers' minds, and it doesn't necessarily mean that it is.
You know, in general, machines are made to be more standard and sophisticated than manual ones. For example, the shoulder of a handmade suit is always not properly arranged, and the shoulder shape of the suit produced by the machine is better.
Again, such as "long time" "multi-process" and other words, can arouse the user's high-quality association with the product.
Such as "Angel A6 water purifier, the United States original imported Dow filter." When it comes to Dow filters, many consumers will be more comfortable with this water purifier. The original Imported Dow filter in the United States is one of the best in the world, and the water purifier quality of the filter is naturally not much worse, which is consumer awareness.
8, with a new generation of upgrades to block opponents
In technology products, the new generation usually means better and more advanced, which is an alternative.
Apple phones are typical of the next generation of technology, starting with the iPhone 3G, with the launch of the iPhone 4, iPhone 5, iPhone 6, iPhone 7, iPhone 8 ... The numbers aren't enough, and the latest generation of Apple phones simply named the iPhone X, but it's this constant upgrade that's killing competitors.
Functional seduation, also known as benefit rendering, is the most abundant source of differentiation.
For example, delicious, good-looking, durable, fast, safe, portable, easy-to-use, fun, puzzle, moisturizing, whitening, dandruff, hemostaging, anti-aging, fast claims, good environment, good service, energy saving, strong, long-lasting, quick-acting, painless and so on.
The point of functional sedustration isSimple and rough, with less space to explain the benefits to the user, hit the user pain point.
Such as "mobile phone app loans to find loans", "guar second-hand car free door-to-door service, to ensure zero accidents, 14 days can be returned", "drop express seven days free", "pizza 50% off" and so on.
Summary.
In short, good advertising is mainly composed of the above three theories, of course, there may be other methods, but 95% of good advertising is used in three paragraphs. Write according to this line, you won't make too many mistakes.
In addition, to emphasize an important issue, advertising is good or bad, not to see the advertising planners and a small circle of people around them how they feel about themselves, but to see the reaction of customers, front-line sales staff and competitors.
So, when you rush to write a very satisfied with their own advertising words, please calm down first, with a simple three-sentence review, respectively:Does the customer recognize it? Employees don't use it? Do competitors hate?
Some ads can make relatives fast, enemies pain, such ads are usually more likely to succeed.
For example, "fear of fire to drink Wang Laoji", a simple advertising language is a typical blocking category, directly in the hearts of consumers will be brand and category painted on the equal sign, do not leave any living space for competitors, you say competitors hate you?(Complete)
Note: This article is excerpted from "Snatching the Mind", by Jiang Nanchun, CITIC Press.
Recommended reading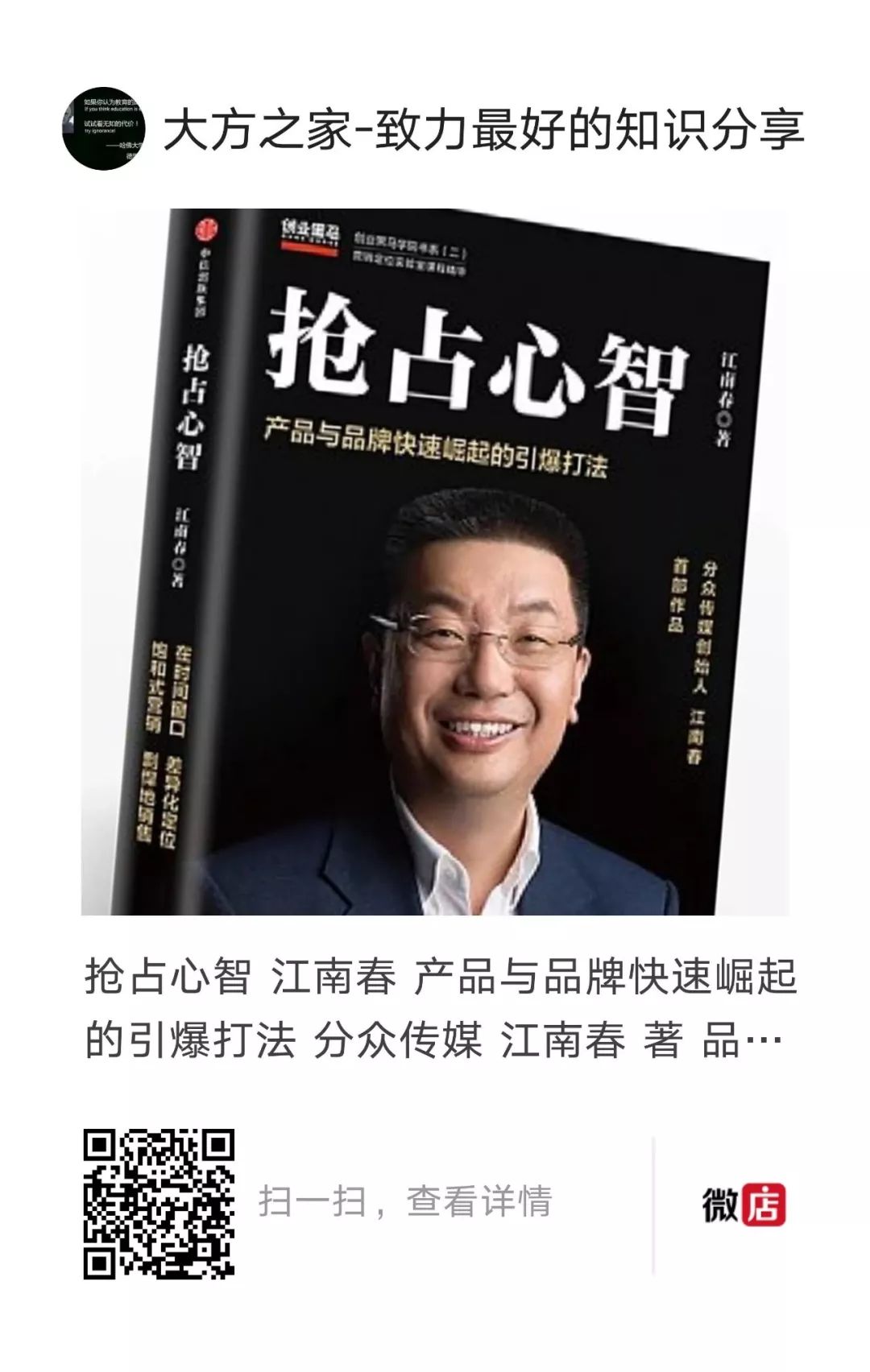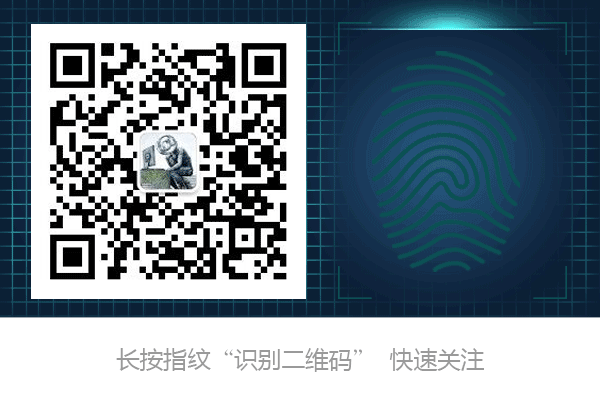 A cup of coffee a day absorbs the energy of the universe!
Reimagining the way of dimensionality,
In the AI-plus era, read Internet thought(wanging0123)
Contact:Contributions and content collaborations are available 271684300@qq.com
---