Instagram nobie must-see! Details of the type of ad and how it will run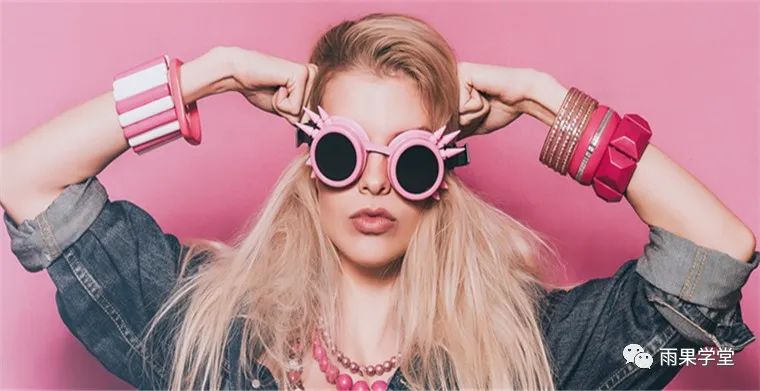 With a potential audience of nearly 1 billion and access to powerful targeting features and tools from parent company Facebook, Instagram ads have become the subject of recent brand and e-commerce pay-per-view promotions.
Well, the first thing a lot of people ask is, "How can I advertise on Instagram?" So this article is going to share the basics of running ads on Instagram.
What is an Instagram ad?
Posts or snaps that pay for promotions on Instagram differ from regular posts in that they are marked with a "Sponsored" logo and a CTA button at the bottom left, such as "Learn More" to attract traffic or conversions. In addition, some Instagram ad types include other e-commerce features. We'll explain it later.
How much does an Instagram ad cost?
There is no unique answer to the question of the price of Instagram ads. There are many factors that can affect the cost of your Instagram ads, including:
Positioning
Where your ads are running
Ad format
Delivery time
According to AdEspresso, the average CPC (cost per click) for most ads is $1.20.
And you can control the cost of Instagram ads by setting campaign spending limits, daily budgets, and bid strategies.
The type of Instagram ad
Instagram offers several ad formats:
Shoot ads quickly
Image ads
Video ads
- Wheeled ads
Aggregation ads
Discovery page ads (Explore ads)
IGTV ads
Instagram shopping ads
The first 4 are the most commonly used types of Chinese sellers. Each ad type applies to different business goals (including APP installation, brand awareness, conversions, attracting potential customers, messaging, reaching customers, store traffic, video playback, etc.) and has different CTA options, such as:
Apply Now/Apply now
Book Now/Book Now
Contact us/Contact us
Get Offer/Get offers
Learn More/See more
Order Now/Now order
See Menu/View menu
Send Message/Send a message
Send WhatsApp Message/Send WhatsApp messages
Shop Now/Buy Now
Sign Up/Register
Subscribe/Subscription
1, shoot ads quickly
An Instagram snap ad is a full-screen ad that appears between a user's snaps.
It is understood that 500 million Instagram users watch snaps every day, and you may be able to attract a large audience with Instagram snaps. Brands can take advantage of features in fast shooting, such as adding filters, effects, voting, and text for creative promotion.
Fast-shooting ads are no different from regular fast-shooting, users don't feel interrupted in the browsing experience, and you can add "swipe up" at the bottom of the quick-shoot to take users to the page you specify.
2, picture advertising
Images allow sellers and brands to showcase their products and services with eye-catching images.
If your image quality is already good, then Instagram image ads will let your content be seen by more people.
As with other Types of Instagram ads, do you need to choose a CTA for your ad that is closest to your business goals, do you want to attract visitors to your site, or do you want them to follow your Instagram account, or do you want to convert them?
3, video advertising
Video ads on Instagram last no more than a minute, so you'll have the opportunity to give people a closer look at your brand, business, or product. Also, shorter videos are often more effective, especially if you light up your brand in the first few seconds of your ad. More importantly, short video ads are a hot trend these times.
4, the rotation of advertising
Caruscing ads allow users to swipe left and right to view a series of images or videos and jump directly to your website to make a purchase via the CTA button.
You can use them to:
Showcase a wide range of products
Share a multi-part quick shot
In-depth display of a service that can display up to 10 pictures or 10 videos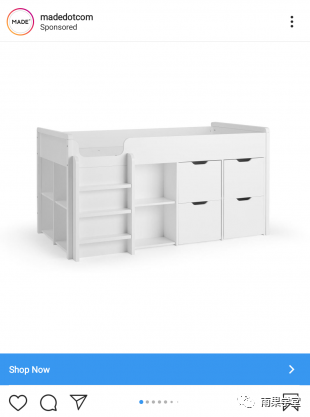 (Photo: Made.com)

5, aggregate ads
Aggregate ads provide compelling e-commerce capabilities: users can choose to buy products directly from ads. When people click on an ad, they are directed to the Instagram Instant Experience Store.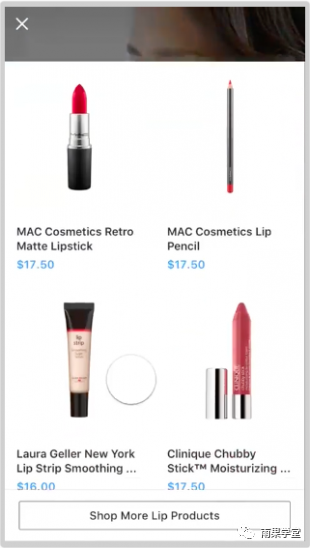 Source: Instagram
Aggregate ads combine the power of photos, videos, and direct response marketing to be more functional.
6, Instagram found page ads
Explore is a tab on Instagram where users can discover new content and accounts. More than half of Instagram users visit the page every month.
Discovery page ads don't actively appear on the Explore grid or thread, but don't appear until a user clicks on a photo or video in Explore.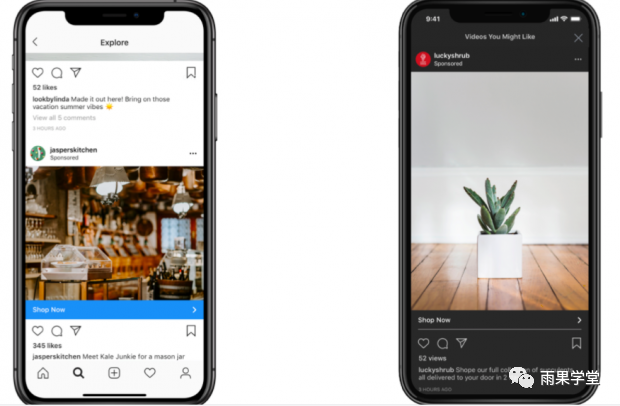 (图源:Facebook for Business)
Discovery page ads require the same frequency as regular ads, and your material in other Instagram image ads or video ads applies to Discovery page ads, but you can use the Explore page as an additional display.
7, IGTV ads
Instagram recently announced that it will offer advertising locations on IGTV, Instagram's long video platform. Details are not immediately clear.
8, Instagram shopping ads
If you have Instagram Shopping installed, you can serve your shopping posts as Instagram ads.
Instagram shopping ads take users directly to the product details page in the Instagram app. They can then make a purchase through the website page on the mobile phone side.
How do I advertise on Instagram?
There are two ways to run ads on Instagram. An easier approach is to promote existing posts directly within the app (similar to Facebook's tweets). But using Facebook Ads Manager to create Instagram ads allows you to use many custom features.
Method one:
Let's start with the simple method.
If you find that one of your posts is doing well and attracts a lot of people, you can promote it directly in the APP if you have an Instagram account (there's a "Promote" button below the post).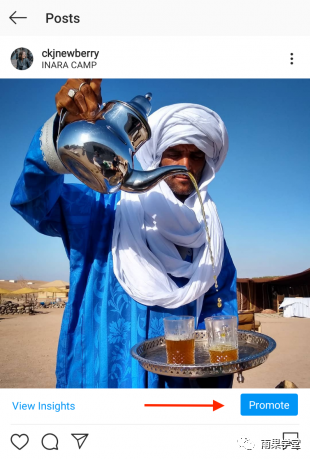 (Photo: blog.hootsuite.com)
Then associate your Facebook Business Page page (no new one) with your Instagram account, choose who will see your ads, where you want them to be sent, how much you want them to cost, and how long you want them to run. Finally, click Create Promotion to complete it.
You can then monitor your ads on the Promotion tab of your Instagram profile.
Method two:
Simply put, with Facebook Ads Manager on Instagram, you first need to apply for an FB corporate advertising account: 1) register an FB personal number;
First, go to Ads Manager and click on "Create".

You can choose from two different processes to help you create and manage Instagram ads. By default, use Guided Creation, which guides you through the steps you need to take to create a typical Instagram ad that's more suitable for new users.
Another "Quick Creation" gives you more control over the production of Instagram ads. If you're experienced and have created Facebook ads before, you can switch from Switch to Quick Creation to Quick Create.

Next, use Guide Creation to demonstrate the steps.
Step 1: Select your ad goal
Ads Manager provides a list of targets. When you select a target, you'll be prompted to name your campaign. The default name is the target you choose (for example, Brand Awareness), but you can give it a more specific name, which makes it easier to track your ad performance.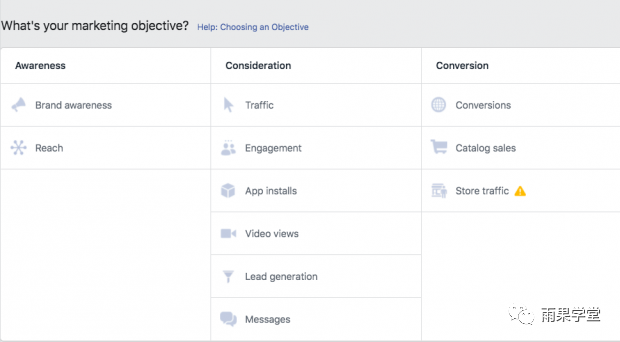 Step 2: Identify your target audience
This is set according to your target customers, here do not expand the details, have done advertising have a certain understanding.
Step 3: Choose where your ads appear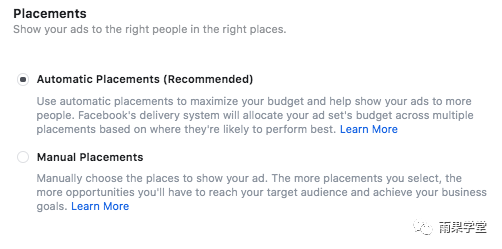 You will have two options:
Auto-delivery. Your ads will be shown to your audience in any location that works better.
Manual delivery. You can choose where your ads appear. For example, if you want to limit your ads to only appear in Instagram snaps or only in Instagram feeds, you can choose "Run Manually" and check where you want your ads like the one below: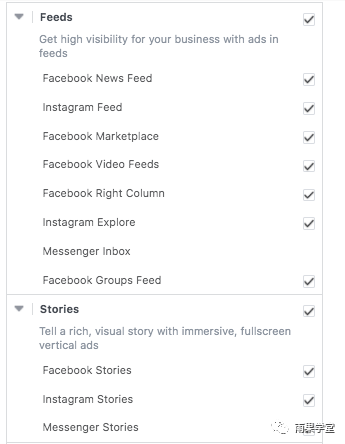 Step 4: Choose a budget and schedule
You can choose the maximum daily budget, or you can set a lifecycle budget for your entire campaign. You can also choose to run ads continuously or only at certain times of the day.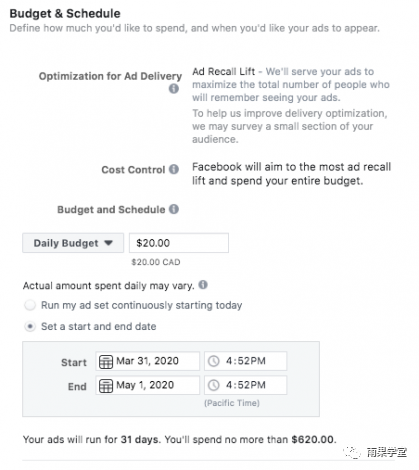 Ads Manager also offers ad optimization and bid strategy options. These can be customized, depending on your ad goals.
When you adjust these options, the "Estimated Daily Reach" ratio on the right lets you know how many people will see your ads every day.
Step 5: Create an ad
Next up is the production of your ad, including choosing the type of ad, choosing your image or video, crafting an ad file, choosing your ad payment method, selecting the CTA button, and more.
If you want to track subsequent conversions through Facebook pixels or events on your site, you can pull them down and set them up in the Tracking section.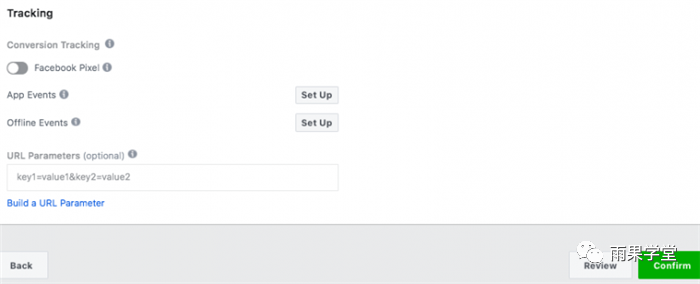 Once clicked to confirm, an Instagram ad is complete.
(Source: Pioneer Offshore)
The above content belongs to the author's personal point of view, does not represent Hugo's position! This article has been exclusively authorized by the original author to contribute, reproduced by Hugo.com authorized consent.
Daily sales of millions of orders! Beauty sales reveal hand lotion burst single trilogy  April 22 at 3 p.m., live on Hugo, sweep the code or click on the bottom"Read the original text"You can make an appointment to watch the live broadcast.
---