Imitation short video, two girls one dead and one injured who?
On the 39th day of Zhou's death, "Office Ono" officially resumed video updates. And Zhou Zhe's life, forever fixed at 14 years old.

On August 22, two girls, Zhou Zhe and Xiao Yu, were killed and injured when a short video posted by Net-a-Lago showed an explosion while using a can of homemade popcorn. Zhou Zhe's family previously interviewed the media, said that the two girls used their mobile phones that day to watch a "office ono" net red released on the shake tone "easy to pull cans of homemade popcorn" short video.
Zhou Zhe's death has aroused great concern in public opinion. The issue of attribution of responsibility for family members, "Office Ono" and short video platforms has become the focus of heated discussion. The Office Ono team reached a settlement with the families of the two girls by paying the aid money. After the accident, Zhou Zhe's family has also contacted the jitter platform, hoping that the other side on the consequences of its weak supervision to be responsible, "but they pushed back, said they are customer service, can not control this matter." Zhou Zhe's father told reporters.
Zhang Xuwen, a lawyer at Shanghai Huiye Law Firm, said the bailout was a financial aid provided by one party to the other for humanitarian reasons and was not defined by law. The party providing the bail-out is not necessarily at fault. Compensation, on the other side, is usually paid by the responsible party to the injured party.
24 is the 49th day of Zhou Zhe's death. To the "last seven", Zhou Zhe's family did not wait for compensation, only "relief money." No one but Zhou Zhe's parents admitted responsibility for Zhou's death.
"Office Ono" released the "easy can homemade popcorn" short video, although it has been shaken off the shelf, but when the reporter with relevant keywords in other short video platform search, found that there are still similar videos in the absence of security tips spread.
The question of public concern is: Can Zhou Zhe's death bring about change? How can tragedies be avoided in the future?
Chen Tangfa, a professor and media law scholar at Nanjing University's School of Journalism and Communication, believes that the platform should fulfill its obligation to pay attention to the proliferation of short video content with a clear risk or probability of harm, on the premise that minors constitute an important component of its users. In addition, he suggested that the relevant departments should increase their legal obligations to short video uploaders. "Short video producers should be asked to give the necessary instructions on the possible dangers of the videos they produce and how to avoid them."
Traced back:

Two underage girls imitated "easy cans of homemade popcorn" one dead and one injured
On August 22, 14-year-old Zhou Zhe and 12-year-old Xiao Yu exploded while using a can of homemade popcorn.
Zhou Zhe's family in an interview with the media, said that the two girls used their mobile phones that day to watch a "office ono" of the net red released on the shake tone "easy to pull cans of homemade popcorn" short video, so also learned to make popcorn. The first time the alcohol was ignited, the corn did not turn into popcorn, and after pouring the alcohol again, an explosion occurred.
Both girls suffered varying degrees of burns, including 14-year-old Zhou Zhet, who suffered severe burns of 96 per cent before she died on September 5.
This matter caused public concern, for who is responsible for the accident, Zhou Zhe's family believes that the family is responsible, but the video publisher "Office Ono" and platform Fang Jiyin are also responsible, has proposed to sue the video publisher and short video platform.
"Office Ono" responded on Weibo, saying that the accident between Zhezhe and Xiaoyu is by no means a imitation of their own video, but is willing to provide Xiaoyu's follow-up treatment and Zhezhe's family to help within their means, and will continue to launch a rigorous self-examination, the platform permanently off the shelf account of all the videos with security risks.
According to the Beijing News, representatives of the "Office Ono" team went to Zizhuang, Shandong Province, on September 16 to meet with Zhou Zhe and Xiaoyu's family to communicate and consult, and the two sides agreed not to consider the division of responsibilities, but to talk about how to resolve the aftermath. Later on the 17th and 18th, "Office Ono" side and Zhezhe and Xiaoyu's family reached a settlement agreement, a one-time relief payment.
Zhang told reporters that relief money is common in reconciliation and mediation mechanisms. "From a legal point of view, the party providing the bail-out is not necessarily at fault and the amount is not specified."
Zhang also mentioned that according to the law, compensation is usually paid by the responsible party to the injured party, "i.e., the responsible party in the course of its actions to the detriment of the interests of others, in cash, in kind and other material means to the injured party compensation." Compensation is calculated on the basis of a corresponding legal basis and is usually greater than or equal to the loss actually suffered by the injured party (e.g. property damage, personal injury, etc.). "
Less than a month after the settlement was signed, Office Ono was the first to resume video updates to its Weibo account on October 14. Subsequently, it has been in today's headlines, watermelon video, WeChat public number, volcanic video and B station and other platforms to resume updates, jitter platform account is still in a state of suspension.
Reporters tried to contact the two sides on the content of the agreement, Zhou Zhe's father said that when signing the agreement has promised the other side not to disclose the reconciliation information, "Office Ono" side did not give reporters WeChat application to pass, Weibo and WeChat public number related interview questions private letter also did not reply.
As for the previously mentioned prosecution of the jitter platform, Zhou Zhe's father told reporters that the matter has been dealt with, and "Office Ono" signed a settlement agreement has agreed not to hold them accountable and jitter platform, "I can not lose faith, can not be held accountable." "
In the view of Peng Ding belt, a professor at Nanchang University Law School, in this accident, there are three types of subjects that should be held responsible, one is the guardian of a minor who has no ability to identify and control certain things, that is, the parents of the victims; The platform for video publishing is a responsible third party.
"The platform has a duty of censorship for videos containing undesirable information, including dangerous, suicidal, pornographic, etc.", and as for how much responsibility it has to bear, Mr Pendin said evidence was needed on the legal side.
Phenomenon:

Short videos mimic casualties or security incidents
There is still a scar on A Jian's right eyelid, which he was injured after he failed to imitate an action challenge video called "Double Turned Head".
This is an action that needs to be done with a friend, that is, two people face standing, one person bowed his head and bent down, his hands out of the middle of his legs, the other person grabbed his outstretched hands, force up 180 degrees, successful words will complete the ride waist, unsuccessful will lead to injury and other consequences.
Two years ago, when the short video was just on fire, A Jian liked to watch some kinds of creative, funny, funny and other types of videos. After watching a lot of action short videos, he chose some actions suitable for challenging with friends, and successfully completed many times. A Jian told reporters that he also watched a lot of such action challenge failure collection, "feel that they have no problem, completely done."
Didn't expect, failure or come. In a new friend challenge "double turn head", the other side in the turn up too hard, and the direction is not accurate, the brain door suddenly hit on the glasses of A Jian, "the glasses burst on the spot, eyes can not open." "
Recalling the scene at that time, A Jian was afraid, "Fortunately not serious, otherwise the eyes may be blind." "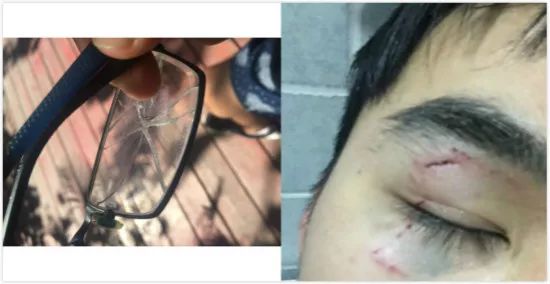 Sword's injured right eye and cracked glasses (pictured)
Reporters then search found that the "double turn" video can still be seen on many platforms, some of the bottom added "the behavior is risky, do not easily imitate" warning, but there are many more videos are not attached. Such casualties or policing incidents caused by parody of short videos have occurred several times throughout the country.
Last year, a father in Wuhan also failed to challenge his two-year-old daughter to "double-turn his head" and lost his hand when flipping 180 degrees up, causing the child to fall to the ground with a severe spinal cord injury and inability to move his upper body, Hubei Tv reported.
Also last year, "Live Hainan" reported that three children in Ding'an County, Hainan, were injured by firecrackers for imitating the fast-track live video production of "Mountain Pig Cannon", and the Legal Evening News reported that an 8-year-old boy in Xi'an, Shaanxi Province, imitated a full-person video of "tape sticky door" on the shaking sound, causing his 6-year-old brother to fall and be covered in blood.
According to the official microblog of the Public Security Bureau of Lushan City, Hunan Province, two men who had been drinking were driving their motorcycles home when they used their drinking power to imitate a short video of a woman blocking the road. When the police arrived at the scene, the two men also pushed and verbally abused the police. Finally, the two were each sentenced to 20 days' administrative detention.
Zhang said that video publishers generally have a mature operating team and a large fan base, short video once issued is widely disseminated on the network, and video viewers in imitation of short video content operations, lack of professional guidance, the risk is higher.
Behind:

Netizens imitate short video accidental frequency net red by traffic realization income is considerable
"The Girl Imitates the Death of Homemade Popcorn" event "Office Ono" is known as the first network of 2017 red, she used the brain hole wide open food video network, representative works include in the office with a water dispenser cooking hot pot, ironing fat cattle, chassis stall pancakes and so on.
With its huge traffic, "Office Ono" realized the profits, in the entry of overseas platforms to perform well. She is ranked No. 1 in the Number of Fans in China, a YouTube platform, according to china Daily. Earlier, NoxInfluencer, a platform that analyzes Red Data on YouTube, reported red revenue for YouTube: Office Ono's monthly ad network earned $4.59 million, with a one-year dividend estimated at $55.08 million.
However, Ono's onion video CEO, Yu Yangde, has told the media that the data is not true, but Ono's revenue on YouTube is indeed considerable.
When the reporter browsed the jitter platform, she found a short video maker with the same characteristics as "Office Ono" with "creative handiwork", "Amo", who has more than 8 million followers and is certified as a "creator of quality living" in today's headlines.
In the video homemade barbecue, juicer, etc. , the use of saws, chainsaws, sickles and other sharp objects are still visible, reporters randomly browsed several videos are no step description and security risk tips, users, especially minors in imitation prone to accidents.
Reporters in the name of business cooperation consulted the "one-man ink" company, the other side replied to an October business price magazine.
In the publication, the reporter saw that in a short video platform, the company's 11 IP accounts, according to its total number of fans, the total number of works, the total number of likes, business promotion fees are also different. In the promotion of the 0-20 second range, the "to hand price" ranges from 7800 yuan to 108,000 yuan, and in the atmosphere of 21-60 seconds, the price ranges from 9000 yuan to 180,000 yuan.
In this network era where everyone can do internet red, minutes can catch fire, for users, in addition to watching these online red released videos, many ordinary people also want to pick up mobile phones, shooting videos, get more likes and onlookers.
At this time, the content can be imitated more easily stimulate the user diffusion, in particular, fun, fun, novel, and even hunting action, dance, drama, etc. are the elements that users prefer to imitate, these conditions are often linked to its traffic, easy to be recommended by the platform, become a burst.
Short video platform by launching challenges, with topics, labels and other ways to quickly gather similar users, such as the popular "water into ice" and "ice drift" and other short video, there is a certain risk, the former may be scalded, the latter will lead to drowning.
According to media reports, in the first two days of this year, there were three drownings in Shanxi, Tianjin and Heilongjiang caused by driving on the ice.
Reporters in the shaker platform "topic" column and fast hand platform "tag" column are "splashing water into ice" as the keyword search found that the former platform under the topic of a total of 9388 videos, playing 240 million times, the latter's label has 219 works, reporters in two platforms randomly browsed several videos, found no security risk tips.
"Girls imitate homemade popcorn died", the relevant video has been off the platform, but when the reporter with relevant keywords in other short video platform search, found that there are still no security tips similar video.
Experts:

The short video platform should take into account the economic and social benefits
Imitation of short video accidents occur frequently, why there are still many hidden risk factors in the major short video platform video content?
Chen Tangfa believes that this is because the iron law of the market economy - "high risk must be accompanied by high returns" is also reflected in the pursuit of Internet content. "The spell of 'traffic is king' prompts web service providers to intentionally or unintentionally ignore content security, and 'risk' can be a 'selling point'."
In the wake of such accidents, short video platforms have repeatedly been mired in controversy. In response to the question of its responsibilities, Tan Tian, a professor at Jinan University's School of Journalism and Communication, said that for such videos, which have security risks and involve technical aspects, the platform has a responsibility to regulate and explain.
"Office Ono" in the apology, said that he was in the Chengdu Public Security Fire Brigade officer micro-reminder, only to realize that there may be a security risk in the video. Later, they added hazardous action tips to videos that they thought were hidden, "Now it seems that such tips are not enough." She wrote.
Tan Tian told reporters that for this kind of net red to reach a certain amount of fans, the greater the traffic, the greater the social responsibility, their every move will have an impact. "Net-a-Cross is not aware of this (security risk) issue and the platform side should strengthen its supervision."
Peng said that for platform operators, maintaining a civilized, clean and green network environment is not only a legal responsibility, but also a social responsibility.
" (Platform side) can not be a profit indicator, to assume the corresponding social responsibility, economic and social benefits to consider the overall."
With the rapid development of the short video industry, chaos ensued. From the recent "girls imitating the death of homemade popcorn" to the previous underage mothers collective praise, from raw pork to the use of "slugs" and other eyeballs, to strengthen its supervision has long been a matter of public concern.
There have been responses at the government level. Relevant regulatory authorities have repeatedly interviewed the short video broadcast platform, asking it to further improve the content audit release, security policy management and other mechanisms, with the correct values to guide the algorithm, for the vast number of netizens, especially young people to create a clean network space.
On January 9 this year, the China Network Audiovisual Program Service Association issued two industry norms, the Network Short Video Platform Management Code and the Network Short Video Content Review Standard Rules. The requirements of the network platform are higher, the standard of content audit is more stringent, and the operation of platform management is also stronger.
In order to prevent minors from indulging in short videos, from April this year, the National Network Trust Office guidance organization "shake sound", "fast hand", "volcano video" and other short video platform pilot on-line youth anti-indulgence system.
For the supervision of short video platform, Peng Ding believes that the platform itself can use automatic identification and other technical means to pre-audit video content, and for technical audit can not meet the requirements of the need to invest a certain amount of money to strengthen manual audit.
Tan suggested that the platform should set certain standards for uploaded video content, once the standard violation, any citizen can report. In terms of manual auditing, he said, the platform can mobilize netizens or relevant experts and scholars to set up professional committees.
"Some are algorithms and machines can handle, some are not handled, must pass manual audit, content is not faulty, there is no security risks, will not induce young people, especially fan volume and traffic is relatively large, all need manual audit." (These) can not save trouble, the platform user base is large, to strengthen responsibility," Tan Tian said, artificial can not judge the case, you can hire relevant experts to judge, "some hidden dangers experts can see the problem, such as involved in the use of fire, need fire experts to see." "
Chen Tangfa suggested that the relevant departments need to increase the legal obligations to short video uploaders. "Short video producers should be asked to provide the necessary instructions on the potential dangers of the videos they produce and how to avoid them, which should be an essential part of uploading short videos, otherwise they will be held accountable regardless of the actual injury."
The second is to enhance the actual effect of user reporting. That is, for the content reported by the whistleblower is indeed dangerous, the administrative fines that hold the platform party accountable will reward the whistleblower in a certain proportion, and indeed combine "everyone has responsibility" with "everyone is beneficial", and use legal means to truly implement the principle of network governance of group prevention and group governance.

Everybody's watching
---
1100,000 words in minutes?!And then fool around...

"Comrade Police, can you help prove that 'my house is my home'?""
Editor-in-chief: Qiao Hong Edit:Joe Liang
---
Source: People's Daily Online Yang Qiao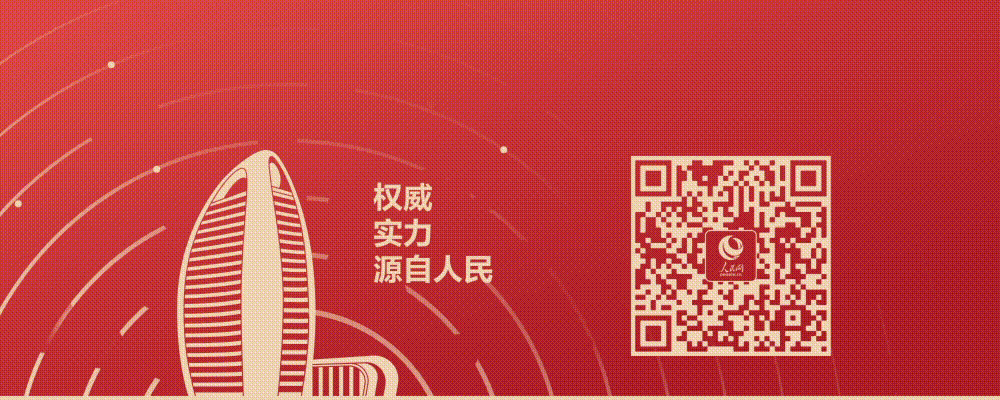 Like this article, please click here
---