Huashan re-argument sword: Google Facebook Amazon Microsoft Apple investment income in the next 10 years big guess (2) who has the widest moth? Who has the strongest leader? Who has the brightest future?
Reference: The last time "sword" talked about the model of each family, but did not engage in ranking

First of all, although there are many good companies in the United States, these are undoubtedly a lot more companies than good ones. Their average quality is much higher than the average quality of companies in the S.P. 500, so long-term returns are certainly better than the broader U.S. stock market. If my investment goal is simply "above the big market" and I'm content with a 12%-13% annual return, I can put all my money on average in these companies (and add a Netflix) and leave it alone for 10 years.
a) Google

Google has speaking several times(Here.)Talk about some of the problems Google faces Over here.talk about Google's core business/model),There are a lot of problems, but the core search business is in a very solid position.That's thanks to other products that make Google's search almost ubiquitous, a deep, wide moot for the core business.
This includes Google's own nine products with 1 billion users (including email, maps and browsers). More importantly, it owns Android and makes Google the default search on Apple's phones by paying Apple billions of dollars a year. Unless the user changes themselves, searches on all phones are essentially Google's.
Some people ask, Baidu's decline will also be repeated on Google? I think that's very unlikely.
I haven't paid attention to China's Internet in years, and according to my rough observation, Baidu's decline is no more than one of these reasons:
First, the company is too focused on short-term money-making goals, search products do not do well, poor user experience, conversion costs are very low. So search has become a business that everyone in the industry can do in China.
Second, compared with Google, Baidu's moth is very narrow, especially without Android, in terms of mobile phones are very bad. Baidu has also made several very expensive acquisitions for mobile phone traffic, but without success.
Third, China's Internet competition is too fierce, the market has been repeatedly segmented. So that should be completed in the search box, into other different applications (WeChat, shopping, car, meal, etc.) to complete, the search market is greatly compressed.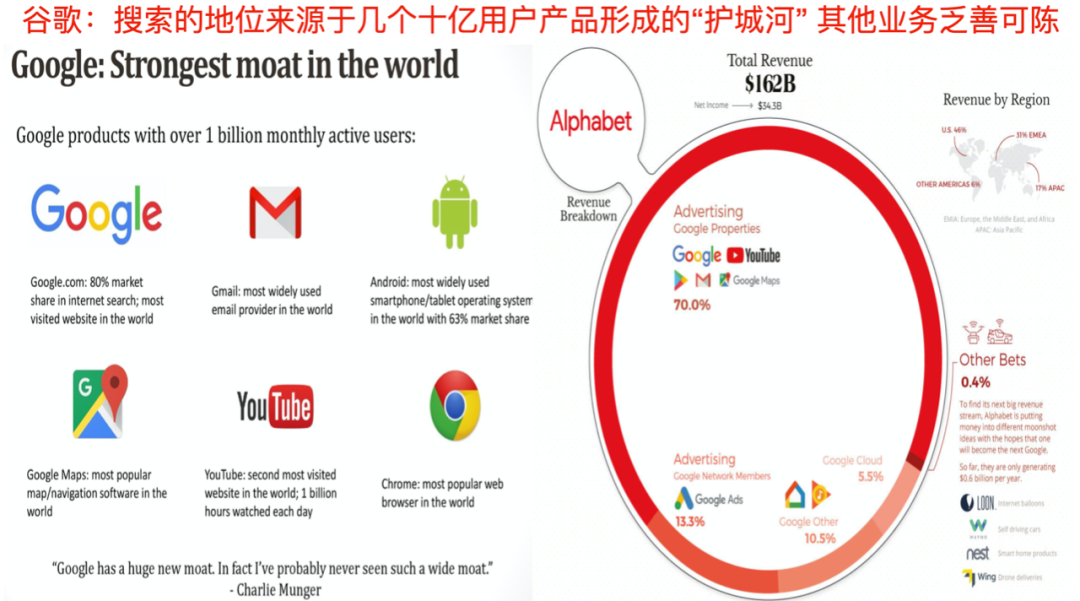 And the last one Google needs to worry about, the most obvious example being Amazon. The rise of Amazon has led to the transfer of most online searches from Google to Amazon's own website, and Google has lost that portion of its advertising revenue. Over the past few years, Google's efforts to shop online have been more about maintaining its search business than competing directly with Amazon (and now even that effort has been abandoned). But the good news is that, with the exception of Amazon, there are no such strong industry leaders in other industries that allow users to skip Google's search box entirely. So long-term growth is still possible.
The recent decline in Google's business, more of the impact of the outbreak, is short-term, once the outbreak is over, I believe there will be a big rebound. The reasonunder the outbreakThe results were worse than Facebook because Google has fewer customers than Facebook, and industries such as cars, entertainment, travel and hotels, which have been most affected by the outbreak, account for a larger share of Google's revenue. Google's advertisers are more from the real economy than Facebook, which has become a sales and marketing channel for many small and medium-sized businesses, and whose business is closer to the Internet economy and therefore less affected.
Google's core business is no problem, but after all, it has been "whipping fast cow" for so many years that a slowdown in growth is inevitable. Over the past few years, it has become clear that the user experience for searches is deteriorating, and that Google's "squeezing" of its other partners in its ecosystem is accelerating (making Google's regulatory risks greatest among these), all of which point to growing pressure on revenue growth.
2) Facebook
The core advantage of Facebook is that it is the only real-name, real social network in the world with no substitute. Twitter and Pinterest, though also known as social networks, do not have the characteristics of a real social network and are not a threat to Facebook.
And once Facebook has moved the social relationships of billions of people around the world to the line perfectly, providing users with advertising is only the simplest first step, and there are endless possibilities for the future. E-commerce, payment is a very natural choice. Advertising, e-commerce, payments, all three are trillion-dollar markets, and Facebook is just getting started.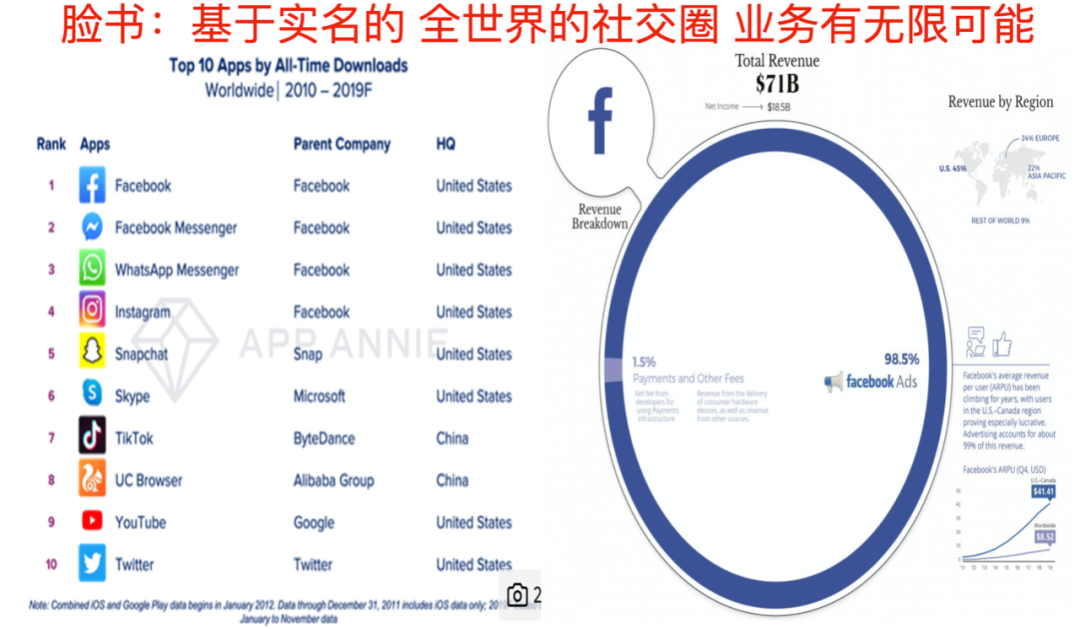 The difficulty with Facebook is that companies not only bind users to their platforms, but also ensure that they spend the most time on their platforms. That's why they'll be very nervous about any emerging entertainment platform, like Tiktok.
Of these giants, I personally find Facebook's management the most difficult. Because it's not just about consumers (rather than lower-demanding corporate users), but also about changing consumer preferences, it's definitely a task that can't be relaxed for a moment. That's why we need one 
a) Understand user needs (what product features to do) 
b) Insight into where technology is going (which company to buy)  
c) 100 per cent focus on the business (focus on growth)
strong founder CEO.
3) Amazon
Amazon is one of the hardest to talk about, because I don't see any big problems with it. I'm not sure if it's because my love of the company model has allowed me to work out the "blind spot", or is it really unassailable?
Amazon's advantages are obvious.Other giants usually have only one moth, but Amazon has at least three:
First, it is based on the large number of users and merchants in e-commerce.
Second, it has accumulated word-of-mouth among users over the years, bringing brand loyalty.
Third, it has for many years at the expense of blood, the establishment of a huge network of warehousing and delivery.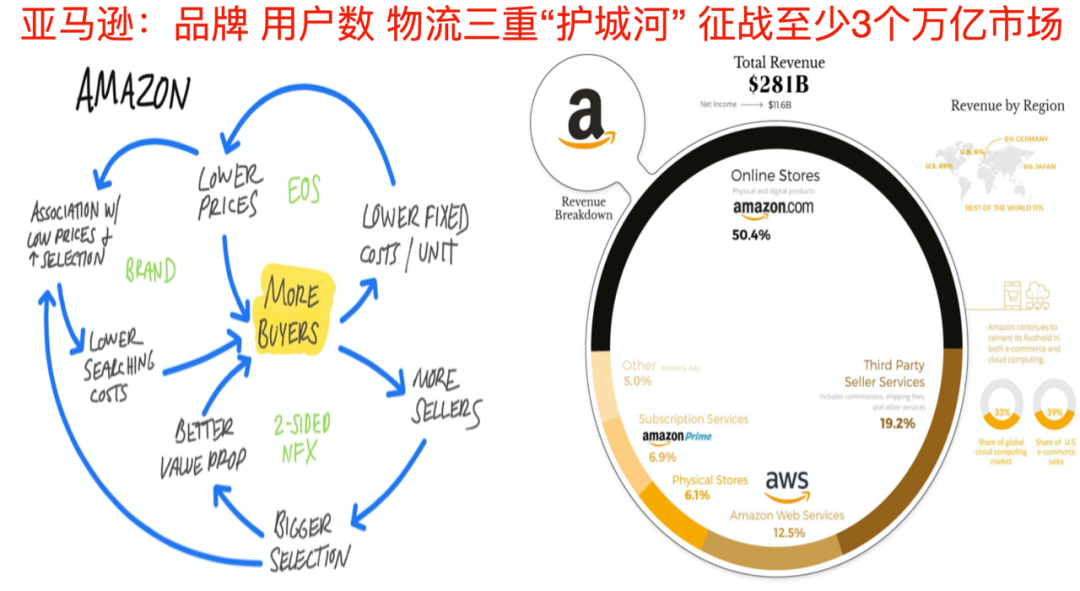 Amazon.com has huge users on one side and huge sellers on the other, which becomes a moth obvious. But many people ignore it for so many years to profit to customers, trying to provide customers with the best service, and bring great goodwill. This will make it easier to acquire customers in the future, and the products launched won't be questioned (including "spy" drones flying around your home). Storage and delivery networks can not be ignored: although the technical difficulty of establishing such a network is not great, but the need for long investment time, capital, even if several other giants to re-lay this network, but also to work hard, but also to accept the cost of rising for several years, the risk of falling profits. It's hard to succeed without a strong push from the founder CEO.
Amazon's model is hard to replicate because of these three moths. At the same time, it makes itself less conse:
Some worry about the impact of antitrust and regulation. But in fact, while Amazon is already big, its three markets -- online retail, cloud and advertising -- are trillions of dollars. While it leads the online retail and cloud businesses, it is far from the market share that truly constitutes a monopoly.
There are also concerns that profit margins in its business are too low. In fact, even the lowest-margin online retail sector, once it reaches scale, is good (in the US, for example), and it is now losing money, just the international part of online retailing, because it is still in the early stages of investment. Not to mention the highly profitable cloud business.
Others point out that many of Amazon's initiatives and products have been unsuccessful; That's good, of course. But in fact, this is a feature of the Amazon model, not a drawback. Amazon's culture promotes constant experimentation without fear, so mistakes are inevitable. This is only good for the long term.
4) Microsoft
It's been years since Microsoft was the wrong boss. It was once brilliant in the PC-dominated era, controlling both the operating system and office software. But the popularity of the Internet and mobile phones has changed all that forever. Microsoft has done nothing on the phone, and the Internet has made most of the tasks possible on the browser, making the operating system less important. In the words of its CEO, "Microsoft is going to become an office software company in a mobile phone-first and cloud-first environment."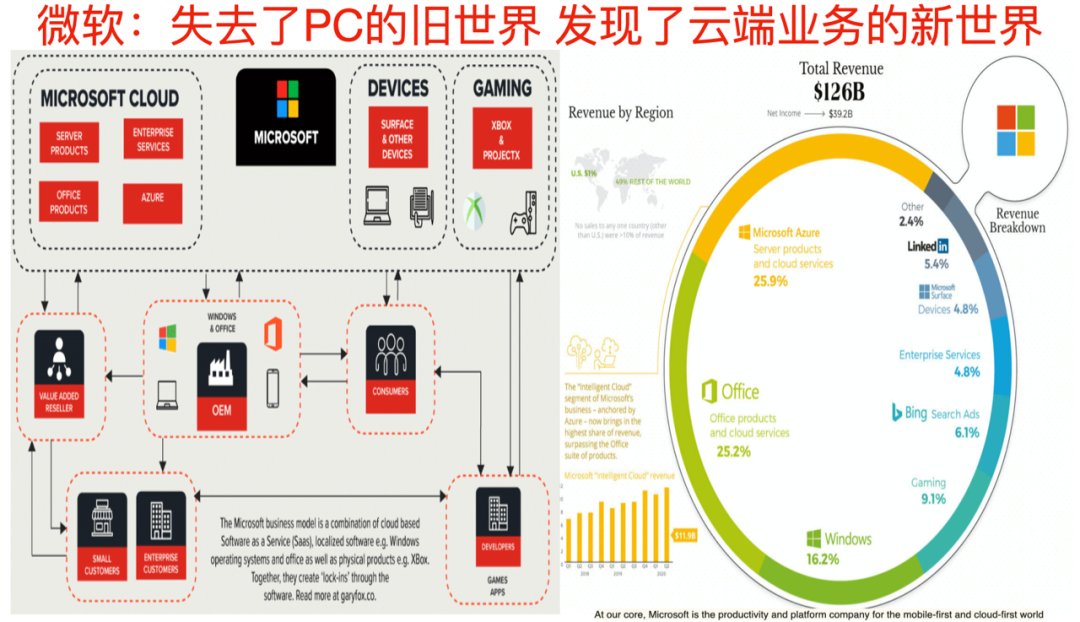 And then the transformation was very successful. No longer struggling with the operating system, the company is focused on making its Office software run smoothly on any phone. Moreover, office software solutions have been successfully shifted to the cloud. For big companies that are already using Microsoft software, it's a natural and reasonable choice to continue working with Microsoft to shift the company's business to the cloud.
The success of Microsoft's transformation, coupled with the vastness of the cloud market, has ensured its growth for at least the next 20 years.
But the problem is that companies have largely lost market share to consumers. While Xbox's success and investment in several gaming companies have made Microsoft's gaming product line among the big players the most dynamic in recent years, the gaming market is, at least for now, too small. That's why Microsoft was previously interested in acquiring Tiktok: because if successful, it would boost its advertising business and reopen the market for consumers, but it was eventually upset.
Five) Apples
Apple's success in recent years is obvious to all. If the ultimate form of computing is really "phone plus cloud", then Apple's future is secure. And Apple is the only one of these giants, get Buffett's real, with all the free cash flow to buy back their own company's stock, this history of unprecedented large buybacks, Apple's share price has played a huge supporting role.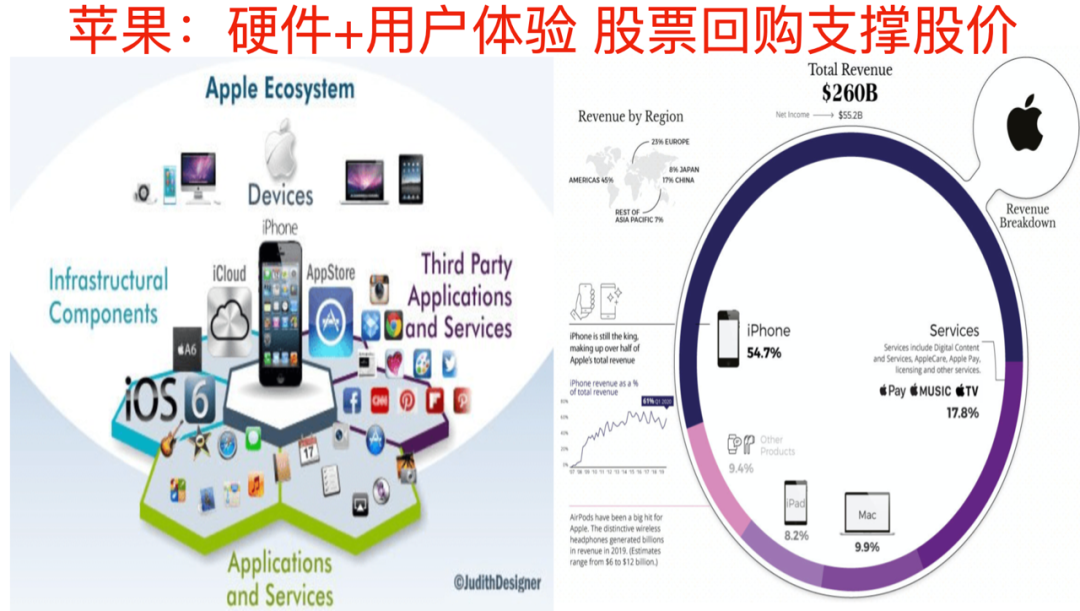 But Apple's shortcomings are also obvious.
First, Apple is the only hardware-owned company among them. Even in the so-called service sector, the main revenue is the income of mobile phone stores, which is attached to hardware. Hardware, compared to other companies' cloud businesses, online retail and advertising, has one big drawback: without strong continuity, the vast majority of users who "piously" update their iPhones and MacBooks each year. So the increase in sales revenue depends more on annual price increases, which will no doubt be capped. Apple is expected to be concerned this year when it stops publishing sales of its handsets.
Second, using all the cash for buybacks naturally makes investors happy. But it also suggests that I'm afraid management has no grand plans for the future. Apple's innovation hasn't stopped, except that it's been based on the iPhone and surrounding products in recent years, and it's not known how many years are left before the next big project.
Third, Apple's production and sales are too tangled with China. Although so far unscathed, but the future development of no one can predict. Several others do not have this problem.
six) ranking
As I've said before in The Public, I analyze a company and first see if it has the risk of being replaced by other industries and companies in the next decade. Then look at the four main indicators: the size of the market, whether the product is leading, whether the management is excellent, and how the unit's economic benefits are. For these few, the main business products naturally need not say, unit economic benefits are also good (Facebook is the best). So it ends up in the size of the market and management.
Usually a company with a long-term plan, in the face of a huge market, will increase investment in the early stages, improve user satisfaction, so that they can eventually occupy the largest share. Only in the medium term, when the market is nearing saturation, will it become a "harvesting model": using their market position to squeeze other people's living space, raising the price of goods to extract all the value.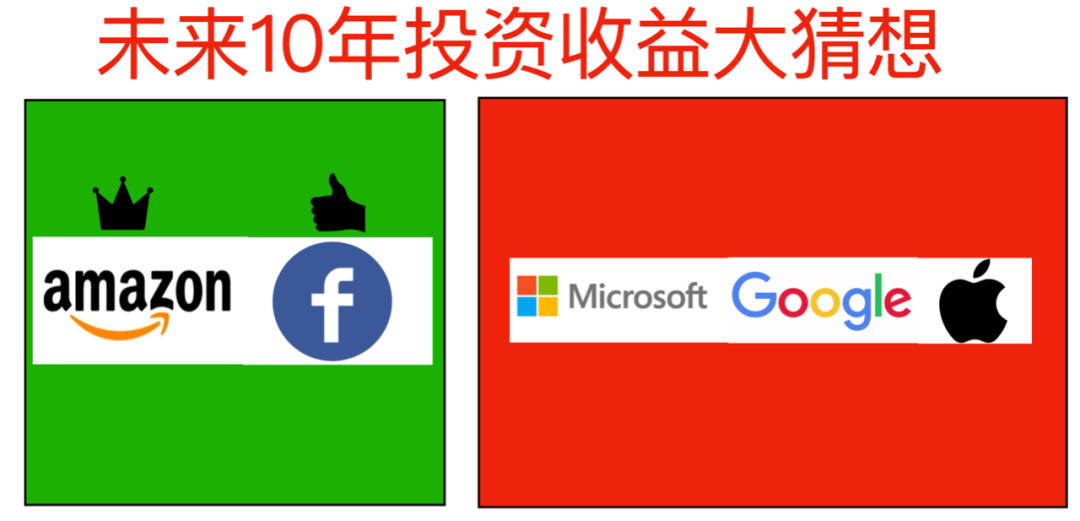 So it's clear that the five companies can be divided into two tiers: Amazon and Facebook are undoubtedly in the lead, while the other three are in the second tier.
Both Amazon and Facebook are in the obvious "investment" phase, with at least three trillion markets and a high probability of success. Plus there's a strong founder CEO who's willing to take a long-term view and doesn't mind short-term earnings, profits or even stock price fluctuations. As a result, developments over the next decade will put them at a greater distance from others.
Between the two, Amazon is clearly ahead in the largest cloud market, and the businesses are independent of each other, with little difficulty in managing and little variables in the future. As a result, it is possible that, on the basis of today's relatively large market capitalisation, revenues will grow faster and returns to investors may be higher.
Of the three in the second tier, my best is Microsoft. There are several reasons: it has the least regulatory risk, so management can focus on development; And even without new markets, cloud plus games can guarantee steady, double-digit growth for a long time.
Between the rest of Apple and Google, I think Google's earnings might be better. One reason is that its share price is not high (affected by the outbreak). Second, the long-term growth of the search business is better than hardware.
That's it today, thank you, the stock market is at risk, please do your own investigation. To say this is just to document my own investment ideas, not investment advice. Good bye.
---