How to create great Facebook ads (1): Create great ads
Recently, the editor received such a message: "How to make a good advertisement."
So today, the editor-in-chief is using Facebook as an example to share how to create great Facebook ads.
We'll cover this in four parts.
This article is part one:Create an ad。
Identify business objectives
If your goal is to promote your business brand to more people, focus on telling your users a brand story, what you're doing business with, or where you're doing business.
❖ Build visibility
Create.Facebook adsThe first step is to identify business objectives。
Ask yourself, what do you want from your ad?
How do you want advertising to drive your business?
Once you've identified your business goals, the ads you create should help you achieve that goal.
Austin Allan shared his start-up intentions in the Tio Gazpacho ad.
This not only shows users the real people and genuine personality behind the brand, but also highlights the value of its business and the products it sells, which is more attractive to users than just focusing on selling products.
❖ Increase passenger traffic
To attract people to the store, you need to give them a reason to go into the store.
Discount promotions, new products on the shelves, seasonal activities, etc. are good reasons.
You can use local market awareness ads to target people nearby andFacebook's ad essays illustrate store locations to increase the relevance of ads.
Goldy and Mac uses vivid images in their ads to boost traffic, and as users scroll through the page, contrasting clothing products pop up.
In addition, they added text to the image to communicate the promotional message to the user, and posted a post for the ad.
This may seem repetitive, but the point is that the ad gives users a reason to stop.
❖ Increase online conversion rates
If you want people to click on ads to do something online, you have to be clear about thatWhat people will see when they click on an ad。
You also need to make sure that people can easily and explicitly do the whole thing once they've tapted an ad.
Sona MedSpa understands that free consulting is a big step in the transformation process.
Typically, users who come to the free consultation end up buying the merchant's services. Do you also have similar "ladder" products or services that attract users to your business website?
Get to know your target audience
Directly address your audience's needs, or remove barriers that prevent your audience from becoming your customer.
Let your audience know what role your business plays in their lives and why it's valuable to them.
It is recommended that you consider using different ideas for different audiences to ensure that the needs of each audience are addressed.
Goldy and Mac, for example, is a small clothing boutique in Brooklyn, New York City, that tailors highly relevant advertising ideas to their two audiences.
They are well aware that mom-level users need clothes that are comfortable, stylish, dirt-resistant and child-friendly, while professional female users need clothes that keep up with fashion trends and are suitable for both the workplace and casual occasions.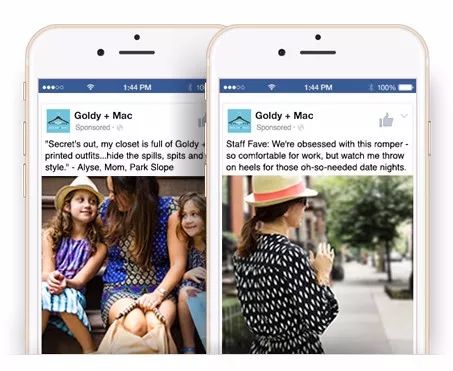 Determine the theme of your ad
Be clear about the message you want your ads to reach your audience.
To do this, you may want to consider establishing a theme or concept that strings together all your ads.
Advertising themes can help you express your brand philosophy from a unique perspective, or explain what makes your brand different.
It can be a concept, an idea, or even a visual theme, just to ensure that all your Facebook advertising styles are consistent.
The theme of this children's book uses the characters to show the character of the book itself.
In the book, each character represents a letter.
These characters happen to be wonderful illustration styles, so advertisers directly use the content of the book to create advertising themes, creating a very creative visual effect.
A public number necessary for a cross-border person
Like please like to like / forward
Don't like please leave me a message
---